Big Island
The island of
Hawai'i
- universally called the
Big Island
by visitors to avoid confusion with its namesake state - is the largest island of the state of
Hawaii
in the
United States of America
. Many local folks call it The Island. It is home to three of the most famous and prominent mountains of the state: the ever-active Kilauea in
Hawaii Volcanoes National Park
, the largest mountain in the world in volume (Mauna Loa) and the tallest mountain in the world as measured from its base on the sea floor to its peak (Mauna Kea).
If you're not into climbing peaks, the lush rainforest on the windward side, the black sand coast at its leeward side, or the saddle road connecting both sides of the island are the unique features of the island worth visiting.
Regions
The Big Island has incredibly varied terrain, such that as you travel across the island from the Leeward (dry) side to the Windward (wet) side, the landscape goes from black with dry brown patches to open fields grazed by horses and donkeys to planted eucalyptus forest to lush tropical vegetation and rainforest.
Cities
— Situated on the Windward coast, Hilo is the largest city of the Big Island. The town is surprisingly diverse with cute old architecture and makes for an excellent base for trips to the many nearby botanical gardens and impressive waterfalls.
— The main town on the Leeward coast, more of a continuous strip of tourist-providers such as eateries, fancy shops and hotels.
- The southernmost town in the United States, beating Key West by about 380 miles.
- A small town at the entrance to Hawaii Volcanoes National Park, offering traveler services and a more diverse range of dining and lodging than that available in the park itself.
- A resort area on the Kohala coast, artificially landscaped atop black volcanic ground and containing shopping centers and golf courses.
- A small ranch town in the northern part of the island, home to the Parker Ranch.
Other destinations
Hawaii Volcanoes National Park - Home to the world's largest volcano, Mauna Loa, and to the world's most active, Kilauea, which erupted continuously from 1983 to 2018. Scenic sights include the massive two-mile-diameter Kilauea crater and steam vents, a huge lava tube, and active lava flowing into the ocean.
Mauna Kea - The largest mountain in the world when measured from its base, this dormant volcano is a center for astronomy, with numerous observatories on the summit and a visitor center.
Pu'uhonua o Honaunau National Historical Park - A fascinating site for those interested in ancient Hawaiian history, this place served as a sanctuary for those broke taboos if they could make it here. Cultural demonstrations are regularly scheduled and sea turtles can frequently be seen offshore.
Puukohola Heiau National Historic Site
Get in
By plane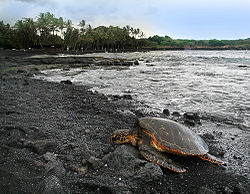 There are two major airports if you are flying into the Big Island,
Kona International Airport
(
KOA
) and Hilo International Airport (ITO). There are a few nonstop flights from the mainland, mostly from California, Denver Airport, Phoenix and Seattle, but it is more common to arrive via Honolulu or Kahului. You should try to get a nonstop flight from the mainland to Kona to save time waiting (and walking) around the Honolulu Airport.
If you can't find a nonstop flight, consider that Kona's airport is by far busier and requires a lot of time to pass all checkpoints. Hilo's airport has fewer flights, is smaller, so the time between rental drop-off and boarding is much shorter. United Airlines services Hilo from Los Angeles and San Francisco.
Inter-island "hoppers" arrive from all the other islands several times a day. Local flights are available through Hawaiian Airlines to the two major airports. These airlines provide frequent service between the islands, largely connecting through Honolulu, although there are some nonstop flights from Kona and Hilo to Kahului, Maui. Daily round-trip service is also available between Hilo and Kona. Pacific Wings provides fun flights in small prop planes between Hilo, Kona and Kamuela. Keep in mind that an inter-island flight could use up almost an entire day, due to the fact that you must pack, check out of hotel, get to the airport, return your rental car, go through all the airport procedures, fly, wait for luggage, get your rental car, check in, and unpack. It's tempting to try and see as many of the islands as you can on one trip, but it's best to spend no less than three nights on an island. In the case of the Big Island, think of the two sides of the island as separate. It takes about 2 hours 15 minutes to drive from Kailua-Kona to Hilo, and about six hours to circle the island.

By boat
Although several cruise ship lines operate in Hawaii, there is no dedicated inter-island boat service. Hawaii Superferry used to run high-capacity catamaran ferry services between O'ahu and Maui, with intention to open a route between Maui and the Big Island, but the company has since declared bankruptcy.

Get around
On Big Island, you need a car in order to get to most of the interesting beaches, parks or other attractions, or to travel from the
Kona
coast to the
Hilo
coast. Places like the green or black sand beaches, or the Mauna Kea summit and astronomical observatories are only accessible by four-wheel drive. Car rentals tend to book
months
in advance, depending on the season. If the major rental companies in Kona or Hilo are fully booked, you can still hope to find a used car to rent via Craigslist. These are older cars, most with dings or other cosmetic blemishes, but they don't make you look like a tourist.
If you only plan to stay around one town, you can also rent a moped or bike. See
Hawaii
for moped/scooter regulations.
Getting around by local bus, bikes, or on foot work well if you're staying in one area. Many budget travelers are unpleasantly surprised by the extremely limited public transport on the Big Island. The county's
Hele-On
bus is inexpensive (
$2 fare
), but the schedules are mainly intended for commuting. There are some bus companies offering excursions from Hilo to destinations like Volcano, but they require reservations.
Hitchhiking is extremely easy and convenient on the Big Island. As most places are near the Mamalahoa Highway, you're never too far from a good hitching spot. As traffic generally flows from the Hilo side to resorts of Waikoloa Resorts in the morning, you can easily make it to the beaches without waking up at by 5:45AM to catch the Hele-On bus. As a large number of locals take the spirit of Aloha seriously, hitching is the best way to travel for free throughout the island. It's not just the usual crowd of young people picking up hitchers either: One visitor has reportedly been picked up by families, grandmas, and even the mayor of Honoka'a! The district of Kau in the south of the island is very sparsely populated with low traffic levels, so hitching isn't near as good there as it is on the northern half of island.
If you're thinking about renting a Jeep, Alamo doesn't disable the four-wheel drive option in their Jeeps as some other rental agencies do. However, keep in mind that you
are
violating the rental contract by driving on "unpaved roads" (let alone some of the four-wheel drive-only roads). As long as you are careful and sensible about it, though, you'll be fine. You are "on your own" if you get in trouble while violating the rental agreement. If you're going to violate the rental contract by driving on unpaved roads, you have less of a chance of getting stuck if you have the ability to shift to four-wheel drive.
Harper Rentals
has four-wheel drive vehicles that are allowed by contract to drive on unpaved roads. You will pay more for that right.
Talk
Locals refer to elders as "Auntie" or "Uncle" instead of "sir" or "ma'am," and flip-flops are called "slippahs." People in Hawai'i are very friendly and always looking forward to talking about their island, their history and its culture.

Do
The Big Island has the usual array of sub-tropical island activities. While the Kona side has a number of white sand beaches, the coastline on the Hilo side tends to be rocky. This is due to the relative age of the coastline.
Astronomy
Due to its altitude, latitude, and the lack of interference from city lights, Mauna Kea provides among the best sites on earth for telescopes. You may notice the strange orange and pink hues put out by street lights on the Big Island. They are sodium lights used to ensure that the views from Mauna Kea are unpolluted.
Stop at the Visitor Information Station of the Onizuka Center for International Astronomy. They set up several telescopes nightly for the public to enjoy. Volunteers provide programs daily at 6PM, and will answer any questions you have as you look at the unbelievable number of visible stars. Bring your jacket, as the elevation is over 9200 feet at the Visitor Center.
Swimming
The beaches of the Big Island, especially on the Kona side, have been consistently voted amongst the best beaches in the world. Some (like Mauna Kea Beach) front hotel resorts, while others (like Makalawena) remained unencumbered by modern tourism.
Hapuna Beach
is reputed to be one of the best, consistent with the picture many outsiders have in their head of what a Hawaiian beach should be.
The island has one of the few green sand beaches in the world (see above), and several black sand beaches.
Snorkeling
The Big Island has some fantastic snorkeling. The Kona side has most of the best snorkeling, but Puna also has some excellent sites. Go in the morning on the Kona side, and in the afternoon in Puna, for clear and calm conditions.
Two Step

address: Pu'uhonua O Honaunau (Place of Refuge)

Great for beginners and experts alike. Teeming with fish and turtles.
Ho'okena Beach Park

address: south of Honaunau

Not as spectacular, but getting in and out of the water is incredibly easy: just walk. Then enter at the left side of the beach for the best snorkeling. Go during the week, if you can (save the weekends for the locals).
Captain Cook, Kealakekua BayYou must have a vessel landing permit if you want to kayak there but there is a hillside path to hike down as well, and many tour boats that can take you in and provide gear as well as a guide and lunch. It is also not a very challenging snorkel swim from the parking area if you are quite comfortable snorkeling and athletic. This is the historic site where Captain Cook landed February 14, 1779 where he was the first European to visit the islands. It was later the site of his death. You can see his memorial standing over the bay represented by a large white obelisk. Beyond the history, it's a protected area that is teeming with life.
Because the dolphins swim in this bay when resting, it is important not to loudly swim after them if they are not making noises and engaging with you first. Frequent disruption of sleep caused by pursuing tourists results in parents not protecting the young who then fall prey to cookie cutter sharks, endangering the pod's well-being.
No matter where you are enjoying wildlife, remember it's often illegal and always immoral and detrimental to feed, touch or harass wildlife, both marine and land.
Surfing
Hilo Surfboard Company is the Big Island's most 'authentic' surf shop. People travel all the way from Kona to check out boards as they really do have the largest selection of boards. And unless you want a Hilo Surfboard Company t-shirt, better go to the mall. This is a real core surf shop! Owner Scott Murray will be stoked to see you and talk story! 84 Ponahawai St. Hilo. +1 808-934-0925
Hiking and camping
If you would like to hike on the Big Island you have abundant choices for the novice to the expert. Some of the most popular hikes are the Waipio Valley hike, the Pololu Valley hike, the Greens Sands Beach hike, the Volcano National Park Kilauea Iki hike, and Akaka Falls paved trail hike, however there are too many trails to count. See below for a list of some of the guided tours you can do, which take you to these destinations as well as more remote or less known hikes. Though there are guided tours, most hiking on the Big Island is free or located within a State or National Park. State Parks are free for hiking and only some National Parks require an entry fee. Backcountry and backpacking hikes like the Muliwai Trail to Waimanu Valley require a permit and are at cost, though it's low. These permits not only feed money into the natural lands of Hawai'i, but also provide safety for yourself; there have been many times rescue during a dangerous time has been given solely on the fact a permit was issued legally. When you have no permit and camp illegally, no money enters the system even though you are using the land and there is no way to tell you are in a remove valley or unstable area in order to help you if there is a problem.
The Hawaii Department of Land and Natural Resources advises that "you must purchase and print a copy of your permit in advance and have it in your possession while camping or lodging within any park. It is not possible to purchase a permit at any park. All permits require a fee – there is no free camping in Hawaii State Parks or Forest Reserves." There are many camping options to choose from and the cost is amazingly low compared to the mainland. Once you pay entry fee for Volcanoes National Park, camping is free and on a first-come, first-served basis at some of their beautiful campsites with full facilities.
Hiking destinations
Waipi'o Valley - Awe-inspiring volcanic valleys and gorges filled with rain forest vegetation. Though you can hike down into the valley and throughout it, it will be on paved and non-paved roads, not hiking trails. You can venture to the large black sand beach at the bay or to the rear of the valleys to see large waterfalls.
Muliwai Trail - This trail starts at the opposite side of Waipi'o Valley than the lookout and begins with a steep Z trail you can see from a distance. It's a strenuous 9-mile (13-km) one-way trail to Waimanu Valley and requires a permit. Though difficult for many hikers, the hike and destination valley are some of the most beautiful land on the Big Island. The largest waterfalls in Hawai'i are located in Waimanu. Composting rest rooms are available and drinking water is gathered from the falls and streams, although filtration or pill treatment is required.
Hawaii Volcanoes National Park- Many long and scenic hiking trails through the tropical forests and along the craters are found here for any level of hiker. Whether you are looking for a short and easy paved hike or a long and strenuous hike without seeing another person, you will find it in Volcanoes National Park. Always check with a ranger before doing a hike since the land is always changing in this area and some areas are closed off frequently due to volcanic activity, landslides, volcanic smog, and more. Sometimes it is possible to hike to the slow flowing surface flows of Kilauea; see a Ranger for more details.
Guided tours
The Big Island has a tour company for every possible tourist endeavor. If you don't see it covered here, search for it. Chances are there will be a tour guide for what you want to do. A good place to read non-biased reviews of tours is
Hawaii The Big Island Revealed: The Ultimate Guidebook
by Andrew Doughty. It does not feature any adds or endorsements the way many guidebooks do. Read about more tours in the regional articles.
Mule/Horseback tours There are a few companies on the Big Island that provide horseback tours along the rim of Waipio Valley.
Biking. The Big Island hosts the Iron Man competition every year, so there is a lot of touring-style cycling. Most of that is done on Highway 19 between Kona and Kawaihae. But there are also big trucks on that road, so be careful. Mountain biking is good around Waipi'o valley and in the Volcano park. But it can be technical. Mana road is also good for off-road cycling, but it is very long (65-70 mi). You will need support or legs of iron to do it in a day.
Hiking There is a ton of guided hiking tour companies on the Big Island for just about any place you could want to go. The companies range from the very large to very small (1-4 guests).
Scuba diving see Kona
Recreational Saltwater Angling. All recreational saltwater fishing is conducted on the leeward (west) side of the island.
Helicopter tours , volcano tours, etc.

Swim with Manta RaysSee Kona for scuba diving and snorkeling tours with manta rays at sunset and at night
Learn
Dance, culture, and traditional crafts classes are available for long or short term students. Many resorts offer 1-3 day classes in hula or lei making. To learn about history, culture and the environment, visit the State and National Parks and speak with Rangers and other guides that reside there. Parks have many programs ranging from participation based programs, games, festivals, classes and more for visitors to learn about Hawai'i. The only state or national parks that charge an entry fee are Pu'u o Honaunau and Volcanoes National Park.

Work
Hawaii's unemployment rates are among the lowest in the nation, and thus it is impressive that the Big Island boasts one of the lowest unemployment rates in the state. While tourism, military, and agriculture have typically been the largest employers, recent new job growth has resulted primarily from a residential building boom. The astronomical observatories are another important group of employers.

Sleep

The Big Island is the only county in Hawaii that has no restrictions on the operation of vacation rentals. Before making reservations, it's best to review a map of the island and plan ahead, thinking about the activities and sightseeing you'll want to do. For those that don't have the budget for large hotels and resorts, there are many less expensive options that are still enjoyable, such as local bed and breakfasts, small hotels, and hostels where you can stay for as little as $35 a night. Camping is also readily available all over the island.

Stay safe

Even solidified lava flows can still be very dangerous, as there are hidden flows of molten lava with only an overlying thin crust of rock in many places between Pu'u O'o and the shoreline. And of course there's the threat of methane explosions and lava bench collapses, so do not walk to the edge of the lava bench unless the rangers say it is safe to do so.
The usual disclaimers about the more active things to do apply. If you have a tour guide, they often have insurance premiums to be beholden to and as such make them more aware of safety issues. But otherwise the island is mostly remote and help can be far away. Know your physical limits.
Prepare for the area you are visiting. The Big Island has 8 of the Earth's 13 climate zones within its boundary, so you will visit many different areas. For instance, you may wear flip flops and bikinis in Kona, however you would want a full coat, boots, long pants and a hat while visiting Mauna Kea.
Hawai'i is an ever changing, adapting island chain. It is constantly eroding, creating and changing. Beware of drop offs, sharp edges, water safety and the land and ocean around you in general.
As much as you need to keep yourself safe, you need to keep Hawai'i safe as well. Please practice the Leave No Trace principles to make sure everyone can enjoy the islands. It's not only illegal to do things like feed or hassle wildlife, take rocks, sand or plants, but it's also immoral and detrimental to the Hawaiian Islands. They are the most isolated land mass on the globe and have many species and landscapes that are struggling to survive under the pressures of tourism. Respect the 'aina the best you can. Do not cut trails, litter, or desecrate natural or man made sites.

Respect
The construction of a new 1.4 billion US$ telescope on top of Mauna Kea, already home to 13 other telescopes, is dividing traditional Hawaiians and scientists on the island. For Hawaiians, the volcano is a sacred place they wish to protect and preserve; for scientists it has long been one of the best places in the world to observe the night sky. Peaceful protests against construction of the new telescope have been ongoing since 2014 and have since divided the public opinion in the northeast of the island. Both sides have very strong opinions on the issue, and it's better to avoid discussing the topic as a traveller.

Stay healthy
While quite rare, as of 2017, there are a few cases of rat lungworm disease on Maui and the Big Island. This is an extremely serious parasitic disease that affects the brain and spinal cord, and can be fatal. Despite the name, very few, if any, victims acquire the disease directly from rats. Most often, it's food poisoning from uncooked or under-cooked snails, slugs, crabs, shrimp, or frogs. If you have a taste for these types of foods, make certain they are properly cooked and that produce such as lettuce (which attracts snails and slugs) is thoroughly washed.