Big Sur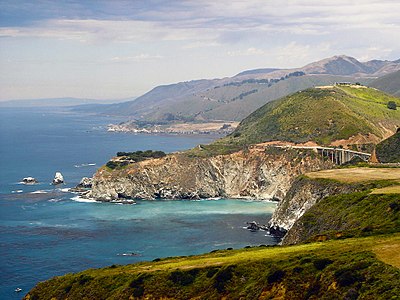 Big Sur
is a region on the
Central Coast
of
California
. It contains vast wildernesses and breathtaking views as it stretches 72 miles along the rugged Pacific Ocean. While the region has no specific borders, most residents consider Big Sur to be bounded on the north by Malpaso Creek, approximately 129 miles south of
San Francisco
, and on the south by San Carpóforo Canyon, 244 miles north of
Los Angeles
. The area is great for outdoor recreation and contains several state parks, two national wilderness areas, and is part of the Los Padres National Forest, all of which include hiking trails. The name during the Spanish colonial period was "el país grande del sur", meaning "the big country of the south", referring to the vast relatively unexplored region south of the city of
Monterey
, which was the capital of Alta California under both Spain and Mexico. It was Anglicized as Big Sur by European settlers in 1915.
Understand
Big Sur begins a few miles south of
Carmel
and includes the small settlements of Palo Colorado Canyon, Big Sur Village (between Andrew Molera State Park and Pfeiffer Big Sur State Park), Posts, Lucia, and Gorda. It ends near
San Simeon
(where the Hearst Castle is located). When driving on
Highway 1
through Big Sur, be alert for traffic conditions, especially during summer vacation periods and holiday weekends, when the northern portion of the highway can be congested. You can stop to admire the scenery at one of the many dirt turnouts and vista points along the route. When stopping at a viewpoint be sure that your vehicle is entirely off the roadway.
History
Three Native American tribes - the Ohlone, Esselen, and Salinan - are believed to have lived in Big Sur as hunter-gatherers prior to the arrival of Europeans. The Spanish explorer Juan Cabrillo was the first European to view the area when he sailed along the coast in 1542. Spaniards arrived on foot in 1769, but the high cliffs and rough terrain forced them inland. Monterey was settled in 1770, during which the Governor made only two lands grants in the area, Rancho El Sur and Rancho San Jose y Sur Chiquito. The ranchos were maintained by caretakers.
Mexico took control of the area when it gained independence from Spain in 1821, and in 1848 Mexico ceded California to the United States following the Mexican-American War. By 1862, several pioneers had moved into the area, although the inaccessibility of the area prevented any significant development.
The construction of the present-day Highway One began in 1919 using convict labor. Construction stopped in 1924 when funds were exhausted and resumed in 1928. Construction required 33 bridges to be built and thousands of tons of dynamite to blast the road through the coastal cliffs. The $10 million, unpaved Carmel-San Simeon Highway was finally opened in 1937. Over the years,
Monterey County
lawmakers and local residents have established extremely tough development restrictions, making it illegal to build almost anything within view of the highway and other public points. As of 2018, only about 1,000 residents live on the coast year-round.
Flora and fauna
Big Sur is the southernmost range of the world's tallest tree, the coast redwood (
Sequoia sempervirens
), and thanks to the remoteness of the region many of the existing groves have never been logged. The critically-endangered California condor was reintroduced to the region in 1997, and as of 2014 nearly three dozen condors make the area their home. Mountain lions, though rarely seen by human eyes, roam throughout the Big Sur region. Raptors in the area include bald eagles and peregrine falcons.
Once thought to be extinct in California, a colony of 60 sea otters was discovered near Bixby Bridge in 1938. Today sea otters are frequently seen in the area, as well as sea lions, elephant seals and harbor seals. Orcas patrol the coast year-round, while other whale species are seasonal: humpback whales can be seen from April through December, blue whales from June through October, and gray whales from December through May. The abundance of seals does not go unnoticed by sharks, including the great white shark, which patrol the waters but will only be seen by very lucky visitors.
Climate
Along the coast the climate is moderate year-round, although further inland temperatures are significantly warmer in summer and cooler in winter. Thick, dense fog blankets the coast during the summer, and while it usually burns off during the day, it can occasionally linger and make travel along Highway One treacherous.
Get in
Big Sur is a remote area accessible only via Highway 1 (also known as Pacific Coast Highway) or via the winding, narrow 25 mile long Nacimiento-Fergusson Road, accessible from Highway 101 and Jolon, California. Highway 1 winds through Big Sur flanked by the steep Santa Lucia Mountains to the east and the rocky Pacific Coast to the west. The easiest and most common way to get to Big Sur is by car, though some enthusiastic adventurers cycle along the highway. There are only four gas stations along the route and fuel is expensive, so fill your tank before entering the Big Sur region. The highway is prone to rock and mud slides which have been so severe in the past that the highway has sometimes closed for over a year. Construction can also cause delays or closures, so check California highway
road conditions
prior to setting out. The Nacimiento-Fergusson Road is the only alternative route.
From San Francisco
take US-101 south to CA-156 west which merges with Highway 1 20 miles from MalPaso Canyon. Approximately 129 miles and 2-3 hour drive.
From Los Angeles
take US-101 north and exit onto Highway 1 toward Morro Bay/Hearst Castle, about 45 miles south of San Carpóforo Canyon. Approximately 244 miles and 4-5 hour drive.
Monterey-Salinas Transit route 22 busRuns from downtown Monterey to Nepenthe in Big Sur. It runs several times a day, seven days a week from Memorial Day to Labor Day (last week of May through first week of September), and on weekends during the rest of the year. It stops at several state parks, the Big Sur River Inn, and Nepenthe. During winter and spring, the bus is sometimes canceled due to bad weather, so call ahead to ensure that it is operating.
Get around

Highway One through Big Sur is a long, narrow, winding road, so those prone to car sickness may want to take medication prior to setting out. There is only one lane in each direction. Most of the road is very limited in width. Paved shoulders are narrow and may not exist in steep areas. There are no passing lanes. Given the many sharp turns, passing can be extremely dangerous. Driving in the dark, in fog, or in rainy conditions can be quite dangerous due to the risk of a collision or of straying off the highway. While the speed limit is 55 mph unless otherwise posted, expect speeds of 35-45 mph for most of the route, and as slow as 15-20 mph on some of the sharpest curves, or due to congestion. If there are five or more cars following you, courtesy and California law require you to pull over at a safe point and allow them to pass. Use one of the many unpaved, wide pull outs along the route. This allows you and others to enjoy a safe drive.
Big Sur Village is a mile-long portion of the highway containing gas stations, roadside markets, lodges and restaurants, but services elsewhere in the region are very limited, and gas in Gorda can be as much as $7 per gallon. The unincorporated communities of Posts, Lucia, Plaskett, and Gorda are located south of Big Sur Village, but these settlements generally have little more than a single inn or restaurant available for travelers.
Bicycling along Highway 1 is popular, though extremely challenging given the narrow or non-existent shoulders, constant elevation changes, and precipitous cliffs. Cyclists will also be dealing with motorists who are likely distracted by the scenery, dealing with fog, or unaccustomed to sharing a narrow highway.

See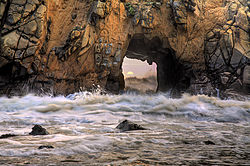 Sights are listed from north-to-south along Highway One:
Garrapata State ParkThe 2,939-acre park was established in 1979 and offers two miles of beachfront, with coastal hiking and a 50-foot climb to a beautiful view of the Pacific. Trails lead from the ocean into dense redwood groves. Sea lions, harbor seals and sea otters are frequently seen in the waters.

Bixby BridgeIconic bridge built in 1933. One of the most photographed in the world because of its location within such beautiful scenery. The concrete arch spans 320 feet (98 m), and its 280 foot (85 m) height makes it one of the tallest single-span concrete bridges in the world. Be sure to park entirely off the road. Do not block the Old Coast Road on the inland side of Bixby Creek Bridge.

Point Sur LighthousePoint Sur is a dominant feature along Highway 1. It is a National Historic Landmark and is one of the only complete turn-of-the-century light stations open to the public in California. It is also allegedly one of the most haunted places in America. Spectacular views can be had from atop Point Sur. Tours (3 hours) are offered - meet west side of highway at farm gate a quarter mile north of Pt Sur Naval Facility. Winter times Sa, Su 10AM, W 1PM. $10 adult, $5 children.

phone: +1 831-667-2315

There are hiking trails through redwood groves. It is a 1.4 mile round trip to 60-foot Pfeiffer Falls that runs from Dec to May.

Julia Pfeiffer Burns State ParkThe 3,762-acre park was established in 1962 and is home to McWay Falls, one of the most spectacular places anywhere in Big Sur. The falls drop 80 feet onto the beach or tide. There is a hike out to a view point but it can also be seen from the road just before Julia Pfeiffer Burns State Park. The park is also home to ancient coast redwoods that stand 300 feet tall and are over 2,500 years old. The beach is not accessible due to hazardous cliffs.

phone: +1 831-667-2456

Monastery offering guided retreats; also sells gifts and food items.

Pfeiffer BeachPfeiffer Beach is known for its purple sand and the huge rock towers that emerge from the water, one of which has a natural tunnel through which the sunset can be viewed at the right time of year. Reaching the beach can be challenging - Sycamore Canyon road is easy to miss from Highway One, the winding road is one-lane and shared with local residents, and the parking area only accommodates sixty vehicles and is often full. The area is managed by the US Forest Service, which charges a day-use fee of $10. Pfeiffer Beach is NOT accessible from Pfeiffer Big Sur State Park.
Do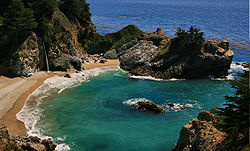 The most common activity in Big Sur is driving through to enjoy the scenery. The next most common activity are walks, hikes, and backpacking in the many open natural spaces.
Hiking/backpacking
Always check conditions before hiking or backpacking.
As of spring 2018, many trails are closed due to fire damage or landslides. Check for current conditions posted by U.S. Los Padres National Forest
Monterey Ranger District
and the
Ventana Wilderness Alliance
.
There are many possible day hikes varying in length and difficulty. You can hike to beaches and vistas along the coast, along rivers and through canyons, and through redwood forests in the Santa Lucia Mountains. For longer and more remote adventures, backpacking is an option. There are hundreds of miles of trails through the region, particularly the Ventana Wilderness. Be prepared and know what you are doing before going backpacking in the Wilderness. You can obtain more information from the Big Sur Ranger Station located three miles south of Big Sur Village or call +1 831-667-2315.
Hunt for jade, beaches south of Big Sur Village. Jade is a common semi-precious stone found on the beaches in the Big Sur region.

Ventana Wilderness

phone: +1 831-667-2315 (Big Sur ranger station)

The Big Sur ranger station is located 3 miles south of Big Sur Village. The wilderness covers 240,026 acres. Within the wilderness area alone there are 237 miles of trails and 55 designated camping areas. As of January 2018, the Pine Ridge trail which begins in Big Sur is closed due to damage from the Soberanes Fire and the subsequent rains during the following winter. As an alternative, consider the Mt. Manual Trail into the Little Sur River watershed. It is accessible from within Pfeiffer Big Sur State Park. A second alternative is the North Coast Ridge Road trail which is accessible from behind the Ventana Inn. Both are strenuous uphill climbs, gaining 3,000 feet elevation in less than four miles.
Beaches
Remote and pristine beaches are accessible. Andrew Molera State Park, Pfeiffer Beach, and Sand Dollar Beach are the most commonly visited.
phone: +1 831-667-2315

Miles of trails, beaches, and meadows. Also has 24 primitive camp sites (first come, first serve).

Pfeiffer BeachGreat sunsets and a fun beach, with sand that has a purple hue due to manganese garnet (dig down a bit to find it) and a rock formation famous with photographers due to a natural keyhole through which the sunset shines. Swimming is possible although there is a strong undertow. The road to the beach is hard to find and a bit treacherous - it will be the only non-gated, paved road on this portion of the highway. If you are heading south on Route 1, the key to finding this beach is to look for the yellow sign - "NARROW ROAD No RVs - Trailers". During summer holiday season and holiday weekends the 65 car parking lot fills up quickly. You can park at the Pine Ridge Trailhead on Highway 1 and walk. The road to the beach is about 2 miles long.

phone: +1 831-624-4909

Well managed and developed recreation area offering many hikes, beaches, coves and points. Also offers SCUBA by permit only. Often referred to as the crown jewel of the State Park System. $10 per car.

Sand Dollar BeachStairs lead to the beach. Largest expanse of sand in Big Sur and also well protected from wind.
Buy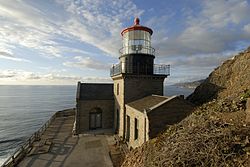 There are art galleries and gift shops throughout Big Sur all along Highway 1.
phone: +1 831-667-1530

address: 47540 Highway One

Located in a former greenhouse, this gallery supports artists from the Central Coast. It also sells new and vintage clothing.

phone: +1 831-667-2000

address: 47540 Highway One

Local and exotic gifts and jewelry.

phone: +1 831 238-1056

address: 47540 Highway One

Botanical garden featuring exotic succulents and plants. Also provides cultural, musical, artistic, and educational programs and classes.

phone: +1 831-667-3200

address: 48485 Highway One

Representing works of the Hawthorne family and other internationally known artists.

phone: +1 831-667-2557

Shopping featuring jewelry, clothing, and collectibles.

phone: +1 831-667-0481

address: 46840 Highway One

Local artists and craftsmen featuring Big Sur jade, redwood bowls, and tie-dyed cloths.

Post Ranch Mercantile

phone: +1 831-667-2347

address: 47900 Highway One

Natural products featuring tableware, clothing, bedding, and body care products.
Eat
Most of the inns along the route have onsite restaurants that also serve non-guests.
phone: +1 831-667-0520

address: 47540 Highway One

Wedding cakes, desserts, pastries.

The Maiden Publick House

phone: +1 831-667-2355

Classic affordable pub with food and drinks.

phone: +1 831-667-2345

address: 48510 Highway One

Picturesque dining location overlooking 40 miles of coastline. The main dining room is upstairs. Cafe Kevah is located on a terrace just below the main dining room and serves brunch and light lunch. The Phoenix shop features books, locally made paintings, crafts and wares.

phone: +1 (805) 927-1590

address: CA-1, Big Sur, CA 93920

The cafe is 200 feet from the Pacific Ocean on the Pacific Coast Highway. It offers California Style cuisine and breakfast, lunch, and dinner seven days a week. They serve deli sandwiches and homemade soups. There is also an espresso bar. In addition to the dining room, there is an outside dining patio.

phone: +1 (831) 667-02200

address: 47900 CA-1, Big Sur, CA 93920

The dining room is more than 800 feet above the Pacific Ocean. The evening meal includes four courses, salad or soup, an entree of fish or meat, and dessert. Casual dinner attire is required; no shorts, t-shirts, sandals or athletic gear.
Drink

Many local restaurants also contain bars and/or provide drinks.

Sleep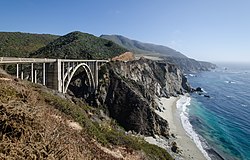 The two main options for sleeping in Big Sur are either camping or staying in a hotel/resort. Some locations have both options provided. Camping is popular in Big Sur and there are many small campgrounds throughout the region that are not listed below but can be found along Highway 1.
Hotels
Camping
Monterey County, which includes nearly all of the Big Sur route, prohibits roadside camping and overnight parking along any paved or dirt road, although this restriction does not apply to tired drivers needing a brief rest. It is illegal to camp anyplace other than designated campgrounds. Fires are only permitted in established campgrounds. Illegal campfires can result in arrest and a stiff fine.
Connect
phone: +1 831-667-2574

address: 48603 Highway One

Wi-Fi internet access.
Cope

Traffic on the northern end of Highway 1 in Big Sur from Carmel to Posts can be severely congested during the summer, spring vacation periods, and holiday weekends. Fill your gas tank before you drive to the area, as there are only four gas stations, and some charge as much as $7 a gallon! Bring water, or replenish your supply from good tap water (in Big Sur Village, for example, which is refreshing mountain spring water). There are long stretches of coastline with little or no cell phone signal.

Restrooms

Due to building restrictions, there are very few public restrooms visible along the coast. Go before you go, and take advantage of rest rooms when you can find them. If between settlements, look for a state park or U.S. Forest Service campground or state beaches which usually have developed bathrooms or pit toilets.

Stay safe
Highway 1 dangers

Highway 1 is a narrow, winding two-lane road and in many places carved out of steep cliff faces. A sign on the highway south of Carmel depicts a curvy road with the text "Next 72 miles"!
Always check traffic conditions before you go. Try to avoid driving long distances after dark as fog and the many sharp turns can severely restrict your visibility. In the winter, sudden landslides can block the road entirely or cause major backups. In May 2017, a major landslide south of Gorda closed the road to through traffic until summer or fall of 2018. You can still reach the coast north of the closure via the Ferguson-Naciemento Road to the east and from Monterey to the north. Construction can reduce the roadway to a single lane, controlled by a light.

Go next
Carmel - The northern boundary of Big Sur is the town of Carmel, located 20 miles from Big Sur Village. Carmel is a beautiful oceanside town that is home to the historic Mission San Carlos Borromeo de Carmelo, several large beaches, excellent restaurants and an abundance of upscale lodging. It borders the iconic Pebble Beach golf course and is the entry point to the 17-mile drive and its dramatic ocean views.
San Simeon - Marking the southern end of the Big Sur region and lying 80 miles south of Big Sur Village, San Simeon is home to Hearst Castle, the impressive residence of the former media tycoon William Randolph Hearst, now managed as a state park with tours available daily. A massive colony of 20,000+ elephant seals can be viewed onshore just north of town every winter.