Bikaner
Bikaner
is a city in north-west
Rajasthan
,
India
.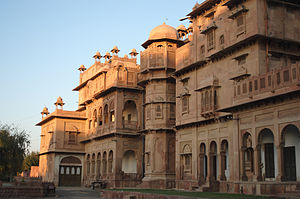 Get in
By plane
Bikaner Airportfly from Delhi or Jaipur.
By rail
Bikaner can be reached by train from
Delhi
,
Jaipur
,
Mumbai
,
Agra
and other major Indian towns.
By road
It can also be reached by road from Delhi via
Shekawati
or Jaipur. The highways are very good; however, the country roads in the Shekawati region can be a bit of a damper. The road from Jaipur,
Jaisalmer
and Jodhpur is the best road into town. Various tour operators and travel agencies offer chauffeured car-taxi services; these are charged on a per km, per day basis. You can plan to take one to arrive into the city or take one for sightseeing in and around the city.
There are many car rental services in Delhi which can provide chauffeur-driven cars to Bikaner.
Get around

Getting around in Bikaner is only done using three wheeler autos, due to the fact that streets are too narrow (so that they are not clogged with sand in case of sandstorms, which are very frequent in summer) and busy for cars. These are very cheap and a day's hire shouldn't cost more than ₹250.

See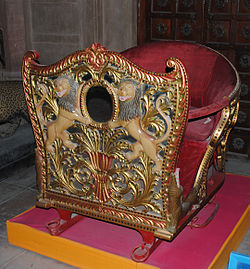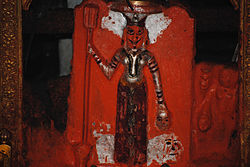 Gajner PalaceA jewel in the Thar Desert, the palace is built on the embankment of a lake. Built by H.H. Maharaja Sir Ganga Singhji of Bikaner, this Grand Heritage property is spread over 6000 acres. Gajner Palace was used as a hunting resort by the former Maharajas and visiting British dignitaries during the days of the Raj.

Jain Temple BhandasarAn ornate two-storied Jain temple with vibrantly adorned paintings with gold leaf patterns. Marble pillars bearing floral arabesques, multi colored walls and floors appeal to the senses. This temple is visited by many devotees daily and worth the visit.

Junagarh FortThe fort was built by Raja Rai Singh, the sixth ruler of Bikaner who reigned from 1571 to 1612. It is a fort of the Bikaner royal family. You will get a chance to know about the history of the Bikaner royal family. Also has a museum which displays weapons and ornaments of the previous era. This is one of the oldest forts and was one of the few forts in India that was never defeated. One of the kings saved all Hindus in India from being converted to Islam by emperor Aurangjeb.

Karni Mata TempleLocated at Deshnok, 32 kilometres from Bikaner. This is a temple of a local deity, "Karni Mata". It is believed that the "Karni Mata" used to take care of the Rajputana family. This temple has a rat infestation but the locals believe them to be holy. You will likely be told that seeing a certain white rat is very auspicious, but if you press further most locals will tell you there is always one or two visible around the temple. Be careful while walking inside the temple: You might accidentally step on a rat.

Laxmi Niwas PalaceThe Laxmi Niwas Palace is a former residential palace of the king of the former Bikaner state, Maharajah Ganga Singh in Bikaner in the Indian state of Rajasthan. It was designed by the British architect, Sir Samuel Swinton Jacob in the year 1902, completed in year 1926, and it is part of Lalgarh palace. The style of architecture is Indo-Saracenic. It is now a luxury hotel owned by Golden Triangle Fort & Palace P. Ltd.

LalgarhLalgarh is another fort of the Rajputana family. Some of the Rajputana kings used to stay here. You will see the royal story of the Rajputana family.

Rampuriya HaveliBuilt by Balujee Chalva commissioned by the rich merchant Rampuria family. This represents the opulence and architectural splendor of Bikaner. Flowers, birds and animals carved in red sandstone almost come alive. These priceless homes are more than 400 years old.

Shivbari Temple

address: Shivbari choraha

This is a centuries old Shiva temple. It has two huge "Bawris" (water reservoirs). Thousands of people visit this place every year. The Shiv Bari Park partially surrounds this temple.
Do
Bishnoi Camel Safaris is a project to save camels through tourism. It has contacts with grassroots camel men and provides fair prices to them. Camels have been the beauty of the Thar Desert but they are at the verge of end due to machines. They are not economically viable and have to compete with machines for survival. Its a pity that we keep on watching this situation. Bishnoi camel safaris has taken the initiative to change this. Contact Mr. Bishnoi arotuan@gmail.com, mobile:09461047725
Buy
address: E-35 Khaturia colony

A souvenir shop run by the local Ngo Hastshilp, a society for handicrafts which is supporting ancient crafts in the villages of Bikaner. It has taken its inspiration from Mahatma Gandhi and is making traditional hand-woven fabric known very famously in India as "Khadi".
Eat
For a foodie a visit to Bhujia Bazaar (yes Bikaner does have a market named on famous Bikaneri Bhujia) and Chai Patti is a must. You will just fall in love with the Kachoris and Samosas at Chai Patti.
Chhappan Bhog

address: Station Road, Bikaner

One of the oldest fast food joints of Bikaner. The Rajkachori of this place is a show stealer, and a must for all those who are in for a chaat-treat. Other Good items on the menu include the Rava Dosa, with amazing fresh coconut chutney. The typical Indian-Chinese Chowmein is also lip-smacking.

Hiralal

address: Opposite Bikaner Railway Station

Sankhla Kesar KulfiIf you have a sweet tooth, particularly a penchant for Indian sweets and are looking for some relief in the rising temperatures of Bikaner, then you need to drop by at Sankhla Kesar Kulfi. The place promises to sell the best Kesar kulfi, and most of the consumers vouch for it; refreshingly cool. .
Sleep
Hotel Sagar

address: Lal Garh Palace - Campus, Bikaner

It's a high end place in a palace. Huge, kind, attentive staff, they pamper you.

phone: +91 91 151 2522651,+91 91 151 2521320

address: A228 Sardul Ganj

Nicely decorated spacious rooms, with attached baths having hot and cold running water, in a calm residential area. Open Courtyard in front and rear with big open terrace upstairs

phone: +91 151 2202777

address: Dr. Karni Singhji Road

106 year old palace, which is the former residential palace of the king. 45 standard rooms and 15 suites, all air-conditioned and many of them have direct access to an open terrace. Indoor games like billiards and ping pong, WiFi, conference rooms, a bar and a swimming pool. Rajasthani folk singers/dancers perform at the palace every evening. They have pictures of the royal family with the relevant historical factoids on the hallway walls which can be very informative for those interested, and they also arrange 'Sand dune dinners' with cultural programs at a desert site nearby.