Billings
Billings
is the largest city in
Montana
in Yellowstone County, with an estimated 100,000 people. As a destination in itself, Billings does a significant amount of convention business and is also the host to various regional events such as music festivals, athletic contests, rodeos, and outdoor activities. Billings hosts the largest hospitals in a 500-mile radius, as such the medical profession is a major source of employment in the area. Billings also is a frequent overnight or meal stop for westbound visitors to
Yellowstone National Park
, as it is the last major city for visitors going to the park via the Beartooth Highway.
Understand
Billings has the nickname "Magic City" because the city seems to have appeared overnight as a result of rapid growth spurred by the building of a railroad route in the late 1800s. The city is named after an executive of a railroad company, even though the executive never visited the city.
A big portion of the city is next to a cliff that is called "The Rims". The top of The Rims sits the city's airport, and The Rims itself is also frequented by local residents at times.

Get in
There are no passenger rail services to Billings, and despite its location along the river, there are no ferry services to other cities.
By plane
Billings Logan International Airport

phone: +1 406 247-8609

address: 1901 Terminal Cir

Billings Logan International is the major airport for Eastern Montana, and the busiest airport in the state. Cape Air has services linking the city with Glasgow, Glendive, Havre, Sidney, and Wolf Point. It is additionally served by Allegiant, American, Alaska, Delta, Frontier, and United. Denver, Salt Lake City, and Minneapolis are the biggest hubs serving Billings.
By car
By bus
phone: +1 406 245-5116

address: 1830 4th Ave N

Jefferson Lines travels primarily on I-90 (Spokane-Missoula-Bozeman-Billings & Billings-Gillette-Rapid City) on two separate routes and I-94(Billings-Fargo). Passengers transfer in Fargo, Rapid City, Butte and Spokane to get to additional destinations.
Get around
MET TransitMET has 9 lines that provide service on weekdays and Saturdays with additional lines running during peak hours on weekdays. Weekday service 5:50AM–6:40PM. Saturday service 8:10AM–5:45PM, except for a one-hour lunch period. There is no service on Sundays and major holidays. Fares - Regular: $1.25; seniors (62+), Medicare, disabled: $0.50; children 5 and under: free. Long Beach Transit also offers a 10 Ride Ticket for $10. Transfers - Free. Must have exact fare for driver.

Yellow Cab - +1 406 245-3033
City Cab - +1 406 252-8700
Red Lodge Shuttle - +1 406 446-2257 or toll free +1-888-446-2191.
Taxis in Billings charge fares based on a pre-set zone arrangement. Uber and Lyft ridesharing services also operate in the city.
See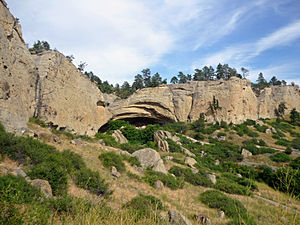 address: Charlene Street

In an area bordered by the Yellowstone River and the I-90, the area is site of Coulson, the first modern-era settlement in the area. Little is left of the town, however, at the site.

phone: +1 406 638-1876

address: Garryowen, Montana

All of the locations associated with the Battle of the Little Bighorn, known as Custer's Last Stand

phone: +1 406 247-2940

address: 2300 Lake Elmo Dr

64-acre reservoir is a popular swimming, boardsailing, non-motorized boating, and fishing area.

Moss Mansion Historic House Museum

phone: +1 406 256-5100

address: 914 Division St.

Preserved house of the Preston Boyd Moss family. It is on the National Register of Historic Places and was designed by New York architect Henry Janeway Hardenbergh.

phone: +1 406 248-2015

address: 2822 3rd Ave N # B3

Exhibits feature women from all walks of life, all professions, all ethnic groups and perspectives locally and internationally.

phone: +1 406 254-7342

address: 3401 Colburn Rd

A prehistoric archeological site with 2000-year-old cave paintings.

Pompeys Pillar National Monument

phone: +1 406 875-2400

address: about 25 miles east of

The only remaining physical evidence of the Lewis and Clark Expedition

phone: +1 406 256-6804

address: 401 N 27th St.

Contemporary and historical art from Montana and the Rocky Mountain region.

phone: +1 406 256-6809

address: 2822 Montana Ave.

phone: +1 406 652-8100

Zimmerman TrailA vehicle-only road that connects the Billings West End to the top of the Rims. Created by two brothers who moved to the area from Alsace-Lorraine, the road offers an impressive view of Billings, even if driving on it requires a bit of skill.
Do
address: 308 6th Ave. N

Agricultural and commercial product expo combined with amusement fair attractions.

phone: +1 406-969-3131

Public water park with water slides and other water-based attractions.

phone: +1 406-839-9283

Indoor water park that bills itself as the largest water park of its kind in Montana.
Buy
phone: +1 406-656-3206

address: 300 S 24th St W

The Rimrock Mall has over 90 mall shops, restaurants and department stores including Dillard's, Macy's, Herberger's, and a movie theater. There are two Dillard's units inside the mall; one of them features only women's merchandise.

address: 502 N 30th St (downtown), 810 Bench Blvd (Heights), 1211 24th St W (West side)

Family-owned garden and home stores with nice gift selection.
Eat
Drink
Coffee
address: Various locations. Check website for details

A coffee chain that has a strong presence in Montana, and can rival Starbucks in Billings.

address: Two locations. Check website for details

Local coffee chain.
Alcohol
phone: +1 406-252-3370

address: 2405 1st Ave N

Microbrewery located downtown in an old gas station. Due to restrictions imposed by state law, Each person can only get 3 pints of beer per day.

Hooligan's Sports Bar

phone: +1 406-294-3495

address: 109 N Broadway

Irish-themed pub offering drinks as well as food.

The Loft

phone: +1 406 2599074

address: 1123 1st Avenue North

Dance club that is considered to be the area's gay bar.

Montana Brewing Company

phone: +1 406-252-9200

address: 113 N Broadway

This microbrewery offers regular and seasonal beers that are made on premise.

Yellowstone Valley Brewing Company

phone: +1 406-245-0918

address: 2123-B 1st Ave N

Local microbrewery featuring live music.
Sleep
Early reservations are advised during the peak summer months and during weekends when a major event is scheduled. At most hotels, rates are significantly higher during the summer.
phone: +1 406 252-7400

address: 27 N 27th St

This 23-story hotel is the world's largest free-standing brick building. Restaurant, lounge, exercise room, concierge, courtesy shuttle, 24-hr. business centers, dry cleaning, executive levels, full service Starbucks, renovated 2007.

phone: +1 406 655-1100

address: 2020 Overland Ave S

Resort hotel lodging close to many amenities. Summer rates (Apr-Sep): $73-145, Winter rates (Oct-Mar): $70-141.

phone: +1 406 259-5561

address: 415 N 29th St

Downtown location, king and queen sized beds, restaurant, coffee makers and coffee in every room, cable TV, microwave and refrigerators in selected rooms, pets allowed. $48-63 double.

Northern Hotel

phone: +1 406 245-5121

address: 19 N 28th St

Built in 1940, this hotel received a remodel in the late 1990s and reopened in 2013 following extensive renovation. Air conditioning, cable TV, restaurant, saloon, exercise room.

phone: +1 406 248-5898

address: 514 N 29th St

Features Victorian decor with modern amenities. The house includes a library, parlor, and dining room for breakfast, and a wraparound porch. A/C, cable TV, wireless network (wireless network cards are available for rent), complimentary snacks, beverages and liqueur. Well behaved children are welcome. No pets. $65-160.
Stay safe
Billings is generally a safe city, but crimes do occur. It is advisable to stay away from portions of the city south of Montana Ave., otherwise known as South Side, at night.
Portions of the city east of N. 27th St., north of Montana Ave. and west of Main St., otherwise known as the North Park area, may not be safe at night as well. However, the area is mainly residential and offers little for tourists in any case.
Rock slides, sometimes involving big boulders, have happened along the Rims, therefore, it is advisable to keep a reasonable distance between yourself and the edge of the Rims.
Due to swift currents, do not get into the city's canals. In the past, people have had to be rescued from the canals.
Roads conditions can be treacherous during and after winter snowstorms. The city has a so-called "Slick Streets" policy, meaning if the city's emergency dispatch center receives too many calls on accidents due to snowy or icy road conditions, emergency crews will only respond to accidents involving injuries. The city's media outlets may make an announcement when the Slick Streets policy is in effect.

Go next
If Billings is too crowded for you, try its "suburbs" of
Huntley
and
Shepherd
, roughly ten miles east.
Two National Monuments are within a reasonable distance:
Pompey's Pillar
, 32 miles east on I-94, and
Little Bighorn Battlefield
, 67 miles southeast on I-90. Other than those, you're at the last city of any significant size before rolling out into the vast Eastern Montana prairie – the greatest attraction may be the scenery of the drive itself to your next destination.