Bingen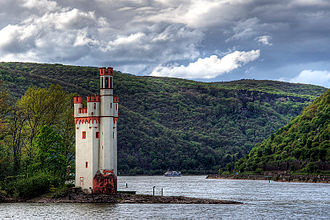 Bingen am Rhein
(pop 24,000) is a town in the
Rhineland-Palatinate
region of
Germany
located at the junction of the
Rhine
and the Nahe, across the river from
Rüdesheim
. It came into being as a strategically important location for the Romans.
Understand
Bingen was the home of one of the most incredible women in history, Hildegard von Bingen. It was here on the northern banks of the Nahe, that the Benedictine Hildegard von Bingen (1098-1179) founded her cloister upon the grave of the holy Rupertus. It is remarkable to note that in her "Physica", Hildegard von Bingen includes more than 250 plants and many folk remedies and "natural" medicinal methods of treatment. A scholar, artist, poet, preacher and composer (you can get CD's of her music at most major music stores), she was one of the most dominant and influential women of the Middle Ages (if she had been a man, she would have rivaled the Pope in influence). The Historisches Museum am Strom has an impressive display on her or you can also visit the
Hildegard Forum
, which has additional displays on Hildegard, including a restaurant that serves foods reflecting her nutritional teachings.
Get in
By train
There are two stations in Bingen on the West Rhine railway (Linke Rheinstrecke:)
Mainz
– Bingen Stadt – Bingen Hauptbahnhof –
Koblenz
– Köln
(Cologne)
Bingen (Rhein) Hauptbahnhof
RE 2 Koblenz – Boppard – Bingen (Rhein) – Mainz – Frankfurt (Main) Flughafen Regionalbf – Frankfurt (Main) Hbf
MRB 32 Koblenz – Boppard – Oberwesel – Bingen (Rhein) – Ingelheim – Mainz
RB 65 Kaiserslautern – Enkenbach – Winnweiler – Alsenz – Rockenhausen – Bad Münster am Stein – Bad Kreuznach – Langenlonsheim – Bingen (Rhein)
Bahnhof Bingen (Rhein) Stadt
RB 35 Worms – Monsheim – Alzey – Armsheim – Gau-Bickelheim – Gensingen-Horrweiler – Bingen (Rhein) Stadt
RB 80 Bingen (Rhein) Hbf – Bingen (Rhein) Stadt – Ingelheim – Mainz – Frankfurt (Main) Flughafen Regionalbf – Frankfurt (Main) Hbf
By car
The town is north of the Nahetal Dreieck, the A61-A63 interchange. The A61 provides a good connection from northern and southern Germany.
For a more scenic and slower drive, the B9 from
Bonn
provides a good way to see the
Middle Rhine Valley
.
From Hesse the
car ferry
from Rüdesheim is a recommended journey. Take the opportunity to get out of the car during the crossing for a great views of the river and valley.
By bus
see
Intercity buses in Germany
By boat
See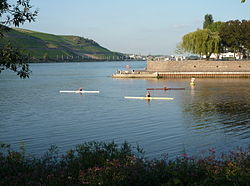 MäuseturmTower on island in the Rhine just down stream of the town. There has been some form of tower on the island for over a thousand year, the current one being build in 1855

Burg KloppRemains of medieval keep but mainly more modern buildings. Now houses town administration and a restaurant.

phone: +49 6721 990654

address: Museumstraße 3

Hildegard von Bingen
Parks
Hafenpark
Hindenburgpark
Rhein-Nahe-Eck − Museum am Strom, Hildegarten
Park am Mäuseturm in Bingerbrück. This park close to the railway station and the Mäuseturm is also a really nice place to hang out along the Rhine river if you find yourself having some time left and/or waiting for the train. You also get a nice view to the Niederwalddenkmal.
Do
Nahe RadwegBingen is the starting point of the Radweg Nahe, a 128 km posted bike route that follows the Nahe River southwest passed Idar-Oberstein to the source (or better the other way round).

Hiwwel Route165 knm from Bingen to Worms

Part of the Rhein-Radweg
Hiking
Events
Eat
phone: +49 6721 1867994

address: Vorstadt 60

phone: +49 6721 14882

address: Badergasse 36
Sleep
phone: +49 6721 7960

address: Museumstraße 3

Quality hotel on the banks of the river Rhine

phone: +49 6721 14770

address: Kapuziner Street 12

phone: +49 6721 14341

address: Rheinkai 1-2
Go next