Bintan Resorts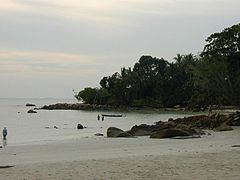 Bintan Resorts
, also known as
Lagoi
, are at the northern part of the
Indonesia
island of
Bintan
.
Understand
Bintan Resorts refers generally to the area on the entire northern coast of the Indonesian island of Bintan. It is often said to be a colony of
Singapore
in all but name because of its higher standards of infrastructure, utilities and security, and the fact that many of the resorts are owned by Singaporean companies. Very much a family-oriented destination, there are five independently owned and operated beach resorts, four designer golf courses and a range of recreational facilities and attractions. Most tourists come for its serenity: you can laze by the beach, enjoy a spa, play golf and dabble in water sports. The area is separated from the rest of
Bintan
by thick forests and checkpoints.
Talk
Indonesian and English are widely understood. However, if you plan to rent a car to visit towns outside the resort area, bring along your
Indonesian phrasebook
because the drivers' command of English can be limited.
Get in
Bintan has a small domestic airport and three international seaports. However, most travellers to Bintan Resorts arrive at Bandar Bentan Telani (BBT) at the western tip of the Bintan Resorts from Tanah Merah Ferry Terminal (TMFT) in
Singapore
. The trip takes about 45 minutes and ticket can be booked at
Bintan Resort Ferries
or as part of a room package. TMFT is a short drive away Singapore's
Changi Airport
, and shuttle buses ply regularly between the two locations.
Visitors from other parts of Indonesia may either fly to Hang Nadim airport in Batam and take 25-minute boat ride to BBT or to Raja Haji Fisabillilah in Kijang and drive for 1½ hours. The travel time will be shortened with the new Bintan International Airport, a 30-minute drive from Bintan Resorts, that is scheduled to open in 2020.
See
Indonesia#Get_in
for information in entry into Indonesia.
Get around
The most convenient and affordable way is by taking a holiday package that include hotel transfer. The limited means to get around Bintan Resorts and the nearby towns push up the price of vehicle rental.

See
As a destination, Bintan Resorts is rather artificial with its manicured landscape. Still, the beaches are beautiful with white sands and most of the resorts are built to a high standard.
Beyond spending time on the beaches and golf courses, you can book various eco-tours by contacting brctours@bintan-resorts.com. The PATA Gold Winner's Mangrove Tour and Firefly Night Tour are the most attractive choices. A day pass with unlimited rides from your resort to Pasar Oleh-Oleh at Kota Sebung costs S$3 for child and S$5 for adult (
Singapore dollars
). Massage and meal here are more affordable than at the Resorts.
If you stay longer than 3 days, visit the town areas of Bintan Island especially
Tanjung Pinang
2-hours drive from Lagoi to savor a taste of the local lifestyle and enjoy cheap shopping and tasty local fare. Another interesting place is
Sawah Ladang Bintan
, an organic farm where you may spot some species of birds, snakes, mouse deers and monkeys.
Do

Golf is popular, with several excellent golf courses charging much lower prices than in neighboring Singapore. Watersports of all sorts are also popular, although the scuba diving here is lacklustre due to the poor visibility.
During the northeast monsoon (November until March), there is usually quite a bit of wave action on the beach. This is good for surfing and bodyboarding, but not good for most anything else. The north facing beach break at the resort Mayang Sari, even with fresh onshore winds in April, does not generate more than 30- to 45-cm (1- to 1½-foot) waves. The waves tend to close out, however it is a good beach for children on boogie boards or surfmats. Small jellyfish may be found.
Spas are increasing in number and quality in Pasar Oleh Oleh, with prices a little below that in Singapore.

Buy
In Bintan Resorts, Singapore dollars (S$) and
Indonesian rupiah
(Rp) are accepted, though prices are usually quoted in Singapore dollars. At most F&B establishments, prices in the menu have not included 10% tax and 10% service charge. Prices in Bintan Resorts are generally expensive compared to Singapore, and very expensive compared to almost anywhere else in Indonesia. If staying for a significant amount of time, it is advisable to rent a car and head out to Tanjung Pinang to do your shopping, where the prices are a lot lower.
Kampoeng Lagoi, opposite Pasar Oleh-Oleh, is good for spa and Indonesia food. Cafe Tempo opens after 16:00 offers a must-try soft-bone chicken. Warung Bumbu has a range of Central Javanese food.
Pujasera is a stroll away from Pasar Oleh-Oleh. This is where most locals get their meals and daily supply. Try Lamak Basamo for authentic Padang food. Some stalls offer ayam penyet (fried chicken with sambal), Indonesian style fritters, bakso (meatball in clear soup), etc. at Rp 15,000 or more.
Eat
In the hotels is nearly every food available. This reaches from the traditional Indonesian food over the usual European food to some sushi bars. Expect prices to be expensive even by Singaporean standards, given that they have a captive market.
Hello-Hello Restaurant. In Pasar Oleh-Oleh. Offers authentic Indonesian food at almost-reasonable prices. Figure on S$10–20 per head for a full meal.
Rin Japanese restaurant near Nirwana Resort Hotel.
Miyako Japanese restaurant at Bintan Lagoon. Prawn tempura S$25
Saffron Thai and Indonesian restaurant at Banyan Tree, their most formal choice.
Kopi-O Buffet and a la carte restaurant at Bintan lagoon. Cuisines change daily.
Tree Tops The general a la carte restaurant at Banyan Tree
Lotus Cafe The general a la carte restaurant at Angsana. Around US$12 for burger or nasi goreng.
Makan Makan food court at Nirwana Resort Hotel
Jeju Korean restaurant at Nirwana Resort Hotel
Spice Indian restaurant at Mayang Sari
Kelong Chinese seafood restaurant on stilts over the sea, and the adjacent Calypso Bar. (Nirwana Gardens area)
Orzo 'fine dining' Italian and Mediterranean restaurant at Bintan Lagoon. S$28 for chicken kebab.
The Cove Italian and Mediterranean restaurant @ Banyan Tree
Nelayan Grill at Bintan Lagoon. Grilled meat, seafood, etc., eat inside or al fresco.
Pantai Grill & Bar at Angsana. Beachfront grill restaurant. On Friday and Saturday evenings a buffet operates. Around US$15 for a steak, US$16 for half a lobster.
Drink
Bintan Resorts' nightlife is limited to hotel bars.
SilkBintan Lagoon Resort. Bintan's first full-fledged nightclub.
Sleep
Nirwana Gardens
The Nirwana Gardens Bintan Resort (contact: +62-770-692505, bookings: +65-6323-6636) consists of five accommodation choices:

Facilities include:

Banyan Tree

The Banyan Tree Group operates two high-end hotels, which share a private beach, and charge in US rather than Singapore dollars:


Others
Stay safe
Bintan Resorts' serious violent rate is zero, though petty crime is still somewhat common. The Tourism Police and Navy of Indonesia have an office at Kota Sebung. Tap water is drinkable - with source from its huge reservoir processed by water treatment plant to achieve WHO standards.

Go next
Lagoi Bay and Treasure Bay have new hotels, attractions (cable ski, tree-top walks, motorsport, crystal lagoon) and transportation methods (seaplane, yacht, etc.)
The capital of Riau Province,
Tanjung Pinang
, is about 1½ hours away by road. Cheapest way there is to rent a car and driver (a good price would be in the range of S$80–100 for six hours of his time). A new bridge was due in 2014 to reduce travelling time to about 20 minutes.