Birdsville
Birdsville
is a remote town in outback
Queensland
, right on the edge of the Simpson Desert. It has a population of around 300, but a steady stream of visitors heading outback or returning from the desert. The Birdsville track occupies a place in Australian folklore, but with a few sensible precautions this is an outback town accessible to all.
Understand

Being a desert town also means that there are extremes of temperature. Expect hot summers with average maximums at nearly 40°C, and some days of extreme heat. Winter is more mild, with warm days and cold nights. Rain is uncommon, but heavy rains can isolate the town for days, and can occur at any time of year - but most likely in summer. April to October are the best months to visit.

Get in
By plane
Birdsville has its own
airport
, and aviation related tourism is significant for the town. The airport is buzzing with general aviation flights for the Birdsville races. The airport terminal itself is right across the road from the pub, and (if you are so inclined) you can be seated at the bar with your first cold one within 5 minutes of stepping off the plane.
By car
A two-wheel drive vehicle is usually okay along the Birdsville track. Check local road conditions, and the predicted weather. The roads can close to all or just 2 wheel drive vehicles. Any road trip to Birdsville requires preparation. A careful eye on the weather and road conditions and a few survival rations on board. It will take you longer to drive from Brisbane than it would if you were to drive to Melbourne or Cairns.
Get around

Shuttle buses run to the races and to the music festival when they are on. The town itself is very small you wouldn't need a car to get between the Caravan Park, the pub and the billabong. You'll need a car (or a plane) to continue your trip.

See
Birdsville Wirrarri Information Centre

phone: +61 7 4656 3300

The centre offers visitors Wi-Fi, maps, souvenirs, library facilities, road conditions and weather reports throughout the Diamantina Shire and adjoining areas.

Blue Poles Gallery

phone: +61 7 4656-3221
Do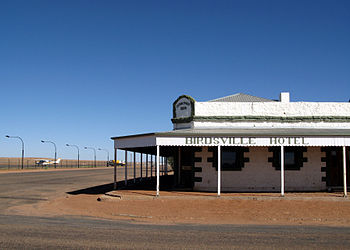 Events
Eat
Birdsville Bakery

phone: +61 7 4656-4697

The bakery includes a café themed on old world Australiana offering coffee, cakes, fresh pies and sausage rolls. The homemade pie range includes Curry Camel, Kangaroo and Claret, Chunky beef and Mince pies.

phone: +61 7 4656-3244

Delicious counter meals can be ordered in the historic 'Green Lizard Bar' at the Birdsville Hotel. Lunch is served daily 12:00-14:00 and evening meals 18:00-20:30.
There is a cafe at the caravan park.
Drink
There is a single hotel, serving both canned and bottled beer.
Sleep
phone: +61 7 4656-3214

The Birdsville Caravan Park has 9 fully serviced units with fridges and TV's plus 3 deluxe fully self contained cabins.
There is also accommodation at the pub.
During race week, and for the music festival you will be expected to camp, unless you get in early.
Connect

Telstra and Optus both provide services in town. However, during race week, the network can be at capacity.

Go next
Bedourie, Betoota,
Innamincka
, Moomba, Jundah, Finke, Boulia