Birkenhead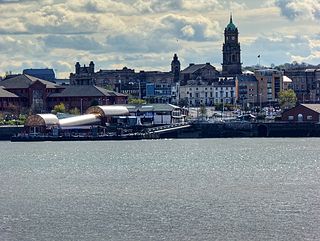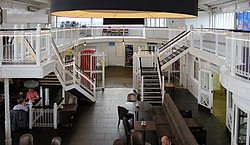 Birkenhead
is a town on
Merseyside
,
England
, on the
Wirral
peninsula in the historic county boundaries of Cheshire, across the River Mersey from
Liverpool
. It is not a tourist destination in its own right but can make for a rewarding afternoon trip from Liverpool, and is well worth a couple of hours.
Understand
The town grew around the huge Cammell Laird's shipbuilding works, its population peaking in the 1921 census when it was the 20th most populated town in England. Landscape architect Frederick Law Olmsted was so impressed by Birkenhead's public municipal park after a visit in 1850, he incorporated many of its features into his work on New York's Central Park.

Get in
By road
Birkenhead can be reached by the Mersey tunnels from Liverpool (toll payable) or the M53 from Chester.
By local ferry
address: Hamilton Street, Birkenhead. CH41 6DU

The famous Ferry 'cross the Mersey deposits you at Birkenhead Woodside, in the riverside area of the town.
By train
It takes 3 minutes for a Merseyrail Wirral line train to travel from Liverpool James Street. These trains serve all loop stations in Liverpool, taking 2 additional minutes for each. These are the 4 stations most useful to visitors (the number in brackets is how many additional minutes it takes for the train to reach this station from Hamilton Square):
By sea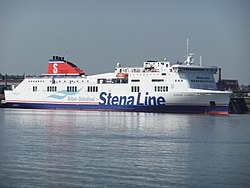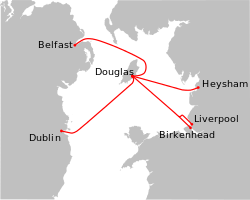 address: Tower Road, Birkenhead. CH41 1FE

The terminal is served by Stena Line ro-ro ferries from Belfast in Northern Ireland.
Dublin, via Isle of Man Steam Packet, MS Ben-my-Chree during winter.
Get around
Frequent and reliable Merseyrail services operate between the town's stations. There is also an extensive bus network.
Saveaway tickets
are valid on all public transport in Birkenhead. These can be purchased at any staffed railway or bus stations in Merseyside. An "all areas" ticket is best, if intending to also travel to Liverpool, Chester, Ellesmere Port,
Formby
or
Southport
. The ticket costs about £5 per day, for off-peak use. Alternatively, a slightly cheaper "area B" ticket will cover most of Wirral.
See
Hamilton SquareA beautiful Georgian Square with gardens in the middle designed by James Gillespie Graham. The square contains the largest cluster of Grade I listed buildings outside Trafalgar Square in London.

phone: +44 151 652-5197

address: Park Drive, Birkenhead, CH41 4HY

Designed by Joseph Paxton and opened on 5 April 1847, it is generally acknowledged as the first publicly-funded civic park in Britain. American landscape architect Frederick Law Olmsted incorporated many of the features he observed into his design for New York's Central Park.

phone: +44 151 647-2128

address: 1 Taylor Street, Birkenhead, Merseyside, CH41 1BG

phone: +44 151 666-1249

address: 4 Priory Street, Birkenhead, Merseyside, CH41 5JH

This former monastery dates back to when monks ferried passengers over the River Mersey and is the oldest building in Merseyside.

phone: +44 151 330-1000

address: Wirral Museum Office, Woodside, Birkenhead, Wirral, CH41 6DU

The John Laird Centre

address: Park Road North, Birkenhead, Merseyside

Originally the Laird School of Art, the first British public school of art outside London. It is opposite Birkenhead Park's grand entrance, in use as offices, and not open to the general public.
At Woodside, the
riverside
by the Mersey affords an excellent panorama of
Liverpool
city centre including all of its iconic buildings. There is also a wealth of interesting industrial buildings, structures and artefacts in the outlying docklands area. Some of these are very well-kept, while others are either derelict, or in quite unkempt surroundings; but all reflect the town's industrial heritage. Examples include:
Cammell Laird's shipyardEstablished in 1824, the shipyard is best seen from the Mersey Ferry. Unfortunately, it has no visitor centre or museum, though it greatly deserves such facilities.

Shore Road Pumping Station

phone: +44 151 650-1182

address: 1 Pacific Rd, CH41 6DN

Pacific Road Business Hub

address: Pacific Road, CH41 1LJ

Built as a railway goods transit shed.

Cheshire Lines Building

address: Canning Street. CH41 1ND

Built as a railway goods station.

The One o'Clock GunThe cannon was in use from 1867 to 1969, although it didn't fire during World War II. The cannon was controlled from Bidston Observatory, and was used to set the marine chronometers of ships on the Mersey.

Egerton Bridge

address: Egerton Wharf, Birkenhead

This bridge separates Egerton and Morpeth Docks. Egerton House, originally a dockside warehouse, is visible from the bridge.

The Central Hydraulic Tower

address: Tower Road, Birkenhead

On the opposite side of Tower Road to the Twelve Quays ferry terminal. The building is derelict and not open to the public. The Wallasey Dock impounding station is within the ro-ro ferry terminal and, although inaccessible to tourists, can be clearly seen from a Mersey ferry travelling between Seacombe and Woodside.

Duke Street Bridge

address: Duke Street, Birkenhead

Separating East and West Floats, this bridge is about a mile inland from the riverside. Dockside viewing points are accessible at the northeast and southwest quarters of the bridge.
Further outside the centre of town,
Bidston Hill
provides an interesting group of buildings amongst the heathland:
Bidston Windmill

address: 2 Vyner Road North, Bidston. CH43 7PZ

Built in 1800, a prominent local landmark.

address: Vyner Road North, Bidston. CH43 7PZ

The Grade II listed observatory was built in 1866.

address: 4 Lighthouse Cottages, Bidston. CH43 7RA

Built in 1873, and over two miles from the sea, it has a claim as the world's most inland lighthouse used for marine navigation.
Do
Williamson Art Gallery and Museum

phone: +44 151 652-4177

address: Slatey Road, Oxton. CH43 4UE

Near to Birkenhead Park on Slatey Road, has some great artwork.

Vue Cinemas

address: Conway Park, Europa Boulevard, CH41 4PE

address: Boundary Road, Bidston Hill. CH43 7PD

The farm has a variety of animals, which love to be hand-fed.
Watch football (ie soccer) at

address: Prenton Park, Prenton Rd West, Birkenhead, CH42 9PY

Although Rovers have always lived in the shadow of Liverpool they have a long tradition and a great family atmosphere. In 2019 they were promoted so they now play in League One, the third tier of English football.

address: 136 Conway Street. CH41 6RN

Indoor swimming with a wave machine, flumes and competition pool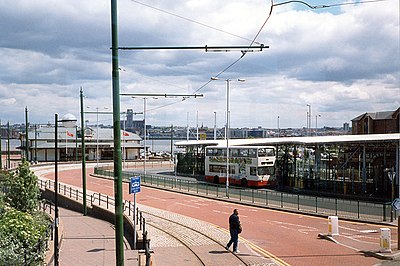 Take a short trip on a vintage tram along the Wirral Tramway, between Woodside ferry terminal and the Wirral Transport Museum, during summer weekend afternoons. Birkenhead Hamilton Square.
Explore
Birkenhead Park
. The first public park and the inspiration for Central Park, New York. It is larger than most parks and has some beautiful wooded areas and duck ponds. Especially popular in the summer months.
Birkenhead Park
.
The
Ferry 'cross the Mersey
, immortalised in the Gerry and the Pacemakers song, is considered by many to be essential on any trip to Liverpool, and by definition involves a trip to Birkenhead. Terminals are Birkenhead Woodside and Liverpool Pier Head.
Birkenhead Hamilton Square or Liverpool James Street.
Buy
Visit
Birkenhead Shopping Precinct
. Birkenhead has the usual unexciting array of British high-street chain stores for your everyday requirements. Those seeking specialist shops or anything a cut above the norm should head across the water to
Liverpool
.
Conway Park or Birkenhead Central
.
Birkenhead Central LibraryBirkenhead Central Library, which was opened in 1934 by George V was the country's first public library in an unincorporated borough

The Pyramids Shopping centreShopping centre that has all commodities and has some great deals
Eat
phone: +44 151 650-8950

address: 39-45 Argyle Street, CH41 6AB

Buffet 88

phone: +44 151 649-9888

address: 46 Conway Street, CH41 6JD

phone: +44 151 647 9212

address: 24 Argyle Street

Generally considered to be the best Chinese/Canton/Peking restaurant in Merseyside. Award winning dim sum, banquets and specials. Friendly service.

phone: +44 151 330-1475

address: Woodside Ferry Terminal, Birkenhead, CH41 6DU

phone: +44 151 625-2400

address: 11 Rose Mount, Prenton, CH43 5SG

phone: +44 151 651-2535

address: Claughton Firs, Oxton. CH43 5TQ

Venezia

phone: +44 151 608-9212

address: 14-16 Prenton Road West. CH42 9PN

Italian food.

phone: +44 151 653-4002

address: 300 Borough Road. CH41 2UW

Mr. Yummie

phone: +44 151 653-8759

address: 11 Oxton Road. CH41 2QQ

Fast food take-away, providing pizzas, kebabs, burgers and vegetarian options, with congenial staff. Useful as a very late-night stop-off, on the way back from a night out in Liverpool.
Drink
phone: +44 151 647-7506

address: 41 Price Street. CH41 6JN

A must-visit pub for the pub architecture/real ale fan. The Edwardian tiling, mosaic floor and etched windows make for a sumptuous drinking experience. There is always a selection of real ale, and cheap hearty food is served at lunchtimes. 200 yards (180 m) from Hamilton Square and a similar distance from Conway Park station.

phone: +44 151 652-2831

address: 10 Bidston Road, Prenton. CH43 2JZ

The Brass Balance

phone: +44 151 650-8950

address: 39-45 Argyle Street, Birkenhead, CH41 6AB
Sleep
Go next
Port Sunlight, William Lever's model village, is 15 minutes away and is easily accessed by rail or road. 4-6 trains per hour
The Wirral coast between New Brighton and West Kirby has some excellent walking and off-road cycling opportunities, including the Wirral Way. 2-4 trains per hour on each branch.
The ancient walled city of Chester is 30 minutes away by road or rail. 2-4 trains per hour