Birmingham (Alabama)
With a population of 1.2 million in the metro area,
Birmingham
is the largest city in
Alabama
, and its cultural and economic nucleus. While it's best remembered as the site of protest, bombings, and other racial tumult during the Civil Rights Movement of the 1960s, visitors to the Birmingham of today will find a pleasant green city of ridges, valleys, attractive views, and friendly, hospitable people.
Understand
History
Generally speaking, most of the modern-day big cities of the Southern United States got their start in the 18th or very early 19th century as frontier forts or trading posts (or, in the case of coastal cities like
Charleston
or
Norfolk
, as seaports), then grew through the antebellum period into administrative centers where folks from the surrounding areas would come to conduct government business and/or market towns where they came to sell their agricultural goods.
Birmingham's history is very different from that. For one thing, it's a lot younger than most Southern cities: although white settlers began arriving in the area in the 1810s or so, until after the
Civil War
there was nothing inside the modern-day city limits but rural farmland dotted with a few small towns (notably
Elyton
, of which the
Arlington Antebellum Home
, Birmingham's only, is a remnant). For another thing, its economic
raison d'être
had a lot more in common with Northern Rust Belt cities like
Pittsburgh
and
Buffalo
than anywhere else in the South. It's important to understand that the Civil War wrought total devastation on the former Confederacy, not only in terms of loss of life and physical destruction but also in terms of the structure of society itself. In the antebellum years, the Southern economy was based almost entirely around agriculture — specifically enormous plantations of cotton and other labor-intensive crops — and a rigid class system with rich white landowners at the top, black slaves at the bottom, and poor white subsistence farmers just a notch or two above the slaves, with little hope of upward mobility for either of the latter two groups. But the postwar abolition of slavery made that paradigm untenable. Meanwhile, this was also the time in history when the railroads were coming to the fore as America's main mode of long-distance transportation and freight shipping, and it just so happened that two of the new railroad lines that were being built across the South intersected in one of the few places in the world where iron ore, coal, and limestone — the main ingredients used to make steel — were all found in close proximity to one another. Thus was born the South's first major postwar industrial center, founded in 1871 and aptly named for
the British city that's widely regarded as the cradle of the Industrial Revolution
.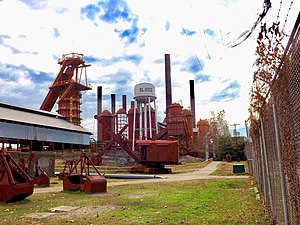 The steel industry brought immediate and rapid growth to Birmingham — so rapid, in fact, that it earned the nickname
"The Magic City"
. The nation as a whole, too, was rapidly urbanizing and industrializing, and many of the skyscrapers, ships, railroad tracks, automobiles, machinery, and other stuff of this new America was made from steel forged in Birmingham. Job openings in the mills were plentiful, as was cheap labor to fill them (courtesy of a steady inflow of Greek and Italian immigrants as well as unskilled workers from the surrounding rural hinterlands), and they say it used to take only a few minutes outdoors for a clean white shirt to turn gray in the sooty air. In short, this was Birmingham's golden age. (A visit to the
Sloss Furnaces
is a must for anyone interested in this era of Birmingham's history.)
By 1929, Birmingham had accrued a population of nearly 260,000 and become one of the largest cities in the South (behind only
New Orleans
and
Louisville
and more-or-less tied with
Atlanta
). But, of course, 1929 also saw the onset of the
Great Depression
, which brought the steel mills and workhouses to a near standstill — in fact, many economists of the time singled out Birmingham as the city in America that was hardest hit by the economic crisis. Even after conditions improved, the changes wrought by the Depression were enduring: even through World War II and the prosperous postwar years, when the mills were once again running at full capacity, the gradual shift in focus away from heavy industry and toward white-collar professional fields was palpable.
It's in the context of this transition that Birmingham's pivotal role in the
Civil Rights Movement
must be understood. Spurred on by a growing list of victories in the preceding years — the desegregation by military force of
Little Rock
High School and the University of
Mississippi
, the Freedom Rides, the
Montgomery
bus boycott — Dr. Martin Luther King and his Southern Christian Leadership Conference (SCLC) began their
"Birmingham campaign"
in 1963, joining with an incipient local activist community headed by Rev. Fred Shuttlesworth of
Bethel Baptist Church
to address the concerns of a black community that was sick of being excluded from what desirable factory jobs remained. King and Shuttlesworth were confronted by
Eugene "Bull" Connor
, a longtime local politico whose extreme hostility toward integration and civil rights had made him a notorious and somewhat divisive figure even among Southern whites — and true to the latter's nature, many of the most well-known scenes of brutality that have come to characterize the Civil Rights Movement took place in Birmingham. As much as anything else, it's testament to the degree to which Dr. King's understanding of the power of television was key to the success of his nonviolence strategy: the images of peaceful protesters under attack by snarling dogs, fire hoses, and police brutality that were beamed into American living rooms on the TV news played a crucial role in turning public opinion against segregation, and in securing Congressional passage of the Civil Rights Act of 1964.
In the years since, Birmingham has worked hard to exorcise the demons of its past, and has emerged from the postindustrial morass as a center for banking, insurance, and also — thanks to the world-renowned programs at the
University of Alabama at Birmingham
and associated hospitals — biomedical research. As well, after years of white flight and its attendant problems, Birmingham has joined the growing ranks of U.S. cities that are being rediscovered in the 21st century by young folks, with trendy neighborhoods like
Five Points South
,
Highland Park
, and
Avondale
emerging as destinations for fine dining and lively nightlife. And the best is yet to come for the old Magic City — it's set to take center stage once again as host city of the 2021
World Games
.
Climate
The weather in Birmingham varies greatly. Winter weather is highly unpredictable, with temperatures ranging from below 20°F (-5°C) to 60° or even 70°F (15° or even 20°C) throughout the season, with frequent rain and occasional snow. Summers are very hot and humid, with frequent thunderstorms. The best times to visit are spring and fall, when the weather is mild and pleasant and there's often a breeze in the air. Even within the city limits, the springtime displays of dogwood, cherry, azalea and other blossoms must be seen to be believed.
Visitor information
Get in
By plane
Birmingham-Shuttlesworth International Airport

phone: +1 205 595-0533

() With service to sixteen cities nationwide via American, Southwest, Delta, Frontier, and United Airlines, Birmingham-Shuttlesworth International Airport presents a breezy and laid-back experience for travellers — that is, once you clear the often congested security lines. Folks landing in Birmingham have a slew of hotel accommodations and restaurants right on the doorstep of the airport, or you can take advantage of a full slate of rental car desks or 24-hour limo and taxi service to get wherever you're headed around town.
By car
Birmingham is linked to the rest of the U.S. by the Interstate highway network. The principal interstates and highways serving the city are:
From the
north
, i.e. from
Nashville
and
Louisville
, I-65 and US 31 run more or less parallel to each other. I-59 approaches from
Chattanooga
and points
northeast
; you will possibly come from this direction if driving from the northeastern U.S. US 11 also comes from this direction.
Atlanta to the
east
, the biggest city nearby and with a major international airport, is connected to Birmingham by I-20. US 280 comes in from
Columbus
, Georgia to the
southeast
and further on from
Florida
. From places to the
south
, such as Montgomery and other parts of southern Alabama, comes I-65 and next to it US 31.
From
Meridian
in the
southwest
comes I-20 and I-59, the former from
Jackson
,
Shreveport
and
Dallas
, the latter from New Orleans and the Gulf Coast. I-22 and US 78 lead to Birmingham from the
northwest
, i.e.
Tupelo
and
Memphis
.
Finally, I-459 circumvents the city on the southeastern side.
Avoid rush hour (7AM-9AM and 4PM-6PM) if possible; for details on usual spots for rush hour tie-ups, see
Get around#By car
.
By bus
Birmingham is served by
Greyhound
and
Megabus
, both of which pick up and drop off downtown at the brand-new on Morris Avenue between 17th and 18th Streets North. The building also serves as the central station for the municipal bus system, so if you'll be using
public transit
to get around during your stay, you're all set.
By train
The
Birmingham Intermodal Station
is also served by
Amtrak
via its
Crescent
service, running daily between
New York
and New Orleans.
Get around
By car
This is by far the easiest and most reliable way to get around town — with the notable exception of rush hour, which can last from 6AM-9AM and 4PM-6PM. In particular, I-59, I-65, and Highway 280 in and around downtown are to be avoided at these times. Aside from that, though, getting around on four wheels is a breeze, and so is parking, even downtown: metered on-street parking is plentiful and reasonably priced, and usually free in the evening and on weekends.
By bus
Public transit is available in Birmingham and the surrounding area, though it's not what you'd call convenient, especially on weekends or in areas far outside the central core. The
Birmingham Jefferson County Transit Authority
runs both the
MAX Bus System
and the
DART Bus Trolley
, which operate from 10AM-10PM Monday through Thursday, until midnight on Fridays and Saturdays and until 9PM on Sundays.
By bike
There's a bike rental system called
Zyp BikeShare
, with bike stations around the city. You can use the bike for 45 minutes a time for a price of $3, if you keep the bike for a longer time, there's an overtime charge of $2 for the first 30 minutes, and $4 for each additional 30 minutes.
To start using the bikes, first register through the Zyp app or online to buy a Go pass (which means you pay for each ride), or purchase a one- or three-day or one month pass through the app and from one of the Zyp kiosks.
If you have one of the passes with unlimited rides for a day, three days or a month, you will still have to return the bike to a station within 45 minutes to avoid paying overtime fees (but you can immediately start using the bike again after returning it).
On foot
The downtown areas of Birmingham (notably separated by railroad tracks into a "north" and "south" side) are quite compact, so walking is a reasonable way to get from place to place within the central district. However, walking from downtown to further-flung neighborhoods such as Avondale or Woodlawn is not a viable option: aside from the distance and the lack of consistently available sidewalks or other pedestrian infrastructure, depending on the time of year even avid walkers might have to contend with summer temperatures that reach 100°F (40°C) regularly, and heat indices higher still.
See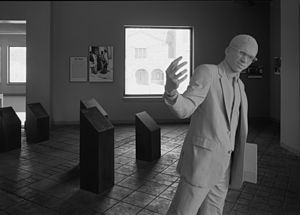 History
The bulk of Birmingham's most famous tourist attractions revolve around the city's role in the Civil Rights Movement.
Birmingham Civil Rights Institute

phone: +1 205 328-9696

address: 520 16th St N

Interpretive museum and research center, where you can learn about the struggle for civil rights through such engaging exhibits as a mocked-up 1950s-era segregated city, a replica of a Freedom Riders bus from Mississippi, and even the actual door from the cell in Birmingham Jail where Dr. Martin Luther King was held (see below). Researchers have at their disposal an expansive archive of documents and recordings.
The Birmingham Civil Rights Institute is immediately adjacent to:
Kelly Ingram ParkThis four-acre park was named for a local World War I hero, but is best known as the place where the climactic confrontation between the attack dog- and firehose-wielding Birmingham police and fire departments, led by Public Works Commissioner "Bull" Connor, and the student demonstrators from the SCLC, led by Dr. Martin Luther King, took place. The park was rededicated in 1992 as a "place of revolution and reconciliation" in commemoration of these pivotal events, and now contains a number of sculptural exhibits. Notable among those is Four Spirits, unveiled in 2013 as a memorial to the young victims of the 16th Street Baptist Church bombing (read on).

phone: +1 205 251-9402

address: 1530 6th Ave N

On September 15, 1963, in the aftermath of the Birmingham campaign (and at the beginning of the first school year in which the city's public schools were integrated), four members of the Ku Klux Klan bombed this oldest African-American church in Birmingham with dynamite, killing four young girls at choir practice and further outraging the nation and solidifying support in Congress for civil rights legislation. The church was rebuilt and remains in operation today, welcoming visitors both to Sunday services (11AM) and to the basement exhibition space featuring historical photographs and displays related to the Civil Rights Movement in Birmingham.
Other Civil Rights Movement-related landmarks in Birmingham include...
phone: +1 205 731-2000

address: 1420 7th Ave N

The home and office of Dr. Edward H. Ballard, an African-American physician who hosted meetings of local Civil Rights activists here beginning in 1959, and who offered medical treatment to victims of police violence during the Birmingham campaign of 1963. The not-for-profit Ballard House Project is hard at work restoring the building and hosting events and exhibitions related to local Civil Rights history and other cultural themes.

Birmingham Jail

address: 501 6th Ave S

Dr. Martin Luther King spent eight days in April 1963 incarcerated here, from his arrest on the 12th for violating an injunction against the demonstrations he and the SCLC were leading in the streets of Birmingham through his release on the 20th under pressure from the Kennedy administration. While there, he wrote his famous Letter from Birmingham Jail, addressing various criticisms that had been leveled against him and his movement — both an essay written by a group of local white clergymen and published in the local newspaper the day before his arrest, and more broadly from white moderates nationwide as well as certain "opposing forces in the Negro community". The prison is still in operation as such, so no tours are offered, but there is a historic plaque and other interpretive material outside.

Historic Bethel Baptist Church

phone: +1 205 324-8489

address: 3233 29th Ave N

Rev. Fred Shuttlesworth was agitating for racial justice in Birmingham for years before Dr. King came to town, and the church where he preached was a focal point of action in the period immediately previous to the Birmingham campaign: it was the designated point of contact in Alabama for the Freedom Riders, who in 1961 successfully forced the desegregation of interstate buses in the South, and was firebombed by white supremacists no fewer than three times, including on Christmas Day 1956.

phone: +1 205 322-4362

address: 1240 4th St N

With a Civil Rights pedigree that goes even further back than Bethel Baptist, Old Sardis Baptist Church started down the road of civic, social, and economic activism in 1947, when Rev. Robert Alford ascended to the pulpit — and it was here in 1956 that Rev. Alford along with Rev. Shuttlesworth and various other local ministers founded the Alabama Christian Movement for Human Rights, the local organization that worked side by side with Dr. King and the SCLC during the events of 1963.
Industrial history buffs will find much of interest in Birmingham as well.
phone: +1 205 324-1911

address: 20 32nd St N

The Sloss Iron and Steel Company was one of the first industrial concerns to set up shop in the then-brand new city of Birmingham. It eventually grew into one of the largest manufacturers of pig iron in the world (it should be said, largely on the backs of African-American convict labor — a form of legal slavery common in the Jim Crow era whereby local blacks would be rounded up and arrested on trumped-up charges and then leased out to private companies like Sloss for use as unpaid workers). Abandoned in 1972, their Furnace No. 1 was deemed an eyesore and slated for demolition, but saved at the last minute by historic preservationists and opened to the public as... well, it's hard to say exactly what this place is nowadays. Strolling around the old ovens, smokestacks, conveyor belts, and other abandoned equipment, you almost get the feeling of being in a giant art exhibit (the modern-day metal sculptures peppered around the site certainly don't do anything to discourage that sentiment). There is also a visitors' center with museum-style exhibits relating Birmingham's industrial history, and a full calendar of concerts and events at this one-of-a-kind venue.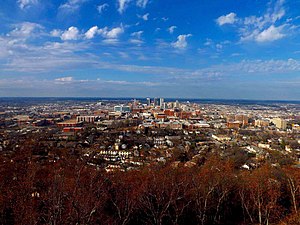 phone: +1 205 933-1409

address: 1701 Valley View Dr

What better way to pay homage to the mighty steel industry of early-20th century Birmingham than with an enormous statue of the Roman god of fire and metalsmithing? The world's largest cast iron statue at a height of , Vulcan was forged in 1903 as Birmingham's contribution to the St. Louis World's Fair, then spent a few decades welcoming visitors at the state fairgrounds in West Birmingham before being re-erected and rededicated in 1936 at the summit of Red Mountain by the Works Progress Administration. Vulcan now stands atop a sandstone pedestal with an observation deck near the top that provides a panoramic view of Birmingham and vicinity. Nearby is a small museum with exhibits on local industrial history.
And, representing a period still further in the past, even before the foundation of the City of Birmingham, is...
Arlington Antebellum Home and Gardens

phone: +1 205 780-5656

address: 331 Cotton Ave SW

The home is a perfectly-preserved emblem of Southern heritage. Staff are well-versed in how the home, which is older than the city itself, has been involved in many pivotal points of Birmingham's development. It's an interesting and inexpensive way to learn about the city's heritage and the civil rights struggle. The home, on Birmingham's West End, is in a somewhat blighted neighborhood. However, visiting during daylight hours carries very little risk. And the home is accessible through main artery roads off of Interstate 65 at the Green Springs Avenue exit. Homeowners on the street adjacent to Arlington have well-manicured properties, symbolic of efforts by West End leaders to strengthen this historic part of town.
Museums
Parks and gardens
Do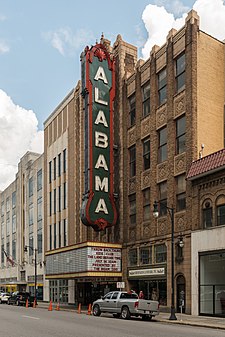 In addition to standard activities, Birmingham also has tons of outdoor adventures such as paintballing, four-wheeling and hunting, during season.
phone: +1 205 252-2262

address: 1811 3rd Ave N

Numerous performances including concerts, comedians and movies take place at this 2,200-seat, exquisitely preserved old vaudeville and movie palace built by Paramount in 1927.

address: 1116 26th St S

Offers Broadway type productions in an intimate setting throughout the year.

address: 500 23rd St S

Multipurpose complex for music concerts and film events.
Spectator sports
Birmingham doesn't field teams in any of North America's big four pro sports leagues, but no matter — if you just want to take in a nice baseball or soccer game without paying through the nose for tickets or dealing with enormous crowds and hoopla, here's your chance.
phone: +1 205 988-3200

address: 1401 1st Ave S

Birmingham's minor-league team is the heir to one of the oldest baseball traditions in the country, dating back to 1885. Today, the Barons are the Chicago White Sox's farm team in the double-A Southern League, and are perhaps most famous for having had basketball legend Michael Jordan on its roster during his first retirement from that sport in 1994. All home games are played at downtown, with one exception: the annual Rickwood Classic held in late May or early June, where the Barons return to historic , their home from 1910 through 1987. It is the oldest professional baseball park in the United States.

phone: +1 205 600-3872

address: 800 11th St S

Birmingham's newest sports franchise began play in the second-level USL Championship in 2019. Home matches are played at , on the UAB campus and also home to UAB's men's and women's soccer teams.
In Birmingham, a bigger draw by far than pro sports are the University of Alabama at Birmingham (UAB)'s college teams.
phone: +1 205 975-8221

As with most big schools, the highest-profile among UAB's sports teams are basketball and football, with the latter having achieved unexpected success after a two-season hiatus in 2015 and '16. The teams play in the NCAA's Division I, mostly in Conference USA. For now, the football team plays their home games off campus at , but they'll be moving in 2021 to another off-campus venue, the new Protective Stadium now under construction downtown next to the convention center. The central ticket office for all UAB sports is at , also home to the basketball and women's volleyball teams.
Every year at the end of the football season,
Legion Field
also plays host to the...
Birmingham BowlOne of the NCAA's plethora of postseason bowl games, the Birmingham Bowl pits two of the best college teams from the American Athletic Conference and the Southeastern Conference against each other for postseason glory.
...and, in October, the...
Magic City ClassicOf special interest to visitors interested in African-American culture is this college football event featuring the state's two largest historically black universities, Alabama A&M and Alabama State. The game, which consistently draws bigger crowds than both the Birmingham Bowl and regular-season UAB home games, caps off a week of festivities that draws nearly 200,000 attendees, many of them having no connection to either school. Many African-American celebrities and public figures participate, either as attendees or featured guests.
Annual events
As you might expect in a city with a muggy subtropical climate, Birmingham's festival seasons are spring and fall, rather than summer.
Buy
For all the new vibrancy that's lately been coming back to inner-city Birmingham's restaurant and nightlife scene (read on), retail still has a lot of catching up to do. You'll still find the bulk of the action outside the city line in places like
Homewood
and
Hoover
, and along Highway 280, where shopping malls and big-box stores predominate. Antique shops are an exception; you'll find some good ones of those scattered around downtown and in Southside neighborhoods like Highland Park and Five Points South.
Speaking of Five Points South, two independent shops that are worth your time if you're strolling through that area are on 11th Ave S, where local hipsters flock to pick up the latest tunes on wax, and on 20th St S, which, even if you're not in the middle of a DIY home improvement project, is still worth browsing around just for the sheer throwback aspect: it really is like stepping into a time machine and going back to the '50s.
Farmers markets
address: 344 Finley Ave W

49 acres (20 ha) of homegrown goodness, the Alabama Farmers Market has been in business since 1921, and since 1956 at their current location on the north end of town. No live music or food trucks or other hoopla here, just a consortium of over 200 area farmer-owners coming together to offer their fresh, natural, and delicious wares to the buying public at prices that handily beat what you'd pay at the supermarket.

phone: +1 205 705-6886

address: 2829 2nd Ave S

There's plenty to interest the visitor at the old Dr. Pepper bottling plant out by Sloss Furnaces, but the marquee attraction is this local weekend farmers' and artisans' market that runs from mid-April to mid-December, rain or shine. You'll find the same sort of fresh produce as at the Alabama Farmers Market, but you can also "shop local" for an ever-changing selection of artisan honey, prepared foods, toiletries, candles, arts and crafts, ad nauseam — or take in a live band, attend a long list of seminars and product demonstrations, or enjoy fun kids' activities.
Shopping malls
Again, the majority of these are found in the 'burbs. However, here are a couple of alternatives within city limits:
address: 1600 Montclair Rd

The erstwhile Eastwood Mall was reborn in 2007 as a non-enclosed shopping center anchored by Walmart and also including locations of Party City, Ross Dress For Less, Office Depot, and Tuesday Morning. For retail history buffs, there's a small historical exhibit inside the "Retail Center" entrance of Walmart with a brief history of the mall, which was the first enclosed shopping mall in Birmingham and only the second one in the South, as well as several photos.

phone: +1 205 967-0111

address: 214 Summit Blvd

One of the largest lifestyle centers in the US, the Summit is an upscale shopping area that is perfect for a stroll on a nice day and is surrounded by restaurants after shopping all day works up an appetite. Includes the only Saks Fifth Avenue store in Alabama.
Eat
Most visitors are pleasantly surprised at the large dining scene in Birmingham, a city which has numerous well-known restaurants with famous chefs. Ask locals about best "meat and 3" places for soul food.
Budget
phone: +1 205 502-7298

address: 1318 Cobb Ln

Delta-style hot tamales are of course a well-known example of Mexican-inflected soul food cuisine, but at Delta Blues that fusion is carried over throughout the whole menu: if you're not hungry for tamales, the additional options split the difference between Tex-Mex specialties (tacos, nachos) and classic Southern-style home cooking with a Cajun bent (red beans and rice, fried chicken, crawfish étouffée). Laid-back and unpretentious ambience (befitting its location on a brick-paved side street) is a nice change of pace from the usual Five Points South trendiness.

phone: +1 205 739-2500

address: 433 Valley Ave

Real Mexican food, great taste! You will enjoy all that they offer if Mexican is what you are looking for. Huarache, fresh and good! Burrito really good as well. They have a bakery, try the peach tres leches, fresh and very distinct.

phone: +1 205 251-3875

address: 1705 4th Ave N

A take-out haven for all breaded soul foods. The fried chicken, catfish and okra are fresh and delicious and the location is a fun slice of local life.

phone: +1 205 956-5258

address: 1906 1st Ave N, Irondale

Remember the novel Fried Green Tomatoes, later turned into a movie starring Kathy Bates and Jessica Tandy? Well, this is the original "Whistle Stop Cafe" whose rendition of the namesake Southern-fried specialty inspired local novelist Fannie Flagg. Anything you ask for on the menu of will be delicious, but of course you must order the tomatoes. To drink is Coca-Cola straight out of the vintage bottle, or have an ice-cold glass of Southern sweet tea.

Magic City Grille

phone: +1 205 251-6500

address: 2201 3rd Ave N

This great, locally-owned "meat and three", very popular among business folks and other locals for a great lunch, will offer your fill of Southern fried chicken and other comfort and soul foods.

phone: +1 205 930-8002

address: 1207 20th St S

The staff are super friendly, good proportion for what you pay. A real mom and pop type of restaurant.

phone: +1 205 408-1800

address: 4606 U.S. Route 280, Suite 108

Locals are divided on what to think of the pho at Saigon Noodle House: some complain about imbalanced ingredients (heavy on noodles, light on meat) and an overall lack of authenticity; others rave about the generous portions at bargain prices. If you're hungry for something else, there's also a full slate of banh mi sandwiches, vermicelli noodle bowls, stir-fried mains with rice or noodles — even a kids' menu. The ambience is a cut above what you'd expect from a suburban strip-mall location, too.
Mid-range
phone: +1 205 933-2133

address: 1427 14th Ave S

An Alabama "must eat". Unlike the original in Tuscaloosa, which serves only ribs and white bread, the Birmingham location also serves chicken, side orders, and salads.

phone: +1 205 868-3737

address: 2211 2nd Ave N

At this popular dining destination for Birmingham's new crop of hipsterati, the food is not quite Tex-Mex, not quite authentic Mexican, and way more culinarily innovative then you usually see in either of those types of restaurant. Tacos, quesadillas, tostadas, and full-size mains come with creative offbeat ingredients, but in middling portions that don't really justify the prices. Also: when El Barrio is crowded (which is basically all the time), the place gets loud, so unless you don't mind shouting, save the conversation for after dinner.

phone: +1 205 917-5000

address: 4105 4th Ave S

Melt has been serving gourmet grilled cheese sandwiches to hungry Birminghamsters since 2011, first out of their food truck and now at their brick-and-mortar location in Avondale. The menu comprises about a half-dozen varieties that you can further customize with your choice of meats or veggie toppings, along with a few salads and appetizers. Quick and attentive service is all the more impressive given how busy the place constantly is. Good option for families.

phone: +1 205 328-4733

address: 2921 Highland Ave S

Rojo is a great neighborhood bar and grill where the food is good and reasonably priced, and the beer and wine selection is ample. Rojo also has a great outside sitting area that overlooks Caldwell Park and is especially popular during spring, summer, and fall. Rojo is good place to both eat and or grab a drink after work.

address: 1918 11th Ave S

Surin offers Thai food and sushi that are as good as you'll find anywhere outside of Bangkok or Tokyo.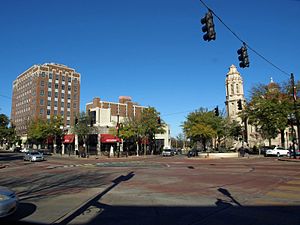 Splurge
Drink
Sleep
Budget
phone: +1 205-252-3921

address: 1101 6th Ave N

Two-star hotel about half a mile southwest of downtown, near Interstate 65. All rooms have air-conditioning, private bathroom, tv, refrigerator and microwave. There's free Wi-Fi and parking, but apparently no restaurant.
phone: +1 205-323-8806

address: 1313 3rd Ave N

Two-star hotel on the outskirts of the Historic District. Rooms have private bathroom and tv. There's free Wi-Fi and parking.
Mid-range
Splurge
Courtyard Birmingham Downtown UAB

address: 1820 5th Ave S

If you happen to be coming to town to receive treatment at one of the hospitals near UAB (or you're a loved one of someone to whom that applies), you'll find the Courtyard practically tailor-made for your needs: the hotel is connected to the hospital via skybridge, and staff is accustomed to going above and beyond to accommodate all manner of special medical considerations. But if you're just here as a tourist, you'll likely be dismayed by the location well away from any interesting sights, restaurants, or nightlife, and the overall old and tired feel to the place. In-room amenities include all the standards, plus ergonomic workstations are a nice touch too; elsewhere on the property is a fitness center, restaurant serving light meals, and 24-hour convenience store. Free WiFi, too.

phone: +1 205 968-3775

address: 3590 Grandview Pkwy

A typical Marriott experience: all the usual amenities you'll find at an upper-midscale full-service chain plus a few extras like ergonomic workstations and extra-luxurious bedding and linens. Indoor pool, onsite convenience store, and an outdoor patio area that provides a relaxing experience in spite of the banality of the hotel's suburban surroundings. RiverCity Restaurant serves a full buffet breakfast, and there's a free shuttle service to points around town. WiFi is available at a nominal extra charge.

address: 2221 Richard Arrington, Jr. Blvd N

If you're familiar with the Westin brand, you know you're in for a luxurious experience, but location is another selling point here: it's not only right on the edge of downtown and directly connected to the convention center, but also just a quick zip away from the airport. Topping the lengthy list of amenities are a rooftop pool where you can lounge or take a dip with the downtown skyline as a backdrop, as well as a pair of superlative onsite dining experiences: Todd English Pub features bar-food favorites in a homey setting, and Octane Coffee Bar offers morning pick-me-ups.
Stay safe
Common-sense rules apply for most of the city center, e.g. travel in groups at night, don't look like a tourist, avoid dark alleyways, etc. While the city has a reputation for crime, dangerous areas are generally far away from anywhere of interest to tourists. Avoid the areas north of the civic center and west of I-65.
By contrast, downtown is very well patrolled, and other than common sense against normal big city stuff (e.g. beggars asking for money), there is not much to worry about. The same is true of the Five Points South neighborhood, so if you're headed to one of the swanky restaurants, pubs, or dance clubs over there, there's no need to fear.
The downtown area has a supplemental bike patrol called
CAP (City Action Partnership)
to deter crime and assist visitors. Call +1 205 251-0111 for a free security escort, directions, assistance with a dead car battery, etc.
Connect
For now, the region's sole telephone area code is 205; there is no need to dial it before the 7-digit number. The addition of overlay area code 659, slated for October 2019, will mean the onset of mandatory 10-digit dialing.
WiFi
There are many locations in Birmingham that offer free WiFi access, foremost among which are the 19 branches of the Birmingham Public Library. The largest and most centrally located of these is the...
phone: +1 205 226-3610

address: 2100 Park Pl
Cope
Hospitals
As an important clinical research center,
UAB Medical School
operates most of the important hospitals in Birmingham. Their medical district south of downtown includes the 1,157-bed for a complete range of general medical concerns, as well as the for pediatric care. An alternative to those is , Birmingham's oldest, operated since 1898 by the Catholic Daughters of Charity and especially renowned as a center for cardiology and robotics surgery.
Media
Published three times weekly and distributed to about 150,000 subscribers across Jefferson County, the
Birmingham News
is the paper of record for the area. The
Birmingham Weekly
is the city's alternative newspaper, proferring a mix of local news, cultural coverage, event listings, and commentary of a decidedly more left-wing bent than most of the area's media.
Consulates
phone: +1 205 259 2066

address: 3800 Colonnade Pkwy, Suite 430

phone: +1 205 943-4772

address: 500 Beacon Pkwy W
Go next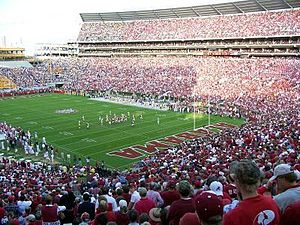 Suburbs
If retail therapy is in order, a 10-minute drive south from downtown on I-65 puts you in Hoover. The ambience is a bit plastic-fantastic but undeniably upscale, with all the shopping malls, chain restaurants, and big-box stores to slake your appetite for the familiar after taking in Birmingham's unique and funky city neighborhoods.
In the same direction as Hoover but even closer to town, Homewood is another upscale suburb, albeit one with character — especially in the charming little downtown area at the foot of Red Mountain. Homewood is also where you'll find Samford University, home of the Alabama Men's Hall of Fame — and Division I football and basketball tickets that are a good sight cheaper than games at UAB.
If you'd rather sink your teeth further into the Birmingham area's industrial history, and a little bit of grit doesn't faze you, head down I-20 to the working-class suburb of Bessemer, where much of Alabama's steel industry in the 20th century played out. The mills have mostly been idle since the 1970s, and the city's struggles with unemployment and its attendant problems are plain to see, but monuments to the good old days abound — check out the Tannehill Ironworks just outside of town. And if you'd like to "sink your teeth into" something else, Bessemer is also a rather unlikely foodie destination, home to Alabama's oldest operating restaurant and some of the best barbecue around these parts.
Further afield