Birmingham (England)
Birmingham
, in the
West Midlands
, is
Britain
's second-largest city. Known in the Victorian era as the "City of a Thousand Trades" and the "Workshop of the World",
Brum
as locals call the city, is enjoying a 21st-century resurgence as a great shopping and cultural destination. The city will host the
2022 Commonwealth Games
.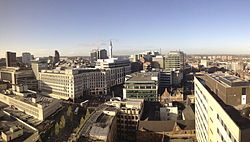 Understand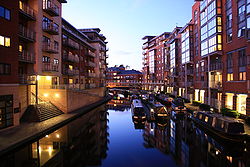 Birmingham (the
h
is silent) was at the heart of the
UK's industrial revolution
, and its wealth was built upon the multitude of trades that were spawned. This led to a massive canal network, with more miles of canals than Venice or Amsterdam (though they're very different types of canal).
Much of the city centre was destroyed during the Blitz, and the replacement buildings added little to the city. However, since the 1990s, Birmingham has been undergoing a radical change and many of the post war buildings have been replaced. The majority of the city centre is now pedestrianised, and the canals cleaned up to make for attractive walkways. Locals credit the City Council for the transformation, as the city retains its industrial heritage while now appearing modern and forward looking.
The city's notable associations are as diverse as HP Sauce, Tony Hancock, Cadbury's chocolate, the Lunar Society (whose members included James Watt and Matthew Boulton), Black Sabbath, UB40, Jasper Carrot and the Spitfire and the Mini (car, not skirt).
Birmingham has many literary associations - not only JRR Tolkien, but also Washington Irving, who wrote Rip Van Winkle while lodging here with his sister's family, and Conan Doyle, who bought a violin in Sherlock Street while a medical student in Birmingham. The authors Jim Crace, Judith Cutler and David Lodge are also residents.
The nearby locations of
Shropshire
,
Warwick
, and
Stratford-Upon-Avon
provide more of the stereotypical images of "olde"
England
. However, Birmingham has many of its own tourist attractions, has an extremely lively night life, and the shopping is arguably one of the best outside of
London
.
Areas of Birmingham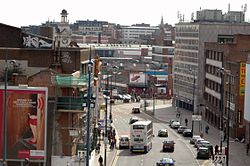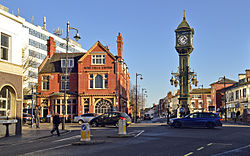 The City of Birmingham metropolitan borough as it stands today encompasses a very large array of former towns and villages surrounding the original town of Birmingham, that have been incorporated into it over the years. As a result, the City Council is the largest regional body in the EU, with 120 councillors representing 10 so-called constituencies (districts), further divided into 40 wards. Therefore, even if a point of interest is officially in Birmingham, it can be located quite far away from the actual city centre, in what can appear a separate small town or even countryside. Addresses are often given including the name of the suburb, to help locate them. Do not assume than any place with a Birmingham address is easily accessible once you are in the city.
Some of the more known districts and wards of Birmingham include
Aston
(home to the Aston Hall and Aston Villa football team)
Edgbaston
(where the main campus of University of Birmingham is located),
Longbridge
(with the MG factory) and
Selly Oak
(secondary campus and student town). The city centre of Birmingham officially falls into the ward of Ladywood, which itself has little to do with the actual centre.
Other areas in the metropolitan borough include
Perry Barr
,
Sutton Coldfield
and
Moseley
.
The centre of Birmingham is confined by a dual-carriageway ringroad officially called the A4540, also called the
Middle Ring Road
. The former
Inner Ring Road
, or A4400, was viewed as an urban planning failure and parts of it were dismantled and redeveloped. The A38 runs across the city centre, partially underground. The very central point of Birmingham is Victoria Square. The main railway hub is New Street station, next to the huge Bullring shopping centre, which is also an orientation beacon and leads up all the way to another railway station called Moor Street.
Birmingham city centre can be divided into several areas of different characteristics:
Core City Centre - extends northwestwards of the New Street station, inside the confines of the A38 and includes much of the surviving pre-war historic buildings of Birmingham, a number of important institutions and the historically prime addresses such as New Street or Colmore Row
Westside - extends southwest of New Street and beyond the former Inner Ringroad, and includes much of the remaining canals in central Birmingham. Alongside them much new development took place, including civic buildings such as the International Congress Centre or Library of Birmingham, and multi-functional commercial projects such as Brindleyplace or The Mailbox
Eastside - the area southeastwards of the New Street station, or more precisely behind the nearby Moor Street station. This formerly industrial area which included the long-disused Curzon Station as well now contains large swathes of unused, cleared land that undergoes redevelopment as parts of large urban planning projects. Some of them are already finished, but many are still to commence, giving this part of town a modern yet unfinished appearance
Southside - the part southeast of New Street station retains a more traditional ambiance with small buildings along narrow streets. Parts of it are occupied by Birmingham's Gay Village and Chinese Quarter.
Deritend and Digbeth - the area directly eastwards of the Bullring centre contains much industrial and pre-industrial architectural heritage, and it has become a hub for everything creative and a rather pleasant area, which also includes Birmingham's Irish Quarter.
Jewellery Quarter - true to its name, workshops in the quarter still produce 40% of the UK's jewellery, and includes the country's largest Assay Office, and several museums. As such, it retained its 19th-century appearance lost by other industrial parts of Birmingham and became a tourist attraction itself.
Gun Quarter - north of Jewellery Quarter and for decades known for firearms manufacturing, but now not seeing much commercial or municipal interest and of little interest to tourists as well.
Moseley is a suburb. Much of Moseley Village dates from Victorian times and is a conservation area. There is also a dovecote which pre-dates this at Moseley Hall hospital, on Alcester Road. It is occasionally open to the public on certain Sundays during the year. Take the number 50 bus from the city centre - it goes straight down Moseley Road (A435) to Moseley village. The journey takes about 15 minutes. Alternatively, take the number 1 or 35 buses which stop by Cannon Hill Park Gooch Street
Get in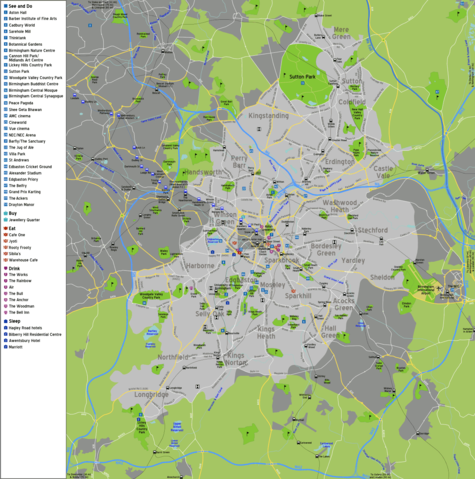 By plane
Birmingham AirportA major airport serving the city and the rest of the West Midlands region with frequent domestic and international flights. There are several direct arrivals a day from all major UK and European destinations, and one or two from more far-flung places such as Delhi, Dubai (twice daily), Amritsar, Islamabad, Ashgabat, New York and Toronto.
A free people mover, Air-Rail Link, connects the airport passenger terminal with Birmingham International rail station between 5:15AM and 2AM; it runs every two minutes and the journey time is less than two minutes. From Birmingham International rail station trains run to New Street Station every 5–15 minutes from around 6:05AM (Su 8:45AM) to 11:15PM. The journey takes 10–20 minutes depending on whether you get an express or local (stopping) service and costs £2.50 one-way (express service - Virgin Trains only) or £3.60 one-way for a ticket valid on any service.
Bus service 900 runs every 20–30 minutes between Birmingham and
Coventry
via the airport from around 4:50AM (Su 7AM) to midnight, takes around 25 minutes (can be much longer in peak periods) and costs £2.20 one way; the ticket is not valid for transfers. Bus service 97A provides an hourly service through the night. A day ticket (Daysaver) for all NXWM buses is available for £4 (£4.60 before 9AM), but it can also be purchased for on any airport service. Exact change is required. If a group is travelling together, a Group Daysaver for £8 will cover up to 5 people for unlimited journeys for a day.
National Express coaches serve the airport every half hour during the early hours of the morning which is very handy for morning flights, as the trains don't usually start until later in the morning. The fare varies depending on whether it is booked in advance, although tickets can be purchased on the coach subject to seats being available.
A taxi from the airport to central Birmingham will take around 20–30 minutes and will cost around £22.00.
The National Exhibition Centre is adjacent to the airport and can be accessed by the Air-Rail Link via Birmingham International Station.
Cars dropping off passengers at the airport must pay a minimum fee of £3. This includes taxis and private hire cars, which pass the charge on to passengers. The charge can be avoided by being dropped off at Birmingham International Railway Station, where there is no charge, and then using the Air-Rail Link.
By train
Wikivoyage has a guide to Rail travel in the United Kingdom
Birmingham is a major hub of Britain's rail network. The main station is
Birmingham New Street
, which sees a number of long-distance trains. There are half-hourly services (M-Sa daytime) from
Bristol
,
Shrewsbury
,
Cardiff
,
Weston-super-Mare
,
Edinburgh
,
Glasgow
,
London
,
Manchester
,
Oxford
,
Sheffield
and stations in between.
Allow plenty of time to find your train at New Street station as it is huge and very confusing. Most platforms (tracks) are divided into sections (e.g. Platform 4A, 4B and 4C) and it's not uncommon for two trains bound for different destinations to depart from the same platform, so make sure you wait in the right area, labelled on screens above the platform, and board the right train! New Street Station is notorious for last-minute platform changes so it's advisable to wait close to the stairs and keep close attention to the information screens and PA announcements as you may need to make a quick dash to the opposite side of the station with only a few minutes until departure!
Other important stations are and
Birmingham Moor Street
, both on the so-called Snow Hill line, which mainly sees local traffic within the region operated by
West Midlands Railway
. The exception is
Chiltern Railways
' service to both stations from
London Marylebone
, which rivals
London Northwestern Railway
(slow, cheap) and
Virgin Trains
(fast, more expensive) services from
London Euston
to Birmingham New Street. The Chiltern route has become increasingly popular since infrastructure improvements mean the fastest trains are not much slower than Virgin services into New Street, it's generally cheaper and more scenic, and Marylebone and Moor Street are relatively small stations that still have a lot of the Victorian charm that Euston and New Street decidedly lack.
New Street and Moor Street are a 5-minute walk apart, and Snow Hill is around 10 minutes walk from each.
Do not get off your train at unless you are going to the airport, NEC or Genting Arena; this station is outside the city.
Timetables can be checked at
National Rail Enquiries
(premium rate phone number from mobiles: 08457 48 49 50) and tickets can booked online via this platform or over the phone through the train operator.
By coach
Intercity buses, unless clearly stated otherwise, will terminate at . The City Centre is around a 10-minute uphill walk from the station along the slightly tatty Digbeth High Street, but people need not be alarmed as the Selfridges Building and skyline are clearly visible to guide you in the correct direction. some tickets include a free bus journey transfer to the city centre, on local public transport services. If you arrive at night (or have large amounts of luggage), consider getting a bus or taxi as the Digbeth area is not a very pleasant part of the city and is home to many pubs and other nightlife, which may intimidate strangers.
Birmingham Coach station has a booking office, two cafés, shop and other basic facilities. There are toilets (30 pence), vending machines (available 24 hours), and an information desk.
There are half-hourly (or more frequent) services from
London
(service 420), and services from most major cities (including
Bristol
,
Cambridge
,
Cardiff
,
Edinburgh
,
Glasgow
,
Manchester
,
Oxford
and
Sheffield
) every two hours.
If you are taking the coach to an airport (such as for your journey home), leave at least two, preferably three hours early, as coach trips have been known to face significant delays if mechanical or personnel problems are encountered. National Express promises only to get you to the destination within the same day and will take no responsibility if the service runs late (the optional National Express insurance covers only your personal safety and your possessions).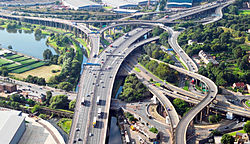 By car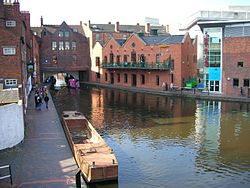 Birmingham is well sign-posted and surrounded by motorways; the M42, the M5, and the M6 which includes the infamous Spaghetti Junction (Gravelly Hill Interchange). Once in the
West Midlands
:
From the north, Birmingham is served by A-roads.
From the north-east, use the M1, M42 and M6.
From the east, use the M6.
From the south-east, use the M40 and M42.
From the south, Birmingham is served by A-roads.
From the south-west, use the M5 and M42.
From the west, Birmingham is served by A-roads.
From the north-west, use the M6.
Birmingham City Council operated car parks are available throughout the city, a list is
accessible online
.
The M5 will take you to the south-west, either the M42 then M40 or the M6 then M1 will take you to
London
and the south-east. In the other direction the M1 will take you to
Leeds
and the north-east. The M6 will also take you towards the north-west,
Manchester
and
Scotland
, or, via the M54, to north
Wales
.
By boat
Due to its industrial heritage, Birmingham has an extensive canal network and is on both the "Worcester & Birmingham" and "Grand Union" canals. Visitors travelling by narrowboat can choose from several tourist moorings, managed privately or by Canal & River Trust. Although the moorings are very busy in spring and summer, call ahead for availability.
Birmingham Canal Information Centre

phone: +44 121 632 6845

address: 42A Gas St

Birmingham Canal Navigationsprovides a highly detailed 1:30,000-scale colour map of the network.
Get around
On foot in the City Centre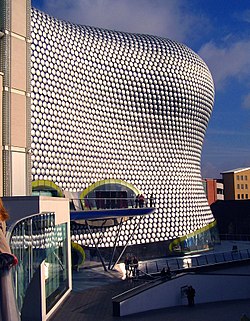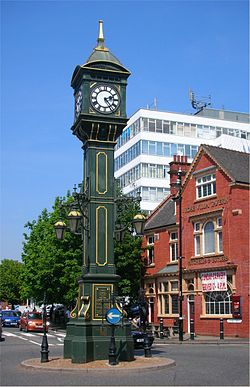 Birmingham's City Centre is partially pedestrianised, and most things to see and do can be reached on foot. Birmingham walking directions can be planned online with the
walkit.com walking route planner
.
Visitors may enjoy the walk from the International Convention Centre (ICC) and the Symphony Hall on the top of Broad Street to the Bull Ring shopping complex, which takes around twenty minutes and may involve only one easy surface road-crossing. From the ICC, you walk east by the Repertory Theatre and Library of Birmingham in Centenary Square; then through the site of the former Paradise Forum (as of 2018, a building site) to Chamberlain Square; with the Museum and Art Gallery to your left and the Grade I-listed Town Hall on your right, you make your way to the spacious Victoria Square. At Victoria Square, you will find the Town Hall to the west, the Council Offices to the north, and the old Head Post Office to the South; the path you want to the Bull Ring is east, down New Street, which is a pedestrianized street lined with shops, stores, and kiosks. About five blocks down New Street, you will come to Corporation Street, the only road crossing you need to make on this walk. A few blocks later, New Street will turn into Rotunda Square. Bearing south towards St. Martin's Church, you will find the 21st-century Bull Ring Shopping Complex to your left and right.
Birmingham has a large canal network. In the city centre, extensive development has enhanced the environment and level of amenities around these canals, making them excellent pedestrian routes in their own right. Visitors would enjoy the peaceful ten-minute car-free canal stroll from Brindleyplace, National Sea Life Centre, and Sherborne Wharf, all next to the ICC, eastward under Broad Street, through the Gas Street Basin, to The Mailbox (the former Royal Mail's Birmingham head office turned into shops and restaurants).
Other walks in the City Centre include the wheelchair accessible summer Floral trail from The Mailbox to St Paul's Square, which in turn is the beginning point of another walk, the historic Jewellery Quarter in Bloom trail, where one can visit the Chamberlain Clock or St Paul's Church.
By bicycle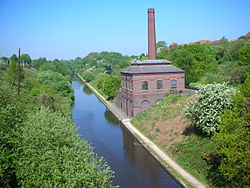 Birmingham City Council produces an excellent cycling and walking map of the area. You can pick one up from any local library, tourist information office, leisure centre or bike shop.
Birmingham is not a particularly
cycle-friendly
city, especially when compared to the rest of
Europe
, but it is possible to get around without too much trouble. There are plenty of places to lock a bike up in the city centre, but few cycle lanes and lots of pedestrians. Unless you are touring the UK, the best use for a bike in Birmingham is to explore the extensive local canal network, such as the canal trail leading to the historic New Smethwick Pumping Station.
Road and cycle path maintenance in the area is far from perfect, and it is not uncommon for trees and parked cars to obstruct the right-of-way. The standard of driving is as bad as in other cities, so exercise extreme caution on main roads and at night. The canal network can be accessed in the city centre from the Broad Street/Gas Street area, or at most road crossings elsewhere. The towpath is generally well-maintained to within a few miles of the city, and after that tends to be packed earth with plenty of mud and embedded bricks. A permit from British Waterways (free) is needed for towpath cycling.
The
Sustrans National Cycle Network
Route 5 (
Oxford
to
Derby
) passes through Birmingham from the south to the north-west. The local stretch is known as the Rea Valley Route, there is also the Cole Valley Route to the east.
Bicycle hire:
phone: +44 121 666-6933

address: 33-40 Bradford St
By public transport
Bus, train and Metro all come under the authority of
Network West Midlands
(Part of Centro, the PTE of Birmingham and surrounding area), their website is the best source for all information required on public transport in the region .
Birmingham City Council has
public transportation information available online
as well.
By bus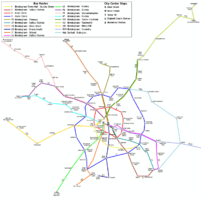 All areas of Birmingham are well-served by bus routes, operated almost exclusively by
National Express West Midlands
(NXWM) with some competition from smaller providers, notably
Diamond Buses
.
There is no central bus station for local services. Buses depart instead from one or more of five interchanges in the city centre (principally Bull Street/Priory Queensway, Snow Hill, Moor Street, Paradise Circus and New Street). Bus stop maps are available from libraries, tourist information offices and the
Network West Midlands
(NWM) office at New Street Station.
Route maps and timetables are available from the outlets mentioned above, and there are extensive online versions on the National Express West Midlands and
NWM
websites. If you do not have a lot of time to spare tracking down which buses serve which areas, you can use the
Traveline Midlands Journey Planner
(0870 608 2608).
Single fares are £1.90 (short hop) or £2.20 for NXWM services, and transfers are not allowed. There are no return tickets, but you can buy an all-day pass for NXWM buses, known as a 'Daysaver', for £4.20. Alternatively, a Group Daysaver will cover up to 5 people all day for £8. All these tickets may be purchased on the bus. NXWM buses do not give change, so make sure you have the exact amount required for the fare ready, so you do not hold up the queue behind you. A cheaper all-day "Plusbus" ticket, valid on all operators' buses as well as the Midland Metro tram and costs £3.10, can be purchased at the same time as a train ticket from outside the West Midlands county. Most routes operate until around midnight and start between 4AM and 6AM in the morning, but services 97A (to Chelmsley Wood and Birmingham Airport) and 50 (to Moseley and Druids Heath) operate 24 hours a day.
National Express West Midlands operates a shop in the Pavilions Shopping Centre (opposite Moor Street Station) which sells weekly and four weekly tickets, as well as smartcards with five Daysavers at a reduced rate of £4 each. There are also numerous NXWM agents located in shops around the city which sell bus passes.
Birmingham's bus system is roughly radial, with frequent services in and out of the city centre from most locations especially along the main radial routes. Additionally there are two useful circular routes, the Inner Circle, service 8A/8C, and the better known service 11A/11C, the Outer Circle (the A and C refer to anticlockwise and clockwise directions) which can be useful while travelling between different areas while avoiding the City Centre. There are also numerous services linking many suburbs, hospitals and shopping centres, which are generally less frequent and in some cases have no or poor evening or Sunday services. Compared to London, Birmingham has fewer bus lanes, which can result in much slower journeys at peak periods.
By train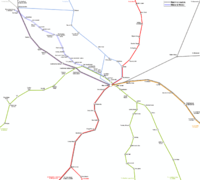 There is an extensive overland rail network serving most of Birmingham and the
West Midlands
area, operated mainly by West Midlands Trains.
Route maps and timetables are available from libraries, tourist information offices, railway stations and the
Traveline Midlands Journey Planner
(0870 608 2608). You can take bicycles, pushchairs and wheelchairs on board without prior reservation, and there is usually a designated carriage.
Fares vary with distance, but you can expect to pay between £2 and £5 for a day return to a local destination. Fare-dodging is rife, and there has been a crackdown with ticket barriers at some stations (New Street, Snow Hill, Moor Street, Five Ways and University) and on-board checking. The penalty for not having a valid ticket is a £20 on-the-spot fine (which can be contested in court, but is rarely worth the hassle).
From New Street station, the cross-city line runs between
Lichfield
Trent Valley in the north and Redditch in the south, stopping notably at Sutton Coldfield (for Sutton Park), Aston (for Aston Hall), University (for the University of Birmingham), Bournville (for Cadbury World) and Barnt Green (for Lickey Hills). Local services also run to
Hereford
(via
Worcester
and
Malvern
),
Leamington Spa
,
Northampton
(via Birmingham International Airport,
Coventry
and
Rugby
),
Nuneaton
,
Shrewsbury
(via
Wolverhampton
),
Stafford
(via
Walsall
),
Stratford-upon-Avon
,
Tamworth
and
Warwick
. Additional services to these areas run from Snow Hill and Moor Street stations (they are on the same line), and you may not be able to catch a specific train from New Street.
By tram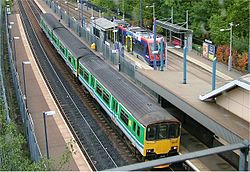 Birmingham has a single tram line, the
Wolverhampton
, via the Jewellery Quarter,
West Bromwich
, Wednesbury and Bilston. Work is underway to extend the service to Five Ways, via the City Centre and along Broad Street.
The Metro runs from roughly 6:30AM–11:30PM Monday-Saturday, and 8AM-11PM Sundays and bank holidays. Fares vary with distance, but expect to pay around £2 for a single, £3.50 for a return and £4.50 for a day pass (combined bus/train/Metro passes are also available). Full route, timetable and fare information is listed on the
Midland Metro
website, and there is additional information on the
NWM
website.
By water bus
Water buses and taxis operate out of the canal offices in Gas Street Basin (underneath Broad Street). They also provide tours of the area. Obviously, they are limited to the local canals and are significantly slower than other forms of transport.
By car
Birmingham's city centre is partially pedestrianised and has several unintuitive one-way systems. A car is a viable way of getting around the city and other areas, but a good map or sat-nav is essential.
Birmingham City Council produces a map of city centre car parks (available from tourist information offices). Expect to pay £1-1.50 per hour in Pay & Display areas and more on street meters. Parking attendants patrol popular areas regularly, so expect a penalty fee if you return late or a clamp - or being towed away - if you're parked illegally.
Car hire is possible in the city centre and at the airport.
By motorcycle
Motorcycles and mopeds are becoming increasingly popular in Birmingham as a way of avoiding rush hour traffic jams, and usually enjoy free parking in city centre car parks. Although not a lot of car parks have bike areas, there are a number of bays around the centre but none of them have any rails to lock your bike to.
By taxi
Taxi/private-hire
Birmingham has an abundance of taxi ranks all over the city, the best-served being New Street Station. Both hackney carriages and private hire vehicles are easy to find, but you should exercise caution and not get into an unmarked car or one you haven't booked.
Friday and Saturday nights are the busiest times due to clubbers going home in masses, and there can be waits of over an hour if you're somewhere busy like Broad Street.
Popular providers include:
Beaufort Airport Taxis Birmingham Birmingham Airport transfers to all major U.K Airports. B25 8LD, 0121 405 0949.
AFJ Minibuses, Birmingham Minibus hire available 24 hours a day.
Taxis Birmingham, has an online booking system.
Airports Direct, 24hr airport taxis to and from Birmingham Airport.
Castle Cars, 13 Oak Tree Ln, Selly Oak, +44 121 472-2222.
Elite Radio Cars, Omnibus Garage, Harborne Ln, Selly Oak, +44 121 415-5000.
Falcon Cars, 211 Monument Rd, +44 121 555-6050.
TOA Taxis, 100 Vivian Rd, Harborne, +44 121 427-8888. All major credit cards accepted with onboard chip & pin facilities.
Big Yellow Taxi LTD, Carpenter Rd, 32 B15 2JH, +44 121 440-7117.
Uber
Alternatively the popular
ride-sharing app
Uber
has a license in the city and there are plenty of drivers around the city centre that can be hailed.
See
Birmingham doesn't have a reputation for being especially picturesque, but there is a lot of interesting architecture in the city centre that the shops and crowds sometimes obscure. For such a (relatively) large population centre, the countryside (in the form of country parks such as the Lickey Hills, Waseley Hills, etc.) is surprisingly close.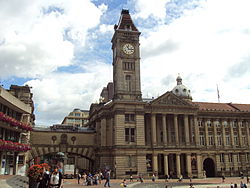 Museums and art galleries
For a place with a strong industrial heritage, Birmingham does not have the large range of historical attractions you may expect, however, this is offset by the arts being extremely well-represented.
phone: +44 121 327-0062

address: Trinity Rd, Aston

Restored Jacobean mansion built between 1618 and 1635, containing period rooms and artwork. Cannon damage from the English Civil War is still visible. The Hall was visited by Arthur Conan Doyle and Washington Irving, inspiring the latter's 'Bracebridge Hall'. Aston Hall by Candlelight is a popular Christmas event that takes place every two years (even numbers) where the whole grounds are lit by candles for 17th-century festivities (fee charged). Closed when Aston Villa are playing at home. Admission to grounds is free.

phone: +44 121 414-7333

address: University of Birmingham, Edgbaston, B15 2TS

Small gallery with an excellent eclectic permanent collection, including many pre-Raphaelites. Good Britain Guide gallery of the year 2004.

Birmingham Museum and Art Gallery

phone: +44 121 303-2834

address: Chamberlain Square, B3 3DH

Large museum with some local history, several temporary exhibitions and large permanent collection including an extensive collection of Pre-Raphaelite paintings. Home to part of the stunning Anglo-Saxon hoard, the largest hoard of Anglo-Saxon gold metal work discovered in the UK in 2009. Includes the Gas Hall and Waterhall Gallery of Modern Art.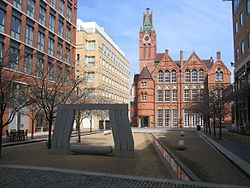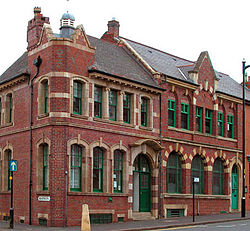 Museum of the Jewellery Quarter

phone: +44 121 554-3598

address: 75-79 Vyse Street, Hockley, Birmingham B18 6HA

Jewellery workshop abandoned in working condition, later reopened as a museum. Visits are by tour, lasting approximately one hour. Worth seeing, especially in the context of the wider, still working commercial Jewellery Quarter.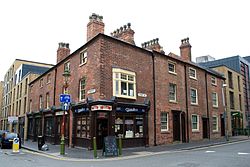 address: 55-63 Hurst Street/50-54 Inge Street, B5 4TE

Last surviving set of these 19th-century cramped, working-class houses in Birmingham, restored and preserved by the National Trust.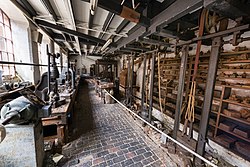 phone: +44 121 233 4785

address: 13-15 Fleet St

An industrial heritage museum in the Jewellery Quarter, dedicated to educating visitors about the social and industrial history and importance of the site which was in operation as a coffin furniture factory from 1894 to its closure in 1998. Ornaments made by the Newman Brothers decorated the coffins of Sir Winston Churchill, Joseph Chamberlain, and many others. Many of the historic rooms, among which the "stamp" room, can be viewed and visited. Guided tours are highly recommended and start at 1 pm, 2 pm and 3pm.

phone: +44 121 348 8120

address: Blakesley Rd

One of the oldest buildings in Birmingham and a typical example of "black & white" Tudor architecture, constructed in 1590 by Richard Smalbroke as a timber-framed farmhouse. Many historic artefacts are on display in the museum, including authentic candlesticks and pewter goblets. Tours take place at 11:15AM, 12:15PM, 1:15PM and 2:15PM, and last approximately 45 minutes. The Gilbertstone, moved in local folklore by the Giant named Gilbert, is displayed in the grounds of the museum.
Factory visits
The West Midlands region has been the hub for automotive production and development ever since the invention of the motor car, and even today two car factories remain operational within the city limits of Birmingham, both offering factory tours. There is also a chocolate factory for some sweeter treats.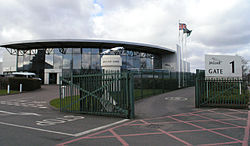 Jaguar Castle Bromwich Assembly

phone: +44 24 7620-5716

address: Chester Road, Castle Vale

The north of Birmingham hosts Jaguar's Castle Bromwich Assembly plant, which makes most Jaguar's models, and especially the high-end ones. Factory visits are available, and have to be pre-booked by specifically contacting the Visitors Centre by phone or email.

address: Linden Rd, Bournville, B30 2LU

Huge chocolate factory south of the city centre. Tour includes the history of chocolate and the Cadbury company, plus a brief look at some of the factory floor. Some free chocolate, plus relatively cheap mis-shapes in the shop.
Land Rover has its main assembly plant in nearby Solihull.
Religious buildings
Birmingham's population is very diverse, and communities from just about any country in the world can be found somewhere. This is turn has led to numerous centres for all the world's major religions.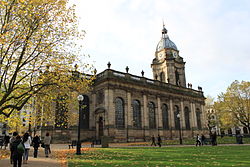 phone: +44 121 262-1840

address: Colmore Row

Church of England cathedral, built between 1709 and 1715 and the centre of the Diocese of Birmingham. Grade 1 listed building in the UK, designed as a parish church in the Baroque style by Thomas Archer. Contains four spectacular pre-Raphaelite stained glass windows.

phone: +44 121 455-0650

address: Osler St, Ladywood

Situated in a remote residential corner of Birmingham, the gold-roofed pagoda is a sight to behold. The pagoda is designed as symbol of peace, compassion and the noble exemplary qualities of the Buddha.

phone: +44 121 236-2251

address: St Chad's Queensway

Catholic cathedral built in 1841 and designated a Minor Basilica in 1941. Contains the Shrine of St. Chad.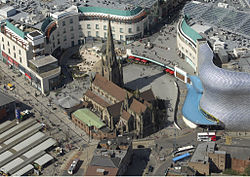 address: Bull Ring

St. Martin is the parish church of Birmingham, or "The Cathedral of the Bull Ring", as some would say. The first church was probably Norman, but was rebuilt in the 13th century. As it stands today, most of the church dates from 1875, though inside you can see the 1325 effigy of the Lord of the Manor Sir William de Bermingham. The church is Grade II
* listed.
address: St. Paul's Square

St. Thomas' Church and Peace Gardens
Other architecture
Birmingham holds a wealth of architectural heritage from different eras, including also buildings with no touristically viable function. Some of them are listed below.
BT Tower

address: Lionel St

Completed in 1966, it is the tallest structure in Birmingham at 152 m, and serves solely as the support for some 80 transmission antennas mounted atop it. It has no viewing platform or other accessible floors at all, but it can serve as a landmark and orientation point as it is clearly visible from many parts of town. Its square profile sets it apart from many other similar structures in the world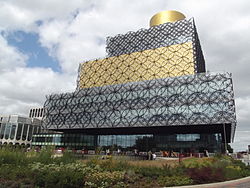 address: Cambridge St / Centenary Square

The new ziggurat-shaped library building at Centenary Square was opened in September 2013 to replace the very controversial brutalist Birmingham Central Library in Paradise Circus, which incidentally employs an inverted-ziggurat design and was demolished in 2016. It is the single largest public library in the UK and one of the largest in the whole of Europe. The project, which involved years of planning and preparation and a major architectural contest, was hailed as the cornerstone of Birmingham's urban revival. The building was designed by the Dutch firm Mecanoo architecten, and took four years to be completed. It includes an intricate facade decoration, despite the very simple form of the building, as well as a number of innovative sustainable solutions. To explore the building take the lift to the top (9th) floor to see the Shakespeare Memorial Room, a fine wooden panelled library, which used to be in the city's library built in 1882. There is also a viewing window to look over the city. There are outside garden spaces on the 7th and 3rd floors which give different city views. The four lower floors house the public library, laid out in an impressive style.

Bell Edison Telephone Building

address: 17 & 19 Newhall Street

A signature, Grade-I-listed, building for the red-brick-and-terracota Victorian style prevalent in the late 19th century in Birmingham, which lacked natural stone and battled sooting problems due to air pollution. It is also a symbol of modernisation of Birmingham, as it was built to house the Central Telephone Exchange for the city; the logos of the Bell-Edison company are still visible within the building. As the telephone exchange relocated many decades ago, the building now houses offices and a bar.

The Old Crown

address: 188 High St, Deritend

The Old Crown lays claim to being the oldest building in Birmingham (allegedly standing there since 1368), and retains a timber-framed construction, rare to find in the city. Saved from demolition multiple times, it remains an operational pub until today.

Curzon Street stationThe Curzon Street station was the original main railway station of Birmingham, offering connections to London since 1838 and to Liverpool and Manchester since 1839. It was quickly overshadowed by the first Birmingham New Street station, built in 1854, and saw less and less traffic, becoming a goods station only in the 20th century, before being put completely out of use in 1996 with its tracks later dismantled. The only surviving remainder is one wall, and the original station entrance building, which is Grade I listed and quite elegant in form. As of 2019, it stands next to an open plot of land which is awaiting redevelopment as the terminus for the HS2 railway. The building is not open for visiting and only occasionally hosts arts events and such.

RotundaThe Rotunda is the only surviving part of the 1960s Bull Ring centre, devised as a 25-storey office building in a round shape, from which it derives its name. In many ways, it was a groundbreaking and daring engineering and architectural feat when it was constructed, and because of its significance it became Grade II listed. In the 2000s, as the Bullring centre was redeveloped, the Rotunda was thoroughly refurbished into a residential tower with 232 luxury apartments. Those on floors 19 and 20 are available for short term stays via Staying Cool, who operates them. The building is not accessible to the public.

address: Centenary Square, Broad Street

A war memorial built in 1925 for the 12,320 Birmingham citizens killed in the First World War.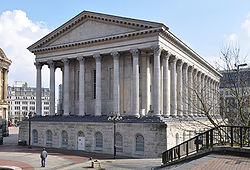 Town HallA concert venue and meeting hall, known for its occasional lunchtime organ recitals.

Council HouseThe seat of local government. Not open to the public, except for special events and council meetings.

Singers Hill Synagogue

address: Margaret Street

Built in 1885 in High Victorian red brick style as a new seat for the Birmingham School of Art, the building retains its original function as its original occupier survived several educational institution mergers and is now the Birmingham Institute of Art and Design within Birmingham City University. The building itself is Grade I listed.

Victoria Law Courts

address: Corporation Street

A prime example of Birmingham's red-brick-and-terracota architecture, covered not only with deep red terracota on the outside, but also with rich terracota decorations on the inside. Located in the grand Corporation Street among other buildings similar in style. First opened in 1891, it continues to house a court of law, the Birmingham Magistrates' Court.

Methodist Central Hall

address: 196-224 Corporation Street

The hall was built in 1904 in a similar red-brick-and-terracota style to the Victoria Law Courts it faces. It is distinguished by its tall tower. It also retail premises at street level, some with original shop fronts. The building ceased to perfom its original function and has been converted into a very large night club. It is Grade II listed.

Hudson's Coffee House

address: 122-124 Colmore Row

The former coffee house is a rare, Grade I listed, example of a wall-to-wall townhouse in the Arts & Crafts style. It was built to house offices of the Eagle Insurance Company in 1900.

Red Palace

address: 1-7 Constitution Hill

A thin corner building in the red-brick-and-terracota style was devised to house industrial workshops, with incorporated machinery and infrastructure. The building, distinguished by its ornamental tower at the very corner, ended up housing consecutive ethnic restaurants, most recently Syrian.
Parks and nature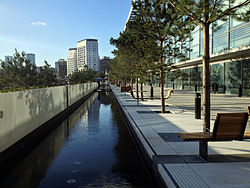 There are small parks and green spaces all over the city and suburbs, and the countryside is only about thirty minutes away in any direction. The country parks and nature reserves usually contain a wealth of information about local flora, fauna and conservation efforts.
Birmingham Botanical Gardens & Glasshouses

phone: +44 121 454-1860

address: Westbourne Rd, Edgbaston

Large botanical gardens with a huge range of plants and workshops throughout the year.

phone: +44 121 472-7775

address: Pershore Rd, B5 7RL

Six-acre centre with lots of animals and birds, including deer, otters, owls and two rare Red Pandas.

phone: +44 121 442-4226

address: Pershore Rd

Well-maintained park with flowerbeds, tennis, bowling and water features. Contains tea rooms and the Midlands Arts Centre.

Moseley Bog & Joy's Wood Nature Reserve

phone: +44 121 454-1199

address: Wake Green Road, Moseley

A small woodland area that is said to be the Inspiration for Fangorn Forest in the Lord of The Rings. The area is well looked after with a series of wooden platforms and walkways creating pathways to follow. A visit can also be linked in with Sarehole Mill (see above), another haunt of young Tolkien.

Cannon Hill ParkTake a walk around on the Moseley/Edgbaston border. The park has a boating lake and is home to the Midlands Arts Centre. This has a theatre, an 'art-house' cinema and year-round exhibitions.

phone: +44 121 643-6777, +44 121 633-4700 (info line)

address: Brindleyplace

Large sea life centre with a multitude of aquatic animals, including piranhas, turtles, sea horses, rays and otters. Feeding demonstrations throughout the day.

phone: +44 121 357-7395

address: 20 Tanhouse Ave, Great Barr, B43 5AG

A bird reserve on the border with Sandwell which organises regular guided walks, talks and family activities.

phone: +44 121 355-6370

address: Sutton Coldfield

Enormous (over 900 hectare) park including heathland, wetland, marshes, woodland and lakes. Designated an English Nature National Nature Reserve in 1997. Lots of activities on offer including golf, angling, cycling and bird watching.

address: 58 Edgbaston Park Road, Edgbaston, B15 2RT

phone: +44 121 421-7575

address: Bartley Green

450-acre meadow, hedgerow and woodland park containing Woodgate Valley Urban Farm and Hole Farm Trekking Centre. Best visited in spring and summer when there are hundred of wild flowers and butterflies.

Eastside City ParkMore of a public square than a true park.
Do
Events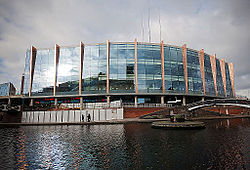 Birmingham hosts some of the largest events, exhibitions and conferences in the country, which may or may not be of interest to a visitor.
Live music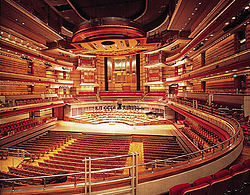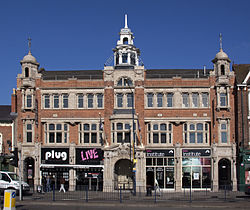 The live music scene in Birmingham is vibrant and varied, and something can be experienced just about any night of the week. Libraries, tourist information offices and music-related bars and shops will stock copies of
The Fly
or "Ryan's Gig Guide" free publications with exhaustive listings of every music event going on in the city and surrounding area.
Theatre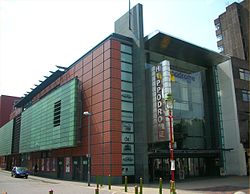 In addition to the main venues mentioned below, there are several small theatres scattered around the city and the suburbs; pick up a
What's On
guide from a library or tourist information office for full listings.
phone: +44 870 607 7533

address: Station St.

Edwardian theatre showing pre- and post-West End plays and musicals.

phone: +44 121 870 730 1234

address: Hurst St

Large, refurbished theatre showing varied performing arts, including ballet, musicals, comedy, opera and drama. Home of the Patrick Centre for the Performing Arts and the Birmingham Royal Ballet. Preferred venue for the Welsh National Opera.

phone: +44 121 643-5858

address: 20 Sheepcote St

Independent local theatre company performing both old and modern plays.
Midlands Arts Centre (MAC). See Cinema. £5-20.

phone: +44 121 303-2323

address: Station Street

Home of the Birmingham Stage Company, puts on both professional and amateur productions.

phone: +44 121 236-4455

address: Centenary Square, Broad Street

Well-established theatre putting on classical and modern plays. Supports new work through The Door.

address: 4 Temple Row West

In a beautiful 1864 building that was built as a bank, this intimate (only 95 seats) theatre hosts guest performances, two resident companies, a Musical Theatre Group, and a regular Theatre Group. It is the main venue for the comedic Foghorn Improv. Downstairs is a pub in the preserved Victorian bank hall with a glass dome and lavish decorations.
Cinema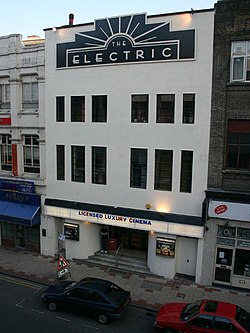 Birmingham's cinemas are quite reasonably priced due to stiff competition for the student market. Don't expect a huge range of "alternative" films, as even the independent places screen mainstream blockbusters to keep their revenues up.
Sports
Council-run leisure centres
are liberally scattered throughout Birmingham, typically offering swimming pools, sports courts, fields and exercise equipment, all available at much lower prices than you'd expect to pay at privately-run gyms. There's also plenty of golf courses, both municipal and private, across the city including the world famous Belfry complex.
Watch football (i.e. Association football, or soccer): the Birmingham conurbation has professional three teams.
Aston Villa play at

phone: +44 871 423-8100

address: B6 6HE

Villa were promoted in 2019 and now play in the Premier League, the top tier of English football. Their 42,736-capacity stadium is 2 miles north of city centre.
Birmingham City play at

phone: +44 871 226-1875

address: B9 4NH

City play in the Championship, the second tier of English football. Their 30,016 capacity stadium is one mile east of city centre. The women's team play in the Women's Super League, with home games at Solihull Moor.
West Bromwich Albion play at

The HawthornsWest Brom play in the Championship. Their stadium, capacity 26,000, is four miles northwest of Birmingham city centre.
Watch cricket at

phone: 0870 062 1902 (non-geographic number)

address: B5 7QU

Stadium of 25,000 capacity, home of Warwickshire County Cricket Club, one of the 18 "First Class Counties" comprising the first tier of English cricket. These county matches last 3-4 days, day tickets £6-£15, and you'll find few others there for a mid-week county match. Edgbaston frequently also hosts international (or "Test") matches, lasting up to 5 days, day tickets £20-£70. The stadium is about a mile south of city centre, walk along Pershore Rd (A441), or take bus 45 or 47.
phone: +44 121 344-4858

address: Stadium Way, Perry Barr, B42 2LR

Alexander Stadium, situated in Perry Barr, is Birmingham's only large athletics stadium and plays host to international meets and trials to decide the English/British teams for major events as well as being the base for the Birchfield Harriers athletics club. The stadium's various sporting facilities are also open to public use. £1-2, capacity 7,000. Expansion is planned, in time for the 2022 Commonwealth Games.
phone: +44 121 440 2492

address: Sir Harrys Rd, Edgbaston, B15 2UZ

Edgbaston Priory is the main tennis club in Birmingham, with 29 tennis courts, 10 squash courts, 2 swimming pools and a gym available to the public. Every June the club also hosts the DFS Classic, a woman's tennis tournament that acts as a warm-up for Wimbledon. DFS Classic tickets £8-20.
phone: 0870 900 0066 (non-geographic number)

address: Lichfield Rd, Sutton Coldfield, B76 9PR

The Belfry Golf Club runs three courses just to the north east of Birmingham, including the world famous Brabazon course which has been used for the Ryder Cup and continues to play host to tournaments on the PGA European Tour. Green fees £25-140, tournament spectator tickets £7.50-20.
address: Adderley Rd South, B8 1AD

Large go-karting centre just east of the city centre. £10-50.
phone: +44 121 772-5111

address: Golden Hillock Rd, Small Heath, B11 2PY

The Ackers is an outdoor activity centre offering a range of activities, ranging from kayaking and archery to rock climbing and dry slope skiing. Prices vary depending on activity. Skiing/snowboarding sessions £11 for one hour.
phone: +44 870 840 7410

address: Perry Barr Stadium, Aldridge Road, Perry Barr, B42 2ET

Premier League speedway racing
phone: +44 121 449 8000

address: 582 Moseley Rd

skateboarding or BMX-ing
Theme parks
address: B78 3TW

Located just outside Tamworth in Staffordshire, is the fourth most popular theme park in the UK, with 35 rides set in 280 acres of land as well as a 15 acre zoo. To get to the park during school holidays simply catch the special E22 bus in the mornings (typically just before 9 and 10) from Carrs Lane stop DK (near the Pavilions Shopping Centre). A return ticket should cost £10. Outside of school holidays you'll need to catch bus 110, which runs every half hour from Bull Street stop BF (near Snow Hill station) and get off at Fazeley. The return fare is £4. If you're unsure of where exactly the stop is (and it's easy to miss) ask the driver to signal you when you need to get off. Admission £18.95-20.95.
Learn
phone: +44 121 303 0114

Specialist language centre offering courses in over 30 languages, from beginners up to degree level. Also offers TEFL, residential courses and distance learning.
There are also regular workshops at places such as the Midlands Arts Centre (see Cinema) and the Country Parks (see Parks and nature).
Work
The vast number of shops, bars and restaurants in the city centre means that there is rarely a shortage of menial job vacancies. You will often see positions for minimum wage service or retail positions advertised in windows. There are also a lot of temping agencies able to find temporary office, driving and other jobs for travellers packing suits and CVs.
Birmingham Broad Street Jobcentre

phone: +44 121 480 3800

address: Centennial House, 100 Broad St

Birmingham City Jobcentre Plus

phone: +44 121 237 8300

address: 65-77 Summer Row, Ladywood
Buy

Since the beginning of the 21st century Birmingham has developed enormously as a regional shopping centre, with the old
Bull Ring
complex (once a notorious 1960s eyesore) being demolished to make way for a large shopping centre that includes Selfridges.
The city and suburbs have the usual assortment of supermarkets, newsagents and corner shops. The city centre is especially well-served, with three Tesco, two Sainsbury's and one Co-op outlets.
Shopping centres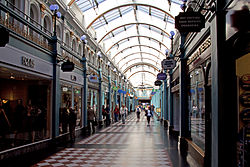 Bull RingA great place to pick up cheap food (including fresh fruit and veg).

The MailboxHome to the region's only Harvey Nichols, as well as many other designer boutiques.

Grand CentralLocated directly above New Street Station. The Mall at the Grand Central features a large John Lewis Store and provides a fast link from the Debenhams side of the Bull Ring directly into New Street Station, with relatively little pedestrian traffic.

Martineau PlaceMartineau Place is a small shopping centre, which holds a Gap, H&M, O'Neill Store and Freespirit, as well as an obligatory Starbucks Coffee House.

Great Western ArcadeA traditional shopping arcade built in 1875 over the Great Western railway line, which cut through the city. It has an ornate entrance on the Temple Row side, and a less impressive one from Colmore Row and a clock with carillion. There is a mixture of all kinds of shops, all pleasantly fitting within the late 19th-century theme with their decorations.

address: New Street

A historic shopping arcade with painted plafonds and a potpourri of specialist premises right next to the New Street station.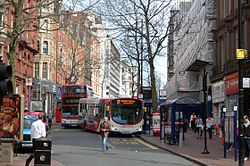 Shopping streets
The principal shopping streets are New Street, High Street and Corporation Street. All include the usual assortment of high street chain-stores and discount outlets. Birmingham's High Street has become run down as of late, holding mainly discount stores, due to the attraction of the Bull Ring to larger name stores. However, New Street, going towards Victoria Square has many upmarket stores.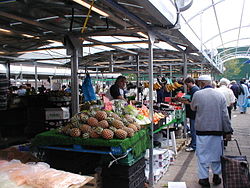 Markets
phone: +44 121 303-0300

address: The Bull Ring

The markets comprise the original trading centre that Birmingham was built upon. There are hundreds of stalls, and you'll be able to get everything from food to underwear to gaffa tape relatively cheaply.

address: New Street

The market is held on the first and third Wednesday of every month, plus the second Wednesday in December. Other such markets are held in the suburbs of Moseley and Sutton Coldfield.

The Frankfurt Christmas MarketEvery Nov/Dec, the city centre hosts this unique Christmas market which is the largest such market outside of Germany and Austria.
Specialty stores
phone: +44 121 643-0143

address: 14-16 Smallbrook Queensway

Comics, graphic novels, manga and the usual alternative oddities. Ideal if you want to catch up on your favourite series while on the road.

address: 112-114 Corporation St

A large and intertwining collection of several small retailers over four floors, specialising in goth and alternative clothing and accessories.

The Jewellery QuarterTo the north of the city centre, specialises in jewellery and contains many small workshops and retailers.

Day In

phone: +44 121 622 6182

address: The Arcadian Centre

Chinese supermarket with a wide range of Asian foods.

One Earth Shop

address: 54 Allinson St, Digbeth

Specialty vegan wholefoods and other ethical essentials.
Moseley
Farmer's MarketThere is a selection of farm produce, but many stalls selling all manner of local foodstuffs (pies, jam, deli foods, etc.). It was a finalist in the best farmer's market in the UK competition.

Moseley Arts MarketSpecialist arts and crafts from the best local designers, makers and artisans

Woodbridge Gallery

phone: +44 121 449 5581

address: 47 Woodbridge Road

is a small gallery in a someone's back-yard! It's only open for specific exhibitions which last a few days at a time. These usually display work by local artists. There is no admission charge.

Nima Delicatessan

phone: +44 121 442 4205

address: 103 Alcester Road

A well-stocked deli, selling cooked meats, cheese, coffee and a wide selection of ethnic and organic foods and ingredients.
Eat
Birmingham is the balti capital of England, and the balti was invented here in 1977. It is a type of curry served in a thin, pressed-steel wok called a "balti bowl". The much-promoted "
balti triangle
" covers around 50 restaurants on Ladypool Road and Stratford Road in Sparkbrook (often referred to as Little Somalia), about 2 miles south of the city centre. Travel West Midlands has a deal with eight of the larger eateries whereby you can get a 15% discount for travelling by bus, pick up a
Balti Triangle by Bus
leaflet for full details. A taxi to the area will take around 10 minutes and cost £5. Although the area looks a bit run-down, there is little crime as the abundance of restaurants ensure that the streets are always busy.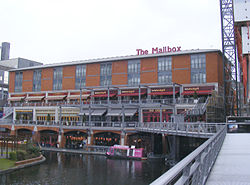 Budget
Birmingham has a large student population, and the usual cottage industries have sprung up in campus areas to cater for their lack of cash. There are around a dozen cheap eateries in the
Selly Oak
area of Bristol Road, mainly Indian but also Chinese, Italian and English.
The usual fast food chains, kebab shops and burger vans are also scattered around the city and surrounding areas.
Simply Baguette

address: Corporation Street

A large variety of baguettes ranging from 50-75p.

phone: +44 121 357-0018

Canalside Cafe

phone: +44 121 248-7979

address: 35 Worcester Bar, Gas St

Fairly small cafe with a good range of organic and vegetarian foods. Excellent in the summer, as it's (unsurprisingly) right on the canalside.

Edwardian Tea Rooms

phone: +44 121 303-2834

address: Chamberlain Square

Authentic Edwardian cafe in the heart of the museum. The food is a lot better than the price suggests.

Cafe Face

phone: +44 121 415-4651

address: 519 Bristol Rd, Selly Oak

Absolutely excellent cafes, big helpings not shy on the cheese, garlic mayonnaise and chilli sauce if you were to order them. Excellent reputation for their roasted vegetables or jacket potatoes.

Whats Cooking: Rooster Chicken

address: Bottom of Harrow Road

Delicious, slightly suspect chicken in huge quantities but don't order off the board or you'll be waiting all day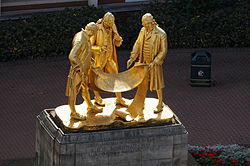 Mid-range
The mid-range chain eateries are much the same as the ones you'd find in any British city, and you'll rarely be more than a few hundred yards away from one.
phone: +44 121 248-3226

address: 1 Oozells Square, Brindleyplace

Modern cafe attached to the art gallery with efficient and friendly staff.

Celebrity Balti Restaurant

address: 44 Broad St

Decent Indian dishes.

Chung Ying Cantonese Restaurant

address: 16-18 Wrottesley St

The Chinese Restaurant in Birmingham, established since 1981. Opposite Arcadian Centre.

address: 17 Thorp St

Large, well-known Cantonese place. Huge menu, always full of Chinese people. Also offers private rooms for groups, karaoke and disco.

phone: +44 121 605-4343

address: Arcadian Centre, Hurst St

Varied contemporary menu, chilled-out atmosphere. Popular with the theatre crowd.

address: 17 York Road, Kings Heath

Picturesque area in the middle of a busy and bustling Birmingham suburb. Quality vegetarian options and excellent service.

address: 11 Brook St

Upmarket Italian place, can be a bit crowded.

phone: +44 121 643-3993

address: 7 Oozells Square, Brindleyplace

Contemporary Oriental surroundings. Wide range of Thai dishes.

phone: +44 121 433-3023

V2

address: 73-75 Pershore St

Home-style Chinese cooking, popular with the local Chinese community. Clean and bright inside with trendy decor.

phone: +44 121 743-8100

phone: +44 121 633-6033

address: Bullring plaza, (under Borders), B5 4QL

Birmingham's restaurant of the Wagamama chain, tidy and minimal inside with a good, varied noodle menu. Specials change frequently and there are a few good vegetarian dishes. Can get busy, with a typical wait from 10-15 minutes during peak shopping times.

phone: +44 121 236-3130

address: Paradise Place, B3 3HJ

Japanese, surprisingly given the name. Fluorescent, authentic, accommodating, great.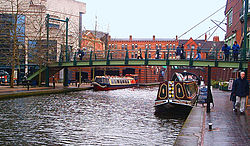 Splurge
Birmingham has quite a few upmarket places, mainly due to the number of high-rolling businesspeople that drift in for conferences and other dealings.
Vegetarian and vegan
Considering its size, Birmingham does not have a wide range of vegetarian-specific places to eat. All the eateries mentioned above will have vegetarian options, but the Indian and Chinese places tend to have better variety. If you are vegan ask for your balti/curry to be cooked without ghee (clarified butter). Naan breads are generally not vegan whilst rotis are.
Jyoti

phone: +44 121 766-7199

address: 569-571 Stratford Rd, Hall Green

Excellent Indian food, but relatively small portions. Extremely popular, so book ahead.

The Warehouse Cafe

phone: +44 121 633-0261

address: 54 Allison St

Wholesome organic vegetarian and vegan fare. Closely linked with Friends of the Earth.

Chennai Dosa

phone: +44 121 454-1111

address: 169-171 Hagley Road

Edgbaston. A popular restaurant serving South Indian cuisine, which is known for its Dosas. Has vegan options.

Mr Singh's All Vegetarian Pizza

phone: +44 121 552-3529

address: 103 Cornwall Rd

Handsworth Wood. Vegan and vegetarian pizza restaurant.

phone: +44 121 236 2313

address: 26 Great Western Arcade, B2 5HU

Plant focused, casual dining restaurant. Dishes highlight seasonal ingredients.
Selly Oak
Selly Oak is in South Birmingham and has its own railway station with frequent services from Birmingham New Street. It can also be reached by bus, with a stop along Bristol Road. The University of Birmingham is located nearby, and hence the majority of residents in Selly Oak are students, who live in terraced houses; mainly in a rather poor state.
The shops and services on Bristol Road cater for the student population. There are many take-aways, letting agents, off-licences, cheap restaurants and pubs.
The SoakVery cheap and decent food available, as well as a wide range of drinks.

The Bristol PearAgain part of the Scream chain but much smaller than the Gun Barrels. Cheap drinks.

Chick-inFried chicken with a fast-food type front end. Curries, bring your own wine.

ChamonIndian restaurant, pretty good, cheap and you can bring your own wine.

SherattonIndian restaurant, pretty good, you can bring your own wine and they give you a big discount.

Cafe Eastern DelightPretty Indian restaurant. You will have about five waiters behind your back if you eat there.

Suzen's Noodle BarFood often too oily. Cheap.

RiminiItalian restaurant. Prices higher than usual in the area, but quality of food and presentation is usually better than most local restaurants. You can bring your own wine.

Pizza Land, Mama Wia, Luciano's All little shops that serve very cheap (but good) pizza cooked by people who probably get paid less than the national minimum wage.

Selly SausagePopular cheap student restaurant. Good for paninis, pancakes, omelettes and the like. Host of "the campus mate" - a dating section by the local student newspaper.

Kebab LandName says it all.
Moseley
Drink
General
Dress code restrictions are rather common in Birmingham clubs, so be careful to check out each club's policy. Many clubs refuse to admit large groups of males in case of trouble, so go individually or in small groups. The usual excuse that door-staff give is that someone in the party is wearing the wrong type of shoes/coat/trousers etc. The general rule of thumb is
no effort, no entry
. This usually means shoes, not trainers, and a shirt, not a T-shirt. At the same time being dressed like that can be a hindrance, if you go to one of the cooler bars. It's best to check with someone who's been to the particular bar before. There are a number of areas in the city centre, which are defined below, but other areas to look for a night out are Moseley, Harborne and Selly Oak.
If you are looking for the average drink, virtually any pub or bar will do. If you are a
real ale
aficionado, there are several excellent pubs to visit, where dress restrictions do not usually apply. Highlights include The Wellington (Bennets Hill), The Shakeseare (Summer Row), another The Shakeseare (Lower Temple Street), The Old Contemptables (Edmund Street, near Snow Hill Station), and the Post Office Vaults (New Street).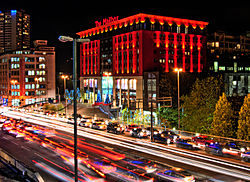 City centre
Bull

phone: +44 121 333-6757

address: 1 Price St, B4 6JU

Quiet and comfortable pub, in the Gun quarter. Home-cooked food, too.

Figure of Eight

phone: +44 121 633-0917

address: 236 Broad St, B1 2HG

Large city centre pub belonging to the Wetherspoon chain.

Bacchus

phone: +44 121 616-7991

address: Burlington Arcade

Cheerfully ornate, gothic style cellar bar beneath The Burlington Hotel. Discretely hidden just off the bustling New Street. Bacchus is a relaxing oasis away from the buzz of the City Centre. A range of real ales is available. Over 21s only.

Craven Arms

phone: +44 121 643-6756

address: Upper Gough Street

Situated out of the rear of the Mailbox complex, has great traditional blue tiled exterior.

phone: +44 121 200-2423

address: 106-110 Edmund Street

Popular venue in the financial part of town, great food available every day. Known for quality pub food from local suppliers.

The Malt House

phone: +44 121 633-4171

address: 74 King Edwards Road, B1 2NX

Make no mistake this is a chain pub serving standard food and drinks. However, when the sun is shining it is difficult to find a nicer place to drink along Birmingham's canals as there is a plethora of outdoor seating. Visited by Bill Clinton during his Birmingham visit.

Old Fox

phone: +44 121 622-5080

address: 54 Hurst St

Old Joint Stock

phone: +44 121 200-1892

address: 4 Temple Row West, B2 5NY

Superbly decorated pub in a Grade II listed former bank. Sells mainly Fullers' beers.

Old Royal

phone: +44 121 200-3841

address: 53 Church St,B3 2DP

Single bar with large-screen TV. The pub is popular with office workers.

phone: +44 121 236-3710

address: 150 Newhall Street

A great place to watch live sport and the venue of the best quiz night in Birmingham every Thursday night. It's just £1 to enter and there's no limit on the size of the teams. A great night out for seasoned quiz-goers and first-timers alike. Homemade pizzas and a sausage selection giving a fresh choice every day, also has two for one offers every weekday. Great place for traditional ales and a Cask Marque award winner.

phone: +44 121 200-3115

address: Bennets Hill

An outstanding and frequently-changing selection of well-kept real ales, lagers, ciders and perry (the current list can be viewed on-line), run by knowledgeable CAMRA members. No food served, but condiments, cutlery and crockery are available to people bringing their own (supermarkets and fast-food premsises are nearby).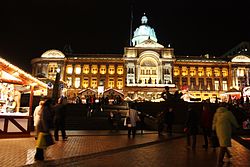 The Arcadian
In the middle of Birmingham's rather small Chinatown, this is an open at the centre shopping arcade which is mostly used by Chinese super markets and restaurants. Right in the middle though, its all bars. It tends to be a bit quieter and less rowdy that broad street and has some of the better clubs in the city. The dress code around here is extremely strict in regard to logos on clothes, they are a definite no! Most of the bars are interchangeable, but recommended are:
SobarSupposedly a noodle bar, as evidence by a small noodle based menu. Really this is just a pretty decent bar. It stocks the standard beers and drinks as well as a number of rarer Asian beers. Has a number of extremely comfortable sofas.

BambuOne of the best, but also one of the most pretentious clubs in Birmingham. It's not cheap but is still the place to be seen. The dress code here is very hard to define, they want "cool".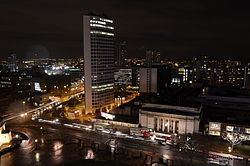 Broad Street
Broad Street, the No 1 party street of Birmingham, has a large range of clubs, bars and pubs. This is a good location for a decent English Friday night. However, at the same time it is one of the more rowdy areas, and if trouble happens it will normally be on this road. The chances of this affecting you are slim. Just of to the side of this road is
Brindleyplace
, a classier and better area of bars, clubs and restaurants. Recommended bars are:
RevolutionChain vodka bar. A cut above the normal for Broad Street, though it does get crowded. Great range of Vodka's.

The WorksBig 3 room club, with a variety of music. Great for kids. Over 23's will feel ancient in here.

The Pitcher and PianoCanal side bar with a decent range of beers. Perfect for a nice lunch time drink in the summer months, sitting outside by the canal.

The Prince Of Wales

address: King Edward St

Victorian pub with decent menu & many types of fine ales, worth a visit for the beer!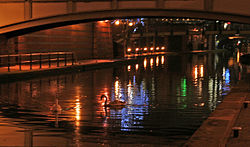 Digbeth
Birmingham has a large Irish community and many Irish pubs. Most of the city centre ones are spread along Digbeth High Street beginning with
The Bullring Tavern
near the Bull Ring and finishing with
The Rainbow
near Camp Hill.
Some recommendations in Digbeth are:
phone: +44 121 622-4516

address: 308 Bradford St

Victorian pub near Digbeth Coach Station. Grade II listed.

phone: +44 121 643-1959

address: 106 Albert St

Grade II listed. Opposite the Thinktank at the Millennium Point.
Every two weeks an indie night called Panic! is held at the Sanctuary in Dibgeth.
For a more eclectic mix of music and people take a look at the Medicine Bar in the Custard Factory just off the A34 in Digbeth (it's the big blue building).
Just around the corner is a club called Air, host to nationally recognised nights such as Godskitchen.
The Custard Factory, Gibb Street, Hosts a range of nights, from Drum n Bass to Electro, not to be missed.
The Rainbow Pub, An eclectic pub that hosts a variety of nights, one of the best places in Birmingham and is soon to be shut down. Also visit the Rainbow Warehouse, around the corner which is big on the rave scene and often joins with the Rainbow pub to host street parties such as S.L.A.G.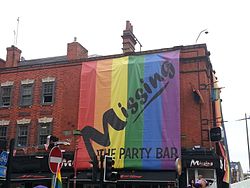 Hurst Street
Birmingham has a vibrant and visible gay scene centred around Hurst Street. Every Spring Bank Holiday this area, often referred to by locals as the Gay Village, hosts a gay-pride festival while its bars and clubs attract people from across the Midlands all year round. Hurst Street is well policed and homophobic attacks are rare, though the local fundamentalists may try to 'save your soul'. Birmingham is as gay friendly as Manchester, Brighton, and Blackpool. Birmingham has a large number of gay venues, the best being the Village, Eden, Equator, The Loft Lounge and the Queens Arms. The Fountain and Bolts are men only bars.
The Jewellery Quarter
Many of the more up-market bars and restaurants are located around St. Paul's Square in the Jewellery Quarter. This is also home to the Jam House, Birmingham's premier jazz club.
The VaultA upscale restaurant bar occupying the vaulted underpinnings of an imposing Victorian building with signature exposed brickwork, bespoke furniture, polished wooden flooring.

Vertu BarRegularly showcases live music on a Thursday evening and showcases various nights including 'Rizen' on a Friday where the house DJ plays funky and electro house.
Harborne
Harborne was once a separate village, is now a mainly residential area a bit North of Birmingham University. The old village center, along Harborne High Street, now has a lot of pubs with a mixed crowd; students, faculty and others. There's a tradition among the crazier students; try to have a half pint in every pub in Harborne in one evening. With over 20 pubs and several km of walking involved, and the limited opening hours of British pubs, this takes some doing.
The Bell

phone: +44 121 427-0931

address: 11 Old Church Rd

Next to St Peter's Church, this cosy and quiet pub gets busy because of its attraction.

address: 21 High St, B17 9NT

Cosy, moderately priced, popular with medical and nursing students.

phone: +44 121 428-2635

address: 212 High Street, Harborne

An odd V shaped pub as the name suggests on the junction of the High Street and Vivian Road. A really nice pub sells some real ales and good selection of lagers. Sells good pub grub as well.
Newtown
phone: +44 121 333-5988

address: 144 High St, Aston, B6 4UP

Comprehensive Thai menu and bar snacks. Refurbished after having been derelict. Noted for its near-original and highly elaborate Victorian interior. Former customers include Ozzy Osbourne and Laurel and Hardy.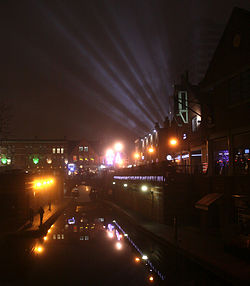 Clubbing
The city hosts some of Britain's most popular clubs and events. Student nights are especially fun, with cheap drink and entry offers and busy clubs. Do not miss out on visiting at least one of these brilliant events:
Gatecrasher

address: Broad Street

Now the biggest club in Birmingham.

RamshackleGiving visitors a brilliant experience of the UK and International indie scene combined with fantastic prices. Held at the 2000+ capacity Carling Academy, Dale End.

SnobsVery similar to Ramshackle; with DJs offering more focus on up and coming music, also with a 60s room. "Big Wednesday"'s are big with the large student population Birmingham has, with shots at just £1 each all night.

OceanaThe new super club boasts 5+ bars, 2 huge dance floors, and a roof top seating area, all new within the last 2 years. An amazing experience, if a little expensive on popular nights. A good night to go is a Wednesday.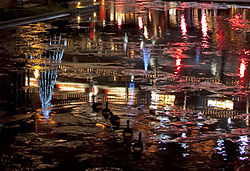 Risa

address: Broad Street

One of the most popular clubs among students in Birmingham. However it is being gradually taken over by clubs like Oceana. Still it is good fun on Monday and Wednesday night.

Rococo Lounge

address: Broad Street

Best for R'n'B on Broad Street. Get there early on Sundays. Cheap drinks promotion.

Indi BarDance and R'n'B. Guest DJ's

Nightingales

address: Hurst Street

Birmingham's most famous gay club. Often has guest performers

Rainbow WarehouseA warehouse club next to the Rainbow pub in Digbeth which hosts a variety of underground events playing Dubstep, Drum & Bass, Breakbeat, and Techno. Check for events.

PSTLocated in Digbeth, PST is a private members club offering underground reggae nights. Check for events.

Hare & HoundsA live music venue located in the Kings Heath district, which has earned its reputation hosting nightly events including artists and DJs across almost all musical genres.

Bull's HeadA live music venue located in the Moseley district, the upstairs transforms into an intimate club environment open til 2AM on Fridays & Saturdays.
Moseley
Sleep
Hostels
If you want a more social feel to your stay why not try one of the hostels the city has to offer.
Birmingham Central Backpackers

phone: +44 121 643-0033

address: 58 Coventry St

Birmingham's only independent hostel features a central location only streets from The Bull Ring, and next to the nightclubs of Digbeth. Beds in a shared dorm can be found for as little as £9 if you've got a sharp eye out and both breakfast and various foods in the evening are included, making it the West Midlands only half-board hostel. It is in the oldest part of the city, right near where the original manor house once stood. The area can look a little uninviting (this is what you will find outside the very centre of this industrial city), but the hostel makes up for it by being socially inviting (films/football can be watched and they have a Wii, playstation and xbox) and, as mentioned, still being close to The Bull Ring. They offer nightly events such as quiz night, beer tasting, movie nights and disco, and the common room is probably the best around.

phone: +44 121 236-4031

address: 92-95 Livery Street

Less than a 10 minute walk to the centre, Hatters Birmingham have upped the norm in hostel accommodation boasting all ensuite rooms and a common room. Price includes bed linen & a free light breakfast which is served all day.

Bilberry Hill Residential CentreFor groups looking for accommodation in the scenic Lickey Hills, but with easy access to the centre.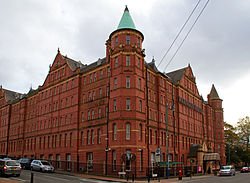 Budget
There is ample choice of hotels in the economy sector in Birmingham.
Campanile

address: Chester St

If you are travelling by car and on a budget, Campanile is your friend wherever you go - the rooms could not be more simple, but the locations are usually very convenient at motorway junctions. In Birmingham, it is north of town, where the A4540 ringroad meets the A38, which goes straight into the city, and has the added benefit of being located over the Birmingham and Fazeley Canal lock.

Comfort Inn

address: Station Street

Comfort Inn is a brand of non-standardized properties where price often trumps modern comforts, and this hotel is no exception. It also boasts a location right in front of the New Street station.

Gables Hotel

phone: +44 121 449-1146

address: 43 Oxford Road

mid-priced and provide easy access to the centre of Moseley Village but in need of refurbishment.

Hampton by Hilton Birmingham Broad Street

address: Broad Street

Contemporary 3-star hotel offering 285 stylish rooms, free WiFi and complimentary breakfast.

Hampton by Hilton Birmingham City North

address: 98-104 Constitution Hill

The new Hampton brings some colourfulness to Birmingham's economy hotel market, merging new with old as it is located in a building dating back to 1910. Its name honestly describes its location northwest of the city centre.

Holiday Inn Express Birmingham-Snow Hill

address: 1 Snow Hill Plaza

The tall tower with 224 rooms has relatively large common areas and everything expected of a Holiday Inn Express, including free WiFi and breakfast included in the room price. It replaces the older property which now became the ibis Styles.

ibis Birmingham BordesleyThe slightly out-of-town ibis is more of an option for motorists, situated at a large roundabout of the A45 circling the city. It is one of the older ibis hotels in the UK.

ibis Birmingham Centre

address: Ladywell Walk

A standard and slightly dated ibis hotel in the very centre of the city

ibis Birmingham Holloway Circus

address: 55 Irving Street,

This is an older ibis whose suburban style belies its location close to the business district and the Holloway Circus evoked in the name.

ibis Budget Birmingham Centre

address: Great Colmore Street

Offering perhaps the cheapest hotel stays in Birmingham, the ibis Budget is a chain hotel optimized for low costs, with very simply appointed rooms with just enough space.

ibis Styles Birmingham Centre

address: 65 Lionel Street

Located east of the core city centre on Lionel Street, it is a former Holiday Inn Express property that became and ibis Styles after some very light refreshment. As in all ibis Styles, breakfasts and free WiFi are included in the room price, which can be very attractive, compensating for the less central location.

Paragon HotelDespite the imposing Victorian presence, this hotel in the southeastern corner of Birmingham offers very attractive rates. This comes not only at the expense of a relatively remote location, but also standards of the worn rooms, which fall deeply behind the expectations one might have experiencing the common areas.

Premier Inn Birmingham City

address: 3-6 Waterloo St

As typical as a Premier Inn gets, it is situated in a nondescript 1970s building with simple rooms - but just around the corner from to the St. Phillip's cathedral.

Premier Inn Birmingham City Centre (New Street)

address: Pinfold Street

There is no shortage of Premier Inns in Birmingham. This one is next to the New Street railway station.

Premier Inn Birmingham Broad Street (Canal Side)

address: Bridge Street

This Premier Inn serves the ICC and faces a canal.

Premier Inn Birmingham Central EastThere is nothing "central" about this motel-style Premier Inn at the junction of M38 and M4045, which faces a similar Campanile across the canal, but if you are a motorist, you will enjoy its convenient location and free parking.

Premier Inn Birmingham Broad Street (Brindley Place)

address: 80 Broad Street

The Premier Inn at Brindley Place is the chain's most up-to-date property, with a marked difference in fittings over the other ones in town.
Mid-range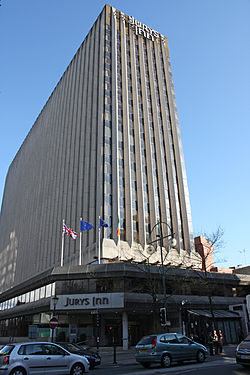 address: 15 Serpentine Rd

Selly Park (close to the university). Offers mid-range B&B in a quiet environment within 10 minutes walk from the university.

address: New St.

City centre (close to the university). Offers mid-range accommodation for business and travelling guests.

phone: +44 121 694-6700

address: 1200 Chester Road

By the M6 motorway in Castle Bromwich, west of Birmingham

Bloc Hotel

address: Caroline Street

The Bloc Hotel offers ultrasmall rooms (10 sqm) all wrapped in minimalistic, modern decor, which can appeal to design enthusiasts.

Hotel at Conference Aston

address: Aston St

Situated on the Aston University grounds, the Conference Aston is a convention centre with an on-site hotel. Hotel guests can enjoy the facilities of the Woodcock Sports Centre across the road, including a full-sized Victorian swimming pool

Copthorne Hotel

address: Paradies Circus

One of the hotels serving the ICC and a monument to the era in hospitality mercifully gone by.

Hilton Garden Inn Birmingham Brindley Place

address: 1 Brunswick Square, Brindleyplace

Southwest of the centre at Brindleyplace, the Hilton Garden Inn offers simple modern comforts in its four-star rated facility. WiFi is free and Neutrogena toiletries are provided.

Holiday Inn Birmingham City

address: Smallbrook Queensway

An old Holiday Inn in an office/commercial area of the centre

Jurys Inn

address: 245 Broad Street

A huge and hotel in a concrete block, catering to business visitors of the ICC. Enjoys solid reputation despite a complete lack of charm.

nitenite

address: 18 Holliday Street

The property brands itself as a boutique hotel, where postmodern common space appointments are meant to make up for the ultrasmall (7 sqm) cabins that serve as ensuite rooms.

Novotel Birmingham Centre

address: 70 Broad Street

The familiar white-and-light-wood Novotel rooms await in what is not quite the centre, but rather the Brindleyplace complex.

pentahotel Birmingham

address: Ernest Street / Holloway Head

This relatively new mid-range property is swamped in pentahotel's hallmark purple lighting and entices with a potpourri of postmodern appointments. Both standard and "comfort" rooms are small (12 sqm)

Ramada Birmingham

address: 160 Wharfside Street

The Ramada is a part of the Mailbox multi-use complex, where you will find multiple restaurants, shopping opportunities and service outlets. The hotel faces a canal, which provides for nice views and ambiance, but the rooms are in dire need of redecoration.

Staybridge Suites

address: Martineau Place

A rare occurrence of IHG's extended-stay brand outside of North America, the Staybridge Suites Birmingham offers studios and apartments with kitchenettes and other long-stay facilities, including on-site gym. Breakfasts are included in room rates.

phone: +44 121 454-4111

address: 135 Hagley Rd, Edgbaston

Near the International Convention Centre, National Indoor Arena and the Bull Ring Shopping Centre.

Thistle Birmingham City CentreThe conservatively-styled - and little outdated - Thistle faces St. Chad's Cathedral over a busy thoroughfare.

phone: +44 20 37437336

address: Moor St, B5 4BL
Splurge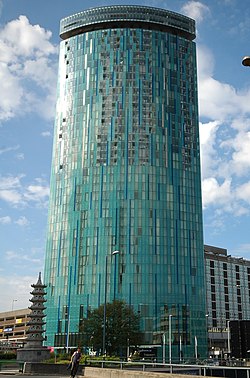 Crowne Plaza Birmingham City Centre

address: Holliday St

As nondescript as a Crowne Plaza gets, this hotel was built to serve the ICC next door. Despite having been updated since, it still has a somewhat sombre presence.

Crowne Plaza Birmingham NEC Hotel

phone: +44 871 942 9160

address: Pendigo Way, National Exhibition Centre

Near Birmingham Airport.

phone: +44 121 643-1234

address: 2 Bridge St

Linked directly to the International Convention Centre (ICC) and is 5 minutes from the National Indoor Arena (NIA).

Hotel Indigo Birmingham

address: 200 Wharfside Street

It is hard to miss Hotel Indigo's unique, jigsaw-style facade and the glazed extravaganza of its top-floor Marco Pierre White restaurant. Inside are colorful rooms with all the modern comforts, a spa, said restaurant and a bar with a view - all with a price to match. The building, aptly named the Cube, sits next to the Mailbox.

Hotel La Tour Birmingham

address: Albert Street

This stylish hotel caters for the luxury end of the four-star market, with an a la carte restaurant with open kitchen and in-room "media hubs" that let one connect their devices to the room's display and sound facilities.

Macdonald Burlington Hotel

address: 126 New Street

A luxury hotel in Edwardian style and history to back it, directly facing the New Street station.

Malmaison BirminghamThe Malmaison is an upscale property with an on-site spa, brasserie and wine cellar. It is located within the Mailbox multi-purpose centre.

phone: +44 870 400 7280

address: 12 Hagley Rd

phone: +44 121 654-6000

address: 12 Holloway Circus

The Radisson is located in a blue glass tower, with views over Birmingham's city centre, and is one of the few truly modern high-end hotels in the city.

Hotel du Vin

address: Church Street

Offering a dark take on its lush Victorian common spaces, the Hotel du Vin brands itself as lifestyle accommodation, with a number of facilities to match, including a cigar lounge.
Connect
Telephone
The national dialling code for the city is 0121, followed by a three digit area code, followed by a four digit number. A fully specified Birmingham number will be in the format 0121 000 0000. The minimum requirement is 000 0000 within the national dialling code area.
BT payphones are dotted around the city, and most will take both cash and credit/debit cards. International calls are by no means cheap. There are no telephone centres, so if you're going to be making lots of calls home a pre-paid phone card may be a good option.
All GSM mobile networks have excellent coverage in all areas of the city.
Internet
All public libraries, including the central Library of Birmingham, provide free internet access, though the connection can be slow and you may have to queue for a terminal; and you need a library membership card for access.
It is also possible to get online from some BT payphones in the city centre (look for the ones with light blue broadband signs on them).
Wi-Fi is available in a number of cafes (including most of the city centre independents and chains), and other places.
Dot Comm Cafe

phone: +44 121 643-6999

address: 212 Broad Sreet

Noisy cafe surrounded by clubs.

Express Internet

phone: +44 121 449-1599

address: 181 Brighton Road, Moseley, B12 8QN

Internet lounge part of Express Mini Mart.

address: 115 Alcester Road

is an internet cafe in the centre of Moseley Village.
Cope
Birmingham grew to be a very multicutural population centre, so apart from Christian, religious services for many other faith groups are provided within the city.
phone: +44 121 449-5279

address: 11 Park Rd, Moseley

A centre run by the Friends of the Western Buddhist Order.

phone: +44 121 440-5355

address: 180 Belgrave Middleway, Highgate

Built in 1969, Birmingham was the second purpose-built mosque in the UK (the first was in Woking). The working capacity is 2500, though this is expanded during special events such as Eid. Tour groups should book at least two weeks in advance.

phone: +44 121 440-4044

address: 133 Pershore Rd

Large modern orthodox synagogue, popular with students.

phone: +44 121 235-5435

address: Graham St

Sikh Temple in central Birmingham.

The Church of Jesus Christ of Latter-day Saints

phone: +44 121 427-9291

address: Harborne Ward, Lordswood Road

Typical meetinghouse, with services at 10AM on Sundays.

phone: +44 121 523-7797

address: 107-117 Heathfield Rd, Lozells

Hindu temple, opened in 1967.
Stay safe
As with the rest of the UK, in any
emergency
call
999
or
112
(from a landline if you can) and ask for ambulance, fire or police when connected. For non-emergency police matters, such as reporting crimes after they have occurred, lost property, etc.) call
101
.
In general, Birmingham is a safe city. However, like most large cities, there are some good and bad areas. Certain suburbs (see below) have had their share of gun crime problems, but these are extremely unlikely to affect you unless you make yourself part of the larger drug gang problem. Avoid any offers of cheap drugs as you might be lured into a secluded place and then robbed.
Muggers in Birmingham tend to operate in groups of two or three, typically one will ask you a question (to judge whether you are local or likely to hit back) while the others move in behind you so they can force you to the ground. If you find this happening to you, then move to the side, so you have a clear escape path and cannot be grabbed from the rear.
The city centre is well-policed. The only trouble you might witness is a small scuffle on the Broad Street nightlife quarter as the nightclubs turn out in the early hours of the morning. However, take care at either end of Broad Street where the traffic flow speeds up.
It is advisable to stay away from the city centre when football matches between the city's two professional teams occur. Some fans of Aston Villa and Birmingham City have a violent and raw hatred for each other, and violent clashes between them are a common occurrence on match days. On other days, when the teams are playing at home against other teams, it is less likely for major violence to occur in the city centre, but you may encounter pubs full of chanting football supporters, and this may be intimidating (and really annoying) for tourists.
As usual, common sense will keep you safe, avoid walking alone in deserted or poorly-lit areas, especially at night, keep your wits about you at cash machines, and do not get into unmarked taxis. Private hire cars must be pre-booked; black cabs may be hailed. The only higher crime-rate areas that tourists might want to visit are Aston and Sparkbrook: even these are fairly safe during daylight. Canal towpaths at night, if relatively near a road access point, can also be hazardous.
Avoid people who offer you a free "stress test" (especially in New Street, near the junction with Ethel Street) as they are trying to recruit you into the Church of Scientology.
phone: +44 121 554 3801

address: Dudley Rd

Birmingham Central police station

phone: 0845 113 5000 (non-geographic number)

address: Snow Hill Queensway
Go next
Map of places with Wikivoyage articles nearby