Birobidzhan
Birobidzhan
(
Russian
: Биробиджа́н,
bee-ruh-beed-ZHAHN
) is the capital of
Russia
's
Jewish Autonomous Oblast
. It borders
Khabarovsk Krai
to the east,
Amur Oblast
to the west and
China
to the south. Bira and Bidzhan are two parallel rivers, the former flows by the city's banks.
Get in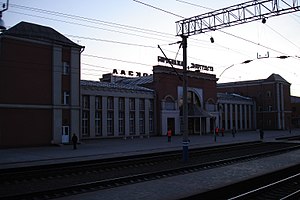 Take a train, elektrichka or minibus from Khabarovsk, Russia. There is a daily bus to
Komsomolsk-on-Amur
(via
Khabarovsk
).
See
In spite of its name the number of Jewish inhabitants in the area is rather small. However there are a lot of traces of and new monuments to national characters. Start from the bronze figures sitting on the cart on the railway square and move ahead to Sholom Aleihem statue. You will see some more.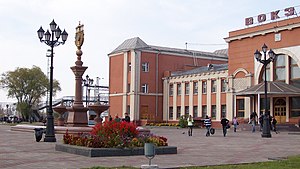 Two Synagogues and Orthodox temples are addition to the visit programme.
Do
Regional Center of Folk Art

address: 5, Volochayevskaya St.

Theater and song festivals, concerts.

Musical Jewish theater

Doll theater Kudesnik

Theater-studio Kogelet
Buy
Vodka "Khasidkaya", "Shabbatnaya", "Rabinovich" and "Jewish happiness" are due to preserve the color and taste of the region in bottled form.

Eat
There is a number of cafes around the marketplace offering borsch, macaroni, shashlyki, but you can also take a meal on the cheap in the eatery "Strela" at the railway station.

Sleep
Hotel Vostok

phone: +7 42622 620-30

address: Sholom Aleihem st.,1

The prices per stay are $30-60
Go next
The bus station is next to the railway station on the left (when you exit the station building) and the bus timetable will not get you waiting for ages, whether you take a private minibus or a regular public bus.
Elekrichkas to Khabarovsk and
Obluchye
depart two times a day.