Bishkek
Bishkek
(Бишкек) (population in 2019 approx. 1,012,500) is the capital and largest city in
Kyrgyzstan
.
Understand
Bishkek is the capital of the Kyrgyz Republic and sits in the Tien Shan mountain range in the Chui Valley. It is a relatively new city and has limited historical sites, but it makes a great place to start your trips to the mountains and alpine lakes of the Tien Shans. Bishkek is, however, an interesting example of a czarist planned city; laid on a grid with wide boulevards flanked by irrigation canals and large trees, buildings with marble façades, and Soviet apartment complexes. Many young travelers find Bishkek's nightlife a delight and the people are friendly and very hospitable. Bishkek is a city of many young people that hang out in Clubs and small cafes. Kyrgyzstan has the most liberal tourist visa regime in Central Asia, so Bishkek makes a great place to start a tour of the silk road and collect your visas to neighbouring countries.
History
Bishkek was founded when the Uzbek khan of Kokand built a small clay fort by a settlement on a tributary of the Chuy River in 1825, to connect up several stop-off points on the
Silk Road
through the
Tian Shan
mountains. In 1862 it was captured and trashed by Russians, before they set up their own garrison. Russian peasants were soon lured here by land grants and the fertile soil of the Chuy Valley.
The renamed town of Frunze became capital of the new Kyrgyz ASSR in 1926, but it was renamed Bishkek (the Kyrgyz form of its old Kazakh name, Pishpek) in 1991.
Climate
See graph/information to the right.
Get in
By plane
Bishkek Manas International AirportInternational flights, which mostly come and go at very early hours of the morning, connect Moscow SVO & DME, St Petersburg, Krasnoyarsk, Novosibirsk, Yekaterinburg, Istanbul IST & SAW, Ulaanbaatar, Almaty, Dushanbe, Tashkent, Ürümqi, Tehran, Isfahan, Mashad, Delhi, Dubai, and Islamabad. Domestic flights serve Batken, Jalal-Abad, Kazarman, Kerben and Osh. The airport is not modern, but fairly efficient. There are ATMs and several small cafes and convenience shops open around the clock. Keep your baggage tag receipt handy as it may be checked by Security to make sure you have picked up the correct baggage. Likewise keep your boarding pass, Customs occasionally ask to see them.
Getting there & away
:
Marshrutka 380 runs downtown. The fare is 40 som, and they sometimes charge an extra 10 som for baggage. It leaves from just outside Arrivals. Downtown the stop is on Jash Gvardiya just north of Chuy.
A taxi to and from the city centre should not exceed 500 som, but you'll have to negotiate from a much higher price, especially if it's very early in the morning. If you share a taxi the price should be 150 som per person.
To & from Kazakhstan, the airport is so close to the border that you're better taking a taxi between airport and border post where you can pick up a marshrutka, e.g. on Highway A2 for Almaty, rather than going via Bishkek center.
By train
Bishkek-1

Bishkek-2This station is usually more convenient to go from. It has a left luggage office; there's a cafe in the square outside, where Frunze sits on horseback bombarded by pigeons.
Domestic
There is a train between Bishkek and
Balykchy
, which lies on the western edge of
Issyk Kul
lake. It starts in Bishkek, from Bishkek-1 at 06:25 and Bishkek-2 at 06:40 (as of Sep 2018). The return trip starts at 17:08 in Balykchy.
The latter train also stops in
Tokmok
(for the Burana Tower).
International
From
Almaty
there is a train, but it is much quicker to come by road, as the railway has to swing clear of the mountains so you'd have to change and double back from Lugovaya.
From
Tashkent
there is a direct train Jun-Sep, which runs once a week. It leaves Thursday evening and takes 20 hr via Shymkent and Lugovaya, continuing from Bishkek-2 to
Balykchy
(aka Rybache) on Lake
Issyk Kul
. It returns west on Saturday morning. At other times of year you have to change at Taraz or Lugovaya; there may be a very long wait.
From
Moscow
Kazanskaya a direct train runs twice a week (late evening Th & Sa), taking just over 3 days to Bishkek-2 station via Samara, Aktobe, Kyzlorda, Shymkent, and Taraz in Kazakstan. There are several other connections via Petropavl, Nur-Sultan or Almaty. The return direct train departs from Bishkek-2 on M & W mornings.
By bus
Western Bus StationServes most western and south western destinations in Kyrgyzstan, but also Taraz and Almaty.

Alamedin BazaarHas marshrutkas from/to the Kyrgyz/Kazakh border (25-30 som) and from/to the begin of Alamedin Gorge (25 som). The marshrutkas to the gorge start from across from Mysi Jaliliya 152. The marshrutkas to the border stop on the northern side of the junction next to the bazaar, towards the border. Several marshrutkas lines go to the border, but they usually have таможеня written on their destination sign or shout it out when stopping. Sometimes even private drivers are willing to take people (~70-100 som per person), beside the annoying taxi drivers waiting here too of course.

Ala-Archa National Park bus stopMarshrutka 265 runs from/to here. If not, try .
Specific destinations:
Get around
By bus
Checkout the
2GIS app
and
website
, which is great for finding the right marshrutka or bus number in Bishkek and all over Kyrgyzstan. The service is used extensively be the locals.
Marshrutkas
Kyrgyzstan's capital, like many places in the former Soviet Union, has an extensive network of minibuses, known as Marshrutkas. There are hundreds of mini-buses (marshrutkas) that ply all parts of the city. They generally cost 10 som, 12 som after 21:00. They typically have around 14 seats, with standing room for around ten extra people during busy periods. Marshrutkas are easily identifiable and display their number and basic route information (in Russian) on the front. There is a great
English website
for checking connections. To flag one down, simply hold out your right hand, parallel to the ground. Once you get on, pay the fare to the driver. When you want to get off say "ah-stah-nah-VEE-tyeh" or simply "Stop". According to the law marshrutkas should stop at bus stops only, but this is only respected if the driver sees a police car. So, in practice you can ask driver to stop anywhere and he will drop you off at any point on their route.
(Trolley) buses
Bishkek also has a bus and trolleybus system which is less extensive and generally slower. They only stop at designated bus stops and operate only till 22:00. The fare is 8 som in buses and in trolleybuses. Passengers enter at the back door and leave at the front; they pay on exit.
By taxi
There are several private taxi firms in Bishkek that you can easily reach through their three digit numbers including: 150, 152, 154, 156, 166, and 188. Daytime taxis throughout the city are a flat rate of 100 som and 120 som past 22:00. There are also numerous "gypsy cabs" situated at nearly every intersection. While most travellers and long-time expats report no problems, you are cautioned to be aware, especially at night and near nightclubs. Generally tourists use the local taxi services which can be reached through several numbers: 150 Euro (Evro) Taxi, 152 Super Taxi , 156 Express Taxi and 188 Salam Taxi. Before 22:00 most runs in the city are 100 som and afterwards are 120 som.
Many taxis do not use flat rate, you negotiate a price in advance. Short distance inside city can be 80 som. A taxi for a day can be negotiated. An hour drive to mountain costs about 1,100 som while getting back is usually much more expensive because the driver has to run twice without passengers since during your stay he needs to return to the city to work.
By bike
Bike shops in town also rent bikes:
Velo Lider

address: Moskovska 226

Knowledgeable and they speak English.

address: Kropotkina 91

Especially mountain bikes.
See
Bishkek is a pleasant city to wander with numerous leafy parks, tall trees, peppered by Soviet era statues and monuments. However there isn't a great deal to see beyond this, and the city can comfortably be 'done' in a day (or two if visiting the suburban markets). Most museums are closed on Mondays.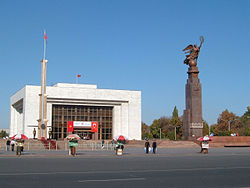 Ala-Too SquareThe main city square is a vast expanse of concrete that ceased to be called Lenin square in 1991, and is the site of frequent political demonstrations and regular festivals. A statue of Lenin was the focal point until 2003, before he was banished to a much less conspicuous location behind the museum and replaced by a statue of Erkidik (freedom). At night many vendors set up photograph and karaoke booths, and there's a synchronised sound and light show in time with the fountains, however travellers should avoid visiting the square after dark. There is also a military monument with an hourly changing of guards.
The elegant marching of the soldier can be admired every hour. The ceremony starts about 10 min to the full hour.

National Historical Museum

address: Ala Too Square, Chuy Ave

Three floors, the bottom floor has seasonal exhibits, while the second displays events of the Communist era. The top floor showcases the history and culture of the Kyrgyz people.

Panfilov ParkWhile this park may be in need upkeep and renovation, it's a great look into the past when Kyrgyzstan was a part of the Soviet Union. Beware that few of the rides have any safety mechanisms, and the safety mechanisms they may appear to have are probably not functional. The ferris wheel offers a great view of the greater city.

Bazaars: they're more for shopping in than for sight-seeing, but see "Buy" descriptions for Osh, Dordoy, Alamedin and Ortosay Bazaars.

M V Frunze Museum

address: 364 Ul. Frunze

General Mikhail Frunze (1885-1925) was a World War I and civil war general born in Bishkek, of such renown that the city was named for him until independence. You start on the third floor, which depicts the Red v White communist civil war - Frunze defeated the White leaders Kolchak and Wrangel. The second floor depicts the early Soviet era in Bishkek. Finally on the ground floor you visit the thatched cottage where he spent his early years.

Russian Orthodox Cathedral

address: Jibek Jolu 497

Exterior of dazzling white and blue, the interior is cluttered by scaffolding as the cupola frescoes are refurbished. The interior is almost too squeaky clean, it hasn't acquired the patina of incense and candle smoke that wraiths traditional Orthodox interiors. With large separate baptistry, and all set in a peaceful compound.

Fine Arts Museum "Gapar Aitiev"

address: 196 Yusup Abdrahmanov

Gallery of local art in three sections: local representational art particularly by Turusbehov, Stakhanovite glories of tractors in the steppes, and modern art.
Do
Zhirgal BanyaYou can buy tickets from the ticket office around the side. There's a sauna, ice-cold pool, and for an extra 200 som an attendant will lather you up, scrub you and then hose you down. For those into a little bit of self-flogging, birch branches are available free. Men and women are separate.

Karven ClubIf you want to swim, the Karven Club has an outdoor pool which is perfect for a blistering summer's day, and there's a also a modern gym and fitness centre. For one hour it's 400 som but it's much better value to pay 500 som for a whole day of use and hang around for as long as you like.
Learn
Bishkek is a cheap place to learn Russian (or Kyrgyz). A private 1½-hr lesson with a native Russian speaker should cost between US$5–7. Courses are also available at the
American University of Central Asia
and the
Kyrgyz-Russian-Slavic University
. There is also a private school that caters to individual learning: The
London School in Bishkek
. This school offers Russian and Kyrgyz to anyone at anytime of the year for as little as 120 som/hr. During the warmer months they are often full so book in advance.
Work

A number of international organizations have offices in Bishkek, however most employees are recruited from abroad. If you speak Russian, there might be occasional opportunities to find temporary or long-term work. There are also English language schools that will employ native English speakers.
Due to the unstable political situation, there is not a lot of foreign business investment, but there is the Kumtor Gold mine and many foreign exploration companies attempting to develop the natural resources of the country.

Buy
Money
Exchange offices can be found around the , or on . The rates here are excellent and barely 1% off the inter bank rate, for US dollars and euros. But also tenge and others can be obtained for a proper rate.
Shopping
If you want to fit in with the locals, be sure to get one of the stylish Kyrgyz felt hats (kalpaks) worn mainly by men. You can also get textiles such as traditional patterned carpets (shyrdaks), which are well-made but can be expensive. For cheap souvenirs, avoid the Tsum department store and head directly for the Osh Bazaar. You may have to dig around the stalls as there isn't as much variety or quality as in Tsum, but the prices can be far cheaper if you put your bargaining skills to the test.
Osh BazaarIf you're looking for a fresh sheep's head, locally made Korean picked salad, shashlik or any other type of Kyrgyz snack, this is the city's best known food bazaar. Although it's certainly not Central Asia's most colourful bazaar, there are hundreds of products to choose from, especially in the spring and summer months when produce is fresh from farms in the outskirts of town. There is a separate clothes market south of the main produce bazaar. To get there you can take trolleybus 14 on Chuy, bus 20 or 24 on Kiev or 42 from Soviet. Like any crowded space, be wary of pick-pockets; however visiting the Osh Bazaar is a most and rewarding trip.

Dor Doi BazaarOpen air market with hundreds of double stack shipping containers. It's divided into multiple sections based on the types and origins of goods. It's the main market for Chinese & Russian goods.

Alamedin Bazaar is to the northeast, corner of Jibek Jolu and Kurmanjan Datka, and Ortosay Bazaar is to the southeast.

Geoid

address: Kiev 107

Geoid sells maps for trekking 1:200,000 and overview maps 1:1,000,000.

Zum Department StoreMobile phones, clothing, wine, souvenirs, tobacco, make-up, electronics. This shopping mall is located in the centre of town off of Chui street. Complete with Mastercard and Visa ATMs, Zum also displays a great selection of food stands, just outside. Like anywhere in Bishkek, don't be afraid to haggle
Eat
Bishkek is probably the best choice for food in Kyrgyzstan. From typical Kyrgyz food like
Besh barmak
or central Asia classics as
Plov
,
Shashlyk
or
Samsas
can be found around the city. Also Russian dishes are fairly ubiquitous in Bishkek because of the large number of ethnic Russians who still live in the city. There are an also growing number of restaurants and cafes catering to more varied tastes from Turkish to Korean. Also Uyghur food is popular and fit the taste of many westerners as well as locals. E.g. the chain
Arzu
have a few restaurants.
Budget
There are hundreds of stands that sell
gamburgers
, a local adaptation of hamburgers but really share little in common: they are sliced döner kebab-style meat served on a bun with cole-slaw, cucumber, mayonnaise, ketchup and some chips. They usually cost around 60 som. One of the most popular
gamburger
stands in Bishkek is at the corner of Sovietskaya and Kievskaya, across the street from the main post office. It's a popular area for local students to pick up a cheap meal, and they even serve the rare chicken hamburger.
Throughout the city are a lot of street-side vendors selling
samsis
, which is a staple of most locals' lunch. The green kiosks opposite the Philharmonic Hall ticket office sell some of the freshest, cheapest and best prepared in Bishkek and they are popular with students from the nearby universities. You can usually find a row of
shashlyk
grills inside any bazaar or just outside any
chaykhana
(teahouse).
For some pre-independence nostalgia, try the cafeterias of government ministries and universities. For about one US dollar you can experience what it was like to eat Soviet-style cafeteria food.
address: Jibek Jolu

Excellent local food frequented by locals. Great samsas and laghman (noodles). Dirt cheap.

Daamgyy24-hr self-service restaurant next to Apple Hostel on the western side of the western bus station. A main and a drink will cost under 100 Som/€1.25. Wide range of food which changes every day.
Mid-range
Seoul-2

address: 557 Frunze St

Korean restaurant near university.

Old Edgar

address: Toktogula 175

Popular with ex-pats. In summer, there is ample outdoor seating and in winter, the bomb-shelter style building decorated in a nautical motif is Bishkek's most original dining venue. The food is average, but the house band has entertained generations of visitors.

Dolce Vita Pizza

address: Akhunbaeva 116a

Possibly the best pizza in Bishkek, with thin crust is baked in an open-fire oven; there is also a whole range of other Italian dishes and pastas.

Times Square

address: 97а Akhunbayev

Regular entertainment and a menu featuring other dishes than pizza and sushi; shashlyk is also good here.

Shao Lin

address: Mahatma Gandhi St

Well known Chinese restaurant near Western Bus Station. The quality is up to most western standards, but tends to be oily. The soups are especially large - better to be shared.

address: Herzen St 5

Microbrewery and German beer hall with patchy, but sometimes excellent, German food and beer. Service however is East German, they've not grasped the concept of gemütlich.
Drink
Cafes
There are a few coffee shops in Bishkek that even feature wi-fi.
address: Manas 57/1

Excellent coffee and coffee specialist drinks. Breakfasts, sandwiches, wraps, soups, salads. Free Wi-Fi. Counter service by English speaking staff. A place to network and to meet other English speakers. Sierra also roasts their own coffee, offering fresh roasted coffee for sale in a variety of origins and roasts.

address: Isanov 87

All-hours coffee shop and they'll even wrap you in a blanket for cold nights on the terrace.

Coffee Relax

phone: +996 312 46 09 01

address: Toktogul Street 140

Not cheap, but good food quality and service. Various coffees, and European and Turkish cuisine.
Bars
For young and single people, Bishkek's nightlife is impressive. Foreigners are welcomed at most venues with open arms, and many times they do not need to pay a cover charge. See the
"Stay Safe"
section for more on how be aware while you're having fun in Bishkek.
Save The AlesA hip and alternative bar with a focus on ales and other non-regular beer. The people are nice and the out-door seating is comfortable.

address: Razzakova 32

Set atop one of higher buildings this makes a great place for a rooftop drink. A plush place where Bishkek's young and wealthy go to see and be seen, so you might want to gussy up a little. Drinks around US$2-4 a pop.

Metro Pub

address: Chui 168

This is where the city's belle monde come for a drink and a meal. Especially crowded on St Patrick's Day and Halloween.

address: 16 Cholpon-Ata

A trendy Russian rock establishment with a mostly Russian clientèle. It's jazz on Tuesdays with rock and blues at weekends. Check out their extensive drink menu.

address: Mira 24

You'll find the DJ spinning from inside the front section of a tube train engine (hence the name). The 80s kitsch is a popular spot for really late night partying.
Sleep
Budget
Mid-range

=== Splurge ===

Stay safe
Bishkek is safe compared to many major Asian cities.

Traffic
The most dangerous places are the streets during rush hours when you try to cross them. At night take the usual precautions. However even the parks are quite safe. If you go to out and plan to drink you should always take a taxi for about 120 som because a drunken person stumbling around is everywhere in the world an easy victim.

Pickpocketing
Pickpockets are a major problem in and around markets, especially at Osh Bazaar. Look out for young men with large plastic bags "bumping" into you. Keep your valuables at your accommodation if you plan to visit the markets, and if you bring a purse, camera, backpack etc. keep it in front of you.

Nightclubs
Nightclubs and their surrounding areas can be a hotbed for crime in the form of theft, prostitution, or even assault by people waiting to take advantage of an unsuspecting traveler or expat. Ask locals or hotel staff which areas are safer than other and take precautions if you plan on club hopping. Do not walk from nightclub to nightclub at night; instead spend 120-150 som on a taxi. Potential muggers have been known to wait outside bars and clubs, especially the ones frequented by ex-pats, follow drunk ex-pats and then rob them.
Keep a cool head and be aware of your surroundings when hanging out inside and outside of nightclubs. Most clubs have numerous buff, semi-professional security guards, but you should be vigilant nonetheless. Do not leave any belongings on the table while you go to dance. Be careful around the taxi area outside the club; occasionally, unsavory characters pick this location to mug drunk foreigners as they leave the club late at night. You might not get much help from club security when it comes to theft.
Bishkek has a lot of prostitutes and sexual-transmitted diseases are on the rise in Kyrgyzstan and Central Asia. Always take proper precautions if you plan on being sexually active.

Police
If you are a victim of a crime, you are probably best served by reporting the incident to your embassy, rather than to the militsya (police). Sometimes militsya will approach foreigners and ask them for documents, such as your passport. It's best to keep a photocopy of your passport and leave the original at your hotel if you can. On the rare occasion that they make problems, be polite, but firm, in your refusal and insist that you be put in touch with your embassy first.
In the past it occurred that (fake) policeman approach you on the street, especially if you look like a tourist, such as carrying a big backpack, and ask to check the belongings. Often, their aim is to steal your valuables and money. They can do it very professionally, and you only will notice later, that something disappeared. The best way, is to pretend you don't understand them, trying to call your embassy, or just walk away asap. Also keep your valuables in a safe place and don't expose them to others all the time in Kyrgyzstan. Even sometimes normal local people, who invite you to have a tea at their home, if they see that you left some valuables unattended, may be tempted to steal.

Infrastructure
Irrigation ditches and other holes in the ground can seriously injure the unaware person - especially when walking at night. Many streets are poorly lit or not lit at all, and it is easy to fall into them. Avoid manhole covers, grates and similar fixtures - they are frequently loose and even missing.

Cope
Bishkek is more or less a museum relic of the former Soviet Union Bloc. Despite Kyrgyzstan's poverty and the decay of its infrastructure, Bishkek remains a relatively safe, clean, functional city. Bishkek is not an old city and possesses no ancient landmarks, but it nonetheless has its own kind of charm, which often arouses nostalgia in people who knew the old Soviet Union. For some visitors, Bishkek is merely a stop on the Silk Road to refresh supplies before returning to the mountains. However, expatriates generally consider themselves lucky to benefit from its easygoing lifestyle, open-minded spirit, party culture and low cost of living. If you come with the right expectations you might find yourself pleasantly surprised.
Embassies
phone: +996 312 65 05 06

address: 189 Moskovskaya Street

phone: +996 312 597-481

address: Prospekt Mira 299/7

The embassy has moved. The old address at Toktogula street is no longer valid.
For obtaining a tourist visa a inviting letter is required. Travel agencies which can provide it are:
address: Chui 126
Mrs Liu
address: Chui 142
GS-tour company
phone: +996555 51 52 52 (English), +996773 75 10 00 (Russian)
address: Shopokava 29, 3
phone: +996 312 905-000

address: Rassakova 28

Germany offers the Schengen Visa in Kyrgyzstan.
phone: +996 312 69-20-95 (Consulate), +996 (312) 69-20-98 (Embassy)

address: Tynychtyk Avenue (old name: Mira), 95 A

The Wikimapia entry. Payments for the visas must be made in Kazkommertsbank, the closest office is the Zhibek Zholy branch.
Tajikistan

phone: +996 312 512-343

address: Karadarinskaya 36

Tajiks visas are issued on spot.
phone: +996 312 551-241

address: Prospekt Mira 171

It is recommended that you visit the website for the embassy's hours and the process for arranging an appointment.
phone: +996 312 663-078

address: Tynystanov 213

They won't even let you in unless you have an appointment. Call after 14:00 and get one, most likely for the next but one working day. Opening hours Tu-F 12:00. Download the application form at http://evisa.mfa.uz. Many nationals, including Finnish and Dutch, need a letter of invitaion. Processingtime is 12 days, urgent 4-8 days. With a LOI you get it on the spot, even if you don't need one. They just need your passportcopy and don't take your passport.
Connect
Free Wi-Fi is widespread. Most "foreinercafes" have free Wi-Fi (Coffee, Foyer, Obama, Cyclone, Pirogoff-Vodkin, Vostok Zapad, Tubeteika, Movie City Bar, Buddha Bar, etc.)
There is also free Wi-Fi at the vefa shopping center on the corner of Gorkiy and Soviet.
Getting mobile phone service or even internet service is rather straight forward and a good idea, even if you're here for only a few days. You get SIM cards in almost every hotel or from people at the exit of the Airport. To activate them, put them into your phone and then go to one of the payment machines in supermarkets, petrol stations, etc. On the screen of the machines, select the provider of your SIM, enter the phone number on the SIM and finally put in some money. For all providers you get 1.5 GB data volume and many free SMS for only 100 som. You first have to select your tariff (by calling something like "*624*1#") after your payment to benefit from the low prices. This self-explanatory if you look at the advertisements of the providers.

Go next
Ala-Archa National Park – A great hiking and mountain climbing opportunity right next to Bishkek.
Alamedin Gorge – A beautiful river valley with high routes to Ala-Archa (glacier trail) and Issyk Ata.
Burana Tower – An unusual and interesting minaret near the city of

Tokmok

.