Bishnupur (West Bengal)
Bishnupur
(also spelt as
Vishnupur
) is a town in
Rarh
in
India
famous for its terracotta temples.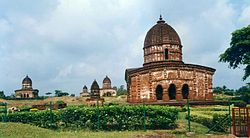 Understand

Romesh Chunder Dutt wrote in the late 19th century, "The ancient Rajas of Bishnupur trace back their history to a time when Hindus were still reigning in Delhi, and the name of the Musalmans was not yet heard in India. Indeed, they could already count five centuries of rule over the western frontier tracts of Bengal before Bakhtiyar Khilji wrested the province from the Hindus. The Musalman conquest of Bengal, however, made no difference to the Bishnupur princes... these jungle kings were little known to the Musalman rulers of the fertile portions of Bengal, and were never interfered with. For long centuries, therefore, the kings of Bishnupur were supreme within their extensive territories. At a later period of Musalman rule, and when the Mughal power extended and consolidated itself on all sides, a Mughal army sometimes made its appearance near Bishnupur with claims of tribute, and tribute was probably sometimes paid. Nevertheless, the Subahdars of Murshidabad, never had that firm hold over the Rajas of Bishnupur which they had over the closer and more recent Rajaships of Burdwan and Birbhum. As the Burdwan Raj grew in power, the Bishnupur family fell into decay; Maharaja Kirti Chand of Burdwan attacked and added to his zamindari large slices of his neighbour's territories. The Marathas completed the ruin of the Bishnupur house, which is an impoverished zamindari in the present day."
There are more historical temples in Bishnupur than in any other place in West Bengal. Almost all temples in Bishnupur town are Vaishnavite, but many of those scattered in different areas of the district spread outside the town are Shaivite, with traces of Jainism and Buddhism. While some of the older temples were built of laterite the area has numerous brick built temples, some with exquisite terracotta carvings.
While Bankura district has some fine examples of rekha deul temples built in what is popularly known as the Kalinga architecture of Orissa, as for example at Bahulara, but it is the Bengal style of architecture that attracts attention in the district. The Shyamrai temple built by Raghunath Singh in 1643 is perhaps the oldest pancharatna temple in Bengal. With curved roofs in thatched style, it has one pidha deul in the centre and one in each corner. The Jor Bangla temple was built in 1655 also by Raghunath Singh. It is a fine example of the Bengal style of temple architecture. Gods and goddesses were thought of as being close to human beings and as such placed in temples that resembled human habitation, the hut with thatched roof.
Four distinct types of temples may be distinguished in Bishnupur. The first has a single square on a curved roof and is represented by Malleswar temple. The second has a single tower on a curved roof. The best examples of this are Madan Mohan temple in brick and in laterite Lalji and Radha Shyam temples. The pancharatna temple has five towers on a curved roof. The best examples are Shyam Rai temple in brick and Madan Gopal temple in laterite. The fourth type is the Jor Bangla type with two buildings shaped like a typical Bengal hut joined together with a small turret on top. It is the most interesting one from the architectural point of view. The Shyam Rai temple has the finest specimens of carved tiles.
It needs to be mentioned that the powerful Rajas of Bishnupur had a non-descript single storied palace, not even comparable to the Rajbaris of many a somewhat ordinary zamindar in Bengal. Even the fort at Bishnupur seems to have been constructed for the protection of temples.

Get in
By bus, road or train from
Kolkata
.
By bus - Calcutta State Transport Corporation (CSTC) and South Bengal State Transport Corporation (SBSTC) buses ply regularly between Dharmatala/ Esplanade bus stand of Kolkata and Bishnupur. It takes about 4–5 hours to reach Bishnupur.The road distance is shorter than the rail distance, it is about 150 km.
By road - From Kolkata travel to Dankuni, take the Durgapur Expressway, at Ratanpur crossing turn left and take the Sheoraphuli-Tarakeswar road, go straight through to Arambagh and Bishnupur.
By train - It takes about 3:30 to 4:15 hours from Kolkata, distance 201 km. Convenient connections - Rupashi Bangla Express departing Howrah at 6AM, Purulia Express departing Howrah at 4:45PM and Aranyak Express departing Shalimar at 7:45AM. To come by Aranyak Express from Howrah to Bishnupur,1st one has to come at Santragachi by local train & then by Aranyak Express.All these trains are via Kharagpur,Midnapur. You can also opt for Howrah-Chakradharpur passenger which leaves Howrah at 23:05 hrs. This train has sleeper class provision.
Other option, come at Kharagpur/Midnapur/Bardhman/Durgapur by train form Howrah.Then by bus.
Netaji Subhas Airport at Kolkata is the nearest for regular commercial flights. Those who are looking for flight connections may check for flights to and from Kazi Nazrul Airport at Andal, Durgapur.
From other places -
By bus from Tarakeshwar
By bus from Durgapur
By train from Kharagpur
By bus from Bardhman
By bus from Durgapur
By train from Asansol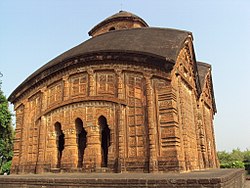 Get around
By cycle rickshaw because it is a small place. Many of the temples are near each other. Most are within walking distance of one another. Cars are also available on hire.
Bishnupur railway station

Bishnupur bus stand
See
Bishnupur being a temple town, the focus is on temples, all built of terracota during the reign of the Malla kings, who ruled over the area prior to the arrival of the British. The sights other than temples are also listed below.
Temples
Chhinnamasta Temple

Jorbangla TempleBuilt by King Raghunath Singha Dev II in the 17th century. The ornate terracotta carvings are set off by the roof in the classic chala style of Bengal architecture.

Kalachand Temple

Krishna-Balaram Jugalkishore Temple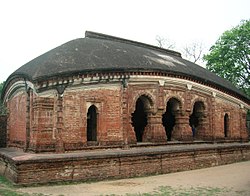 Madanmohan TempleKing Durjana Singh Deva built the temple in 1694 AD in the ekaratna style, a square flat-roofed building with carved cornices, surmounted by a pinnacle. Impressive carvings on the walls depict scenes from the Ramayana, Mahabharata and the Puranas.

Madangopal Temple

Malleswar Temple

Mrinmoyee Temple

Nandalal Temple

Radhagovinda Temple

Radhalaljiu Temple

Radhamadhab Temple

Radheshyam Temple

Sanreswar Temple

Sarbamangala Temple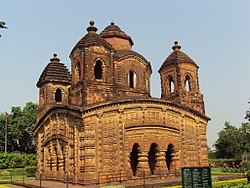 Shyamrai TempleBuilt in 1643 by King Raghunath Singha. The walls are richly decorated with terracotta carvings featuring aspects of Lord Krishna's life. It is one of the largest temples.
Other places
Baro Pathar DarjaMain Gateway of Bishnupur

address: Dalmadal Caman

Supposed to have protected Bishnupur when the Bargis (Maratha warriors) attacked from the west.

Garh DarjaSmall Gateway of Bishnupur

GumgarhThe place of no return.

Lalbandh

address: Dalmadal Para

An artificial lake.........

Nutan Mahal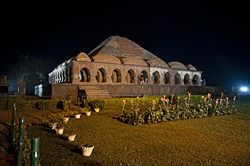 RasmanchaOldest brick structure. Built in 1587 by Bir Hambir is a pyramidal structure in the centre of the town, where the deities from the other temples are brought in a procession on the occasion of the Rasa Festival. There are some cannons of the Malla kings in the area.

Stone Chariot

Dalmadal Cannon

address: Dalmadal Para

A large cannon, made of wrought iron, manufactured by the Malla kings in the ancient times. It's 3.8 m long.
Nearby places
BahularaIt is famous for the Siddheswar Siva temple and ruins of Buddhist chaityas from early centuries AD.

DiharIt is famous for the Saileswar and Sareswar temples. King Prithvimalla of the Malla dynasty built the temples in 1346.It is one of the proto-historic sites that has been discovered. By about 1200-1000 BC chalcolithic people had settled on the north bank of the Dwarakeswar River. After the early historic period nothing noticeable has been discovered at Dihar till Saivite activity around 14th century AD

DharapatThere is a 18th century Jain-Hindu temple. There are three excellent stone idols in the temple — two Jain deities and Vishnu. All three are on the outer walls. There are some stone relics in Dharapat. One of them, and a very interesting one, is a statue of Parasnath that has been converted into a Vishnu idol by carefully adding two hands. It obviously signifies the overpowering Hindu influence after the decline of Jainism in the area.

PanchmuraThe village where they make the famous terracotta horses.
Note: Reduce (-) the attached map to see the location of these places properly.
Do
It is also a great centre for music - the Bishnupur gharana is well known in classical music. Look out for opportunities, check where you stay, if you are an
Indian classical music
fan.
Buy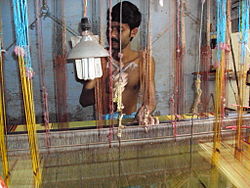 Baluchari Saris - another famous Bishnupur product. Traditionally woven with Ramayana and Mahabharata symbols but modern versions are also available.
Bankura Horse - now the symbol of Indian handicrafts - available in different sizes both in the terracota and wood versions.
Conch shell beads and items.
There are plenty of shops you can walk into, but in case you are unable to locate one, here is a short guide:
# Terracota Crafts, Dalmadal Road.
# Shri Hari Sankha Bhandar, Shankharipara.
# Maa Durga Sankha Bhandar, Shankharipara.
# Silk Khadi Seva Mandlal in the Baltala area sells silks.
# New Krishna Cloth Store in Chawk Bazar, Bishnupur. Collection Of Baluchari sarees
Eat
Bishnupur is a small town. One can find various small eateries in and around the temples as well as near the main bus stand. However, one should try Posto-r Bora. You may also try various types of fries (telebhaja) and Sweetmeat near Sibdas Girls school prepared from pure Ghee.
If you want a simple Bengali lunch with posto bora, Hotel Monalisa is the place to go.

Drink
Hard drinks are generally available in the hotels.

Sleep
Bishnupur Lodge

phone: +91 3244 252 013, +913244 253 561, +91 9732100950

Bishnupur Lodge

Hotel Bishnupur

Hotel Laxmi ParkWith a restaurant serving Indian, Chinese and Tandoor food with room service. ICICI Bank and SBI ATMs are available

phone: +919434224896

address: Rasikgang

Run by Bishnupur. provides budget accommodation in its standard double rooms and comfortable accommodation in its standard rooms, 4-bedded rooms and dorms.

Meghmallar

Monalisa Lodge

phone: +91 98310 31895

Pourasabha Parytakabas

Udayan Lodge

address: College Road
Go next
Bankura - 30 km from Vishnupur, the district headquarters town.
Biharinath - for a holiday in the lap of nature.
Jairambati and Kamarpukur - 43 km. from Vishnupur are Jairambati and Kamarpukur, birthplaces of Sri Ma Saradamoui and Sri Ramakrishna Pramahansa. Near Kamarpukur is the historic Garh Mandaran, made famous by Bankim Chandra Chatterjee.
Mukutmanipur - about 83 km from Bishnupur, by the side of the river Kangsabati. The main attraction is the dam across the river and the hilly landscape.
Susunia Pahar - one of the important hills in the district, rising abruptly from the neighbouring plains to a height of 44 metres. Stone inscriptions of Chandravarma, a 4th-century king, have been discovered here. From Bankura on the Bankura-Purulia road, one has to alight at Chhatna on the 13th km. Susunia is 7 km. north of Chhatna.