Bispingen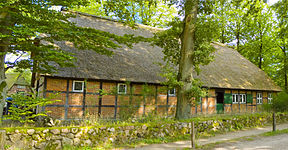 Bispingen
is a small country town in
Lower Saxony
and a great base for exploring the
Lüneburg Heath
. Within its municipal boundaries lies the highest hill on the Heath, the Wilseder Berg (169 m), as well as the iconic heath village and tourist hotspot of
Wilsede
.
Understand
The Heath is a very popular German tourist destination and recreation area for the big cities of
Hamburg
,
Bremen
and
Hanover
, and Bispingen lies right at the heart of it on the sleepy little
River Luhe and a good 15 kilometres northeast of the next largest town,
Soltau
. Bispingen has been developed in recent years to cater for the expanding tourist market and features Snow dome, Ralf Schumacher's Go-Kart hall and a Centre Parcs village on the outskirts. But it also lies within the Lüneburg Heath Nature Park itself with its quaint farming villages, forests and rolling heathlands grazed by moorland sheep (
Heidschnucken
), all linked by a network of signposted trails and cycleways.
Get in
By plane
Bispingen is little more than a one-hour drive from the international airports of
Hamburg
, Bremen and Hanover
Bispingen is accessible from the airport at
Hanover
which is a main international airport with regular flights from all over the world with services to most European capitals and major cities. The airport is situated 11 kilometres to the north of Hanover centre and has easy access to the autobahn. It is the ninth largest airport in Germany and is one of very few German airports which are open 24 hours a day, although there are few flights between 11PM and 4AM.
There is also an international airport in
Bremen
which has many of the budget airlines operating regular flights to most European countries. The airport is located close to the city centre and there is a tram which departs every 5 to 10 minutes (on Sunday evenings up to 30 min) to Bremen city centre and the journey takes 11 minutes and costs €2.30. This airport is also close to the autobahn links but is 116 kilometres journey to Bispingen.
Hamburg
international airport is approximately 8 kilometres north of the city centre and is the fifth busiest airport in Germany. In 2009 extensive refurbishment improved road access and connections to the Hamburg S-Bahn system which will connect with the main Bahnhof in Hamburg city centre. The airport is 68 kilometres away from Bispingen and will take approximately 50 minutes by car it is still a viable alternative to Hanover and Bremen airports.
By train
The nearest mainline railway station is
Soltau
, which has regular bus services to Bispingen. Soltau runs Regionalbahn (RB) trains. Trains run from Soltau from roughly 5:00-22:00. It is possible to get to Soltau from Hanover, Bremen and Hamburg.
By car
Bispingen is easy to get to by road, lying just 2 kilometres off the A7 motorway from Hanover to Hamburg, at junction 43 "Bispingen".
Access from Hanover would be via the A7 exiting at junction 43 "Bispingen", the journey is 100 kilometres and will take approximately 45 minutes.
Driving from Bremen (westerly direction) will be on the autobahn A27 which connects to the A7 to the south-east of Walsrode. Driving distance is 116 km and an average driving time is 70 minutes.
Travelling from the north (Hamburg) is also via the route A7 exiting at junction 43. Driving distance is 68 km and an average driving time is 45 minutes
By bus
Hamburg is the only large city with an airport that runs buses direct to Bispingen. There are scheduled coach services from Hamburg town centre on coach line No 6920.
Get around
The town of Bispingen itself is small enough to walk or cycle around, but some of the sights are a car or bus drive away.
Taxis are available from:
taxi Kohlmeyer

phone: +49 5194 97980

address: Borsteler Str. 5

phone: +49 5194 1500

address: Vor den Höfen 4A
See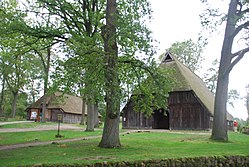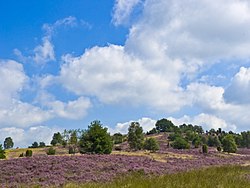 Parks
WilsedeOne of the highlight's of the Lüneburg Heath, Wilsede's popularity stems from its charm as one of the few relatively unspoilt heath villages as well as its proximity to the Wilseder Berg, the heath's highest hill. As a result this tiny village of under 40 souls, receives over 100,000 visitors each summer. Since motor vehicles are banned unless you live here, most of them arrive on foot, by bicycle or on one of the many horse-drawn carts that ply the area from the nearest public car parks at Niederhaverbeck and Undeloh. The village is home to a heath museum (Dat ole Hus - see below) as well as a cafe, restaurant and shop selling typical heathland products.

Wilseder BergThe Wilseder Berg is the Lüneburg Heath's highest point. Despite being all of 169 metres high, on a clear day it has outstanding views in all directions over the heath landscape. In good conditions the spires of Hamburg are said to be visible. At the top is a brass plaque on a pedestal which indicates the direction of various cities, towns and other points of interest. The hill is only accessible on foot or by horse and cart. The nearest car parks are at Niederhaverbeck and Undeloh from where there are trails and cart rides.

address: Nöllestraße 40, 29646 Bispingen

A landscape garden with hunting villa and Montagnetto model castle. Amazingly decorated buildings both in and out with a restaurant available.

phone: +49 5194-830

address: Verkehrsverein Behringen, Mühlenstraße, 29646 Bispingen - Behringen

The seven hectre Brunausee is a perfect setting for a day out during the summer. With a beach area and 3km orbital walkway the small lake offers the chance of a swim or sun bath with a restaurant and children's play area.
Buildings
phone: +49 4175 445

address: Wilsede 3a

The oldest open air museum in Germany, Dat ole Huus, Low German for "that old house", nestles amongst trees in the hamlet of Wilsede on the Heath. This classic Low German house and farm was built around 1540 and renovated in 1742. It paints an accurate picture of life as a heath farmer in bygone centuries.
Treppenspeicher storage barn in Volkwardingen, one of the oldest of this typical Lüneburg Heath barn, built 1600, rebuilt 1702, restored 2001.
Places of Worship or Religious Significance
Ole Kerk. 1353 church, made of boulders; used for baptisms, weddings, other services and concerts; open daily Easter to New Year's Eve
Bronze Age burial ground in Volkwardingen with Bronze Age tumuli
Do
Sport
Local attractions
address: Töpinger Straße 69, 29646 Bispingen

The Parc is located in the middle of the countryside in the Lüneburger Heide region. Sports lovers will have their fill of extreme sensations: Diving, rafting, racket sports and many others. The little ones will have fun in BALUBA, the indoor games universe, and in many games areas near your cottage. Do you want to get away from it all? Then the "Nature & Spa" area is for you - a Beauty and Well-being Centre, for a gentle massage or a relaxing facial.

Greifvogel-Gehege Bird Sanctuary

address: On the Bundesstraße 209

An opportunity to see wild birds in their own environment, utilising skilled trainers and handlers.They offer regular guided visits to the enclosure from May to October. The birds are not displayed in cages but are shown to the visitors sitting on pedestals. Each bird is introduced personally by the guide, as they carry them around on a gauntlet.

phone: +49 160 92192676

address: Horstfeldweg 1

The "Crazy House" (Verrueckte Haus) as it is known in Germany is a single storey family house which is upside down. All the furniture in the building is upside down. A very sensual experience. provides some excellent photo opportunities.
Buy
Bispingen is only a small country town with a few basic shops, but you can pick up souvenirs of the Heath and typical heathland produce at
Der kleine Speicher
in the high street (
Haupstr. 7
).
E-Neukauf

address: Hauptstraße 11, Bispingen

This typical German supermarket supplies all your daily needs in terms of groceries and Drinks and also has a good selection of basic non-food items.

address: Alte Landesstraße 2,

Luneberger Heide Porcelin is the trade mark of this small manufacturer and outlet. As well as purchasing an elegant souvenir of Luneberger-Heide, visitors can tour the workshop and watch the skilled workforce making and decorating the porcelin.

address: Bahnhof Straße 18,

Hardware/general store which supplies clothing,toys,garden items,tools,fishing equipment,equestrian goods and animal feed etc.
Eat
The food available in Bispingen is typical of most German towns. A selection of fast food type "Imbis" restaurants that serve the typical bratwursts and gyros dishes and a smattering of higher end restaurants that serve fixed menus.
Budget
address: Bahnhof str 8

For those on a small budget and a taste for takeaway this imbiss has both Turkish and German takeaway food.

McDonalds

address: Horstfeldweg 3
Mid-range
address: Luheweg 25

This excellent restaurant serves a selection of local specialities as well as traditional German dishes and prides itself on its fish and game from local sources.

address: Kirchweg 1-2

The award winning regional dishes served here conspire to make your stay a culinary delight. Specialises in German and Luneberger heide cooking.

Akropolis

address: Hauptstraße 2

For those who like variety this establishment serves Greek as well as German food,at low to medium prices.

address: Soltauer Straße 2

As the name suggests the main emphasis here is on Italian food such as Pizza pasta etc, at prices that won't break the bank.

address: Niederhaverbeck, on the heath

Old farmhouse 100 yards from the main car park at Niederhaverbeck, tucked away in the woods. Does a good hearty farmer's breakfast which you can work off by walking to the Wilseder Berg.

address: Nöllestraße 18

also has a good restaurant serving local dishes with an excellent wine list - see "Stay" below.

address: Hutzelerstr. 5, Bispingen

Italian Cuisine
Splurge
Drink
Sleep
Hostel
phone: +49 5194 2375

address: Töpinger Str. 42

The hostel is conveniently situated near Lüneburger National Park making it a great location for travellers wanting to get out and explore nature. The hostel is suitable for groups and families with excellent facilities for all.
Budget
phone: +49 4175-545

address: Wilsede 2 Bispingen 29646

A small family hotel catering for up to 15 persons with a 20 person conference facility

address: Am Park 2c, 29646 Bispingen

This small hotel has rooms that are very spacious and elegantly decorated. Gets good write ups in web searches.
Mid-range
* hotel on the Lüneburg Heath.
address: Niederhaverbeck 12

In a Low German style house (huge farmhouse) in the heart of the Lüneburg Heath.

phone: +49 519498030

address: Nöllestraße 18 29646 Bispingen

3 star family run hotel. Also includes a restaurant.
Splurge
Holiday Parks
address: Töpinger Straße 69

Available accommodations in this holiday park include cottages in the Centre Parcs village, a tree house, and houseboats. Diving, rafting, racket sports, and a beauty and wellness centre with massage and facial treatment are all available in the complex.
Connect

An Internet Cafe is available in the Tourist-Information Office in Borsteler Straße 6 Bispingen, other Internet cafes are available in larger towns in the area surrounding Bispingen such as Soltau, Bergen and most hotels will offer a wifi service. Mobile coverage in the area for the main suppliers, Vodafone, O2, D1 is good.

Go next
Hanover, Is the capital of Lower Saxony,hosting many cultural events, annual commercial expositions such as the Hanover Fair and the CeBIT. Every year Hanover hosts the Schützenfest Hannover, the world's largest Marksmen's Fun Fair, and the Oktoberfest Hannover, which is the second largest Oktoberfest in the world.
Hamburg, Germany's second city and largest port is around 40 minutes away on the A7/A1 motorways.
Bremen, Bremen, home to the world famous Town Musicians, puts itself on the map as the pulsating, multifaceted heart of North West Germany. A popular hive of heritage, science, high technology and space industry keeps up breathtakingly pacy innovations. A commercial and industrial city with a major port on the river Weser.
Celle, Celle town is lined with half-timbered houses, most of them built in the 16th Century. There are a lot of excellent shops in the pedestrian precinct.
Walsrode Bird Park Located in Walsrode about ½ hour away, is the largest bird park in the world and suitable for all ages.
Serengeti Park, not far from Walsrode, is the largest safari park in Europe and a must for families.
Soltau Therme, Thermal baths that offer swimming both in and outdoor, sauna, general wellness including cosmetics, massages and general therapy as well a restaurant.
Heide Park,,Heide Park is a theme park in Soltau, Lower Saxony. With an overall area of over 850,000 m², it is one of the largets amusement parks and the biggest in Northern Germany.
Timmerdorfer Strand,, Timmerdorfer Strand has everything to offer. Sandy beaches, lifestyle, culture, hotels, bars, nightlife and a multitude of events hosted throughout the year.
Dinosaur Park, ,130 million years ago, huge herds of dinosaurs roamed the countryside around the Steinhuder Sea. The footprints of these huge creatures can be found right here in the park.