Bizen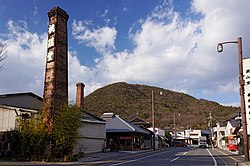 Bizen
(備前) is the eastern part of
Okayama prefecture
.
Understand
Bizen — literally "before (the plain of) Bi" — is an ancient province known for precisely one thing:
Bizen-yaki
(備前焼), the oldest and most revered form of pottery in Japan. Unglazed and fairly simple in appearance, the pottery gets its cachet from the complex earthy reddish-brown tones that form when the clay is fired. Nearly anything — dishes, cups, vases, bowls, pots — can be made from it, and according to legend it improves the taste of anything you drink from it.
Modern-day Bizen is in legal fiction a "city" (
shi
), but in practice an expanse of
Okayama
's suburbs and rice paddies. Most pottery kilns and shops, however, are concentrated near the station of
Imbe
(伊部).
Get in
By train
Two train lines run through Bizen. The
JR Sanyo Line
has Mitsuishi Station and Yoshinaga Station, the most convenient for accessing the Shizutani School and buses to the Hattoji area.
The
JR Akō Line
travels through the southern part of the city. It begins in
Okayama
in the west, where connections to the Shinkansen network are available, and
Ako
to the east. Imbe Station, where the pottery sites are located, and Hinase Station, home to the port area, are the most popular stops for travelers along this line. Trains depart about once per hour.
Get around
Bizen is a sprawling area, but the pottery sites around Imbe Station can be easily covered on foot from the train station. Within the city, there are no train connections between the Ako Line and the Sanyo Line, so traveling between the two areas by public transport requires taking a train to Aioi Station or HigashiOkayama Station to transfer to the other line. Alternatively there are infrequent buses connecting Bizen-Katakami Station (Ako Line) with Yoshinaga Station or Mitsuishi Station (Sanyo Line).
For travel to the Hattoji area, there are infrequent buses from Yoshinaga Station. While taxis are more convenient, the ride to Hattoji is costly and takes 35 minutes.

See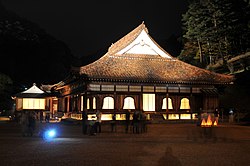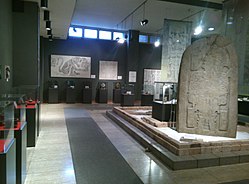 Bizen's sights are mostly dedicated to its famous pottery and sword-making. In October, the
Bizen-yaki Festival
is held near Inbe station, drawing some 150,000 visitors.
Bizen Pottery Art Museum

address: 1659-6 Imbe

Just to the north of JR Imbe Station, this concrete block displays both old and new examples of Bizen-style pottery. It also has informative displays on how Bizen-yaki is produced, the various ways it is fired, and displays results of each of the firing techniques.

Amazu Shrine

phone: +81 86-964-2738

address: 629 Inbe

A shrine whose approach is lined with Bizen pottery tiles and zodiac animals. They even have ema made of Bizen pottery.

Shizutani School

address: 784 Shizutani

Ikeda Mitsumasa, a lord of Okayama, commissioned Tsuda Nagatada to build this school. Completed in 1701, it was open not only to samurai but also farmers — it is said to be the first school in the world to be open to all classes of people. Now designated a national treasure, the school is still in its original condition, and the shining ebony floor is an impressive sight. Naturally, the roof tiles are made with bizen-yaki. The kai (楷) trees (Chinese pistache, nicknamed "trees of learning") on the grounds were brought here from a Confucius Temple in China are lovely, especially during cherry blossom season and the autumn. It's about 10 minutes by taxi from JR Yoshinaga Station (¥1200), or a longer ride from JR Imbe (¥2500).

Kei Fujiwara Museum of Art

address: 3868 Honami, Bizen-shi

A museum featuring the artwork of Kei Fujiwara, a renowned Bizen potter who was designated a Living National Treasure in 1970.

Shoraku-jiThe third temple of Chugoku region's 33 temple pilgrimage.

BIZEN Latin American MuseumA museum containing a variety of historic artifacts from Central and South America.
Do
Many kilns around Imbe will let you try your hand at making your very own Bizen-yaki. A chunk of clay, firing and shipping anywhere in Japan (overseas delivery also possible) will set you back around ¥3000.
Bizen-yaki Traditional Pottery CenterThe easiest place to give the lathe a spin, as it is on the third floor of JR Imbe Station. Workshops are held every weekend.

Bishugama (備州窯). Advance reservation required. The charge is ¥2,625-3,675 (plus postage), and they'll ship 3-4 months later.
Buy
The town of Imbe seems to consist nearly entirely of Bizen-yaki shops, and the large gift shop in the Pottery Art Museum has a fairly representative array of local pieces. Prices are generally steep, with even the simplest tea cups costing several thousand yen and more complex designs going for millions.

Eat
Bizen has two famous foods; Bizen Curry and oysters. The curry has a bit more of a kick to it than typical Japanese curries. Restaurants serving this dish are scattered throughout the city. The most convenient is probably the restaurant located within Inbe Station. The oysters come from the Hinase area of the city. They're fished from the Inland Sea at Hinase Port.

Sleep
Go next