Black Sea Turkey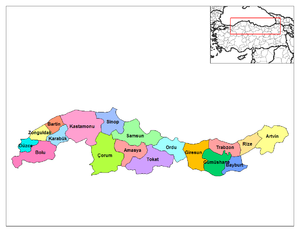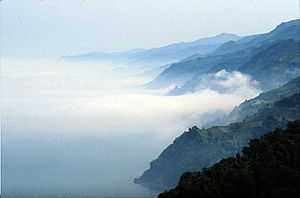 Black Sea Turkey
(Turkish:
Karadeniz Bölgesi
) in northern
Turkey
, is a humid and verdant region renowned for its natural beauty thanks to the high precipitation levels distributed evenly throughout the year. The region is very mountainous and is heavily forested, while the highest parts of the mountains are covered with alpine meadows, glacier lakes, and glaciers.
It occupies much of the country's northern (Black Sea) coast, while the rest of it is part of
Marmara Region
.
Regions
null
This region boasts astounding natural beauty, colorfully dressed Hemşin women, many
Georgian
ruins hidden in the mountains, and perhaps the world's most spectacularly situated monastery.
null
Central Karadeniz is home to the Turkish Black Sea coast's largest city, Samsun, beautiful riverside Ottoman architecture in Amasya, and Hittite ruins galore.
null
The western third of Turkey's Black Sea coast is its most remote and beautiful (having been spared the indignities of the coastal highway), home to the ancient fortified port city of Sinop, and the beautiful resort town of Amasra.
Cities
— a historic city with riverside Ottoman mansions and ancient rock-cut tombs watching them from above
— a beautiful seaside resort town with a nice beach, pleasant vistas, and great fish restaurants
— city standing out with its lively nightlife; trips to a nearby island with lush vegetation can be arranged from here
— the heart of Turkey's tea growing region; not a real tourist attraction, but a good base for exploring the northeast
— a town known for its preserved Ottoman old town and streetscape with whitewashed houses. Also a World Heritage site.
— largest city on the Turkish Black Sea coast with big city attractions: such as opera and museums. Also many sports, including wakeboarding in summer.
— an ancient fortified port city jutting out on a peninsula into Turkey's northernmost tip
— the main city of the northeast has a lot to offer a visitor, and is the place to stay when traveling to the stunning Sümela Monastery
— a bleak industrial city surrounded by coal mines
Other destinations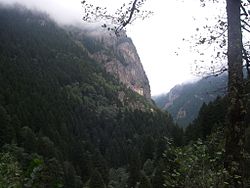 — a resort around a mountain lake of the same name; fairly popular among the locals due to its easily accessible location near the Istanbul–Ankara motorway
— a village up in the lush Kaçkar Mountains/Pontic Alps
— an ancient Hittite city
— ski resort amidst beautiful fir forests
— stunning monastery hanging on a cliff in the lush Altındere Valley
Get around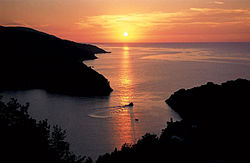 The 350 km road from Amasra to Sinop is beautiful and breathtaking as it winds it's way along the rugged coast. If you are depending on public transport, however, it is likely to take two days. Expect to spend a night in one of the small towns along the coast, such as
Inebolu
, as bus service is town-to-town, and you are likely to arrive at some town after the last dolmus has left. While the towns along the way are unspoilt and unpretentious, they are a bit run down. If you have your own car or motorcycle, you can do the journey in one day (start early).
Go next
As the Black Sea Region spreads over most of northern Turkey elongatedly, getting out of region involves heading for destinations hugely different in character:
To west, Marmara Region with some of the country's greatest cities, packed full of historical sights.
To south, you have two inland options depending on where you cross over the coastal mountain range—wide open steppes of Central Anatolia or mountainous territory of Eastern Anatolia.
To east, Georgia with its as lush topography as Black Sea Turkey, and its great culinary tradition.