Blackbuck National Park
Blackbuck National Park
at Velavadar is situated near
Vallabhipur
(Vallabhi) in the
Bhavnagar
District of
Gujarat
state.
Understand
History
The Blackbuck National Park is around 72 km from the district headquarter city of Bhavnagar in Bhal region. In 1976, Government of
India
has declared approx. 34 km² of grassland as National Park Blackbuck. The movements of blackbucks and nilgais (Blue bull) increase beauty of this park. The blackbuck is most famous for its jumping over the levels of grass. Since it is grassland, beauty of this park can be seen from long distant.
Landscape
The park is surrounded Gulf of Khambhat on the south and by wastelands and agriculture fields on the other sides. It was grassland of the Maharaja of the princely state of
Bhavnagar
. The National park has been classified as 4B
Gujarat
-Rajwada biotic province of semi-arid bio-geographical zone.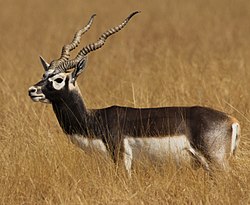 Flora and fauna
The distinctive horns of the Blackbuck are ringed with 1 to 4 spiral turns, rarely more than 4 turns, and can be as long as 28 inches (79 cm). A trophy Blackbuck is over 18 inches. In the male, the upper body is black (dark brown), and the belly and eye rings are white. The light-brown female is usually hornless. Blackbucks usually roam the plains in herds of 15 to 20 animals with one dominant male.
On the open plain, the Blackbuck is one of the fastest animals and can outrun most predators over long distances. Its chief predator was the now extinct Indian Cheetah. It is now sometimes preyed upon by wolves, feral dogs, etc.
The diet of the Blackbuck consists mostly of grasses, although it does eat pods, flowers and fruits to supplement its diet. The maximum life span recorded is 16 years and the average is 12 years. Mating season of the Black Buck rests from August to October and March to April.
Climate
Climate of Velavadar as same as climate of Bhavnagar.
Get in
Bhavnagar
is connected by daily flights, daily train and daily private buses (sleeper/setting, AC/Non-AC) to
Mumbai
. The airline is Air Deccan. Most people in
Gujarat
travel by private buses (these are excellent modes of transport as the roads are among the best in India). Hiring a taxi from Bhavnagar is the most convenient way to visit National Park. Taxis can be picked up from the taxi stand near Ganga Jalia Talav.
Fees and permits
Entry fees in the park are as follow.
Indian ₹
Non-Indian (equivalent ₹ of $)
400
Adult
40
10
Child (3 to 12 years) and school tour
20
5
Car (up to 6 persons)
400 (500 on weekends)
40
Very small bus (up to 15 persons )
1000
100
Mini-bus, bus (up to 60 persons)
3500 (4375 ON Weekends)
350
First four hours per vehicle
400
100
Every additional hour per vehicle:
50
40
Non-professional movie or video camera
0
0
Still camera photography (professional)
200
20
Do
The park can be toured by safari and also on foot.
Experience of the wildlife like howls of jackal add to the feeling of true wilderness as the darkness falls.

Eat
Park officials (in guest house) also provide food on request as follows:
Indian ₹
Non-Indian (equivalent ₹ of $)
Vegetarian lunch or dinner
150
7
Non-vegetarian lunch or dinner
Vegetarian breakfast
80
2
Non-vegetarian breakfast
Tea or coffee
14
1
Sleep
Very nice guest house of Forest department Phone : (O) 0278 2426425. Rates of gust house are
Indian ₹
Non Indian (Equivalent ₹ of $)
AC room
3000
150
Non-AC room
1000
100
Dormitory
1350
90
Tent
Number of beneficiary up to 70
5000
0
Jubilee Hotels Pvt Ltd, Bhavnagar
Nilambagh Palace Hotel, Bhavnagar
Hotel Sun 'n' Shine, Bhavnagar
Hotel Apollo, Bhavnagar
Hotel White Rose, Bhavnagar
Bluehill Hotel, Bhavnagar
Camping
Four camp rooms, dormitory facilities, an orientation center and a campsite for nature education activities are available at the park. For more detail contact to Officer-in-Charge of the park(Assistant Conservator of Forests) Phone: (O) 0278 2426425.