Blackburn
Blackburn
(population 140,000) is a large town in
Lancashire
in
North West England
.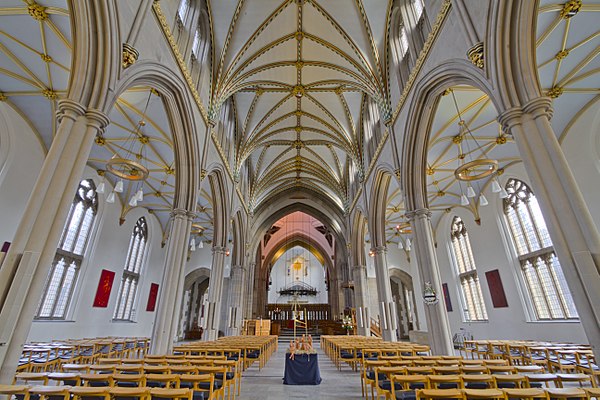 Understand
Although the town has some attractive public buildings and parks, it is mostly known for its contribution to the cotton weaving industry and for its successful premiership football team, Blackburn Rovers. Due to the town's association with cotton, it was a natural choice for early immigrants from cotton producing countries, such as Pakistan and India, to settle. Consequently, Blackburn is a great place to sample South Asian cuisine. After years of industrial decline, the town is undergoing a 'quiet' renaissance with fast rising property prices. The name Blackburn is derived from the river Blakewater, which runs through the centre of town. Famous visitors to Blackburn include Condoleezza Rice, HM Queen Elizabeth II, and Mahatma Gandhi.

Get in
See
Blackburn Museum Art Gallery and Lewis Textile Museum

phone: +44 1254 667130

address: Museum Street

Witton Country Park and Visitor Centre

Blackburn CathedralBlackburn's Gothic style 19th century cathedral in the centre of town.

Samlesbury Hall is a mansion built 1325. It's five miles east of town on A677 to Preston. Open Sun-F 10:00-16:00, free, but sometimes closed for weddings or similar functions.
Turton Tower is a Tudor mansion at the south edge of the borough, but it's easier to reach it from Bolton.
Do
Blackburn Sports & Leisure Centre

address: Feilden St, BB2 1LQ

Swimming pool with flumes and a fitness suite.
Watch football ie soccer. Blackburn Rovers play in the Championship, the second tier of English football. Their home ground (capacity 31,000) is Ewood Park, Nuttall St BB2 4NF, off A666 in the south of the city.
Theatre
phone: +44 1254 582579

address: Northgate, BB2 1AA
Buy
Blackburn MarketHas one of the largest markets under one roof in England - a great place to pick up textiles.
Eat
Blackburn has the usual run of places to eat at a budget level - McDonalds, Pizza Express, Chiquito, Wetherspoon etc. The town centre also has a large number of takeaways and restaurants - many being curry houses and kebab shops. The quality of these changes quite rapidly, but this is a quick list of a few good cheap to mid level places:
Shahi QilaCurry

Chinese Buffet in a converted pub by the side of the Town Hall

La MamaItalian

Sahara

address: Darwen Street

Asian Cafe
Tea and butties (sandwiches)/ pies / chips - any of the cafés in the Market Hall.

Exchange Coffee House

address: Fleming Square

Rhubarb Café

address: Church Street

Light meals / paninis etc.

Cafe Beez

address: Church Street
Upmarket is a bit harder and there isn't really much in the centre. Locally try:
Stanley Houseboutique hotel and expensive restaurant. The food is good, the value is more questionable and the decor is over the top.

MillstoneCountry pub and hotel. Comfortable place with good food, good portions and an OK quality/ value mix.

Clog and BillycockSelf-consciously 'country pub' GastroPub from a group with 2 other similar ventures. Good food and reasonable quality / value mix.

The Market Hall (especially on the full market days - 3 days a week) is a good source for some excellent local food - Black Pudding, cheeses, breads, curries, fruit and veg. Some of the cafés do seriously good value meals as well although it probably isn't the venue for a romantic lunch for two.
Sleep
phone: +44 1254 812434

address: Mellor Lane, Mellor, BB2 7EN

4 room B&B.

phone: +44 1254 426800

address: Blackburn Rd, Clayton-le-Moors, BB5 5JP

Possibly the most expensive hotel in Blackburn and the surrounding area, it was once a grand manor house. The hotel building is 700 years old and is surrounded with acres of countryside.

Mercure Blackburn Foxfields Country Hotel

address: Whalley Road, Billington

The Mercure Foxfields Hotel in Blackburn is situated in a picturesque location just off the A59 in the heart of the beautiful Ribble Valley enjoying outstanding panoramic views of Pendle Hill and the surrounding countryside.
Stay safe
Like several towns in the North West, Blackburn in recent years has seen an increasing phenomenon of racial separation between whites and Muslim Asians in certain areas of the town although it successfully avoided the riots that plagued neighbouring towns such as Burnley and Oldham. The majority of people in Blackburn are perfectly decent and tolerant, but there are still significant numbers of racists and bigots with both the White and Asian communities, who are more than willing to make life difficult for people they dislike.

Connect
The area code for Blackburn is 01254.

Go next
If you enjoyed visiting Blackburn, the natural next choice would be Nelson