Blackpool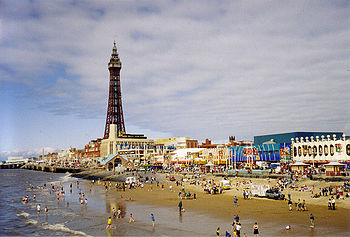 Blackpool
is a seaside resort town in the
North West
of
England
and Britain's favourite beach resort.
Understand
Over 12 million people visit Blackpool each year, making it Britain's number one holiday resort. Many come for the two largest attractions, Blackpool Pleasure Beach and Blackpool Tower, although the town features many other smaller attractions including three piers, numerous amusement arcades, 7 miles (11 km) of beaches and pedestrian promenade, and a vibrant nightlife.
Following a heyday in the first half of the 20th century as the working classes gained freedom and disposable income, Blackpool has struggled to find a new role with the advent of package holidays to the Mediterranean. It has long used the Blackpool Illuminations light show to extend its tourist season into the autumn months, and has been campaigning the government to allow the redevelopment of its central seafront Golden Mile with Las Vegas-style casino hotels in an attempt to become a gambling haven.
While many tourists go to Blackpool nowadays for party weekends (often hen or stag groups), an older clientele enjoys the nostalgia of the town. The Tower Ballroom remains a global mecca for ballroom dancing and many remember Reginald Dixon playing his Wurlitzer organ with songs such as "Oh I do like to be beside the seaside"; synonymous with the town.

Get in
By car
Blackpool can be reached via the
M55
from the
M6
, the UK's main motorway through the North West of England. Blackpool has many car parks available to visitors, several of which are very close the town's main attractions and promenade.
By bus
Local bus services run from
Preston
,
Lancaster
,
Nelson
,
Southport
and
Fleetwood
.
Long distance bus services, and charters, run from virtually everywhere in
Great Britain
.
By train
Blackpool North
is the main station, half a mile from the tower, and near most accommodation. It has frequent trains from York and Manchester Victoria and Airport.
has fewer trains, from Preston, but is closer to Pleasure Beach.
Change at Preston for trains to the Midlands, London Euston, Glasgow and Edinburgh.
By plane
Manchester Airport
(
MAN
) has a huge range of flights. There are direct trains hourly between the airport and Blackpool North, taking 1 hr 40 min, plus other connections via Preston.
Liverpool John Lennon Airport (LPL), 35 miles south, has budget flights across Europe.
Blackpool airport no longer has scheduled passenger flights, but remains in use as an air-support base for the gas fields out in Morecambe Bay.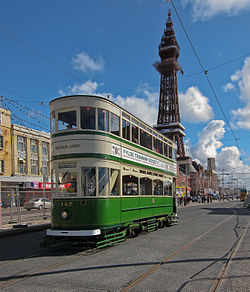 By boat

Ferries no longer sail from nearby Fleetwood. The closest ferry routes are from Heysham near Morecambe to Douglas, Isle of Man, and from Liverpool to Dublin and Belfast.

Get around
By tram
The
Blackpool Tramway
runs along the complete length of the sea front from Starr Gate near Blackpool Airport to
Fleetwood
at the northern end of the Fylde coast. It is the only tramway in Britain to have operated continuously since the nineteenth century and after all other original tram systems in Britain were closed in the post-war era.
If arriving by train, a "Plusbus" ticket allows travel on trams between Starr Gate and Thornton Gate.
The tramway was entirely modernised in 2011-2 with modern low-floor tramcars providing the majority of the service. Heritage tramcars
run daily
but special tickets are required.
By bus
The town is well served by buses; the main operators within the town are
Blackpool Transport
and
Stagecoach
. Both operators sell day tickets but with very few exceptions these are only accepted on their own buses.
By horse
Horse-drawn "landaus" offer an old-fashioned alternative to modern taxis for journeys along the seafront.
On foot
The majority of Blackpool's attractions are located on the promenade and, as a result, most are easily accessible on foot.
See
"Bid me discourse, I will enchant thine ear"
The inscription above the stage in Blackpool Tower's ballroom is from the poem
Venus and Adonis
by William Shakespeare.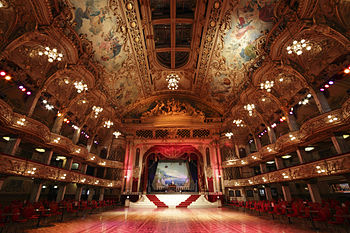 Blackpool TowerA Victorian tribute-act to the Eiffel Tower, 518 ft / 158 m high, part of a big leisure complex. The main attractions (some closed winter) are: the Ballroom, ornately decorated, where the Wurlitzer tootles as you dance or sip tea; the Circus; the Dungeon theme-ride; Jungle Jim's children's indoor adventure play area; Dino's indoor mini-golf; and finally the observation deck at the top of the tower, now called Blackpool Tower Eye reached by glass elevator. Various combi tickets online (cheaper than at the door): just the Eye is £12.50, a 3-attraction pass is £32.
Blackpool is the only British resort with three piers. All are free to visit.
North PierNorth pier is relaxed and has a sun trap lounge area at the end. North Pier is the oldest and largest of the three coastal piers in Blackpool.

Central PierCentral Pier has arcades, rides and theatres.

South PierSouth Pier also hosts arcades, rides and family bars.

address: 525 Ocean Boulevard, FY4 1EZ

One of Britain's largest amusement parks, with 11 roller-coasters including the original Roller Coaster which gave the rides their name. This has been eclipsed by more modern coasters, including Britain's tallest roller coaster ride the "Pepsi Max Big One" (more commonly known as "The Big One") which is over 200 feet high. Other roller coasters include the Irn Bru Revolution and Big Dipper. Rides require 2-9 £1 tickets, or a £30 all day wristband, which is a few pounds cheaper when bought online. A wristband is needed for entry into the park. In addition to the all day ticket there is a spectator pass which allows entry into the park and access to a small number of attractions. Tickets can then be used for other rides. As well as the adult rides, children's rides area, and sidestalls, the park also has some excellent architecture to see. The park began life as a funfair on the sands in the Victorian era, and by the 1930s some permanent buildings arrived in the style of the day - Art Deco. In particular don't miss the station of the Roller Coaster ride, and the White Tower at the south entrance to the park, both of which have "streamline moderne" influences just like some of the classic trams which operate on the seafront nearby.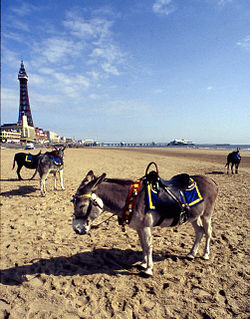 phone: +44 1253 830830

address: East Park Drive FY3 8PP

The zoo in Blackpool Tower closed in 1969; it was a cramped unhygienic affair. This larger zoo opened on Stanley Park in 1972. There are great ape enclosures, wolf, wallaby, penguins, meerkats . . . and dinosaurs, rare in the wild nowadays.
Do
Check local listings for forthcoming events in Blackpool.
Blackpool Sands extend for miles. The area between North and Central Piers can get busy and trash-strewn in summer. Take a donkey ride, ironically if that helps (not Fridays; 50 kilo rider weight limit). It's all safe (though cold) for bathing but there are gullies near the sea wall that silently flood behind you - if the shore watchman is waving and barking through a megaphone, it's time to return to the Prom. The beach becomes shingly and muddy north of Bispham as you come into Thornton-Cleveleys, but is good all the way south to the sand hills of St Annes.

phone: +44 1253 625252

address: 97 Church St, FY1 1HL

It hosts many shows each year including the Blackpool Fringe.
Funny Girls is a drag cabaret staged at 5 Dickson Rd FY1 2AX.

phone: +44 1253 290190

address: 33 Church St, FY1 1HT

A 1100-seat theatre designed by Frank Matcham in 1894.
Watch football (soccer) at

phone: +44 871 622 1953

address: Bloomsfield Road, Seasiders Way FY1 6JJ

They play in League One, the third tier of English football.

Blackpool IlluminationsA lights and laser show stretching for six miles along the Prom, from Starr Gate in the south to Bispham in the north. "The Lights", founded in 1879, are usually on from the end of Aug to start of Nov, with a celebrity switch-on; the 2019 dates are 30 Aug to 3 Nov. You can walk, or drive this stretch (either way, but south to north is recommended; suggested donation £5 per car) or take a tram - which sounds cool but the view from within the trams is limited. Astronomer Sir Patrick Moore used to fulminate against the mischief that the Blackpool Lights did to local star-gazing.
Buy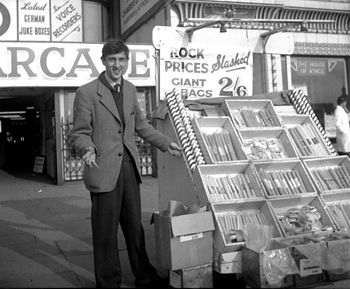 No trip to the seaside capital would be complete without purchasing a stick of Blackpool rock (hard candy) with your name written right the way through it and a mandatory "Kiss Me Quick" hat on Blackpool's Golden Mile.
Shopping
Beyond these specialities, Blackpool plays host to most other shops that you'd expect to find on a British high street including a Marks & Spencer department store as well as the
Houndshill Shopping Centre
, home to a Debenhams department store, Boots the Chemist, Next (clothing) and other chain stores.
phone: +44 1253 296296

address: 32 Talbot Road, FY1 1LF

Huge selection of skate and scooter merchandise alongside a wide range of clothing, safety gear and accessories. A skater-owned shop.
Eat
Fish and chips. "Chippies" are everywhere in Blackpool, however, the quality varies enormously. The promenade hosts many take away outlets and restaurants serving an assortment of fast foods and snacks, with fish and chips alongside them.
phone: +44 1253 294386

address: 60-63 The Promenade, FY1 4QU

Part of the "world famous" Harry Ramsden's chain on the promenade near many of Blackpool's attractions and the sea front. Offers eat-in and take-away services.

phone: +44 1253 622687

address: 27 Clifton Street, FY1 1JD

Cantonese restaurant established in the 1960s. A regular recommendation from hotel owners and taxi drivers.

phone: +44 1253 751283

address: 5-7 Abingdon St, FY1 1DG

A popular restaurant. Winner of Restaurant of the Year 2009 & 2011.

Red Pepper

phone: +44 1253 291152

address: 51 Central Drive, FY1 5DS

A well-respected, family-run, Chinese restaurant and takeaway on Central Drive. Ten minutes' walk from the Tower, this restaurant is not in the poshest part of town, but the food is excellent and as a consequence, in common with many of the other longer-established businesses on Central Drive, the Red Pepper has a loyal local following.

phone: +44 1253 290647

address: 60 Topping Street, FY1 3AQ

Very popular local Thai restaurant. Recipient of the Tripadvisor Certificate of Excellence in 2014.
Drink
Blackpool's night life is varied and numerous. There are clubs and pubs to suit everybody who comes to Blackpool looking for an evening out, With so much going on in Blackpool it is difficult to decide where to go. A local, relatively rare delicacy is brussel sprouts on toast.
The Last Orders Pub (or Corner House) is at 80 Sherbourne Rd FY1 2PQ, in North Shore. Drink with the locals.
Barvaian Bierkeller, 168 Promenade FY1 1RE is a complex of clubs near North Pier.
Tache. Blackpool's alternative/rock night club on Corporation Street.

The Gavel

address: 235 Lytham Road South Shore FY1 6ET

JD Wetherspoons with usual range of drinks and food. Outdoor seating.

The Dutton Arms

address: Corner of Wateroo Road and the Promenade

Has DJs at the weekend and late closing.

The Albert and the Lion

address: Promenade FY1 4RU

JD Wetherspoons with competitively priced food and drinks. "Albert and the Lion" was a comic monologue by Stanley Holloway about a visit to the zoo, when it was still in the Tower complex; it did not end well for Albert.

Rose & Crown

address: 22 Corporation Street, FY1 1EJ

Continental style eating and drinking in the centre of Blackpool. This locally owned pub has the largest outdoor seating area in the town centre.

Pump and Truncheon

address: 13 Bonny Street, FY1 5AR

One of the most famous old pubs in town. The only building on this part of the Golden Mile that survived the great fire of Blackpool. Great real ales and traditionally cooked food. Wooden and stone floors and a roaring fire complement the old style feel.

The Sun Inn

address: 88 Bolton Street, FY1 6AA

An independent local family-owned pub that isn't tied to anyone. With real ales and big screen sport TV.
Stay safe
Visits to Blackpool are generally incident-free. During Friday and Saturday nights, the busiest areas of the town centre such as Talbot Square and Queen Street can become very crowded and somewhat rowdy, but there is a large and generally good-natured police presence. The seafront and piers are usually crowded so are generally safe.
You should take care in the Central Drive area at night, and avoid back-alleys anywhere in the town centre after dark. In particular there are a few street prostitutes operating in these areas after 11PM, who approach single males who are under the influence of alcohol. Do not accept any offers of sex; you will be risking being mugged by the prostitute and/or a male accomplice.
Gay male visitors should avoid the Middle Walk cruising area; a gay man was murdered here and there have been several violent homophobic attacks. Lighting in this area has been improved and there are regular police patrols. The "gay quarter" around Talbot Road, Dickson Road and Queen Street is as safe as the rest of the town centre. It is now being heavily monitored with CCTV.

Sleep
It used to be said that Blackpool had a million tourist beds. These were mostly in small guest houses, and these have changed as customer expectations have increased: most have renovated simple bedrooms into en suite rooms, typically turning three rooms into two bedrooms with en suite bathrooms. Blackpool still enjoys a huge number of beds, and this keeps the market competitive and the prices low.
At the higher end of things, Blackpool has a number of larger hotels, including the
Imperial Hotel
which is used by politicians during political party conferences which take place at the Winter Gardens.
Self-catering
Budget
phone: +44 1253 345979

address: 5 Wellington Road FY1 6AR

Pet-friendly 3-star hotel, 2 Family Rooms (up to 4 people) 7 doubles, all en suite TV and tea/coffee making facilities. With bar lounge.

Robin Hood Hotel

phone: +44 1253 351599

address: 100 Queens Promenade FY2 9NS

Ten rooms, rooms 1, 5, and 9 have sea views, relaxing lounge, non-smoking.

phone: +44 1253 345110

address: Osborne Rd FY4 1HJ

Small 3-star, good location, gets very mixed reviews for room comfort & cleanliness & reception. Not connected to the Osborne House Hotel on Read's Ave.

phone: +44 1253 624238

address: 91 Read's Ave FY1 4DG

Clean friendly 3-star with 13 rooms. The ground floor room has disabled access. Relaxing lounge with licensed bar, non-smoking. Free parking.

phone: +44 1253 344385

address: 26 Moore St FY4 1DA

3-star, ground floor rooms and free parking, relaxing lounge with licensed bar, non-smoking.

phone: +44 1253 620200

address: 78 Hornby Rd FY1 4QJ

Clean & friendly 3 star, some rooms cramped. No pets, free parking may be available.

Salendine House

phone: +44 1253 346749

address: 44 St Chads Rd FY1 6BP

Friendly family run B&B, licensed bar.

phone: +44 1253 294440

address: 15 Albert Road FY1 4TA

Very central 3-star with 13 rooms en suite. No parking here, use public parking for £14 / night

phone: +44 1253 623476

address: 248 North Promenade FY1 1RZ

15-bedroom licensed 3-star hotel, gets very mixed reviews for cleanliness and room comfort.
Mid-range
phone: +44 1253 290501

address: 288 Promenade FY1 2EY

30-bedroom licensed sea-front hotel. Karaoke on Fridays. Free parking if available.

phone: +44 1253 405757

address: 555 New South Promenade FY4 1NF

Clean welcoming 3-star. No pets, no lifts.

The Wembley Hotel

phone: +44 1253 346154

address: 275 Promenade

Family hotel, all 16 rooms en-suite, licensed bar. Prices start at £17.50pppn.
Britannia Group run four mid-range hotels in Blackpool: Norbreck Castle, the Grand, the Savoy, and the Metropole:

address: Queens Promenade FY2 9AA

Vast fortress of a place on north Prom, often used for conferences. Facilities include a swimming pool and gym.
Grand Hotel (formerly Hilton) Promenade FY1 2JQ, run by Britannia, has B&B double from £80.
Metropole Hotel 146-148 Promenade FY1 1RQ is a 3-star run by Britannia, B&B double from £75.
Savoy Hotel Promenade FY2 9SJ (one mile north of tower) is run by Britannia, B&B double from £70.
Splurge
phone: +44 1253 400045

address: Clifton Drive, Pleasure Beach FY4 1ND

4-star contemporary hotel next to Pleasure Beach, friendly clean & efficient.

phone: +44 1253 623971

address: North Promenade, North Shore FY1 2HB

Victorian 4-star with 120 rooms, showing its age. Car park £7 / night, no pets.
Go next
Take a tram north to Fleetwood, formerly one of the UK's major fishing ports. Visit its famous market and go to the outlet mall called Freeport. For peacefulness catch a bus or train to Lytham, Ansdell, Fairhaven or St Annes-on-sea. Under the resort name of Lytham St Annes, these charming family seaside towns offer something different and traditional to Blackpool.
Liverpool is easily accessible from Blackpool and is undergoing something of a renaissance. The port city is now home to a thriving shopping and cultural culture, building on its history and legacy in popular culture.
Manchester can also be easily reached from Blackpool: direct trains run regularly from Blackpool North to the city centre. This 'Cottonopolis' has now hung up its clogs and welcomed in a world of culture, business, music, art, shopping and fine dining.