Blantyre
Blantyre
is the economic capital of
Malawi
.
Understand

The name Blantyre originates from the birthplace of the missionary Dr David Livingston, who was born in Blantyre, Scotland. Blantyre is the main commercial city in Malawi.

Get in
By plane
South African Airways has four flights per week between Johannesburg (South Africa) and Blantyre. Air Malawi also flies to JNB, as well as Dar es Salaam (Tanzania), Harare (Zimbabwe), Lusaka (Zambia), and Nairobi (Kenya).
A taxi to city centre is about a 6000 MK (
kwacha
).
Chileka International Airport (BLZ)Located about 16 km (9 mi) north of the city.
By train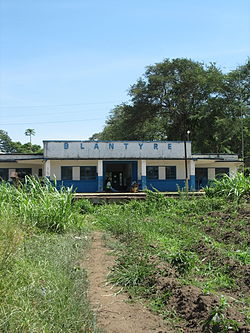 Rail services to Blantyre are close to non-existent and not practical at all for the everyday tourist. However, for the intrepid traveler,
Central Eastern African Railways
offers some possibilities for arriving by train in Blantyre. The border with
Mozambique
at Nayuchi/Entre Lagos is a
mere
22 hours away including a change at Balaka, and services are once a week. That there are no trains from the capital
Lilongwe
.
By car
Take the M1 south from Lilongwe.
By bus
From Lilongwe International Airport get a luxury bus to Blantyre Bus depot on Chileka Road.
Intercape
runs bus services from
Johannesburg
in
South Africa
, journey time is up to 35 hours.
Get around
For the budget traveller there are basically two ways of getting around Blantyre: by foot or by minibus.
By day it is quite safe to walk around Blantyre provided you don't look like a rich tourist, in which case you may be unpleasantly tailed by street vendors and beggars. It is possible to explore the entire city of Blantyre on foot within a couple of days, and unless you are travelling to Limbe or to the outer suburbs of Blantyre, then it is unlikely you'll require even the minibus.
In the event that you do, then minibuses are very cheap, travelling between Blantyre and Limbe costs MK 350 (as of January 2018). Or you may consider hiring a bicycle if you are that way inclined.
It is unsafe to walk around Blantyre during the night and you should obtain the phone numbers of a few reliable taxi drivers (talk to some of the locals). Taxis are relatively more expensive, and the price also depends on how far the driver has to come to pick you up, but this is much preferable to being mugged in a dark Blantyre street late at night. As a general rule all taxi drivers begin at the Mount Soche Hotel.

See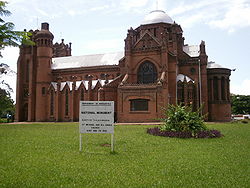 Mandala House

phone: +265 1 871932

address: Mackie Rd

One of the oldest buildings in Blantyre and has spacious grounds with a children's playground. Houses the La Caverna Art Gallery, with great carvings and a museum section upstairs. There's also a popular cafe at the grounds, the cafe serves US$6–8 lunches, various coffees, ice-cream, and cake.

phone: +265 1 8896213

address: Kasungu Crescent

The national museum of Malawi. Artifacts includes a royal ceremonial stool from the 16th century and an exhibition of traditional dances, the Gule Wamkulu.

St. Michael and All Angels Church

phone: +265 881 635 111

Described as the first permanent church between the Zambezi and the Nile, this church was designed by David Scott, a Scottish missionary, with help of local workers. Scott had no architectural or building experience at all and there were no written plans. This was just as well as The Church of Scotland would have stopped his plans had they known how ambitious they were. He was also writing a language dictionary at the time of building. This also is where Blantyre was founded when a local chief gave land to the Scottish missionaries and a slave freed by David Livingstone.
Do
Record a Song

address: Synod Offices, CCAP Blantyre Mission, Chileka Road

Did Malawi put a song into your heart? Why not go straight to a very reasonably priced recording studio and proceed directly onto stardom. Ask for the music director at the Synod offices and see the prices on offer.
Learn
Society of Malawi (Situated above the Mandala House) is a great place to visit if you enjoy a quiet, historic place to research life both past and present in Malawi and Africa in general. The library and archives are open weekdays from 9AM to noon and the last Thursday of the month from 6-7:30PM. See their website for more updated details regarding special functions, a searchable index of scholarly papers available, etc.
Buy
Blantyre is the commercial center of Malawi and travelers come in from all over the region (including neighboring Mozambique) to stock up on supplies—food, construction materials, electronics, etc. The downtown area is full of Asian (Indian) run shops, as is nearby Limbe. A bustling market area popular with locals offers all kinds of fruits, veggies, used clothing, construction materials, etc. on the cheap. Newer Western-style shops are available for those who just want to get in and get out (i.e. Game hypermarket part of Walmart USA. and Shoprite South Africa, Chichiri Savers Choice is a well-stocked Asian run store heading toward Limbe that caters to the expat community with hard-to-find food items, a good bakery, an ice-cream bar and candy shop. Prices for the same thing can often vary from shop to shop and an abundance of counterfeited products flood the market, so it's best to shop around and stay on guard.

Eat
Budget
Vendors are all over the streets in Blantyre. They sell a range of food items from fried chips, chicken, to hard boiled eggs, bread (mostly milkscone variety and yellow buns), biscuits (locally made from Universal Industries), and so on. Plenty of ripe fruit and vegetables are also readily available for a good price. On the whole, however, street food is nowhere near as tasty as many other African countries tend to offer.
Mid-range
Aub's Steakhouse, operated by new arrivals from South Africa, rivals 21 Grill for the best steak in the city. This is the only place where the servings are so large, you might actually have to leave some food on the plate! A good assortment of steak, seafood, and other fare. Half of the restaurant is a sports bar with bigscreen TV while the other half hosts a children's play area with TV and a Western theme. Open for lunch and dinner every day. +265 9960628/9966507.
Baba Delhi Darbar, heavenly tasty Indian food with a wide variety of vegetarian meals. Victoria Avenue close to Mt. Soche Hotel.
Blue Savannah, fast foods and takeaway, located at the site of Eclipse Lodge (close to Mt. Soche and Air Malawi). Great pizza, chips and burgers. In the same complex, opening soon, is a homemade ice cream shop, bakery, expat grocery store, sit-down fancy restaurant and coffee shop (by mid to late 2007). +265 8827613.
Scoops & Shakes, For homemade ice cream in exotic flavours also milk shakes, thick shakes, juices, coffees waffles and crepes. Try our ice cream made with 100% natural ingredients. Is at the site of Malawi Sun Hotel & Conference Centre (close to Mt. Soche and Air Malawi.) +265 8827613.
Cappineros offers a relaxing outdoor or indoor setting just a short ride from downtown Blantyre, but far enough away that it feels out of the city. To get there just go past the casino and you'll see the entrance on the right (if coming from downtown Blantyre). As of 2007 they have free salsa lessons every Tuesday night beginning at 7PM. +265 8 843 892
Chez Maky, a delightful out-of-the-way respite from the city, is a great place to get together with business associates or a few friends (space is available for conferences). Situated on a multi-level wooden deck protected from rain, the proprietor is a delightful host originally from Cameroon who makes everyone feel right at home. Grilled meat is particularly well-done here (some of the best in the country) and real coffee with desserts are a nice addition to any meal. Located on Kabula Hill Road past Seventh Day Adventist Hospital (just go past the hospital, which will be on your right, go on the road straight till you see a sign on your left, go straight on that road, third house on your left. Open every day from 8 to 10PM. +265 9203029, +265 1833764
China Da Restaurant and Lodge is a newly opened restaurant, the largest Chinese restaurant in town with an expansive menu. The roast duck is a must try. They are open seven days a week for lunch and dinner, and meals can be had for less than 1000 MK. There are 5 private dining rooms for parties, complete with television and karaoke. A full liquor bar serves Western spirits as well as Chinese varieties. For a truly luxurious experience, go for a Chinese massage in the attached massage parlor before you enjoy dinner. The location is very convenient, centrally located between Blantyre and Limbe, directly across the street from Queen Elizabeth Central Hospital. The address is Ginnery corner (Johnstone Road) behind People's Trading Center. Phone +265 888953333 or 1880882 Email carey808020@hotmail.com

China Sunrise

phone: +265 8 352 746

Offers mainland style Chinese food available in the city. A converted residential home offers a quiet, relaxing atmosphere with plenty of male waiters eager to serve. To find China Sunrise, proceed to Mwaiwathu Hospital and head toward the direction of Chileka Airport. Perhaps a kilometer or two past Mwaiwathu on the left there is a sign directing you to the place, which will wind you a bit into a housing area.
Curry Corner, located at Chichiri Shopping Center in Blantyre. Authentic Indian Cuisine also serves non curries. Fully stocked bar. Next to Shoprite and Game stores. Serves lunches, dinners and take outs. Open seven days a week. Call +265 888843291, 995422224, or 01919310. Drop a line at currycorner@africa-online.net. Here every meal is a unique experience, with a wide selection of dishes to suite every taste and budget.
'The Spicy Flavors Restaurant (formerly known as Royal Taj), offers pure vegetarian Indian cuisine. Highly recommended. Plot no BC 48 Livingstone Avenue. +265 8 201 768, or 4 108 821.
Greens, grilled meat, braii style. The restaurant opens late and will not allow children.
Hong Kong is an old favorite of many in town who enjoy Chinese canton cuisine. Run by a friendly Chinese lady from Hong Kong and her American husband. This pagoda style restaurant has been in Blantyre for over 40 years and has always been a family business serving over 100 well portioned dishes. The interior resembles the inside of the emperor's palace by Tiananmen Square. The chef is from Hong Kong and has been with the restaurant since it opened. Next to Mt. Soche Hotel. Phone: +265 1 820 859
Hungry Lion, found in the Shoprite complex opposite Chichiri Stadium, is a favorite with Malawians because of the simple chicken and chips menu it offers. A franchise, this location is often so pitiful (unless you only want an ice cream cone) that some visitors who don't like the long wait or poor operation in general have stopped giving it a go altogether.
Jungle Pepper Pizzaria is the place for a wide assortment of pizza and various toppings. Very tasty! +265 1 826 229
Portugalia, formerly known as Nandos but now no longer a part of that chain. A popular destination for anyone traveling by minibus but a headache to those driving their own vehicle. This restaurant is famous for the blends of Lemon Herb or Peri-Peri chicken. The setting is very busy, but now that the vendors have been removed much quieter than formerly. Once inside the store you can forget the crowd of minibuses right outside and enjoy pita wraps, chicken and chips, pine nut burgers, and more. An adult meal (children's also available) will cost about 700 MK.

Royal Taj

phone: +265 1 822 376

Salvatores On the premises of Villa 33 Salvatores is an Italian influenced restaurant onsite with a large outdoor eating area that overlooks the gardens it is favoured as a meeting place for both locals and visitors and lends itself perfectly to elegantly informal entertaining, be it a relaxed lunch with friends or a sumptuous romantic dinner. Email: View the menu online by visiting the website
Splurge
21 Grill, at Ryalls Hotel. The attention the servers give you is alone worth a reason to go (far superior to most other places where 'service' is not really a thing people know about). +265 1 820 955.

Bombay Palace

phone: +265 8 200 200

Opposite Ryalls Hotel, offers delicious authentic Indian cuisine. Reservations are recommended as it can be busy on weekend evenings.

L'Hostaria

phone: +265 1 636 025

Authentic Italian.

Jungle Pepper Pizzeria

phone: +265 888826229

Opened in 1997. Chichiri Shopping Centre (Shoprite) within the food court. Lots of seating area and lots of yummy pizzas.

Aub's Steakhouse

phone: +265 9960628, +265 9966507

Serves lunch and dinner everyday, has children's playroom.
Drink
Doogles

BasementVery up-market bar/club located near KFC. Featuring an indoor swimming pool alongside the bar as well as a highly impressive and ever expanding collection of whiskeys.

Blue Elephant

phone: +265 999 965850

address: Kidney Crescent

Very busy bar at weekends, easily accessible from Doogles lodge by taxi for about MK700.

Twigga LoungePopular club, 5 minutes walk from Blue Elephant. Has a pool table and shisha on offer for MK600. Often charging a MK500 entrance fee.
Sleep
Prices unknown for the following:
Malawi Sun Hotel & Conference Centre

phone: +265 1 830 069, +265 1 824 808

Chichiri Lodge

phone: +265 1 672 365

Colony Club

phone: +265 1 823 283

Eclipse Lodge

phone: +265 1 821 555

Indaba Exec Lounge

phone: +265 1 657 643

Kanjedza Lodge

phone: +265 1 642 500

Michiru Lodge

phone: +265 1 669 038

Mount Pleasant Inn

phone: +265 1 878 188

Namiwawa Lodge

phone: +265 1 669 069

Nalis Lodge

phone: +265 1 643 603

Shire Highlands

phone: +265 1 640 055

Superior Hotel

phone: +265 1 621 700

Grace Bandawe Conference Centre

phone: +265 1 834 267

address: (old) Chileka Road

A quiet place near St Michael and All Angels Church and run by the CCAP (Church of Central Africa Presbyterian). Nice place for a quiet coffee in their gardens and grounds even if you don't stop for the night.

phone: +265 888 901 762

Beautiful accommodation with gardens and views.
Budget
phone: +265 888 876574

Mulonga place, near the bus station, this South-African run place is a travellers' meeting place. Very popular among expatriates and is quite lively around happy hour. Skyband Wi-Fi access, pool, convenient location. over priced double room US$50.
Kabula Hill Lodge: An old family run establishment 10 minutes walking distance from the centre of Blantyre. Rooms start from 15 USD/night. Standard rooms have two single beds and common bathroom facilities. If you would like to have one of the cheap rooms it is recommended to book at least 6–8 weeks in advance and confirm by email, though they have been known to overbook. All rooms have ordinary mosquito nets (no permethrin). There is a laundry and ironing service (MK 1000), but take tough clothes, as everything is done by hand! Safe-keeping facilities are available and US dollars can usually be exhanged for Kwacha if necessary. Skyband wi-fi access on patio, though you must purchase access cards (MK 500 for 30 minutes). Turn left at the top of Victoria Avenue (where the Mount Soche Hotel is) and walk approx. 100m up Glynn Jones Road. Turn right onto Kabula Hill Road (follow the signs) and then turn left onto Michiru Road. Walk up then down the hill and you will reach two unsealed dirt roads proceeding left. Both are signposted, the second leads to Kabula Hill Lodge which is the second-to-last residence at the end of this road. Do not walk this road after sunset, call a taxi. Phone: +265 1 821 216 Email: kabulalodge@africa-online.net, kabulalodge@yahoo.com
Mid-range
Malawi Sun Hotel & Conference Centre

phone: +265 995632621

A favourite among international and local guests alike. Malawi Sun Hotel & Conference is a unique blend of ethnic beauty, excellent cuisine and the warm service of Malawi (the Warm Heart of Africa). This hotel has secure parking, DSTV, wifi internet, laundry facilities, room safes, a fast food outlet, an ice-cream parlour, a convenience store, a gaming arcade and two exquisite restaurants.

China Da Lodge

phone: +265 888953333

Single and double rooms with private bathrooms (clean hot showers) and cable television. Price of room inludes free western or Chinese breakfast. There is free wi-fi access in all rooms. An attached massage parlor is available. The location is especially convenient for physicians, as it is located directly across the street from Queen Elizabeth Central Hospital. It is advisable to book a room in advance.

phone: +265 999960231

Comfortable accommodation in renovated, en suite rooms. The premises has secure parking and each room is equipped with TV, fan, electronic safe and Queen size beds. All rooms can connect to the internet through a wireless hotspot. Accommodation is on a bed and breakfast basis.
Splurge
Le Meridien Mount Soche

phone: +265 1 820 588

Ryalls Hotel

phone: +265 1 820 955

Hotel Victoria

phone: +265 1 823 500
Stay safe
Night time muggings or robberies do occur. Private taxis are cheap and readily available. Ask around and bargain.

Connect
There is an internet cafe (and library) near Phoenix International School. Come off Chileka Road either at St Michael and All Angels Church or at Phoenix School. From there ask around for directions to the 'Resource Centre and Library' - or failing that ask for directions to Phoenix School.
From the Phoenix International School entrance itself you would head down the gentle slope (away from the main road - which would be down a steeper slope) and there is a building directly in front of you. That is where the internet cafe, resource centre and library is located. The entrance to the school faces directly towards the Phoenix School gates.
Lewis (+265 999 220 572) is the manager and will quickly get you online for a modest fee.

Cope
Consulates
Greece

phone: +265 187-5494

address: P.O. Box. 1740, Blantyre
Go next