Bled
Bled
is a town in
Slovenia
, on the east side of
Lake Bled
.
Understand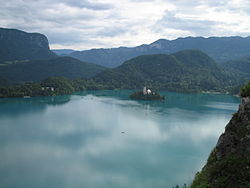 Bled is a popular destination in Slovenia due to its romantic scenery and access point for
Triglav National Park
, which offers numerous outdoor adventure opportunities. The town features a little white church on an island in the center of an emerald green mountain lake, with Bled Castle perched high above, amidst the
Julian Alps
.
Get in
By plane
The closest airport is
Jože Pučnik Airport
(
LJU
), which is easily accessed by bus for €7 or by taxi for €40 and up to €55; see the link for details.
Near Lake Bled is a small civil airport Lesce-Bled for fun and sports fliers.

By bus
The bus station in Bled is centrally located northeast of the lake at the intersection of Cesta Svobode and Grajska Cesta.
Buses leave from Ljubljana to Bled hourly on the hour and return from Bled to Ljubljana hourly on the half-hour. The journey takes 75 minutes and costs €7. Schedules are available online.
A lot of buses from Ljubljana drop passengers off at Lesce-Bled station 4 km southeast of Bled where you can switch to a local bus to Bled (it costs 1,6€)

By train
Trains from Ljubljana drop passengers off at Lesce-Bled station, 4 km southeast of Bled. The journey takes slightly under an hour by regional train. These run irregularly, but more or less once every hour. In addition, there are a few IC services a day, which are slightly faster.
Buses connect the station with Bled at least every 30 minutes for €1.30. A taxi to/from the station costs €10.
Bled Jezero Station is on the other side of the lake, opposite the town, 1.5 km away. From here, trains leave to/from Jesenice and Nova Gorica every two hours or so.
Train schedules are also available online.

Get around
On foot
Bled is small enough to cover on foot. A walk around the lake will take just over an hour.

By pletna
The traditional way to reach the lake's island is by a pletna boat, which resembles a huge gondola. The round-trip fare is fixed at €12 per person, and the rowers will typically wait to get minimum ten people on the boat before departing. The entire trip takes 90 minutes, including 60 minutes of rowing and 30 minutes on the island. The pletnas depart from various locations around the lake. For reservations visit web site www.pletna.si

By rowboat
A popular method of travel to the island church is by renting a rowboat.

By bicycle
Bled and the vicinity are great for riding bicycles, which can be rented at many outdoor agencies. There are no designated bike lanes in Bled. Cycling off-road or off-track is not allowed in Slovenia. A list of suggested bike routes is available here.

By horse
Horses are available for rent, with or without guides/instructors, at most outdoor agencies. In addition, horse-drawn carriages are available for rides around the lake, to the castle, and further afield.

See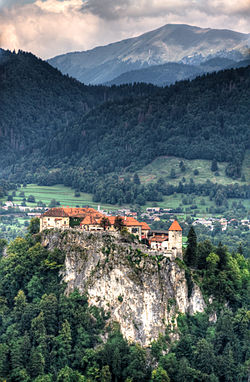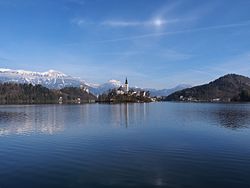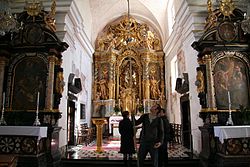 Lake BledFormed after the recession of the Bohinj glacier at the end of the Ice Age. As much as 2120 m long and 1380 m wide. Maximum depth is 30.6 m. With no natural tributaries, it is fed by a few springs.

Bled CastleA picturesque white and red castle enclosed by a Romanesque wall with parapets, ramparts, and towers. The current incarnation of the castle dates from the 17th century and was restored in the 1950s. The upper courtyard includes a 16th-century chapel decorated with frescoes from 1700 and includes a painting of Henry II conferring Bled to Bishop Albuin. There is a small museum with an exhibition on the castle's history and the usual array of medieval pomp, pageantry and weaponry. However, the items do not include descriptions in any language. The castle terrace offers great views of the lake and island below. There is also a small wine center run by Andre, the monk. There, for the price of a champagne bottle (€15) Andre will teach you how to perform Sabrage, or Sabree, the art of cutting the top of the bottle off with a blade. You can also bottle, label, and wax stamp your own wine right in the cellar with Andre. The wooden steps near the wine cellar lead to small shop that sells various herbs and oils. Go in here for the smell.

Bled IslandExcavations on the island have revealed the remains of a pre-Romanesque Chapel and a large Slavic cemetery dating to 9 AD.
Church of the AssumptionThe present baroque church dates from 1698. Well preserved frescoes depict scenes from the life of Virgin Mary. Ring the wishing bell, which was installed in the original Gothic church in 1534. The Provost's house and the smaller building behind the church were used as guesthouses. According to local tradition, a husband who can carry his newly married bride the 99 steps up from the dock into the church will be ensured a happy marriage, and ringing the bell in the church will fulfill one of your wishes.
Iglica Waterfall18m high, but very narrow waterfall over a vertical wall of Permian limestone. Popular for rock climbing. If you go up the stairs you have a beautiful view over the whole area.
Babji Zob (Hag's Tooth) Caves300m cave system includes rare helictites (calcium deposits) and a tooth-shaped pillar atop a 1128m peak. Very different than other caves in Slovenia. Three-hour tours take place Wednesdays, Saturdays, and Sundays in the summer. Meet at Bohinjska Bela 34.
Do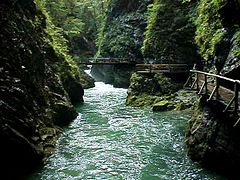 Most of the outdoor adventure activities, as well as the must-see Vintgar Gorge, are in nearby
Triglav National Park
. However, Bled also offers numerous activities.
HikingBled offers several easy to moderate hikes, many of which offer amazing picturesque views of the island. Velika Osojnica, a 756m high peak at the southwestern corner of the lake offers the best and most famous views of Bled, and is popular among photographers. An easier, but less spectacular option is to hike up 638m Straza, covered with linden oak and spruce trees, southwest of the Grand Hotel Toplice.

Canyoning & rock climbing There are multiple canyons near Bled that allow outdoor enthusiasts to jump and rappel with the rope over waterfalls. In Triglav national park you can also find over 10 sport climbing areas.
Take amazing photos Best viewpoints are Mala Osojnica near Camp Zaka and Bled castle. You can enter the castle for free in the evening after the museum closes. Just say that you are going to a restaurant.

Swimming at Grajsko kopališče (Castle Bathing Area)6,000 m2 area, a great place to swim, also has two waterslides, a trampoline, a climbing wall, four outdoor swimming pools, a jump board as well as climbers, swings and a sandbox for children, table tennis, chess, 1,000 changing rooms, 107 lockers, boat rental, snack shop, and a grassy beach.

Strel Swimming AdventuresSwim across Lake Bled and around the Island with well known operator for Slovenian swimming adventure holidays.

Indoor Ice Skating at Sportna Dvorana

phone: +386 4 578 0534

phone: +386 4 537 77 00

address: Kidriceva 10c

Slovenia's premier golf course.

Mini Golf

phone: +386 41 840 079

address: Ljubljanska cesta

18 holes. Hosts a variety of classic mini golf competitions, including the National Championship.

Spas & Wellness CentersUnwind in thermal pools, whirlpools and saunas, or alternatively let yourself be pampered with a soothing massage, a calming bath or a rejuvenating beauty treatment.
address: Cankarjeva cesta 4
Summer tobogganing

phone: +386 4 578 05 34

Open only during the summer. Ride down a 520m track on a 131m hill in a small cart. Speeds top out at 40kph.
FishingFishing for catfish, pike, carp and lake trout is permitted on Lake Bled with the purchase of a permit from the tourist office for €20 per day.
phone: +386 41664545

Accepts bookings via email or phone, at least a day before the flight. Hot air balloon flights are ONLY early in the morning, starting at Sunrise. Whole programme is about 3-4 h (flight time approx. 1 h).
Festivals
A complete listing of events in Bled is available on the Tourist Information
website
Bled DaysThree days of fairs and concerts. The event culminates in fireworks and the lighting of thousands of candles on the lake.

Okarina Etno FestivalEthnic festival featuring folk music performances.

International Music Festival BledClassical music festival.

Medieval days A weekend festival that takes place on first weekend in June at Bled Castle
Eat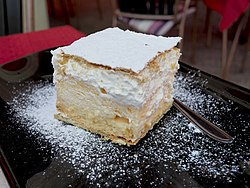 Most of the hotels have restaurants and bars. In addition, the following are stand-alone restaurants worth a visit. Prices in Bled tend to be inflated due to the tourist nature of the town. Try the local speciality
kremna rezina
also called
kremšnita
(Cremeschnitte), a cake of vanilla custard and cream.
phone: +386 4 5794 424

Good for special occasions, but not as expensive as you might think. Booking advised, especially for outside tables by the wall.

phone: +386 4 574 16 13

address: Grajska cesta 8

Over 100 years old. Still retains original ambience.

phone: +386 4 5798 453

address: Cesta svobode 8a

Nice view.

phone: +386 4 574 14 58

address: Ljubljanska cesta 8

Amazing quality, large menu blending Indian and Slovene dishes including a substantial vegetarian selection. Not the cheapest, but high quality and extremely friendly service. Beautiful decor, relaxed atmosphere. Highly recommended.

address: Cesta Svobode 19a

Great fish restaurant

Simončinka

address: Ljubljanska cesta 4

Great fast food including burgers, chicken, and salads.

phone: +386 4 574 17 81

address: Ljubljanska cesta 26

Bled's most sophisticated outfit, georgeously decorated, and beautifully lit. High quality food and wine.
Sleep
Most prices listed do not include tourist tax of €1.01 per person.
Budget
Camping
Camping BledIn a beautiful green setting close to the lake. Free (but slow) WiFi at the reception.
Hostels
phone: +386 41 567 512

address: Grajska Cesta 22

Free internet.

phone: +386 40 743 398

address: Grajska 21

Five rooms with 20 beds. Free Wi-Fi. Laundry service. Adventure trips.

address: Grajska 17

Popular place for families and adventurous pensioners! Member of Hostelling International. Breakfast included.

Jakelj Backpackers House

phone: +386 31 616889

address: Selo 11A 4274 Zirovnica

Free pickup from the Bled train station. Free Linens/Towels and Internet. This hostel is run by a great family. The son runs some excursions and is very nice. The breakfasts were complimentary eggs (made by the mother) and are fantastic. Dinners at the hostel are €6 for 4 courses of Slovenian fare. The food is fantastic. They offer a huge range of activities (rafting, canyoning, horse back riding, outdoor camping, skiing, national park trips).

phone: +386 5 904 42 26

address: Riklijeva cesta 1

Features what are possibly the most comfortable mattresses in any hostel around the world! Located in a typical Bled house from the beginning of the 20 century in the old part of Bled, just a few minutes from the bus station or the lake, with the grocery store just across the street. It has 27 beds in 6 rooms, an equipped kitchen, living room and two small balconies. Free laundry machines. You can arrange free pickup from the train station. Free bike rentals.

phone: +386-4-5744722

address: Želeška cesta 9

Built in 1909.
Mid-range
Splurge
Connect
Internet
Most of the hotels and hostels in Bled offer internet access.

Post office
The post office is located at Ljubljanska 14 and is open M-F 7AM-7PM, Sa 7AM-12PM

Stay safe
Be sure to take necessary precautions when participating in outdoor activities.
Bled can become extremely crowded during the summer months especially at weekends. A visit during winter, while cold, presents you with the chance to see a frozen Lake Bled and have the place to yourself. Alternatively those seeking a bit of peace will find that the side of the lake opposite the town is often somewhat quieter.

Cope
address: Cesta Svobode 15
Go next