Block Island
During the winter months
Block Island
is the very picture of a sleepy, seaside
New England
town, with a local population of around 900 people. In summer, the island's population explodes to nearly 10,000 at any given time, and many thousands more on busy weekends or holidays.
Understand
New England has always been one of America's many summer destinations of choice. Every year couples and families flock to the coast looking for seafood, sun, and a strip of sandy beach to call their own. They stay in bed and breakfasts on Martha's Vineyard, rent houses in Cape Cod, and stretch out on Narragansett beaches. Block Island has become a new destination for those embarking on their annual summer exodus. Located off the coast of Rhode Island, Block Island has become one of the most appealing New England summer hotspots. This newfound popularity is due in large part to Block Island's easygoing, low-key atmosphere, which benefits from miles of beautiful beaches, numerous bars and restaurants, and consummate natural beauty.

Get in
By ferry
phone: +1 401 783-7996

Departs year round and daily from the village of Point Judith, in Narragansett. You have the choice of the passenger-only high speed ferry (runs only in the summer), which arrives at Block Island in 30 minutes or you could take the "traditional" car ferry which arrives at Block Island within an hour. The Ferry's schedule of departure is every few hours during the winter and fall or every hour during the summer. Prices are reasonable for each ferry, whether it be round trip or one way and children and senior citizens have a discount. Tickets can either be purchased at the box office (located at the ferry departure) or online where you can have them mailed to you or held at the box office.

phone: +1 860-444-4624 or +1 401 466-2212

Departs May through September from New London, Connecticut. The ferry terminal in New London is next to the train station, offering easy connections to Shore Line East or Amtrak. It does not take cars.
In summer there is also seasonal, passenger-only ferry service between Montauk, New York and Block Island.
By plane
Cape Air, 660 Barnstable Rd. Hyannis, Massachusetts, +1-866-228-1621. Provides seasonal service.
New England Airlines, 56 Airport Rd, Westerly, Rhode Island, +1-800-243-2460. Flights between Westerly and Block Island.
Get around
Most areas of Block Island are easily within walking distance of each other but there are plenty of other modes of transportation. If you prefer to travel by car you can flag down a taxi or rent one on the island. For a nominal charge, the visitor may bring a bicycle on ferries that serve the island. Bicycles and Mopeds are also available to rent and are so convenient that you may rent one as soon as you walk off the ferry. The "traditional" ferry from Point Judith, RI is the only ferry that takes cars. (For rates and schedule,
Interstate Navigation
.)
By taxi
Block Island Taxi, Phone: +1 401 466-2562
McAloon's Taxi, Phone: +1 401 741-1410
Mig's Rig, Phone: +1 401 480-0493
Bicycle moped and car rental services
Aldo's Mopeds and Bikes, Phone: +1 401 466-5018
Beach Rose Bicycles, Phone: +1 401 466-5925
Block Island Bike & Car Rental, Phone: +1 401 466-2297
Island Moped & Bike Rental, Phone: +1 401 466-2700
Moped Man Bike Rentals, Water St. Phone: +1 401 466-544
See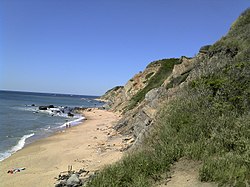 There are many different sights to see around the island during the summer. All you need is a gorgeous summer day and a pair of walking shoes in order to enjoy all of the sights that Block Island has to offer. Here is a list of some of the main attractions on the island:
North Light

address: Corn Neck Road

Built in 1867, this is the fourth lighthouse built on Sandy Point, where exposure to the elements and shifting sands make keeping a lighthouse in one piece difficult. The lighthouse is on the grounds of the National Wildlife Sanctuary, which contains hiking trails.

Mohegan Bluffs

address: 122 Mohegan Trail

On the southern end of the island, the bluffs rise 200 feet (61 m) above the water and run along the coast for about three miles (5 km). It's the site of the Southeast Lighthouse, built in 1875. This is one of the most visited places on the island due to the gorgeous views and breathtaking sites. Be warned though, to get down to the bluffs on the beach you have to climb down numerous flights of stairs which isn't the problem, the only problem is coming back up. Be prepared for a good workout.

phone: +1 401 466-5009

Stop over and take a visit to one of the most magnificent and beautiful lighthouses in America. The view from the lighthouse looks out from the Mohegan Bluffs which are over 200 feet (61 m) above the water. The sight and atmosphere is so breathtaking it will definitely be worth your while.

Lewis-Dickens Farm

address: Cooneymus Road

Coastal grasslands set on the bluffs above the Atlantic provide habitat for raptors and passerines.

Block Island Historical Society

address: Old Town Road

The Block Island Historical Society houses permanent and special exhibits that chronicle Block Island's past.

The Sacred Labyrinth

address: Corn Neck Rd

Tucked away on Corn Neck Road is the Sacred Labyrinth and is unknown to most tourists. Marked only by a series of wooden steps, guests can stop and walk this man-made hidden path. The Labyrinth is an old Mayan tradition and has been brought to life on Block Island. The Labyrinth is a large, round, circular path that one walks in silence while wishing for something. Once the person gets to the middle, they are supposed to leave a tiny gift (anything will do), and the wish is supposed to come true. The Labyrinth is a fun attraction that not many tourists know about.

Dories Cove

address: Dories Cove Rd

Dories Cove is a beautiful beach tucked away in a cove. It is a beautiful place to watch the sunset or have a fire on the beach. It can be a little hard to access because Dories Cove Road is dirt and there is little parking at the entrance to the cove. If you are up for the walk it is a great place to relax and soak in the island away from all the tourists.
Do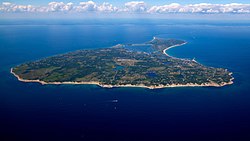 Although Block Island mainly consists of 17 miles (27 km) of beachy shore there is still plenty to do:
BeachesThe seashore is everywhere. The Island encompasses 17 miles (27 km) of beaches and offers many choices. Within walking distance of the ferry landing is 3-mile Crescent Beach, which is divided into three parts: the Fredrick J. Benson Beach, Scotch Beach, and Mansion Beach which is positioned beneath cliffs and the stone walls of a vanished mansion. The beach has lifeguards and restrooms. Food is available from nearby Old Harbor restaurants and concessions. Parking and beach admission are free.

Block Island Parasail & Watersports

phone: +1 401 864-2474

Old Harbor Dock, provides an abundance of fun and diverse watersport activities such as banana boat rides, parasailing, jetboat rentals, sunset cruises and island tours.

BoatingCharter boats are available for deep-sea fishing or you can simply cast your line in the surf. The 365 fresh water ponds are home to bass, perch, and pickerel. You can snorkel, scuba dive, kayak, or parasail.

Block Island Fishing Charters, LLC

phone: +1 401 787-2321

address: New Harbor

Inshore and offshore trips for experienced anglers and newcomers alike. Target striped bass, blues, fluke & gamefish with licensed, professional captain. Nighttime trophy bass trips and island tours also offered.

Children's activitiesInclude a story hour at the library, Nature Conservancy hikes, and a petting zoo.

Hiking on The GreenwayMore than 40% of Block Island is protected as open space. Both the Nature Conservancy and the Block Island Conservancy have been instrumental in these preservation efforts. As a result, Block Island retains its rural and undeveloped character. Hikers can enjoy twenty-five miles (40 km) of trails through grassy meadows, stone walls, inland moors and Mohegan Bluffs. The main Greenway trail runs from the Great Salt Pond south to Rodmans's Hollow and the south shore. A second trail system starts on Payne Rd. west to Fresh Pond and then connects to the Rodman's Hollow trails. The third major trail system is Clay Head Trail, starting in the north end of the island off Sachem Pond and following the bluffs of the north-east coast. In the center of the trail are the Mazes, a series of trails through woods and brush. The Clay Head Trail can be accessed at three points on Corn Neck Rd. A map of the trails is available from the Nature Conservancy and can be bought in many island stores.

Bird WatchingBlock Island is a hotspot during Spring and Fall migration as it is on the Eastern flyway. During the breeding season, Northern Harrier and Merlin patrol the skies while Eastern Towhee and Gray Catbird are common in the thickets.

Rustic Rides Farm

phone: +1 401 466-5060

West Side Road,Provides guided horseback rides on the beach, pony rides for children, and carriage rides for weddings and other special events.

phone: +1 401 487-2425

address: Old Harbor

Fishing charters from Old Harbor, Block Island for striped bass tuna, and sharks on a safe and fast diesel powered Ridgeway express.
The Empire Theatre: The Empire theatre may be the best and worst place to see a movie, because it is one of the oldest in all of Rhode Island. The theatre is one screen and it shows two films a night, on days that it is raining it will show its "Rainy Day Matinee". If you are going to the Empire Theatre for a strictly viewing experience than you are going for the wrong reasons. The Empire Theatre is like stepping into a movie theatre time machine, before there was stadium seating and massive screens. Instead the seats are on a flat surface and the screen rolls down over a stage right after the musical entertainment is over, which consists of man or woman playing the piano as viewers file in. Throughout the entire film you really get that "Old School" theatre feel as you watch. It is strongly recommended that you do get there early enough to get a good seat, because the viewing from some areas is pretty poor, but overall the experience is worth it, especially to true theatre buffs.
Buy
Block Island is filled with quaint little gift shops:
Chapel Sweets

address: Chapel St

Chapel Sweets is a candy store that specializes in fudge and taffy.

Island Bound Book Store

address: Water St

Featuring many books of Block Island for adults and children.

Star Department Store

address: Water St

This old fashioned general store has everything any traveler could want. Clothing, candy, and jewelry; this store is a fun filled stop for many visitors to the island.

phone: +1 401 466-2422

address: 459 Chapel St

Full Moon Tide offers an eclectic combination of housewares, giftware, sportswear, jewelry handmade soaps and menswear. Don't miss the unique array of Block Island photographs and funky accessories.

BI T's

phone: +1 401 466-5977

address: Water St

Great tourist shop to buy BI and RI memorabilia.

B-Eyes Sunglass Shop

phone: +1 401 466-5478

address: Water St

Be prepared for the sun! Great sunglass shop with designer and fashion sunglasses.

The Bird's Nest

phone: +1 401 466-5080

address: Dodge St

The store specializes in things for the home, from curtains to specialty dinnerware.

Block Island Trading Co.

phone: +1 401 859-1524

address: Water Street @ National Hotel

This store has items from around the world with a great variety of unique jewelry from shell rings to feather earings.

Bonnie and Clyde

phone: +1 401 466-8895

address: Water St

Womrn's boutique - island sundresses and the latest fashion trends.

Diamond Blue Surf Shop

phone: +1 401 466-3145

address: Corner of Corn Neck Road and Dodge

Surf apparel Roxy, Billabong -- and gear for any water sport.
Eat
Budget
Papa Pizzeria

phone: +1 401 466-9939

address: Corn Neck Rd

The only delivery on the island. Papa Pizzeria serves up a wide variety of pizzas, subs, salads, and appetizers.

Ice Cream Place

phone: +1 401 466-2145

address: Weldon's Way

Get ready for homemade ice cream! This place has a variety of mouth watering flavors and creations, including their famous Turtle Sundae.

Three Sisters

phone: +1 401 466-9661

address: Corn Neck Rd

Three Sisters specializes in sandwiches. All of their ingredients are fresh and organic. They are only open until 3PM so come early for lunch. It is also a great place to grab sandwiches before heading to the beach.

Old Post Office Bagel Shop

phone: +1 401 466-5959

address: Corn Neck Rd

Fresh bagels are made and served daily. The shop also offers breakfast items like bacon, egg, and cheese, and lunch options like a turkey club on a bagel.
Mid-range
phone: +1 401 466-2473

address: 212 Water St

Located in the Old Harbor ferry parking lot. Best lobster roll on the island.

Rebecca's Seafood

phone: +1 401 466-5411

address: Water St

Serving breakfast, lunch dinner and a special late night menu. Fresh local fish, (specials tuna + mahi-mahi when in season) from local fisherman, landlovers menu chowder, clam cakes, salads, and burgers. Eat in or outside. $4–12 "Best prices on the Island" Also visit Rebecca's on the Beach,When going to Block Island most vacationers head straight for the Fred Benson Town Beach, after hours of swimming, tanning, and playing on the beach vacationers often get pretty hungry and there is no better place to grab a burger and fries than Rebecca's on the beach. Not only are the burgers delicious, but buying a burger and fries at Rebecca's may be the best value on the entire island. Along with burgers and fries many other great foods are available as well including hot dogs, grilled tuna, chicken fingers, mozzarella sticks and ice cream.

The Oar

phone: +1 401 466-8820

address: 221 Jobs Hill Rd

May through October, 8AM-1AM. Buffet breakfast and full-service lunch and dinner, including grilled swordfish, sirloin, fried chicken, nachos, lobster rolls, and calamari. $8.25-25.

phone: +1 401 466-2249

Corn Neck Road. Contains a very diverse menu from cheeseburgers to seafood entrees.

phone: +1 401 466-2828

Water Street. Breakfast, Lunch and Dinner overlooking Old Harbor. Affordable wine list, nightly salad bar, fresh seafood, convenient location.

phone: +1 401 4665-5911

address: Water Street

House brewed beer in a family atmosphere. Menu includes wide range of burgers, vegetarian options, Tex-Mex and Asian options. Enjoy A/C in the heart of Old Harbor.
Splurge
Atlantic Inn Restaurant

phone: +1 401 466-5883

address: High St

Serves a four-course candle-lit dinner. The Atlantic Inn is a favorite for many famous celebrities.

phone: +1 401 466-5844 466-2836

address: 1 Spring St

Contains an à la carte menu featuring fresh seafood, beef & poultry, their own fresh garden vegetables, succulent appetizers & mouth watering homemade desserts.

Spring House Hotel

phone: +1 401 466-5844

address: 52 Spring St

Serves contemporary cuisine and is well-known to host many weddings.

phone: +1 401 466-5844

address: Corn Neck Rd

Contains a menu influenced by French, Italian, American and Asian cuisines.
Drink
Captain Nick's

phone: +1 401 466-5670

address: 69 Ocean Ave

Pool, large dance floor, dollar beers and drink specials, live music Tu-Su.

Club Soda

phone: +1 401 466-5397

address: Connecticut Ave

Where the locals hang out. Pub food year round, open mic night, karaoke, and unique island ambiance.

McGovern's Yellow Kittens Tavern

phone: +1 401 466-5855

address: Corn Neck Rd

Sunday night is reggae night! There's a cover, but they always reel in really good live reggae artists. Darts, pool, outside deck, dreadlocks.
Sleep
Many Block Island homes are offered as weekly rentals during the summer months.
phone: +1 401 466-2421

Spring St. 23 rooms. Known for their friendly hosts. 1661 ensures a relaxing and comfortable stay. $$

phone: +1 401 466-5883

address: High St

Peace and quiet, scenic views and delectable food. 20 rooms, 1 suite.

address: 42 Water St

Summer: +1 401 466-2231, Winter: +1 401 334-1997. Ballards is a great place for those looking to let loose but it is also a wonderful place to lodge for a family vacation. Ballards is very child friendly by comprising an arcade, a toy shop, and lifeguards on the beach. $

address: 474 Old Town Rd

The Inn at Block Island is known for its warmth and hospitality, the Inn is a century old Colonial situated on a knoll in Old Harbor. It was built in 1900 for a sea captain and his family and converted to a B&B in the 1980s. The Inn offers nine rooms and a cottage, all with private baths, air conditioning, some with private entrances and ocean views. Located on the left just past Chapel Street on Old Town Road. It is convenient to both Old Harbor and New Harbor, the airport, town, beach and ferry.

address: Beach Ave

The Barrington Inn is on a hilltop overlooking the New Harbor area. The mood is quiet and welcoming. The Inn offers six rooms and two apartments with private baths, decks and ocean views. The Inn is in walking distance to the town, beach and ferry. The Barrington Inn is situated on the corner of Beach and Ocean Avenue. It is convenient to both Old Harbor and New Harbor, the airport, town, beach and ferry. 6 rooms, 2 apartments.

address: 209 Old Town Rd

The Jane Marie Cottage is a 7-bedroom home tucked away in quiet setting off Old Town Road. It can comfortably accommodate up to 18 people. It is perfect for a family in town for that special Block Island wedding or family gathering. The cottage is rented by the week during the summer months from June to September and by the night September to May. Open floor plan with comfortable furniture and bedding. This is a pet free and smoke free home.

The Bellevue House Inc

phone: +1 401 466-2912

The décor is charismatic, the location is idyllic, and the views are pleasant. The location is more private by being set on a hill a little out of town which is ideal if you are looking to stay away from commotion. Bed and Breakfast. $.

phone: +1 401 466-2254

address: 61 Dodge St

12 rooms, 4 cottages, 3 suites. Beautiful Victorian style within a few feet of the sea. Also, has been newly renovated and has also been said to be Block Island's most romantic Bed and Breakfast!

phone: +1 401 466-5944

10-room Victorian B&B with a relaxed atmosphere. Set on a hill, conveniently located between the center of town and New Harbor, with panoramic views of the harbor, ocean and surrounding countryside. The warm & comfortable setting, with inviting rooms, cozy nooks and sprawling lawns. A short walk to town, beaches and marinas. Private baths.

phone: +1 401 466-2901

address: Water St

The National is a landmark of Block Island it is in the heart of the historic district and is just minutes from the restaurants, beaches, shops and ferries. The rooms overlook the docks and enclose a very warming New England atmosphere.

phone: +1 401 466-5504

address: Water St

The New Shoreham House Inn is a shared bath inn with competitive prices located directly across the street from the Old Harbor Ferry Landing. Easy walking to beaches, shops and restaurants. Deck overlooks town and Old Harbor.

address: Water St

The Old Bakery is on Water Street in the historic district of Old Harbor. This quaint seaside guest house has two suites. The ocean view two bedroom suite and the island view two bedroom suite. Both have access to a large ocean view deck. The Old Bakery is nicely furnished with original hardwood floors and is pet friendly. For your pet there will be an additional charge of $50 per night not to exceed $150 for your stay. 4 guests maximum per suite.

phone: +1 401 466-5958

address: 508 Old Town Rd

Has a charm of a Bed and Breakfast with the feel of an Inn. Located out of town and just down the road from the airport, which is very convenient.

phone: +1 401 466-5844

address: 52 Spring St

The Spring House Hotel is the most elegantly recognized historic landmark on Block Island. It overlooks the Atlantic Ocean and Block Island foothills. All rooms have queen beds and full service telephones. A complimentary continental breakfast is served each morning. The Spring House Hotel is preferred by many famous celebrities. 50 rooms.

phone: +1 401 466-5504

address: Water St

This 36-room historic inn is located across the street from the ferry landing in Old Harbor. The Harborside Inn offers quaint seaside charm with the convenient location in the center of town. Wireless internet, luggage storage also available for guests.

Island Manor Resort

phone: +1 401 466-5400

address: 215 Chapel St

Great place to stay for a family vacation. It is in walking distance to Captain Nick's and all of the lovely shops.

phone: +1 401 466-2605

address: 213 Water St

The Water Street Inn offers 10 rooms all with private bathrooms, ceiling fans and small refrigerator. Some rooms offer views of the ocean while others include A/C. Renovated and located in the historic district. Walk to beaches, shops and restaurants.

phone: +1 401 466-2275

address: 71 Spring St

Lovely perennial gardens, ocean views and authentic island charm. There are a total of 10 rooms, outdoor sitting areas, a hammock, and kayak. Quietly situated within a short walk from town, restaurants, and ferries in Old Harbor. Fresh continental breakfast included. www.seabreezeblockisland.com

phone: +1 401 466-5892

address: 597 Corn Neck Rd

A beautifully renovated property on the beach and steps to everything in town. Every room has a private bath, ocean view, A/C, full breakfast, and afternoon wine hour.
Connect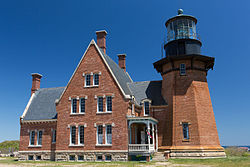 Post Office
32T Water Street, New Shoreham, RI 02807 -
+1
401-466-7733
Telephone
Landline telephone service is available along with decent reception of cellular phone/data service depending on your carrier. Verizon and Sprint tend to work slightly better than AT&T.
Internet
There is Wi-Fi in many shops, cafes, hotels, inns, etc.
Stay safe

Block Island is by and large a very safe locale, but as with any place there are certain precautions you can and should take to stay out of harm's way. Far and away the most common causes of injury on Block Island are careless bicycle and moped riders. If you plan on renting bikes or mopeds, make sure that you wear your helmets, follow the rules of the road, and absolutely do not drink while operating them. Otherwise, just be aware that other vacationers might not follow these guidelines, and stay alert when on main roads. When on the beach it's wise to wear sunscreen and exercise care when swimming; Block Island's waters are usually calm, but riptides are not unheard of and swimmers have been known to come across the occasional jellyfish. The only real crime that takes places on the island almost always stems from tourists who have had a bit too much to drink: there are instances of drunk and disorderly conduct every week, accompanied by infrequent bar fights and some petty theft. Thankfully, this is restricted almost entirely to the late night bar scene and major holidays. As long you or your fellow vacationers don't get mixed up in any drunken shenanigans, there shouldn't be a problem.

Go next
There is a ferry service that leaves Block Island and goes to
Point Judith
every day of the week and throughout the year. There is also a ferry that travels to
New London, Connecticut
every Monday through Sunday but only operates between the dates July 1 and September 6. For more information see the get in section.