Bloomington (Minnesota)

Bloomington
,
Minnesota
is a suburb of
Minneapolis
. It is near the Minneapolis-St. Paul International Airport (
MSP
) and home to the Mall of America, the United States' largest shopping mall. Bloomington has a population of 82,893 people (as of 2010).

Get in
Bloomington is centrally located and convenient to many Twin Cities Metro area attractions. Bloomington is approximately 10 miles south of Minneapolis.
By plane
The Minneapolis/St. Paul International Airport is near Bloomington and from there it is easy to get on a light rail train to take you into the city.
By car
Bloomington is intersected by two major interstates and a number of major highways. Interstate 35W runs north/south through the center of Bloomington. Interstate 494 runs east/west along Bloomington's northern edge, intersecting with Interstate 35W near the center of the city.
By public transit
There are no regional buses that have drop off points in Bloomington. The nearest Greyhound bus terminal is in downtown Minneapolis (see
Minneapolis#By bus
). The bus terminal is at 950 Hawthorne Ave (at 10th St, one block west of Hennepin) in downtown Minneapolis and is 4-5 blocks away from the light rail station, which you can take into Bloomington. If you need to get into Bloomington from anywhere else in the Twin Cities metro area, you can generally take a local bus or light rail line. Metro Transit is the public transit authority for the entire Twin Cities area, including Minneapolis, St. Paul and Bloomington. Their website has a great and easy to use route finder .
Get around

Bloomington has abundant public transit options and it is well connected to Minneapolis and St. Paul and other cities in the Twin Cities metro area. The south end of the METRO Blue Line light rail ends in Bloomington at the Mall of America, giving easy access from Bloomington to Downtown Minneapolis for a sports game, shopping or night out on the town. Within the city of Bloomington, there are a plethora of bus lines to get you just about anywhere that you need to go.
Bloomington's uses the same public transit system as the rest of the Twin Cities Metro area, including Minneapolis and St. Paul. This integrated system is called Metro Transit. Metro Transit fares are valid for 2 1/2 hours of unlimited transfers from first use and are valid on all Metro Transit buses and light Rail (excluding the Northstar Light Rail Line which requires an additional fare.)
Adult fares as of 2011 are $1.75 non rush/$2.25 rush ($2.25 for express busses during non rush hours and $3.00 for express buses during rush hour.) Discounts apply for senior citizens and children, as well as disabled veterans and people with disabilities. Up to 3 children under the age of 5 ride for free with a paid adult fare .

See
phone: +1 952 883-0202

address: 120 East Broadway

Visit the world's largest underground aquarium and see over 5,000 marine creatures! From 360 pound sea turtles to young sea horses, you will find everything you were hoping to see in the underwater adventure. Scuba Certified, try scuba diving with 9 foot sharks.

phone: +1 952 563-8575

address: 1800 W Old Shakopee Rd

The Bloomington Civic Theatre offers a variety of plays and concerts in many different styles and genres. From musicals to comedies, symphony orchestra concerts to blue grass, you are sure to find something for everyone's taste. Looking for a night out on the town? Upgrade your ticket to a package that includes dinner at Kincaids for $31 additional.

phone: +1 952 888-4262

address: 9740 Grand Ave

Children's engineering and design museum with hand-on exhibits.
Do
Buy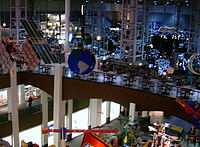 phone: +1 952 883-8800

address: at the junction of Interstate 494 and Minnesota State Highway 77 (Cedar Avenue)

Largest indoor shopping complex in the United States. A dizzying shopping experience. It has hundreds of stores, a LEGO play area, an indoor theme park, and a large aquarium. You can get there by light rail or bus.
Eat
Chez Daniel

phone: +1 952 888-4447

address: 2800 W American Blvd

Pricey but authentic French cuisine. Better than you'd expect from a hotel restaurant.

phone: +1 952 646-2091

address: 90th & Penn

phone: +1 952 835-1191

address: 4217 W 80th St

A bunch of big screen TVs makes this a good place for visiting sports fans to catch their hometown team's game or "the big game". Decent bar food, trivia and video games round out the experience.

phone: +1 952 746-3663

address: 517 W 98th St

A Bloomington favorite.

Osaka

phone: +1 952 884-3633

address: 2631 Southtown Dr

Minnesota's premier Japanese steak house.

address: 8400 Normandale Lake Boulevard

A contemporary American Restaurant in West Bloomington near Normandale Lake (so you can walk off the great meal you just ate!) Kincaids offers upscale dining in an elegant atmosphere. Perfect for a night out on the town without going into Downtown! This restaurant has long been a Bloomington staple for prom kids and adults alike looking for a special night out. Kincaids has great food, good portions and an extensive wine list.

phone: +1 952 881-7223

address: 8512 Pillsbury Avenue South

Bloomington's best kept secret. For those who like restaurants that are off the beaten path, this is your place! Located in an industrial park surrounded by a residential area in Bloomington, this restaurant offers a quirky, family atmosphere. They serve awesome gourmet burgers, onion rings and sandwiches. Has a full bar and great Happy Hours! It doesn't look like much on the outside, but once you get past the exterior and its location, the food is excellent. A great place to hang out with friends.
Mall of America
The Mall of America has several good eating options inside from fast food to upscale restaurants.
Sleep
Try the new Water Park of America looked adjacent to the Mall of America. Hotel features indoor water slides soaring 90 feet above the Twin Cities' skyline.

Cambria Suites Hotel Bloomington

phone: +1 952 854-0300

address: 2870 Metro Dr

phone: +1 952 854-3400

address: 1321 E 78th St

Country Inn & Suites By Carlson Bloomington West

phone: +1 952 831-9595

address: 5120 W American Blvd

Charming country style décor.

Crowne Plaza Minneapolis Bloomington

phone: +1 952 831-8000

address: 5401 Green Valley Dr

Hotel near the Twin Cities.

Embassy Suites Hotel Bloomington

phone: +1 952 884-4811

address: 2800 W American Blvd

Embassy Suites Hotel Minneapolis-Airport

phone: +1 952 854-1000

address: 7901 34th Ave S

phone: +1 952 835-6643

address: 4201 W American Blvd

phone: +1 812-331-1335

address: 245 N College Ave

Hilton Minneapolis/Bloomington

phone: +1 952 893-9500

address: 3900 W American Blvd

Extensive nearby shopping and dining at the Mall of America or Southdale Center as well as quick, convenient access to the Twin Cities business community. Bloomington ChopHouse Restaurant and the Olive Lounge on premises.

Holiday Inn Express Hotel & Suites

phone: +1 952 854-1687

address: 1601 E American Blvd

Directly across from the indoor Water Park. Free 24-hour shuttle to and from the airport and the Mall of America. Indoor pool and spa, fitness room, free wifi, business center, free hot breakfast, free parking.

Homewood Suites by Hilton Minneapolis-Mall Of America

phone: +1 952 854-0900

address: 2261 Killebrew Dr

Across the street from the Mall of America.

phone: +1 952 893-9999

address: 7770 Johnson Ave S

Complimentary wireless high speed internet access, a European style bistro & espresso bar, on site fitness center, heated indoor pool, and business center.

phone: +1 952 854-5558

address: 814 E American Blvd
Go next