Blue Lagoon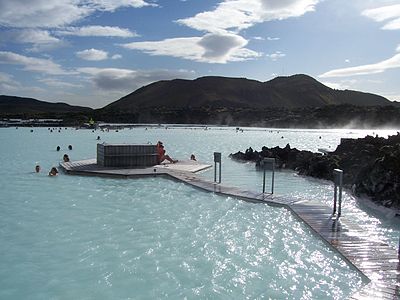 Blue Lagoon
(
Icelandic
:
Bláa Lónið
) (BLAU-ah LONE-eeth) is a geothermal spa in
southwest Iceland
, that is almost mid-way between Keflavik Airport and
Reykjavík
, close to the town of Grindavik.
Entry
starts at 6,990
kr
per person (Aug 2019) and rises rapidly from there. This is a very popular tourist destination, attended by over 80% of tourists (around 1.3 million in 2017).
It is a byproduct of the nearby Svartsengi geothermal power plant. The warm waters are rich in minerals like silica and sulfur and bathing in the Blue Lagoon is reputed to help many people suffering from skin diseases such as psoriasis. The water temperature in the bathing and swimming area of the lagoon averages 37-39 °C (99-102 °F) and is enjoyable year round, even in freezing conditions.
Understand
The Blue Lagoon is an artificial hot spring. The nearby geothermal plant operates by exposing water to superheated geothermal vents, converting the water to steam. Once the steam condenses back into water, it is fed into the Blue Lagoon. In this sense, the Blue Lagoon is a hot spring, but no pool existed here prior to construction of the geothermal power plant.
The setting is impressive and the baths are almost unique in the world (their closest counterparts are the Nature Baths in
Mývatn
,
North Iceland
). However, they are also slightly overpriced and overcrowded, as is to be expected of a place so popular.
Practical considerations
You receive a bracelet with a chip at the reception which you use to lock your locker and to pay for drinks during the stay.
Adhere to the signs:
You have to leave your shoes shortly after entering.
You have to shower fully naked before you enter the water.
If you go to your locker again, you have to be dry immediately after the shower area. Be sure to take a dry towel to the cubbies so that you can dry yourself without going to the locker while being wet.
Towels are included in the entrance price. And new dry towels are provided to the guests throughout the stay.
Phone number: +354 420 8800
Get in
There are two options to enter the Blue Lagoon. The Comfort package, which is 6,990 kr (Aug 2019), gives you entrance to the Blue Lagoon, a silica mud mask, use of towel, and a drink of your choice. The Premium package gives bathers these amenities and a second mask of choice, slippers, use of bathrobe, a table reservation at the Lava Restaurant, and sparkling wine if dining. The Retreat Spa option (from 79,000 kr) offers 4-hour exclusive entry to the Retreat Spa and the Blue Lagoon, and includes access to private changing rooms, the Blue Lagoon ritual (silica, algae, and minerals), skin care amenities, and a drink of your choice.
Opening hours:
1 Jan - 24 May 08:00 - 22:00
25 May - 28 Jun 07:00 - 23:00
29 Jun - 19 Aug 07:00 - 00:00
20 Aug - 1 Oct 08:00 - 22:00
2 Oct - 31 Dec 08:00 - 21:00
By car
It takes approximately 20 minutes to drive from Keflavik International Airport to the Blue Lagoon and 45 minutes to drive from downtown
Reykjavík
to the Blue Lagoon. There is lots of free car parking.
Take Reykjanesbraut and turn at the sign pointing to Grindavík (road nr. 43, 10 km east of Keflavík).
By bus
There is a scheduled service from the main
BSI
bus terminal in downtown Reykjavík, and a cheaper bus service that includes hotel pickup and Blue Lagoon entrance fee (
Netbus
).
It is possible to take a bus from Keflavík International Airport and stop in the Blue Lagoon on the way to Reykjavík, with a bath included in the price. If you're arriving on your own by public transport, take the buses to Grindavík from Keflavík or Reykjavík.
By tour
There are lots of tour companies offering all inclusive package deals.
Reykjavík Excursions
and
Iceland Excursions
run all inclusive trips from Reykjavík. There are tickets available that make it possible to call in en route between Keflavík Airport and Reykjavík, or vice versa.
By taxi
Many taxi companies offer trips to the Blue Lagoon, with the taxi waiting while the visitor enjoys the Blue Lagoon and its surroundings. This option can be extremely expensive.
Do
Swim in the lagoon.
Put the silica mud all over your body.
Relax and float in the mineral waters.
Get up close to the wooden boxes as these are the vents where the hot water arrive, and thus are the warmest parts of the pool.
Tuck yourself away in one of the caves, slip under the waterfall or enjoy the busy steam baths.
A great tourist snap is to drink a 'Krap' slushy, especially in freezing conditions!
Buy
Blue Lagoon has its own skin care products, which are very expensive.
There is also a gift shop (also down town and at the international airport in the duty-free section).

Eat

There is a cafeteria and the Lava Restaurant; both are very expensive. Lava books up early, so make reservations ahead of time, especially if visiting around lunch or dinner time, if you wish to visit.
The cafeteria has snacks, sandwiches, and coffee, but they are expensive and poor quality.
Food brought in from outside is forbidden in the Blue Lagoon.

Drink
There are water fountains in various locations to keep you from dehydrating.
The cafeteria has a selection of drinks.

Sleep
The Blue Lagoon ClinicAccommodation for both treatment and non-treatment guests.

The Northern Lights InnIt offers guests free transfers to and from the Blue Lagoon and Keflavík Airport, and has a good restaurant.
Accommodation can also be found in the nearby town of Grindavík.
Go next
Other geothermal spas in iceland, all of which are less expensive and less crowded than the Blue Lagoon, include: