Blue Spring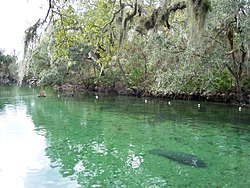 Blue Spring
is a state park that is west of
Orange City
, in
Central Florida
.
Understand
The park is open from 8AM until sundown, 365 days a year.
The park frequently reaches capacity during the week and on the weekends, during the winter and summer months. To avoid waiting, visit the park early.

History
The largest spring on the St. Johns River, Blue Spring is a designated Manatee Refuge and the winter home (mid-November through March) to a growing population of West Indian Manatees.
For centuries, the spring area was home for Native Americans. In 1766 it was visited by Colonial American botanist John Bartram, and was settled by Louis Thursby and his family in 1856. The Thursby house, built in 1872, remains standing. The spring's crystal clear, 73 degree water can be enjoyed by swimmers, snorkelers, and certified scuba divers with a partner. Canoes and kayaks can navigate the outlet's swift-flowing waters when manatees are not present.

Landscape
Flora and fauna
Typical for central Florida. A combination of pines, palmetto scrub, some hardwoods (especially along outlet and spring). A variety of birds (incl. endangered Scrub Jay), squirrels, fish live here. Manatees come in the winter.

Climate
Get in
Take US-17 from Deland or Sanford to Orange City, look for French Avenue and signs to Blue Spring State Park. There is a street called Blue Springs Avenue, but this doesn't lead to the spring.

Fees and permits
Admission (Feb 2018):
$6 for 2-8 people in a vehicle.
$4 for a single-occupant vehicle.
$2 for pedestrians, bicyclists, extra passengers, passengers in vehicle with holder of Annual Individual Entrance Pass.
Get around
The park is small and has several short walking trails and a boardwalk overlooking the spring and outlet.

See
The spring is pretty, and can be viewed from a boardwalk.

Do
St. Johns River Cruises

phone: +1 386 917-0724

River boat tours.
Canoe rentals are available through the park.
Buy
There is a small gift shop with manatee-themed items and snacks.

Sleep
Lodging
Various motels are available along US-17 in the Deland, Sanford areas.
Camping
Air-conditioned cabins, a full-facility campground, and primitive campsites are available in the State Park.
Camping (Feb 2018): $24 per night, plus tax, plus a non-refundable $6.70 reservation fee. Includes water and electricity.
Cabins (Feb 2018): $95 per night, plus tax, plus a non-refundable $6.70 reservation fee.
For campers who plan to arrive after sunset, call the park on the day of arrival at +1 386 775-3663 to get the gate combination and instructions.
Stay safe
Yes, manatees show up during winter. No, you may not touch, feed or ride on a manatee. They are an endangered species, so messing with them is illegal.

Go next