Bluefield (West Virginia)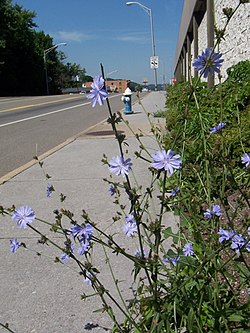 Bluefield
is a city of 11,451 people (as of 2000) in Mercer County,
West Virginia
. Along with
Bluefield, Virginia
, it forms the micropolitan area of
the Bluefields
.
Nestled at the foot of the 3,400-foot East River Mountain, Bluefield is the most elevated town in West Virginia, at 2,655 feet above sea level. The town is sometimes called "Summit City", because of its high altitude, and "Nature's Air-Conditioned City" for its pleasant summer temperatures. Since 1941, the Chamber of Commerce's "Lemonade Lassies" have passed out free lemonade on days when the temperature exceeds . The airport thermometer is used to determine this, which is at the highest point in Bluefield. It can often exceed 90° in downtown Bluefield during the summer.
The area was first settled in the 1780s and incorporated in 1889. Named for the blue chicory fields in the area, Bluefield was a booming Norfolk and Western Railroad hub for the coal industry until the decline of coal in the 1960s. Today the city has an air of faded 1950s glory; some of the lovely homes have seen better days, the downtown is largely deserted, and passenger railways have given way to freight cars. Happily, the city is beginning to embark on an aggressive revitalization scheme, by restoring old buildings, attracting specialty shops and restaurants back to downtown, and focusing on tourism as a promising source of revenue. The town still retains its small-town Appalachian charm, with friendly people, beautiful scenery, and very low housing costs.
One of the best-known local residents is John Forbes Nash, winner of the 1994 Nobel Prize in economics and the subject of the 2001 film
A Beautiful Mind
. The town has yet to capitalize on this connection, however, so if you're a big fan of the man or the movie, you won't find a lot of related activities or sights in the area. Nash's boyhood home is undergoing renovation, and will likely be a listed historic site in the near future.
Get in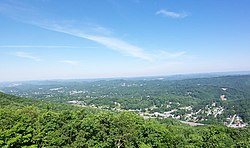 By car
Bluefield is located just off
I-77
, between
Beckley
in the north and
Wytheville, Virginia
in the south. Most people will use exit 1, although if you're travelling south to Bluefield, you may see a sign recommending that you get off at exit 9; this, however, is only a needless detour through
Princeton
. At Bluefield, I-77 becomes the West Virginia Turnpike; if you continue north from Bluefield, you'll encounter toll booths.
The other main roads that pass through the town are
US-19
, from
Abingdon, Virginia
in the southwest to
Beckley
in the north;
US-52
, from
Williamson
in the northwest to
Wytheville, Virginia
in the south; and
US-460
, from
Grundy, Virginia
in the west to
Blacksburg, Virginia
in the east.
By bus
Greyhound Bus Lines, 511 Commerce St, +1 304 325-9442.
By plane
Mercer County Airport, +1 304 327-5308 or +1-800-523-3273, 6 miles (10 km) from Bluefield.
Get around
Bring your car! The area is rather mountainous, so if you stray from the main highways, you'll probably end up in some hilly terrain. It can be treacherous, especially in winter; but the upside, of course, is that the scenery is often spectacular.
There are also several streets in town that are very steep (Jefferson and S Mercer being good examples); traversing them in warm weather is nail-biting enough, but when the streets are covered with snow or ice, you definitely don't want to attempt it without four-wheel drive.
Bluefield Area Transit, 1642 Bluefield Ave, +1 304 327-8418 or +1-866-759-0978. Buses run Monday through Friday, with limited weekend service to Athens; closed on holidays. Services Mercer and McDowell Counties with routes into Bluefield, Princeton and Welch. Fares $1–2, or $20–25 for a monthly pass.
See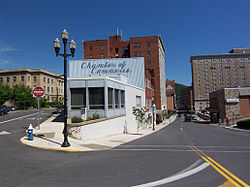 Downtown Bluefield, with its architecture dating from the 1920s. There are self-guided walking tours available.
First Fridays, Chicory Square. Live entertainment and food on the first Friday of each month.
Bluefield Area Arts Center

phone: +1 304 325-8000

address: 500 Bland St

Housed in the historic Old City Hall, the Arts Center features an art gallery with rotating monthly exhibits, a top-floor artists' studio featuring local artisans, the Summit Theatre and a restaurant. The Mercer County Convention and Visitors' Bureau is also in the building.
Summit Players, 500 Bland St, +1 304 325-8000. Performs four plays per year. $25 for dinner theatre, $12 for matinees.
phone: +1 304 324-1326

address: 2003 Stadium Dr

A minor-league affiliate of the Toronto Blue Jays, and part of the Appalachian League. Cal Ripken, Jr. played for the team in 1978 when it was a Baltimore Orioles affiliate and known as the Bluefield Orioles. Home games are played at Bowen Field, first built in 1939 and then rebuilt after only the stadium offices survived a 1973 fire. Even though the ballpark is in the city park of the West Virginia city, it lies entirely in Virginia.
The East River Mountain Overlook, at the top of the mountain along Route 598 (off Route 460), +1 304 327-2401. Gives visitors a 3,500-foot-high view of the Bluefields and East River Mountain. Observation deck, hiking trails, picnic shelters, tables and grills.
The National Coal Heritage Area encompasses 11 counties in southern West Virginia, and aims to preserve, protect, and interpret lands, structures, and communities associated with the coal mining heritage of the state. Bluefield is the southern terminus of the Coal Heritage Trail, a 97-mile scenic drive that passes mine-owners' mansions, miners' homes, company stores, coal tipples and state parks, before ending at the Exhibition Coal Mine in Beckley.
Eastern Regional Coal Archives

phone: +1 304 325-3943

address: 600 Commerce St

Open Monday through Friday afternoons; closed holidays. If you're interested in the coal-mining heritage of the area, this public history research center, housed in the Craft Memorial Library, highlights the history of West Virginia coal fields. Along with research material, the center houses exhibits, photographs, mining implements, memorabilia, music and films.
Do
Cinemas 8, Mercer Mall, +1 304 325-2169. An eight-screen movie theatre near the mall.

phone: +1 304 325-7037

address: 3224 Cumberland Rd

A 28-lane bowling center with snack bar, billiard tables, nursery, pro shop, game room and Keno.

Elks Golf Course

phone: +1 304 327-9822

address: 1501 Whitethorn St

If you just want a relaxing family afternoon by a gentle stream, haul your picnic basket out to the Bluefield City Park, 1750 Stadium Dr, +1 304 327-2448. Picnic area with 4 pavilions, grills, playground, softball fields, football stadium, youth center with recreational equipment, tennis courts and gymnasium with indoor goals.
There is one fitness center in town:
Greater Bluefield Community Center, 703 College Ave, +1 304 325-5707. Swimming pool, basketball, racquetball, gymnastics, aerobics, swimming and lifesaving classes, weight room and Nautilus. Day passes $6.
Events
Bluefield holds several
festivals
during the year:
Mountain Festival, Bluefield City Park. For a week around Memorial Day Weekend, the festival features live entertainment, dancing to oldies and beach music, a carnival, fireworks, sporting events, contests, an antique car show and the Miss Mountain Festival Pageant.
Lemonade Days Festival, +1 304 327-7184. Celebrated in early August. Free lemonade even if the temperature isn't above 90 °F, along with sales in downtown shops, entertainment, vendors, an auction, the Downhill Derby and a parade.
Bluefield Coal Show, Brushfork Armory Civic Center, Route 52 N. For three days every other September, this professional show displays what the future holds in the way of equipment and any new innovative technology being developed in the coal industry.

phone: +1 304 589-3317

Held in early October. Friday night includes Italian dinner (spaghetti, lasagna, chicken cacciatore, salad and dessert) and dancing; Saturday features Italian food, homemade desserts, artisans and vendors, fashion show, and live entertainment. Admission free.
Holiday of Lights Festival, Bluefield City Park. Held yearly from Thanksgiving through the first full week in January. Open 6PM-10PM weekdays, 6PM-11PM weekends. Admission is free but donations are gratefully accepted. The city park is festooned with Christmas lights, displays and scenes, which can be viewed from the warmth of your car as you drive along the marked trail.
Learn
The city newspaper is the
Bluefield Daily Telegraph
.
Bluefield High School, 535 W Cumberland Rd, +1 304 325-9116. Home of the Bluefield Beavers.

address: 219 Rock St

+1 304 327-4000 or +1-800-344-8892 or +1-800-654-7798. A four-year historically black college located on the north side of town, first established as a teachers' college in 1895 and integrated in 1954. Bluefield State specializes in career and technical two- and four-year programs, enhanced by a selection of liberal arts courses.
Buy
phone: +1 304 327-2508

address: Highway 460 and Route 25

Over 70 shops and restaurants, and an on-site movie theatre.

Coal City Gift Shop

phone: +1 304 325-7945

address: 848 Bland St

Local souvenirs and unique gifts from West Virginia.

New to You Consignment Shop

phone: +1 304 325-3480

address: 1116 Bluefield Ave

Local landmark offering a wide selection of clothing, jewelry, books, and small appliances. Closed Sunday.

Prowl Around

phone: +1 304 325-9855

address: 1715 Bluefield Ave

Antique books, pictures and glassware.

Town and Tweed

phone: +1 304 327-8197

address: 2924 E Cumberland Rd

A favorite local store for years, selling high-quality women's apparel.
Eat
Bluefield isn't quite a mecca of cuisine these days; if you like fast food, you're in luck, but otherwise there aren't a whole lot of options.
phone: +1 304 323-1605

address: 616 Federal St

Wide variety of breads, cookies, cakes and more, including the hottest cinnamon rolls you're ever likely to taste; be sure to ask the owner about the health benefits of his baked goods.

David's at the Club

phone: +1 304 327-9822 (extension 222 or 224)

address: 1501 Whitethorn St

Located at the old Country Club, now the Elks Lodge.

Golden Oldies Cafe

phone: +1 304 323-2043

address: 1125 Bluefield Ave

Los 3 Amigos

phone: +1 304 325-8989

address: 3200 E Cumberland Rd

Open daily. Traditional Mexican cuisine.

Main Street Cafe

phone: +1 304 323-3030

address: 411 Federal St

A casual cafe serving wholesome homemade meals.
Tudor's Biscuit World, Route 52, +1 304 589-3383.
Valley Country Restaurant, Bluefield Princeton Rd, +1 304 325-8556. Open all day. Homestyle country cooking.

The Railyard

phone: +1 304-800-4141

Great restaurant/bar in the heart of downtown Bluefield. Live music on the weekends
Drink
Annie's Sports Pub

phone: +1 304 324-3900

address: 2501 Bluefield Ave

Bluefield News and Brew

phone: +1 304 325-6397

address: 413 Federal St

A tea- and coffeehouse also serving baked goods, soups, salads, sandwiches and wraps. Try their hot dogs (on toasted buns), the award-winning homemade chili, the Asian chicken roll-up and the egg salad BLT. 2 varieties of coffee available daily, along with green and Tazo teas, chai, frappes and hot chocolate. $3-4.

The Bar in Bluefield, Inc.

phone: +1 304 324-8770

address: 1600 Jefferson St

Hampton's

phone: +1 304 324-0001

address: 1508 Jefferson St

Kelsey's Dance Club at the Bluefield Holiday Hotel and Conference Center, Route 460, +1 304 325-6170. Open 11AM-2AM. Pub food, drinks and a large dance floor.
Sleep
Hotels
phone: +1 304 327-8171

address: 3400 Cumberland Rd

Complimentary continental breakfast. Rooms from $48.

Economy Inn

phone: +1 304 325-9111

address: 3206 E Cumberland Rd

Quality Hotel and Conference Center

phone: +1 304 325-6170

address: 3350 Big Laurel Hwy

120 rooms. Full-service dining room, cocktail lounge, fitness center, sauna, game room, and seasonal heated outdoor pool. Rooms from $90.
Bed and Breakfasts
Country Chalet Bed and Breakfast

phone: +1 304 487-2120

address: New Hope Rd

3 rooms. A rustic house in an acre of woods, with a wood-burning fireplace, outdoor deck, free wireless DSL service. Spa weekend packages and romance packages available. $75-85 plus tax.

Dian-Lee House Bed & Breakfast

phone: +1 304 327-6370

address: 2109 Jefferson St

Victorian-style furnishings, restored oversize tubs, Austrian crystal chandeliers and a wraparound verandah. Full gourmet breakfast served. 3-diamond AAA rating. $70 and up.
Go next