Bluegrass Region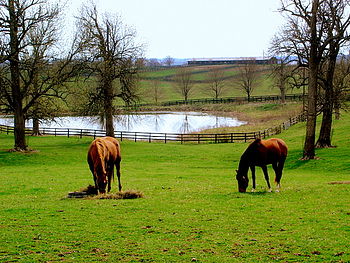 The
Bluegrass Region
is perhaps
Kentucky
's most famous region, if not its most visited. This bucolic region is named for the coveted grass that suburban homeowners slave to get to grow on their lawns throughout the country. Though native to
Eurasia
, Kentucky bluegrass has become associated with the state, and it helps sustain the major local industry—Kentucky horse farms.
Cities
— Kentucky's small state capital
— known for its arts and crafts scene, and home to Berea College
— Horse Capital of the World
— home of Eastern Kentucky University
Other destinations
Shaker Village of Pleasant Hill
Get in
By plane
Visitors have the option of flying directly into the smaller
Blue Grass Airport
(
LEX
) , in Lexington, or flying into larger airports further away. Louisville International Airport (SDF) and Cincinnati/Northern Kentucky International Airport (CVG) are both about 1.5 hours away from Lexington, but are served by more airlines than Blue Grass Airport.

By car

Travellers can access the Bluegrass Region via one of the two major interstates that arc around the northern and eastern borders of the city. I-64 runs from east to west, connecting Lexington with the largest city in Kentucky, Louisville, to the west. I-75 runs north-south, connecting Lexington with Cincinnati and Knoxville respectively. These interstates intersect just north of Lexington.

By train

There are no passenger rail lines in the Bluegrass Region. Amtrak has routes that serve Eastern, Western, and Northern Kentucky as well as Cincinnati, and has bus service from Chicago to Loiusville.

By bus

Long-distance bus company Greyhound serves both Lexington and Frankfort.

Lexington Station, 477 W New Circle Rd NW, Lexington, KY 40511, +1 800 231-2222.
Frankfort Bus Stop, 301 Leonardwood DR, Frankfort, KY 40601, +1 800 231-2222.
Get around
A car is a necessity to get around the area. The Bluegrass region is a large area, with public transportation only existing in the largest towns in the region, and even then limited to busses and by-appointment-only taxis.

See
phone: +1 606 355-2881

address: 625 William Whitley Rd. Stanford, KY 40484

The William Whitley House is one of the first brick homes west of the Allegheny Mountains and is the site of the first circular racetrack in Kentucky. It was completed in 1794 by William Whitley and his wife Esther
Itineraries
Old Kentucky
Drive to Harrodsburg and Danville, 32 miles southwest of Lexington, to see some of the oldest buildings in the State. Take Versailles Road, out of Lexington, then take the Bluegrass Parkway to US-127, to Harrodsburg. This path will take you by the
Castle on Versailles Road
, and through Central Kentucky's scenic farmland.
Harrodsburg is Kentucky's oldest city and contains a reconstruction of Fort Harrod, the first permanent settlement in the state of Kentucky. Re-enactors are present on a seasonal basis.
Just outside of Harrodsburg, Shaker Village of Pleasant Hill is America's largest restored Shaker community, with 34 carefully restored buildings and 3,000 acres of preserved farmland. Shaker Village features a restaurant and lodging onsite, guided tours, and seasonal activities and re-enactors.
About 20 minutes from Harrodsburg, Danville's Constitution Square contains recreations of buildings from the 1700s and was the site where Kentucky's first Constitution was signed. The buildings are open year round for self-guided viewing, and guided tours are available by appointment.
From Danville, Lexington Road will connect you with US-27, which will return you to Lexington.
Do
Outdoors
address: 2991 Polly's Bend Road, Lancaster, KY, 40444

A 300 acre nature preserve located 15 miles south of Lexington. This property features 5 miles of hiking trails located within the Kentucky River Palisades, a deep gorge cut by the river.
Visit small towns
The Bluegrass Region is home to many small towns, each with their own reason to visit.
Danville, 35 miles southwest of Lexington, is the "City of Firsts", and the "Birthplace of the Bluegrass" since the first Constitutional Convention in the West was held at Constitution Square in 1792 and Kentucky's first Constitution was signed there.
Frankfort, Kentucky's capital city, is 25 miles northwest of Lexington.
Midway is a quaint and colorful railroad town halfway between Lexington and Frankfort; stop for a bite to eat and explore the antique and boutique shops downtown.
Harrodsburg, 32 miles southwest of Lexington, is Kentucky's oldest city.
Shaker Village of Pleasant Hill, 30 miles southwest of Lexington, is America's largest restored Shaker community, with 34 carefully restored buildings and 3,000 acres of preserved farmland.
Eat
Kentucky cuisine to look for includes the Hot Brown, an open-faced sandwich of turkey, bacon, and cheese sauce; burgoo, a traditional game stew with as many variations as there are people who make it; beer cheese, a spicy spread of cheddar cheese and beer; benedictine spread made from cucumber and cream cheese; and bourbon balls, a chocolate and bourbon truffle with pecans.
Note that smoking is banned in restaurants, bars, and many public buildings.
In town
Lexington
is home to an astonishing number of independently owned restaurants at all price levels. The city's college town atmosphere and affluent lifestyle contribute to this relatively small metropolitan area's great culinary offerings. Chain restaurants, typical in most American cities and towns, can be found here, as well as a great number of privately owned and operated establishments. Lexington has an amazing variety of regional and ethnic foods. Almost any taste can be fulfilled, from Home Cookin' to Fine Dining and from Cajun to Vietnamese.
Frankfort
has a wide variety of restaurants to choose from while visiting.
Small stops in the country
address: 3854 Old Frankfort Pike, Versailles, KY 40383

Wallace Station is a hidden local favorite, known for huge, delicious sandwiches and wonderful desserts. A small place with a real country feel.

address: 1250 Athens-Boonesboro Rd, Winchester

Although it's well outside Lexington (it's halfway to Richmond), the easy scenic drive down KY-418 and location on the Kentucky River make it worthwhile. Try their famous beer cheese for an appetizer, and enjoy their excellent seafood selection, or play it safe with the very large "Kentucke River" Hot Brown.

The Inn at Shaker Village at Pleasant Hill

address: 3501 Lexington Road, Harrodsburg, Kentucky 40330

A mix of traditional southern and continental foods, served at breakfast, lunch, and dinner. Call ahead to ensure available seating.
Drink
In town
Lexington is a large college town, so there are many
bars and nightclubs
catering to all crowds.
Frankfort
and
Richmond
have their own smaller bar scenes.
The Bourbon Trail
Bourbon distilleries
are plentiful in the area, due to the particular geology of the region that make this distinctively Kentuckian liquor possible. Many distilleries operate tours where you can learn about the processes of mashing, distilling, and aging, and often sample the product. Traveling between the distilleries is called "Taking the
Bourbon Trail
." Souvenir T-Shirts and Bourbon Trail "passports" are available. Each distillery has their own souvenirs available for purchase, ranging from shot glasses to
Bourbon Balls
.
Five distilleries are within 30 miles of Lexington.
A little farther afield:
address: 3350 Burk Spring Rd, Loretto
Aside from the usual distillery tour perks, Maker's Mark offers a unique souvenir: you can purchase a small bottle of bourbon and dip it yourself in their signature red sealing wax (must be 21 or older). The drive out to Loretto is also very scenic.
Breweries
In addition to the Bourbon Trail, Lexington has two Breweries. Alltech's Lexington Brewery and Distilling Company, previously mentioned, and
address: 501 West 6th Street, Lexington
No tours are given at West Sixth, but they have a large tasting room onsite.
Wineries
Many Kentucky Wineries produce award winning wine. The winery business is growing, with several new vineyards starting up in the Bluegrass Region.
phone: +1 859 846-9463

address: 1280 Moores Mill Road, Midway, KY 40347

Equus Run wine has won many major awards. The vineyard features weekly events, with music and picnics in the summer. The drive is scenic.

phone: +1 859 971-3214

address: 7086 Tates Creek Road, Lexington, KY 40515

Music and events weekly. The drive is scenic, through Kentucky's farmland.
Go next
Daniel Boone Country, The region directly to the east and south, has some of the most beautiful scenery and breathtaking rock formations in the state. Kentuckians visit the area during all seasons to enjoy camping, rock climbing, hiking, and watersports.
Kentucky Derby Region, the region to west features the cities of Louisville and Bardstown
Southern Lakes, the region to the south has many recreational lakes including Lake Cumberland. One of the largest man made lakes east of the Mississippi River.