Blythe
Blythe
is a city in
Riverside County
in the
Desert
region of
California
.
Get in
By car
Blythe is the center of the southwest desert. From here, you can travel north for 4 hours to
Las Vegas
, west 2 hours to
Palm Springs
(4 to
Los Angeles
), south 2 hours to the
Imperial Valley
or
Yuma
(or 4 to
San Diego
) and 2 hours east to
Phoenix
.
Interstate 10 (I-10) passes through Blythe in an east/west direction. It is the main stopping area when traveling from Phoenix through to any major city in California. When heading west on I-10, you will pass directly over the Colorado River. Be prepared to stop and possibly have your vehicle inspected by the State of California Department of Agriculture as you enter the state. California is one of the few states in the United States that has natural barriers against "outside" contamination (i.e. fruit-fly, fire-ants, etc.) that could potentially harm California's delicate environment, and the Blythe inspection station is the first and best at stopping them.
Highway 95 is locally called "the California side" because the south-bound lanes travel through
Arizona
. California-95 starts at I-10 and heads north to Needles and I-40 (approximately a 2-hour drive),
Laughlin
(2 and 1/2 hr. drive), and Las Vegas (approximately a 4-hour drive). This road is very windy, curvy, and hilly! It is only a 2-lane highway.
Highway 78 starts on I-10 and travels south. Careful: this road is windy, curvy, hilly and is only a 2-lane highway. During your drive, you will run into the world-famous Glamis (approx 1 hr south of Blythe). 78 will take you to the Imperial Valley (including
Brawley
,
El Centro
,
Imperial
and
Calexico
).
By bus
phone: +1 760-922-5401

address: (bus stop) 400 Lovekin Blvd

Greyhound buses stop day and night. Since Blythe is the only stopping point between Phoenix and Indio/Palm Springs, most travelers are relieved to stop and stretch. Greyhound will take passengers to the local McDonald's (which is usually open 24 hrs). There is no open office for any ticket-purchase, and so you will need to buy one from the driver. Just ensure the bus you're boarding is headed in the right direction as they travel all over the southwest.
Get around
While in town there are a couple of ways to get around: the (only) Blythe Cab or the Desert Roadrunner. Both of these companies are very dependable and are readily available.

See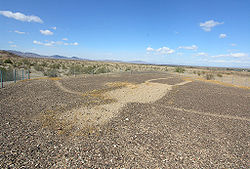 phone: +1 928-317-3200

A Native American land-preservation area just north of Blythe on Hwy 95, managed by the Bureau of Land Management. These large images were drawn/carved/something into the ground (what is believed to be) thousands of years ago by natives. Their true meaning has never been discovered, yet they have been compared in importance, age, and curiosity with the Inca Lines in Peru. These intaglios are said to point to the north-west of California. Some speculate the drawings point to the San Francisco area, where the great Gold-Rush occurred. Some speculate the drawings are a signal to the "unknown" in space. Some consider this place as spiritual and religious areas. The intaglios themselves have been fenced to help preserve their lines (as they have been marred by unknowing, off-road enthusiasts). When visiting the area, remember to wear a hat and bring lots of drinking water! Also, this area of the mountains has little to no cell-phone reception.
Do
The locals like to cool down along the shores of the Colorado River. Bring a personal-water craft (which can be rented at of the river-front stores) to ride, or just head down to a river-park to swim and relax in the shade. The off-roading is also very entertaining, with a strip of pristine sand called "7-mile dune" just 11 miles west of town. There, all 4x4's (including sand-rails, quads, buggies & dirt-bikes) can range in fun from following simple trails to challenging extreme sand dunes.

Buy
There isn't much to buy in Blythe. The small-town mentality has kept most major stores away from this town and shopping has suffered the consequences. It's alright though, keep heading west towards the Indio/Palm Springs area (it's only 108 miles)

Eat
Dining has a wide variety of food. As this town is located 108 miles from the nearest mall, the locals have become accustomed to local-made foods. If you're looking for the same-ol' usual stuff (McDonald's, Jack-In-The-Box, Carl's, etc.) try Lovekin Blvd. You can't miss it with all of the advertising signs.
La Casita Dos

phone: +1 760-922-6805

address: 830 W Rice St

A great little Mexican-restaurant.

Rosita's

phone: +1 760-922-4090

address: 611 W Hobsonway

Family owned and operated for generations.

Wang's Palace

phone: +1 760-922-7755

address: 719 West Hobsonway

Chinese cuisine.

China Garden Restaurant

phone: +1 760-922-0088

address: 933 East Hobsonway

Delivery available, free within a 3-mile radius.
Sleep
Blythe has over 1,200 hotel & motel rooms. Almost all of the hotels can be seen from I-10, as they all have sky-sign displays. Some of the common companies are:
Go next