Bobo-Dioulasso
With a population of more than half a million,
Bobo-Dioulasso
is the second largest city in Burkina Faso.
Understand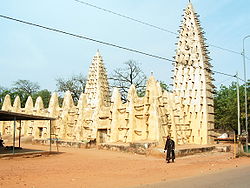 Somebody once said that "Bobos," or those Burkinabe who have spent a significant amount of time in Bobo, and have adopted some of the "Bobolaise" mannerisms – are the most hospitable Burkinabe, and perhaps one of the most hospitable groups of people, in the world. Strangers are welcome in general, and just about anyone from strangers to neighbors are always invited to drink tea or some bissap and eat food. In every neighbourhood, you will see mini block parties of tea drinkers, old ladies out walking, schoolkids in clumps – to a degree not to be found in many other towns and villages. Bobo is social. That said – some PCVs say that Bobo also holds the highest rate of Faux Types, merchant hawkers, and the like, on the hunt to chat it up, or sell something to a "Tubabu" (that's you, silly). French and Jula are spoken in Bobo, along with Bobo (a dialect) and many other regional dialects. Bobo is often called the commercial capital of Burkina. You can get almost anything that you can get in
Ouaga
(OK – no Jimmy's Bar, or Ice Cream like there is at Chez Simone). In general prices for things are a little cheaper than Ouaga. It is also much more temperate in Bobo (not too hot not too cold) due to lots of greens, trees, etc. in and around the area.
Get in
There are several bus companies with daily services to Bobo-Dioulasso from
Ouagadougou
and other regional cities as well as a few international destinations.
Rahimo
(+226 76643860),
STMB
(+226 50314472),
TCV
(+226 50301303),
SOGEBAF
(+226 50344255),
TSR
(+226 50342524) and
Rakieta
amongst others.
Also, the twice weekly train between
Abidjan
and Ouagadougou makes a stopover here. Although a scenic and rather comfortable ride, the train is slower the bus services and delays are common. , a prominent example of Sudano-Sahelian architecture built during colonial times, is centrally located at Place Tiefo Amoro.
Get around
Taxis during daylight hours should charge XOF200 – no more, unless you are going really, really far when XOF300 should suffice. At night, XOF300 is what you should pay to go anywhere. Wee wee morning hours – prices mount but should NEVER surpass XOF500. If you have heavy travellers' bags or a bike expect to pay another XOF100 or 200. Try never to take a taxi out of a gare – better to walk a block and get someone who won't try to milk you for a tourist.
However, you are at a distinct disadvantage when it comes to negotiation if you are white, and lets be honest – if you can afford to get to Burkina Faso XOF500 is hardly bank breaking!
Do
Cine Sanyon – For movies – off of Ave. de la Republique

See
Centre Culturel Francaise – You can always swing by to see what is going on in terms of exhibits/ art / music – or just sit in their garden to study or read.

Grande MosquéeA fine example of Sahel-style mud architecture, built in 1893.

Place de la Nation Musee Provincial

The Konsa house which is the ritual cente of a senior house of the Zara (or Bobo-Jula) group
A sacred natural pond called Dafra at its southern fringes, which is the source of the We river. The pond is also a site of pilgrimage and the giant catfish living in it are given offerings.
Buy
Marché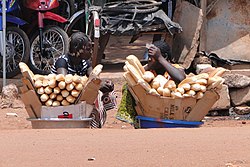 If the Grand Marche is too intimidating or you don't have the time to hassle with it, nearly every neighborhood has a comprehensive marche. Also worth noting is the
Marche de Fruits
– that is on the road that leads to the Airport towards
Banfora
and
Orodara
. (You'll see a sign pointing off to the right that says "MARCHE DE FRUITS" ). Piles of mangoes, oranges, bananas, ignames, and patates live there in season.
Also to note is the
Marina Market
– a very Western style supermarket with lots of Arabic imports, cheeses, chocolate, wine and alcohol. Haggling for prices is not allowed. Cousin to Marina Market is
Cobodim
, which has much the same selection in terms of goods. It is located on the corner to the SouthWest of the Marche. Haggling for prices is not allowed.
Grande MarcheThe enormous central market. It has just about everything you need in it to live in Burkina from cloth to plastic buckets, jewellery and nailpolish remover, to sewing shears and gas lamps and a nice varied selection of veggies and fruits. It's also fun to hang out in the meat stalls if you like to see your cut of fresh meat being chopped right there, and be splattered with bits of gristle and bones (not recommended for the vegetarians). As usual, take particular care of your valuables as pickpockets are always on the lookout for easy targets.
Tailors
Antoine. His shop is in Accartville North. To get there, get a taxi to go just past the bar "Jardin D'Eden" in that neighbourhood and drop you off at the road just after Jardin D'Eden you will see a mini bar called CP1. Walk approximately 2 blocks in on that CP1 road, and on the left hand side is a mango tree surrounded by lots and lots of mud bricks; door to the tailor is by the tree.
Eat
Restaurants
Most larger buvettes have eats in the afternoons and evenings, but here are a few notables from the recommendations and favorites of Bobo Stage Goers:
La Pacha – has pizzas, Middle Eastern food/ French cuisine, and is on the pricey side. It faces the Gare by the Marche de Fruits.
Sidwaya – next to the giant train station "Le Gare" not to be confused with various other bus stations. Sprawling tables set in a garden space – prices are not outrageous and it is mostly general Burkinabe restaurant fare (some salads, brochettes, sandwiches, soups, rice plates, french fries, plantains, and other such side dishes, and a selection of beers, soft drinks, yogurt).
Campagnard – Noted for it's brochettes, also has the best salad in Burkina Faso—piles of grated beets and carrots, avocados, hard-boiled eggs and delicious dressing. Much the same fare as Sidwaya, similar prices, but brochettes are raved about by the meat eaters.
Oscars – ice cream, cold drinks, beers, and has a small selection of Western foods.

La Canne d'OrBurkinabè-inspired French food
Street food and snacks
You can get rice and sauce, achekeh, fish, to and sauce, cokes, fantas, and snacks on almost every corner, but here are some things to watch out for in season:
June/July "chenilles" - fried caterpillars, which are crunchy and eaten like French-fries, or in a baguette for a caterpillar sandwich
November/January "wusu" or white sweet potatoes sold boiled, with salt and piment.
April/November - mangoes.
Imports from Cote D Ivoire (Ivory Coast): "aloco" or fried plantains, coconuts, all bananas.
Drink
There are many. Here are the favorites from the Bobo Stagiares (these are all bars you can dance in):
Entente Plus – 1000cfa cover per person for drinking and dancing inside (drinks not included in that). Music good on a regular basis.
Macoumba – Cover charge 1000cfa per person – about same as above.
Fashion Café – Cover charge seems to be high around 1000 or 1500cfa depending on music or event. (don't know if supermodels or fashion gurus are involved in any way ever)
Jardin D'Eden – Cover charge depends – 300cfa is usually asked... can be avoided if you are sneaky or stubborn. Music deafeningly loud, but not bad – just don't expect to talk.
Oxygene – Expect cover charge of 1000cfa as usual.
Sleep
Hotel Teria

address: Ave Alwata Diawara

All rooms have private bathroom and toilet.

Casa AfricaGreat because it is literally one block from the Bobo Peace Corps Bureau if you like to have a 3 minute commute to work (if you came to Bobo to work that is). PVCs have a 2000cfa a night discount (other prices can be from 3000 to 6000cfa depending on the room). They have passable meals, coffee, bread. The rooms are OK – expect to smell a moldy smell partout. Most all bathrooms and showers are shared.

Hotel AubergeAlso on the cheaper side – 3500cfa for one person ( you get a room usually with two beds ) sharing bathroom and showers etc. Rooms for 10.000cfa available with air conditioning.

Hotel Relax

address: Avenue Alwata Diawara

On the more expensive side beginning around 15,000 – 30,000cfa. It has a pool.

Hotel 421On the more expensive side XOF12,000–17,000, has private BRs. Restaurant downstairs, and a nightclub in the basement.

RAN Hotel Somketa

phone: +226 20970900

address: Avenue de la Nation

A safe hotel but in need of renovation.

Hotel SplendideThe main attraction is the swimming pool. Even if you aren't staying the 1000cfa price is worth it.

Villa Rose

address: sect 4

An extension of the Italian restaurant Da Giovanni, with ventilated or AC rooms, each with a private hot water bathroom, free WiFi, access to a pool and a garden. One of the cleanest and cheapest places around.
Connect
Post Office off the Place de la Nation. Operating hours are from 7:30AM–11:30AM and 3PM–5PM. The stamp-selling ladies are matronly. If you need a package wrapped envelopes or other stationary supplies there is a mini librairie across the street. Attached to the Post office is a cyber cafe (see below).
Internet There are many many, with two being La Grande Poste (XOF600 per hour) and CisPlus (about the same price and facing the Ave. de la Revolution just in front of the Grande Poste).