Boca Raton
Boca Raton
is a city on the east coast of
Florida
about halfway between
West Palm Beach
and
Fort Lauderdale
. The name translates literally as "Rat Mouth", and is believed to derive from a Spanish nautical term for a shallow inlet filled with jagged rocks.
Understand
Boca, as it's known by locals, started growing in earnest in the 1920s, with the help of fanciful nouveau-riche architect Addison Mizner, who also helped design Palm Beach, 30 some miles north. Much of downtown was (and is being) built in "Addison Mizner-style" architecture, using distinctive bright orange and more subdued pinks in its Old Spanish theme with a touch of Venice.
Boca's long history of catering to the well-to-do has given it a snobbish reputation, but looking deeper one can find many terrific features that can be enjoyed on any budget. The city is very safe and enjoys a much higher standard of living than many of its neighbors, giving it a well-manicured appearance with many amenities. Moreover, visitors can appreciate the limited nightlife and great beaches any time of year as the city consistently enjoys comfortable weather.

Get in
By plane
phone: +1 561 391-2202

address: 903 NW 35th St

Boca Raton has a single-runway airport, mainly serving the general aviation community. It has no scheduled airline service. The airport recently opened its Customs & Border Protection facility in May 2018 to process international flights, namely passengers returning from the Bahamas. Two companies offer seasonal charter routes: JetSmarter offers flights to Atlanta and White Plains, while Airstream Jets offers routes to Las Vegas and Toronto. Companies such as Boca Jet Charter and One Sky offer access to planes based at BCT, ranging from economical single & twin engine aircraft to luxury Gulfstream and business jets. Commercial passengers will have to arrive via one of South Florida's three main airports:
By car
Interstate 95 - five exits to Boca Raton are Palmetto Park Road, Glades Road, Spanish River Blvd, Yamato Road and Congress Avenue.
Florida's Turnpike - toll road with lighter traffic and an exit at Glades Road.
US 1 - goes through Boca in N-S direction, connecting it to other towns along the coast.
A1A - also goes through Boca and other coastal towns, in a scenic route along the ocean.
By bus
Palm Tran, Phone number: +1 561-841-4BUS (4287). Palm Beach County's public bus system runs between Palm Beach gardens and the Camino Real Transit center. Route 1 runs between Palm beach Gardens and the Boca Raton Transit center via West Palm Beach.
By rail
phone: +1 877-632-3788

address: 1300 W. Hillsboro Blvd.

Deerfield Beach.
TriRail (Stations at Hillsboro Blvd., Deerfield Beach and Yamato Road, Boca Raton) goes to Miami, Fort Lauderdale, and West Palm Beach Airports. The TriRail station in Boca Raton is at 680 Yamato Road next to I-95. You can catch the local Palm Tran bus 94 to go downtown. If you need to go to a hotel on the beachfront, you will need to change to the 92 bus at the Camio Real transit station next to South Federal Highway.
By boat
With your own boat, you can get to Boca Raton from the Atlantic Ocean on these routes:
Via Port Everglades in Fort Lauderdale. This is a port of entry for cruise ships and other commercial vessels.
Via Boca Raton Inlet. Vessels can enter Boca Raton through its inlet that connects the Atlantic Ocean to the IntraCoastal Waterway (ICW). Local knowledge is required, as shoaling outside the inlet can limit access at low tide and swift moving currents cause pretty decent swells where the outflow meets the ocean.
Via Hillsboro Inlet, south of Boca Raton, between the communities of Hillsboro Beach and Pompano Beach. This inlet was much improved recently by widening the channel outside the jetties. The widening was extensive, and allows safer approaches into the inlet from more bearings. The inlet is well marked, and has a dredge on site actively keeping the channel clear by dredging the sand that drifts into all East Coast inlets from the North. Local knowledge is suggested, as there are reefs to the south and jetties and lots of boat traffic.
Via the IntraCoastal Waterway (ICW), which stretches along the East Coast from Maine to Texas. The ICW flows through Boca Raton, and has no fixed bridges across it, just 3 draw bridges that open on schedule and/or on demand. The bridges across the ICW from North to South are at Spanish River Boulevard, Palmetto Park Road, and Camino Real Drive.
Get around
Tri-rail connects to Miami, Hollywood, Fort Lauderdale and West Palm. It is underused and thus runs relatively infrequently.
Palm Tran buses serves Boca Raton as well as the rest of Palm Beach County are available. Phone number: +1 561-841-4BUS (4287). Buses run every 20–45 minutes, depending on the route. The cash fare is $2 per trip. A one-day unlimited pass is available for $5 from the bus. The 92 bus runs between downtown and the beach between East Palmetto Park Road and Hillsboro Blvd. The 94 bus runs between downtown and the Boca Raton TriRail station.
Delray Scooter Rental, LLC, +1 561-723-4387, +1 561-441-5244. Scooter rentals delivered and picked up for Downtown and Beach areas in Boca Raton and Delray Beach.
Royal Airport Transportation Service & Taxi Cab Company - 1901 Dixie Hwy. +1 561-809-8871 is a commonly used transportation service in Boca Raton.
Your best bet is to rent a car to get around. Boca Raton is friendly to bicycle traffic, but the public transportation serves a limited portion of the city, and overall it's not a very walkable city outside of the downtown area.
Streets are numbered in a grid with four quadrants (Northwest, Northeast, Southwest, and Southeast) centered on the intersection of Palmetto Park Road (which runs east-west) and Dixie Highway (running north-south). Streets run east-west while avenues run north-south. Addresses within the city generally correspond to the street numbers (The 1900 block of an avenue starts at 19th Street), but outside the city a different county-based numbering system is used which doesn't correspond to the Boca Raton street/avenue numbers (even though some of those numbered streets continue outside the city limits). To add to the confusion, some areas annexed relatively recently into the city continue to use the county numbering system instead of the city one.
See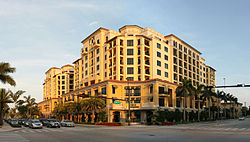 Amphitheaters
Counte de Hoernle Amphitheater

phone: +1 561-750-1668

address: 590 Plaza Real

Presents a minimum of 20 concerts and events annually from a wide range of musical genres including country, jazz and classic rock. The amphitheater can accommodate up to 4000 fans for general admission events. This amphitheater is run by local philanthropists who contribute significant amounts to local and regional causes. The Amphitheatre hosts quite a variety of cultural events throughout the year. It is near the Boca Raton Museum of Art in Mizner Park. Box office hours: M-F noon–5PM, day of show: noon–9PM.

phone: +1 561-488-8069

address: 12551 Glades Rd

Hosts concerts as well as community movies. Previous acts have included Tegan & Sara and Rise Against.
Do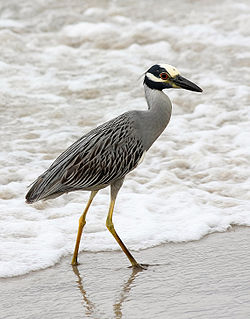 Indoors
address: 3100 Airport Road

An indoor/outdoor entertainment center where families can enjoy activities like miniature golf, laser tag, bumper boats, go-karts and a full arcade.

address: 7901 North Federal Highway

Located on the west side of Federal Highway of north Boca Raton, the Caldwell Theatre Company opened its doors in December 1975 at the suggestion of James R. Caldwell, inventor of the rubber dustpan and founder of the Rubbermaid Corporation. Over the course of 34 years and four different locations, including its now permanent location in the Count de Hoernle Theatre, the Caldwell has been called South Florida's "Cinderella Theatre" and Boca Raton's "Jewel in the Crown."

Cinemark Palace 20

address: 3200 Airport Rd

Great movie theater open and closes very late. Shows all new movies including 3D, but no IMAX. The second floor is the Premier level including full bar and a restaurant.

Strikes @ Boca

address: 21046 Commercial Trl

This bowling alley is a hotspot for the students in the area. It is located near the Town Center Mall so people tend to look around the mall and then head to the bowling alley.

Living Room TheatersAn all-digital independent/art house movie theater on the campus of Florida Atlantic University, the only one of its kind on a college campus. Not only do they show movies neglected in the mainstream theaters, but they also have bar and food service delivered to you during the movie. Best day to go is Monday or Tuesday.

Spa PalazzoThis spa is known for its fantastic array of therapeutic massages and steams, open 6 days a week in the Boca Raton Resort and Hotel.
Outdoors
Sports in the area are college-based - no professional sports. Fortunately, Boca Raton is home to a beautiful, beach-themed 30,000-seat college football stadium at Florida Atlantic University called
FAU Stadium.
FAU and nearby Lynn University also have college basketball arenas. Boca Raton is not home to any professional sports teams although pro teams can be found within an hour's drive: Miami Dolphins football (36.9 mi), Florida Panthers hockey (30.5 mi), Miami Heat basketball (48.1 mi) and Florida Marlins baseball (36.9 mi). Also consider the Royal Palm Polo Sports Complex (7.1 mi) where some of the world's top polo players play during the months of (Jan-Apr), as Boca Raton is known as the winter capital. Watching greyhound racing at the Palm Beach Kennel Club (24.4 mi) is also an option; as is the Dania Jai-Alai (29.6 mi) at Dania Beach.
Spanish River BeachEasily the most popular beach, especially for younger crowds. Residents and tourists typically take Spanish River Blvd east towards A1A road and parallel park along NE Spanish River Blvd or at nearby Spanish River Park.

phone: +1 561-362-0606

address: 433 Plaza Real

Mizner Park has unique boutiques, sumptuous eateries, energizing music and inspiring art. It's an interesting place to walk around. This upscale shopping plaza is basically the crux of the otherwise dull Boca Raton downtown area.

phone: +1 561-274-1140

address: 11200 Park Access Road

Open seasonally, this small community waterpark in west Boca Raton is home to a lazy river, slides and a water playground structure. A fun way to cool off, especially for kids and families, but not recommended for thrill-seekers.

Boca Raton Resort & Club AmenitiesGuests and members of this club can use their private golf courses and beaches as well as eat at the beautiful restaurants.

Intracoastal - tour by boat, during the holidays or for special events, boat tours are available and captains will gladly drive you and your guests down the intercoastal. Tours are also available for sight seeing and a guided one to view celebrity houses from the water.
Notable public parks
address: 2000 Yamato Road

This park has great trails for bike riding and exercising. There are also tennis courts and basketball courts, in addition to open fields. There are classes taught at the recreational center, such as yoga and hip-hop. Also, the Boca Raton chapter of the World Adult Kickball Association holds games here on weekends.

Sugar Sand ParkA great place to take the kids. It has an enormous fort/jungle gym, carousel, ball parks, etc.

Red Reef ParkA 67-acre oceanfront park including the 20-acre Gumbo Limbo Environmental Education Center. A fun and interesting feature of the beach is a rock outcropping and a series of small man-made reefs about 10 feet off shore, where even beginning snorkelers can enjoy swimming with small colorful tropical fish. The picnic area of the park is equipped with grills, tables and restrooms.

address: 400 Crawford Boulevard

An all-cement skate park, mostly used by teens, and shuffleboard courts.

South County Regional ParkOpen from dawn-dusk with tennis courts, soccer fields, water park, and trails great for running. Arrangements can be made for picnic and private events. This park is very popular during the summer time as there are also camps available for children.
Buy
address: 6000 Glades Rd

The well-known high-end retail mall on Glades Road, just west of I-95 and east of the Florida Turnpike. The mall includes tens of premier stores and restaurants.

phone: +1 561-362-0606

address: 327 Plaza Real

Is a mixed-used new urbanism district in a revitalized part of downtown Boca with a movie theater and a number of restaurants and stores.

Royal Palm PlaceA charming mixed-use development in the heart of downtown Boca. Featuring international restaurants, salons & spas, shopping, specialties & services.

Regency CourtOpen 7 days a week. Offers an array of restaurant and shops.

University Commons Plaza

address: 1400 Glades Road Glades Road

This strip plaza is home to many different stores including Nordstrom Rack, Whole Foods Market, Bed, Bath, and Beyond, a two-story Barnes and Noble Boookstore, and Swoozies. Restaurants in the plaza including: PF Changs, J.Alexanders, Mario's, Jamba Juice and 16 Handles frozen yogurt.
Eat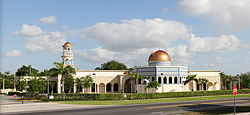 Boca has a deserved "ritzy" reputation, but good food can be found for a variety of budgets.
Budget
Cannoli KitchenPizzas (whole or by the slice they often have up to 2 dozen varieties of pizza available by the slice at any one time!), pastas, and other good Italian in addition to the namesake cannoli deserts. Mostly take out or delivery, but they have a small seating section if you want to eat there.

phone: +1 561-218-5557 or +1 561-488-9665

address: 9834 Glades Road

Serves over 50 versions of their old-fashioned 7-ounce sirloin burgers. If you've ever tasted a hamburger fried in a cast-iron pan, you have a good idea of what goes on at Lindburgers.

Mississippi Sweets

address: 2399 N. Federal Hwy

Reasonably-priced BBQ joint with genuine Southern-style cooking. BBQ is St. Louis-style.

Salad Creations

address: 5250 Town Center Circle Ste. 129

You choose all the ingredients you want in your salad or wrap.

Sal's New York Grill

address: 200 S. Federal Highway

New York Italian deli and similar dishes, breakfast, lunch, or diner.

Sieng House

address: 1001 S. W. 2nd Avenue, Suite 500

Good Chinese with extensive menu.

Tin Muffin

phone: +1 561-392-9446

address: 364 E Palmetto Park Rd.

Sandwiches, quiches, soups, muffins and desserts served at this small breakfast and lunch restaurant. Outdoor tables and a few indoor tables.

Tomasso's Pizza & Italian Restaurant

address: 1229 West Palmetto Park Road

A reasonably priced locally-owned pizza chain. Take-out, delivery, and dine in available. Huge slices also!

phone: +1 561-392-4181

address: 2200 West Glades Road

Old style New York type deli, good quality, generous servings. Original location in Palm Beach; now a small chain around south and central Florida.

address: 2151 North Federal Highway

Sonny's offers gelato at a great price and fun and friendly atmosphere. Also Italian cookies, cappuccino, etc.
Mid-range
Augy's Pizza Board Restaurant

phone: +1 561-368-1330

address: 1501 NW Boca Raton Blvd

Dozens of daily specials. Local favorite for their stuffed artichoke, baked clams oreganata, along with the snapper Provencal, made with fresh tomatoes, garlic and white wine sauce. Located in East Boca North of Glades Rd on NW 2nd ave.

Bangkok in Boca

address: 500 Via De Palmas Ste 79

Casual restaurant with live entertainment and outdoor seating, serving a menu full of rich authentic Thai curries with nearly fat free dishes, using the freshest ingredients in the area. Offering a wide selection of entrees with fresh seafood. Located south of Mizner Park off US1, in the Royal Palm Plaza.

phone: +1 561-288-8737

address: 7036 W. Palmetto Park Road; Suite 64

Greek and healthy and fast food.

phone: +1 561-826-2625

address: 399 SE Mizner Blvd

There are 10 specialty pizzas, balsamic coal-baked chicken wings, the Far East Crispy Shrimp, the Tuscan salad, and daily specials.

Curries & More

address: 217 East Palmetto Park Rd

Indian food in South Florida. For those with nut allergies, selected dishes can be made without cashew sauce.

phone: +1 561-483-8889

address: 9874 Yamato Rd

Unique Chinese restaurant that has real chefs from Chinatown in New York City. If you want authentic New York Chinese food in Boca Raton, you definitely need to check Gary Woo's. The food is fresh and traditional.

Houstans

address: 1900 NW Executive Center Cir

This restaurant offers burgers, salads, and a variety of entrees. It is priced a big higher, but the food and service are both exceptional.

Jasmine - Taste of Orient

phone: +1 561-483-8888

address: 7860 Glades Rd, Ste 105

Chinese restaurant with classic Pekingese specialties elegantly prepared and flavorful such as Peking Duck, lamb in garlic sauce, and honey-roasted ribs.

Kagura Japanese Restaurant

phone: +1 561-241-5958

address: 5030 Champion Blvd, Ste D8

Specialties: sushi bar with full menu of Japanese cuisine available for dine in, take out and delivery.

Lilly's New Cuisine

address: 451 East Palmetto Park Rd

Homemade pastas specialties including seafood and sausages for a one of a kind experience.

address: 2200 Glades Rd

Popular Italian bistro with an extensive menu of Southern and Northern Italian Cuisine for lunch and dinner with a daily lunch buffet. Located next to the Holiday Inn by I-95, Glades Rd and Military Trail with convenient take-out and delivery service.

phone: +1 561-338-6283

address: 6030 S.W. 18th St

Australian steakhouse concept open for dinner only. Serves beef and steak items, for a good portion of the menu. As well as a variety of chicken, ribs, seafood, and pasta dishes. Located just west of military trail on Sw 18th st. Convenient curbside take-out and delivery service.

phone: +1 561-213-6512

address: 196 N Federal Highway

The Pizza Fusion all-natural, gluten-free, organic pie is a slender 28" long and 9" wide and it's crust is thin and crispy, using 100% all-natural "00" flour imported from Naples, Italy. Topped with locally grown, organic ingredients (when available), baking all ingredients in its soap-stone Roto-flex oven and delivering its delicious meals in Pizza Fusion's earth-friendly Hybrid delivery vessels.

Punjab Indian Restaurant

address: 1801 N Federal Hwy

Their lunch menu is extremely affordable and their dinner menu is on par. The lamb tandoori is excellent and can be served mild or spicy. Vegetarian Indian vegan options as well. Located next to the Boca Inn in East Boca just north of Glades Rd.

address: 1345 W. Palmetto Park Rd

BBQ, chicken, ribs, catfish, burgers, steaks and the sweet potato fries are a must.

Siam Sea - Japanese Sushi & Thai

address: 7860 Glades Rd

Enjoy a tasty curry or fresh sushi at the sushi bar.

Steve's Wood Fired Pizza

address: 9180 Glades Rd

More than 50 types of freshly-prepared wood-fired brick oven pizza, as well as salads, pasta entrees, salad wraps and desserts. One pizza is enough for one hungry adult.

Stir Crazy

address: 6000 Glades Rd

This restaurant offers Chinese, Japanese, Thai and Vietnamese food. People are given the option to stir fry food or order from the menu.

Sushi Masa Thai Cuisine

address: 2200 Glades Rd

Sushi Masa is no mere sushi bar, specializing in Thai and Japanese cuisine. Impressive Thai menu includes Duck curry, seafood garlic, seafood curry, and fried fish with sauce choice, cooked rolls, Pad Thai, a delicious mix of stir fried rice noodles with egg, bean sprouts, ground roasted peanuts, and your choice of chicken, shrimp, beef, veggies, or a combination of your choice. Prices at Sushi Masa are a nice bargain.

Sushi Thai Asian Bistro

address: 100 NE Second St

The list of sushi covers just about anything you could want, including a large variety of cooked rolls, tamaki and complete sushi/sashimi dinners. Appetizers include deep-fried lemongrass rolls, duck noodle soup, green papaya, tomato and shrimp salad. Favorites include Pad Thai and Pad Woonsen, and a dish called deep blue sea, with scallops, shrimp, mussels, fish and veggies. Just south of Mizner Park in East Boca Raton.

Taverna Helios

address: 2997 East Palmetto Park Rd

Good Greek in a casual atmosphere.

Watercolors

phone: +1 561-368-9500

address: 999 East Camino Real

Nice restaurant and bar to visit when you want to relax, dance or just enjoy good food in a casual atmosphere. Overlooking Boca Raton inlet.

Yucatan Mexican Grill

address: 525 S Federal Hwy

Great salsa, great food, good service. Karoke Night Thursdays, 2 for 1 Margaritas.
Splurge
address: 1450 N. Federal Highway

Contemporary upscale Italian Nuovo Classico cuisine.

phone: +1 561-998-9952

address: 2300 N.W. Executive Center Drive

Seasons 52 is a casually sophisticated grill and wine bar and a seasonally changing as well as health-conscious menu.

phone: +1 561-416-2131

address: 5250 Town Center Circle

Mexican with a buzz.

phone: +1 561-409-3035

address: 7000 W. Camino Real

Upscale steakhouse. Kosher certified.
Drink
Boca Raton doesn't have a very lively downtown area but interspersed throughout the city are some great bars, from local faves to upscale chains.
Bars
phone: +1 561-395-7462

address: 309 Via De Palmas #90

A German-American themed bar and restaurant serving beers and steins to complement foods like potato pancakes, bratwurst tacos and different kinds of schnitzel.

Blue Martini,

address: 6000 Glades Road, Suite C-1380

This trendy upscale bar sells appetizers in addition to fabulous martinis. Attached to the Boca Raton Town Center Mall.

phone: +1 561-392-2739

address: 2222 Glades Rd

An Italian American bistro and microbrewery in central Boca. In addition to the 2 for 1 Happy Hour (M-Th 3PM-6:30PM) serving the award winning beers as well as cocktails, there are also 2 for 1 drinks 9:30PM-close daily. A good place to eat and drink.

phone: +1 561-482-0052, +1 561-488-9665 (delivery)

address: 11379 W Palmetto Park Rd, Suite F

A warm, family friendly bar that welcomes all NY Jets and NY Giants fans as well as other sports enthusiasts. Plenty to watch with 17 TVs, including 7 satellites. Nightly beer specials including All Day, All Night $2 Pints of Heineken. Karaoke night Thursdays. Tuesday Night kids special, free kids meal with purchase of adult entree. Located in the southeast corner of the Loggers Run Plaza in West Boca Raton.

address: 435 Plaza Real

Located in Mizner Park, the Dubliner is one of the most popular bars in downtown Boca Raton. However, it's in a somewhat small space so the place is almost always packed.

Holloway's Pub

phone: +1 561-361-8445

address: 504 Via de Palmas

Fun place, very laid back, friendly atmosphere. Live music from Walt Rooney every Friday night, starting at 9PM. Karaoke every Saturday night at 9PM. Lunch served daily, prime rib special on Fridays. Closes at 2AM every night.
College Bars
The Funky Buddha Lounge and Brewery

address: 2621 North Federal Highway

A college student hotspot, the Funky Buddah has won local awards for Best Beer Bar and Best Hookah Bar. It often hosts Open Mic, comedy shows and local bands.

Hooligans

address: 36 SE 3rd St

A "venue, bar, lounge" known for tapas-style cuisine and live music, particularly in the reggae and rock genres.

address: 1745 Northwest Boca Raton Boulevard

Bills itself as a "neighborhood Irish sports pub" for all but frequented by college students, especially on Mondays for College Night. Occasionally has live entertainment and beer pong tournaments.

Nakava Kava Bar

address: 140 Northwest 20th Street

Authentic kava bar near Florida Atlantic University.
Clubs
Club BocaLocated on Palmetto Park Road, this nightclub is the primary spot for dancing in the area. There are certain nights where ladies drink free or are free of charge.

address: 8221 Glades Road

Chelsea Lately, Flo Hernandez, and other famous comedians have been known to visit the comedy club.

Spin Ultralounge

phone: +1 561-361-3999

address: 346 Plaza Real

Upscale nightclub in the Mizner Park complex. Best after 10PM.
Sleep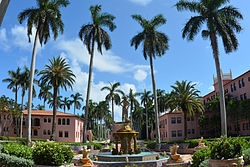 Go next