Bocas del Toro
Bocas del Toro
or
Bocas Town
is a town in the
Caribbean West
of
Panama
.
Understand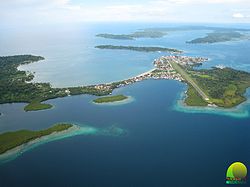 Bocas Town is on the southern tip of
Isla Colón
and is part of the Bocas del Toro archipelago of islands. The town has an interesting mix of islanders, ex-pats and backpackers and is the most developed in the region. The town boasts an abundance of restaurants, hotels and bars. Bocas has developed a reputation for being a party town with a number of bars and clubs that sit on the stilts over the water.
Further afield on the island of Colón, are a number of white sand beaches and nature reserves. Bocas also makes a good base for doing tours around the other islands.
Climate
Get in
By plane
There is a small airport on
Isla Colón
with serveral flights from
Panama City
and
San José
. From Panama City,
AirPanama
flies to the island twice a day everyday (45 min) for US$115 (as of March 1, 2012). From San José,
Nature Air
flies to the island 4 times per week. The cost is $119 each way plus $26 international departure fee and $12 for a Panamanian entry stamp.
By car
It is possible to take your vehicle on the island using a car ferry. The ferry leaves
Almirante
port every morning at 8AM Monday to Saturday (no service on Sundays). Cost per car is $15 and there is an extra $1 charge per passenger. The same ferry goes back to the mainland on the same days at 4PM. If you wish to leave your car on the mainland, there is a secure parking available next to where the water taxis leave in Almirante. Cost is $3 per day.
By bus and boat
The town is on Isla Colón and you'll need to take a boat to access it. Boats departs frequently from
Almirante
. There is no service anymore from
Changuinola
.
Locals pay $4 for the boat each way (25 min). With some haggling even as a tourist you can manage to pay $5 and get a voucher to pay only $3 on the way back. There are three operators, all offering the same service. The one in the middle at the docks (Transporte Torres) is the most inexpensive one and open for bargaining. On return tell them you used them to come to Bocas and at Almirante they promised the return trip for $3 (or $4). But you can probably also try this argument with the other two companies.
From
David
look for buses to Changuinola and ask a driver to stop in Almirante ($8.45, 4 hr). In Almirante, get off before the bus terminal at the turn, otherwise it is a very short walk to the docks (1-1.5 km). Many decide to take the taxi ($2), which is why they do not stop near the docks.
Ignore the guys who want to walk you there as this will increase the price of your ticket to the island.
From Changuinola the bus might stop near the dock ($1.45).
By private shuttle
From Boquete you can also take a private shuttle for the 4-hr journey to Almirante, and then the water taxi, which is included in the ticket price, to Bocas del Toro. Two companies in town offer the daily shuttle: Reservations are recommended ($30-35). From Boquete they leave at 8AM from Hola Panama in the Mamallena Hostel, or 9AM from the Transport Company in Plaza Los Establos on Main Street.
There are a few other companies also offering private buses and shuttles to Bocas from many destinations including Puerto Viejo, Panama City, San Jose and others. To check pricing, schedules and availability one can check on their websites:
Caribe Shuttle
or
Panama Shuttles
.
From Costa Rica
From
Sixaola
in Costa Rica you get to pay a $7+1 exit fee and a $4 municipality fee to enter Panama. The border in Panama closes at 5PM local time. The Panamanian officials frequently ask for printed proof that you are going to leave the country again. If you can't provide any such documents you might be required to buy a $14 ticket to San José. From the border there are $10 shuttles to
Almirante
, or you can take a bus to Changuinola ($1, 15 min) and from there a mini bus to
Almirante
($1.45, 40 min).
Get around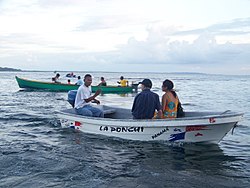 Bocas town is small enough to walk all over. If you need a ride, cabs are plentiful and usually only cost 60 cents or so to get around town.
By rental
Bicycle rentals run approximately $2/hr or $10/day. The roads are flat and in good repair, which makes getting around on a bike very easy.
Scooters can also be rented, for approximately $70/day. ATV are also available and popular.

By bus
There are two bus companies that provide service between Bocas town and Drago beach (for the starfish). They run every full hour for $2.50. If you get off a little earlier, it is $1 less (see the price sign in the bus). In case you stay along Bluff or at Skullys, entering later than the town they still demand $2.50. If you are confident, you can argue with them. At least on the way back, you can refer to the price sign.

See
Beaches
El Istmito
Big Creek
Bluff Beach – There are several hotels/restaurants in middle. Swimming can difficult but come here for unspoilt sometimes private feeling beach. Surfing is popular. About $15 taxi from town. Otherwise take the bus to the junction towards Drago ($0.50) and walk the rest.
Starfish Beach – Take the hourly bus to Drago (45 min) and walk another 1.5-2 km from there (20 min).
Mimitimbi Beach
Do
Scuba DivingMost operators offer identical dive options at the same price, with the same types of boats. The diving may not be adventurous enough for seasoned divers as most of the dives are fairly shallow (15–20 m) and the wildlife not as rich as some of the more mainstream Caribbean dive destinations. There is also another scuba operator on Isla Bastimentos. They do not hire contract dive masters. All dives are lead by the owner.
Horseback ridingHorses are a way of life in Panama. It is not unusual to look out the window of your casita, and have a horse looking back. Horseback riding in Panama is mostly Western horses and Western saddles. Privately owned horses can vary from Quarter Horse to a mix of Columbian or Peruvian Paso. By breeding the two, you get a larger horse, than the traditional Paso Fino, with the smooth and lovely gait of the Paso. A great area for riding are the beaches of Bocas del Toro near Dolphin Bay'.
Starfish BeachAlthough very touristy, go here for seeing starfish. Bring a snorkelling set. The amount of starfish can be very low, maybe you will only see 10-20 different ones. If you are keen free-diving, check out the sea weed area where also other maritime life can be found including lion fish.
Zapatillas Day TourEven though it is very crowded and many boats go there, it can be worth it. Apparently, it also includes a visit to a starfish place with much better sight than Starfish Beach.
Buy
Eat
El Ultimo RefugioIt offers waterside dining on Avenida Sur, just down the street from the Ferry dock. Cuisine includes fresh seafood and variations on Norte Americano-style dishes such as pork meatloaf.

address: Avenue E and Calle 2

Breakfast really shines here with the wide variety of juice blends and shakes they offer, plus a very unique eggs vindaloo dish that is a must try.

La BallenaGourmet pizzas and European wines by the glass, which you'll pay dearly for. This may be the most expensive restaurant in all of Bocas town. The pizzas are large with generous toppings, and come in many interesting variations. Wine selection is impressive, though expensive.

Bongo's CafePopular bar/restaurant run by a charming Cuban woman named Giselle (known around the island as "La Cubana") who is also the liaison between the public and the police. The seafood soup (Sopa de Mariscos) served there is simply delicious and Bongo's seems to be the only restaurant that freshly squeezes the fruit right in front of you. With all this and attentive staff, Bongo's Cafe is a real gem.
Drink
Barco HundidoA disco, built on a wooden deck, above the water with a wrecked/sunken ship under the water just beyond the deck, illuminated by bright lights. Probably one of the better bars in town, and the one that most of the town winds up at by the end of the night.
Sleep
phone: +507 7579848

On the main street, it offers excellent dorms and private rooms. Rooms are clean with a/c and private bathroom. A shared kitchen, internet and cheap tours are available. The place is run by an extremely friendly and helpful lady.
Try Mondo Taito or Heike twin hostels in the town. Dorm beds are available from $10 with kinda gross shared bathrooms. Run by a group of American ex-pats. They don´t take advance bookings, it is very noisy, not all that clean and not located on the water, but if you are up for a party you will probably have a great time. Cheap Spanish lessons available.

phone: +507 6711-8634

address: Avenue G

Chilled out place 40 m from the party hostels. Very nice and clean, very safe. Nice chill out area, Free laptops, Wi-Fi, pancake breakfast and all rooms A/C. $10 per person dorm, $24 for a double private

Hotel AngelaRun by Claudio, a US expat from California. The hotel is clean and safe, located a block off the main avenue and away from traffic noise. The hotel also has its own restaurant and bar over the water. Happy hour from 3:30PM to 5:30PM means 2-for-1 drinks. The staff are extremely courteous and friendly.

Punta CaracolA hotel of overwater bungalows a 15-minute boat ride from Bocas town. Nine bungalows sit on stilts over the water, and wrap around verandas give each bungalow direct access to the water. Rates start at $285/night in the low season for the smallest bungalow, and run up to $600 for the largest bungalow in the high season. Rates include breakfast and dinner. Excursions can be arranged with the front desk.

phone: +507 757 9081

address: Calle Primera

Tropical Suites is in Bocas Town on the waterfront. There are activities all around you. The 16 large suites have a complete kitchen, breakfast bar, a large Jacuzzi and balconies. Excursions can be arranged with the reception. Boats can be moored at the hotel docks. Rates start at $140/night, including breakfast and free Wi-Fi internet, with promotional discounts during the season. Deals are available for longer stays, weekly or monthly.

phone: +507 6417 7351

address: Dolphin Bay

A small Bed and Breakfast on the shores of Dolphin Bay on the Island of San Cristobal, a 20-minute boat ride from Bocas town. It is a very quite and secluded hideaway offering personalized service. 3 beautifully decorated rooms. Meals are prepared using fresh seafood, fruits and vegetables. Room rates start at $115 and they include full breakfast and transportation to and from Bocas town.

Aqua LoungeA great hostel & bar built on the water. Fantastic set up and friendly staff. $10 per night.

Hostel HansiExtremely clean German-run hostel with fans in every room. Some rooms also have a balcony. Spacious kitchen facilities and plenty of room in the fridge. The focus is on a family-orientated hostel, rather than a backpacker hangout centered around a bar. Free Wi-Fi. Use of facilities after the checkout incurs a $2 surcharge.

phone: +507 7579930

address: calle 6ta

Hotel built in 2004. Clean, spacious rooms fitted with AC, wiFi, private hot showers, TV and balconies. Waterfront bar below. Bicycles, kayaks and snorkelling equipment for rent. Various island tours and expeditions can be arranged. Cake and coffee offered every morning. Great deck with hammacs to chill out. Good location.
Go next