Bodø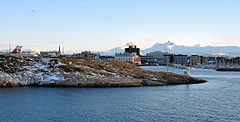 Bodø
is the seat of
Nordland
county in
Norway
. With more than 50 000 inhabitants, it is the second largest city in
Northern Norway
, on a peninsula facing the open sea, and infamously windy.
It is a gateway to the
Arctic
, being the northern end station of the Norwegian railway network (except the short connection from
Narvik
to Sweden), and an important ferry station.
Understand
In the
Viking Age
, the province was known as
Hålogaland
, and famous for shipmaking. In 1663, Bodø was mentioned as a village with postal service. In the 19th century, fish canning became an important industry for Bodø, and made the city grow. As Nazi Germany invaded Norway in 1940, they bombed Bodø on May 27, destroying most buildings. The city was rebuilt during and after the war, and therefore looks remarkably modern.
In 1960, the American spy plane U-2 heading for Bodø was shot down by the Soviet Union, and Soviet leader Nikita Chrushchev threatened to bomb Bodø.
Bodø has a university, and a young and growing population. Traditionally the city has grown from Bodø Main Air Station funded in large part by NATO. The station has housed Thunderjets, Starfighters and now all of Norway's F-16s. The military part of the airport is set to be reduced, with the airfield being moved south-east for a major freeing up of real estate for civilian development. All fighter jet activity will move to Ørland Main Air Station by 2022.
Tourist office
phone: +47 75 54 80 00

address: Tollbugata 13

Helpful staff, of course English-speaking. Numerous documents about Bodø and its surroundings.
Get in
By ship
Bergen to Kirkenes and back.
Ferry to Moskenes, Lofoten. Goes at least twice daily, from the Hurtigruten terminal.
By train
Bodø
is situated at the north end of the national railway system in Norway (
Narvik
train station is further north, but is only connected with the Swedish railway system).
You will have to go through
Trondheim
to get to Bodø. The train takes about 10 hours from Trondheim to Bodø, and about 18 if you go from
Oslo
. Trains leave and arrive several times a day, but only two a day come all the way from Trondheim (a day train and a night train). They are great if you want to have a look at the Norwegian scenery and nature, taking you from the rolling hills of Trondheim, through Saltfjellet mountain, to the weathered and rough terrain of Northern Norway. Tickets from 199 NOK if you book early enough.
There are also regional trains to Fauske, Mosjøen and Mo i Rana and local trains to Fauske and Rognan.
Bodø train stationOpen 6h-21h (Monday-Friday), 7h-21h (Saturday) and 8h30-21h (Sunday). Lockers available (50 kr for small, 60 kr for large). Free toilets, and several power supplies in the waiting hall. No Wi-Fi. Also a cafeteria and a youth hostel in the same building.
By plane
Bodø airportis Norway's 6th busiest and serves primarily domestic routes to Oslo and Trondheim, as well as the regional airports in towns such as Leknes, Brønnøysund, Svolvær, Mo i Rana and Mosjøen. The airport is within walking distance of the city centre, around 10–20 minutes, or you can take the airport express bus or a taxi. A taxi will cost around 100 kr.
Tickets from 550-850 kr and up to 2500 kr for coach. Student/youth discounts on SAS. The airport is served by SAS, Widerøe's and Norwegian year round, with occasional guest appearances.
By bus
Bus terminal

There are long distance buses from Narvik, taking 6 hours.
Get around
Bodø is a long, slender city around 2–3 km in width and over 10 km long in a roughly east-west line. This makes communication by bus well established for a city this size, and during weekdays busses go every fifteen minutes to-and-from town westwards. The
Sentrumsrunden
bus brings you anywhere you want within the city centre, and there are also buses going northwards to the suburbs. The bus system is zonal, meaning that you pay more the further you are going.
There is also a service of regional buses to other cities, but they only depart a couple of times a day, or even more rarely if the distances are long. A bus to Sweden goes on weekends, making it possible to take a weekend trip, Friday to Sunday, to anywhere between Bodø and
Skellefteå
.
Many international car rental businesses are established in Bodø. The city has a good road network and many scenic roads. A car is desirable if you are planing to stay in town for a while, or see the areas outside the suburban bus network.
Taxis are also available, but with typical Norwegian prices, you should be cautious about using them on longer trips. A 10 km trip costs about 200-250 kr in a normal size car, and you pay for the trip, whatever the number of passengers. A full car, four people, will often be cheaper than bus fare, to a certain point.
You can also bike virtually everywhere in Bodø and suburbs, and there is many scenic routes to see.
See and do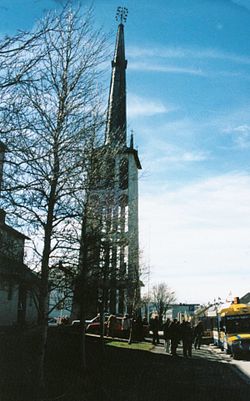 Museums
address: Olav V gate

Located in the shopping centre area, a 20-minute walk from the city centre, you can visit a quite large museum and experience the history of aviation and highlights from the Cold War. Bodø is one of the airfields used for U-2 high-altitude recon and ozone monitoring.

Bodø friluftsmuseumVarious traditional house styles from Bodø.

Kjerringøy handelsstedKjerringøy trading post is a 19th-century trade centre typical for Northern Norway. It's a museum, and you can get guided tours. Kjerringøy is a peninsula with beautiful scenery and many tourist activities. Busses from Bodø
Churches
address: Torvgata 12

Modern with a separate bell-tower and a beautiful window.

Bodin KirkeOne of the oldest churches in Norway, built around 1240.
Music
Enjoy the many music festivals in the region every summer. The most renowned are Parkenfestivalen and Nordland Musikkfestuke .
The first is a popular music festival that is growing fast.
Artists like Chris Cornell and Turbonegro have been there, along with major Scandinavian artists like Bo Kaspers Orkester, CC Cowboys, Dum Dum Boys and Timbuktu.
Nordland Musikkfestuke is a more 'cultural' festival, concentrating on jazz, choirs, classical, and many internationally renowned musicians.
The alternative music scene of Bodø has flourished. Bodø Hardcore Festival, a festival that attracts basically anything in the Scandinavian alt scene, is held every late autumn, and the very experimental Nødutgangfestivalen, with a focus on Industrial and Avant-Garde, is arranged every summer. Big acts that have visited are Faust, The International Noise Conspiracy, and KK Null.
Hiking
KeiservardenYou have not really seen Bodø without a visit to Keiservarden. From the summit, you have a wonderful view towards Bodø, towards the surrounding islands and, if the weather is good enough, towards the Lofoten. There are several paths, all relatively easy. Count 1h hiking (one way) from the bottom, plus an additional 30 minutes (one way) from the city centre.
Outside Bodø
Saltstraumen. The world's strongest maelstrom (tidal whirlpool), with some of the best fishing in the world. International fishing competitions are often held there, and there is possibilities of renting fishing gear or staying at the camping place. A must-see if you are in the region.

SvarthammarholaThe largest natural cave in Scandinavia (30 m from floor to ceiling) and the only cave with a glacier inside. The ordinary tour visits the big cave rooms, while more adventurous routes can be requested. A full day, partly strenuous hike. Guide is highly reccommended, otherwise experience is required. No walking outside existing footprints in the cave.

Watch the midnight sun (around Midsummer) at the beautiful beach of Mjelle, 30 minutes out of town by car.
Ride by boat to the lighthouse at Landegode, and have a look at the Norwegian coastline.
Eat
Bodø does not have a great abundance of eateries, but there is a decent selection of cheap restaurants, as well as a couple of good gourmet restaurants.
Løvolds Kaféteria

address: Tollbugata 9

One of the most traditional diners in Bodø. Serving traditional Norwegian food, and a very limited selection of Norwegianized international food, this is considered an institution among many of the inhabitants, but mostly elders and people in the harbour scenery. Situated close to the harbour, in a fisherman's warehouse, the view from the inner part of the café is great. Good for lunch and dinner. One of the cheaper restaurants in town.
Rajas Rullekebab is the favourite of many of Bodø's young people. This small corner shop, just over the street from the aforementioned Løvolds, serves döner kebabs in fresh homemade limps of bread, and is widely considered to be the best kebab shop in town. Even though they have a somewhat wide menu, they rarely sell anything but kebabs. Kebabs cost 80 kr, which is quite pricey, but they might be worth it. Centrum Bistro also focuses on döner kebab, but also has other types of fast food, like hamburgers, pizzas and steaks.
Orion, situated close to the railway station, is a low-price diner that specializes in pizza and pasta, but does have a pretty large selection of steaks, salads and hamburgers. Prices are between 80-150 kr.
Jernbanekaféen, in the second floor of the railway station, this is a nice place to wait for your train, and serves a good variety of Norwegian food at a decent price.

phone: +47 452 31100

address: Dronningens gate 26

Known as the best, but also the most expensive, restaurant in Bodø, and one of the best restaurants in Northern Norway. The food is typical for high-end restaurants, but specialities include typical Norwegian fish dishes.

phone: +47485 02 727

address: Tollbugata 13

Restaurant and bar with high quality food inspired by the Norwegian produce, fish, meat etc. An outstanding selection of Norwegian and European beers, Calvados and more. Excellent cocktails. Prices are very fair by Norwegian standards.
Drink
As with everywhere in Norway, alcohol is expensive and limited to those over 18, a law that is vigorously enforced. liquors stronger than 22% vol. is limited to those older than 20. Beer can be bought at groceries, wine and spirits must be purchased at special outlets, Vinmonopolet. There are two of these in Bodø, one a short walk from the Glasshuset shopping mall, the other one inside City Nord, another shopping centre a bit away from the city centre.
Norwegians are known to engage more in binge drinking than many other nationalities, mainly because the culture of starting evenings with pre-parties at home drinking shop bought alcohols. They also tend to drink little during weekdays, with the exception of Wednesdays, something that gives them a tendency to consume a tad too much during weekends.
Cinema Pub. Located in the Glasshuset shopping mall next door to the cinema, this is the only place to drink for those between 18 and 20. Tired travellers should steer clear, at weekends this dark basement pub is packed with drunk teenagers, and extremely noisy.
2.etg, in Glasshuset. One of the most popular late-bars/nightclubs in town. Quite crowded during weekends, but a good place if you want to go dancing and don't mind waiting a while for service. No cover c badge.
Avenue, near the central bus station, this rather large late-bar is one of the most established places in Bodø. Its capacity is the largest in town, with room for over 500 people, something that has been a problem for the bar. The cover charge is between 50 and 100 kr, but being a large place, it is either empty or packed, making it a bit of a gamble when it comes to going there. The theme, as the name implies, is a modern 21st century bar, with the music being mainstream.
Top 13, is a sky-bar located at the top floor of the Radisson Blu hotel. This is a calm, not too crowded bar with a fabulous view of the city. They have the best selection of drinks and cocktails in town and can rival most places in Norway in selection. The bartenders are well trained, and provide good service. The bar used to be the place to be for the social and cultural elite in Bodø, and during the 90's it was common to see local celebs and other wealthy people there, even though now it is usually facilitated by tourists and people taking a break from the more crowded nightclubs. No cover charge.
Public, near the lower side of the Koch shopping centre. It is a small rock'n'roll oriented bar, specializing in music from alternative to pop/rock, but plays mainstream music at times. It is extremely crowded, but if you get there early and get a large secluded booth it's a good place. They serve simple cocktails, an array of shots and have a good selection of lager beer. Maybe the best place to be if you're planning to go out during mid-week in downtown. No cover charge.
Piccadilly is just as the name suggests, a British-style pub, the only of its kind in Bodø. Quietly crowded with everything from heavy alcoholics to construction workers, communists, musicians and painters, as well as combinations of the five, it is a strange experience. Sports a good selection in beer, wines, and spirits, but no food. Opens at 4PM, and serves cheap beer until 8PM, when the price increases. Definitely no cover charge.
Bryggerikaia, at the harbour. One of the most classy establishments in Bodø. Its clients are mostly well established adults, and has a lively but not over-the-top atmosphere. They have a wide array of drinks, cocktails and beers and is a good place for people on business visiting Bodø and other mature people wanting to go somewhere informal but classy. 50-100 kr cover charge.
Samfunnet, is the student pub/nightclub located in the Mørkved area on the campus of University College Bodø, some 10 km from the city centre. A taxi trip will set you back around 250 kr, but there also is frequent bus traffic from and to town, the last one being at 4 o'clock during weekends, and at 1 o'clock during weekdays. It has a simple selection of beers, alcopops and other drinks, but the best prices in town. (0,4l of beer costs 35 kr, compared to 50-70 kr downtown.) Samfunnet is divided into three parts, the bar, the extra bar (open if it gets to crowded in the primary bar), and the scene/dancefloor. At a certain interval they arrange Super Wednesdays, where prices drop to employee prices, and all parts of Samfunnet is open and they stay open until 3:30AM. These Wednesdays usually attract many people and the place is as crowded as other nightclubs/bars during weekends. The cover charge is quite low, usually between 20 and 50 kr, but if well known bands play it usually prices to around 150 kr.

address: Bankplassen, Storgata 11 B

Small authentic Thai restaurant with a broad range of typical Thai dishes, prepared as the Thais do to themselves - not to the tourists! Most dishes are with prawns, fish, chicken or pork. Beer (also Thai beer), wines (mostly Italian) and a nice selection of alcohol (including absinthe), located in the northern part of the pedestrian street at ground level with huge windows in 3 directions. 36 seats and a small bar section.
Sleep
Go next
Many travelers only pass Bodø on their way to the
Lofoten
islands. You can go there by boat (ferries, or the coastal express
Hurtigruten
), or by plane to one of the airports, one located close to
Svolvær
, and one located in
Leknes
. The plane trip to these places take about 25 minutes, while the ferry to
Moskenes
takes 3h15 (ticket bought on board, 187 kr, electricity and cafeteria on the boat).
You can go to
Narvik
by bus, and you can travel to most parts of
Nordland
by boat.
There is also a bus connection to
Skellefteå
from Bodø, which stops several places both in Norway and
Sweden
.
Bodø is the last (and northernmost) station on the Nordlandsbanen rail line, with which one can travel directly to Trondheim and a large variety of locations in the
Helgeland
region.