Bodega Bay
Bodega Bay
is an ocean-front town in
Sonoma County
in
California
. It was the location for the filming of much of Alfred Hitchcock's
horror
film
The Birds
.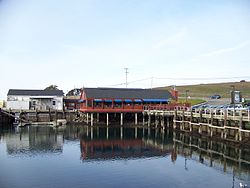 Because Bodega Bay is on the Pacific Ocean, day-time temperatures are significantly cooler than the rest of Sonoma County. On a day when the high is 91 in Santa Rosa, the high for Bodega Bay is likely to be around 70 degrees; if the high for Santa Rosa is 75 degrees, it's going to be chilly in Bodega Bay. So dress appropriately, and don't be surprised if on a very hot summer weekend in Sonoma County, a lot of people (and cars) have headed for the most accessible beaches, in Bodega Bay and north to Jenner.
Get in
Bodega Bay is accessible by car by way of U.S. Highway 1 along the California coast. It is situated on the Pacific Ocean approximately 70 miles north of
San Francisco
and 20 miles west of
Santa Rosa
.
Get around
There is no public transportation in Bodega Bay, and Highway 1 - the primary road for the town, running parallel to the Pacific Ocean - is poorly suited for bicycles. You pretty much need a car to get around, as well as to get to the town.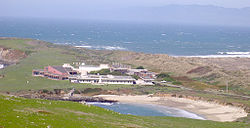 Do
Perhaps the single best reason to visit Bodega Bay is to hike a trail or spend time on a beach. Keep in mind that the water is
cold
all twelve months of the year; if you're going to spend any time in it, you'll want to wear a wetsuit.
The public beaches and hiking trails, beginning south of the town, and going north, include:
Bodega Head - a good place for whale-watching, with a pleasant loop trail (Bodega Head Trail)
Salmon Creek
Seven small beaches - Miwok Beach to Gleason Beach
Duncan's Landing
Wright's Beach
Shell Beach (the portion of the Kortum Trail from Shell Beach to Wright's Beach is 1.25 miles; also, from Shell Beach, the Pomo Canyon Trail goes inland)
Blind Beach (the portion of the Kortum Trail from Blind Beach to Shell Beach is 2.5 miles)
Goat Rock Beach - dogs not allowed
All of the above, except Doran Regional Park, are part of the
Sonoma Coast State Park
.
Other than beaches and hikes, there are a variety of things to do in Bodega Bay:
Buy
phone: +1 707 875-2911

address: 1785 Coast Highway One

Early California Art: Celebrating the art and history of California, focusing on traditional and impressionist paintings, generally between 1880 and 1950.

Local Color Gallery

phone: +1 707 875-2744

address: 1580 Eastshore Rd

The gallery features original art by established Sonoma County artists as well as emerging talent. The gallery features paintings, fine art prints, photography, luminous fused glass, decorative pottery, handcrafted jewelry, and handpainted scarves.
Eat
address: 835 Bay Hwy

Casual seafood restaurant with big windows overlooking Bodega Bay, plus a gift shop & fish market.
Drink
phone: +1 707-875-9875

address: 1412 Bay Flat Rd

Wine bar and waterfront deck, offering wood-fired cuisine.
Sleep
phone: +1 707-875-2217

address: 521 Coast Highway 1

B&B.

address: 800 Coast Highway