Bogazkale
Boğazkale
is a village in the
Central Karadeniz
region in
Turkey
. It lies next to the ruins of the ancient Hittite city of
Hattusa
(Turkish:
Hattuşaş
), a
UNESCO World Heritage site
.
Get in
Boğazkale is off the
Ankara
-
Samsun
road from the town of Sungurlu and there are plenty of buses that run on that route.
There are 2 municipal buses per day from Sungurlu to Boğazkale from Monday to Friday. The bus leaves Sungurlu at 07:30 and 17:30. The return trips from Boğazkale are at 07:00 and 17:00. Ask the locals for
Belediye otobüsü Boğazkale
at Sungurlu. There are 1-2 dolmuş services per day without a reliable timetable. Taxis are also available between Sungurlu and Boğazkale.
See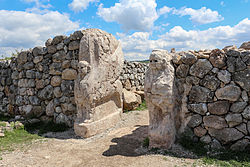 Hattusa, the ruins of a Hittite city dating from about 2000 BC to 1000 BC. At one time it must have been a great and impressive city but today little remains except for the reconstructed foundations. However, the plan of the city is still evident and walking around the ruins makes an interesting and instructive day.
Boğazköy Museum A few objects from Hattusa (most are in Ankara) and lots of photographs of the excavations.
Yazılıkaya An excavation site containing Hittite buildings. The foundations of large religious buildings from that period are still visible.
Sleep
phone: +90 364 452 2004

The first hotel founded in Boğazkale with a very helpful owner who can organize pickups from Sungurlu and also trips to the surroundings like Alacahöyük.

phone: +90 533 517 43 96

The budget accommodation of the Hotel Aşıkogluç just on the other side of the street. You have access to all services of Hotel Aşıkoğlu with transfers etc.

Hattusas pension

phone: +90 364 452 2013

The pension has a few rooms with shared bathroom and a restaurant on the ground floor. Run by Mustafa and Ahmet Baykal, the friendly owners, who are only to happy to chat and give advice.
Stay safe
Boğazkale squarely lies within the habitat of the
ticks
(
kene
), which are known to be a vector of the serious
Crimean-Congo hemorrhagic fever
(CCHF, Turkish:
Kırım Kongo Kanamalı Ateşi
or
KKKA
) in the area. Follow the usual tick prevention strategy of avoiding long grasses and wearing long trouses April through October when the ticks are active; if you nevertheless get bitten by one, seek medical help
immediately
, as those unfortunate enough to be infected by CCHF have a mortality rate of 10-40% within three days of infection. Experts advice against removing the tick from your body as this may result in its mouth breaking apart — which results in an elevated likelihood for infection and makes it harder for the medical staff to identify the tick.
Go next