Bogotá/Chapinero-Zona G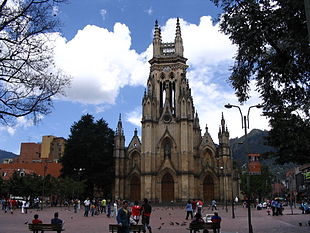 Chapinero
is an affluent district in the north-east of
Bogotá
. It is home to the
Zona G
, an area of upscale restaurants.
Understand
Chapinero is a vibrant set of neighbourhoods filled with university students, bohemian cafes, bars and restaurants. Just north of the traditional downtown area, it runs from Calle 39 in the south to Calle 100 in the north and is limited to the west by Avenida Caracas and to the east by the mountains. This article only deals with the southern half of chapinero, namely the area up to Calle 71. For the northern parts see
Zona Rosa
and
Parque 93
.
Chapinero Alto
, one of the alternative neighborhoods in the city, is located between Calle 45 and Calle 65. One of the most LGBT tolerant zones of the metropolis, also known as
Chapigay
or
Gay Hills
, it is home to the larger part of the LGBT population of Bogotá.
Zona G
(G for Gourmet) is located between Calles 65 and 71 and Carreras 3 and 7. This area is home to the most prestigious restaurants of the city.
Get in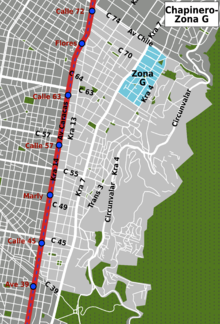 Carrera 7 is the main road going through the district, and there are endless
busetas
running along it, north towards
Zona Rosa
,
Parque 93
, and
Usaquén
and south towards the old downtown. Busetas are, of course, confusing animals, so the trial and error approach will be more successful when Cra 7 is written prominently on the sign. This isn't a huge part of the city, so walking is fine for getting around.
See
Our Lady of Lourdes Church

address: Cra 13 #63-27

A beautiful Gothic church—built in 1875, making it the first example of Gothic architecture in the country. Despite being the symbol of El Chapinero, has as of late 2012 been badly defaced by spray can-wielding vandals.

Parque HippiesIn front of La Salle University, this park usually smells a bit like weed on weekends, and has some fun bars, live music, and cheap eats around the square.
Do
As said before, its gay scene is huge. There are dozens of places for lgbtq community to go and have fun. Mild fun: Just taking a beer or have a cool dinner with your friends in any of their Restaurants, Bars or squares. Wild fun: Cruising the neighbourhood in one of their numerous bath houses, dark mazes and ABS.

Eat
Zona G has some of the finest eateries in Bogotá within a few small blocks. If you want elegant or romantic, this is a good choice.
phone: +57 1 211-1400

address: Carrera 7 No 67-64

The restaurant offers the flavors of Peruvian cuisine in Bogota. Reservations are required, so do call ahead!

phone: +57 1 321-3475

address: Calle 70 A No. 4-99

Once a bakery, this restaurant has the feel of a Parisian cafe. It serves crepes, sandwiches, and salads, as well as breakfast and brunch. The Bagatelle is famous for its pan de chocolate.

phone: +57 1 248-0254

address: Calle 70 A No. 4-45

Clowns Deli offers sandwiches and salads for a reasonable price.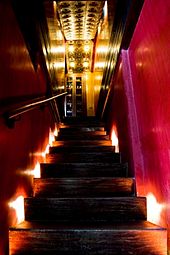 phone: +57 1 310-1377

address: Calle 69A No. 5-75

This contemporary restaurants offers its patrons French-influenced, gourmet dishes. The menu consists of a variety of starters and meats, and also offers its guests a tasting menu that changes weekly. Criterion was awarded the Five Star Diamond Award in 2008; the only restaurant in Colombia to receive the recognition.

Gostinos 69

phone: +57 1 313-0612

address: Carrera 5 No. 69A-30

Gostinos 69 offers its patrons seafood at reasonable prices.

phone: +57 1 616-4520

address: Calle 83 No. 12-49

Chef Harry Sasson creates delectable, international dishes with Asian influences. This restaurant also has a wide variety of wines from all over the world, including Argentina, France, and California.

phone: +57 1 321-3350

address: Calle 70 No. 4-69

La Hamburgueseria is not fast food restaurant, but does offers a great variety of hamburgers and sandwiches, made from the best ingredients. This restaurant has many other locations, so be sure to check out the website to find the one closest to you!

La Table de Michel

phone: +57 1 347-7939, +57 1 347-7939

address: Calle 69A No. 4-15

La Table de Miguel offers excellent French dishes. They also have a wine list made up of mainly French wines, but also a few Chilean. The great thing about this restaurant is that the menu is translated into various languages for the convenience of the diner.

phone: +57 1 321-3459

address: Calle 74 No 5-28

This Peruvian restaurant serves up to 96 people, and has a 'launch area,' where those waiting for tables can snack. The principle dish of Nazca is ceviche.

phone: +57 1 212-3721

address: Calle 71 No. 4-47

Organic Restaurant and Market. Suna serves breakfast, lunch, and dinner. This environmentally-friendly restaurant offers a menu consisting of organic, vegetarian, raw, and vegan dishes.

Tony Roma's

phone: +57 1 249-5271

address: Carrera 6 No. 69 A-20

This American chain-restaurant serves traditional American bbq, including short ribs and seafood.
Sleep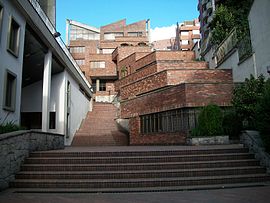 Budget
phone: +57 313 387 4231

address: Calle 67 No. 4-16

Backpacker hostel with good facilities. Dorms from 29,000 COP; private room 90,000 COP.
Mid-range
phone: +57 2128805

address: Carrera 8 No. 69 - 24

Located at the G Zone (or Gourmet Zone) in the north of Bogota, the neighborhood is known for its restaurants and the financial sector of the 72 street.

phone: +5715442005

address: Carrera 4 No. 69a - 46

Boutique rooms, all equipped with 29-inch LCD TV with cable channels, Wi-Fi Internet access and Mini-bar. Facilities and services are Jardin de Emaus restaurant, 24-hour front desk, Laundry service and Ironing service.
Splurge
phone: +557 1313 1113

address: Calle 70A 7-62

It offers 36 suites apartment, fully furnished short and long term special stays for families and executives. It offers rooms equipped with home theater, kitchen and broadband Internet access. Some of its facilities and services are restaurant, bar, sauna, massage service, concierge and rooms service.