Bogotá/La Candelaria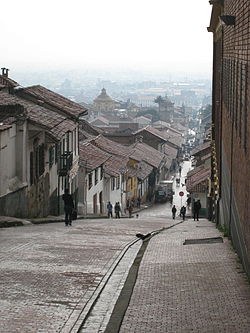 La Candelaria
is the
historic center
of
Bogotá
, and the city's principal destination for tourists. Home to the top museums, the government palaces, and beautiful old colonial buildings along narrow cobblestone streets, it's a must see.
Understand

The colonial district is officially the first neighborhood of Bogotá. Colombia's capital city was founded here in 1538 by Spanish conquistador Gonzalo Jiménez de Quesada y Rivera in a spot known today as El Chorro de Quevedo. The next year, authorities re-founded the city a few blocks away at what is now known as the Plaza de Bolívar. Bogotá then grew up around the neighborhood. Because the city expanded west and north, La Candelaria retained much of its colonial atmosphere. The neighborhood is full of cobblestone streets and centuries-old houses. It is now a tourist attraction and university district, as well as the site of Colombia's government. Here you'll find most of the public buildings, both from the City and the Country's government. Historical squares, 400 year old churches, picturesque narrow streets are all here, mixing along modern developments of financial business high towers.
Many landmark events in the history of Colombian and South American independence took place in the La Candelaria, district including the near killing and escape of Simon Bolivar, the execution of revolutionary heroine Policarpa Salavarrieta, known as 'La Pola,' and the Grito de Libertad, known as the beginning of the region's revolution. And the district is indeed teeming with history, and there are a lot of interesting museums and old churches in what is the oldest Bogotá neighborhood. Some streets are reserved to pedestrians. The most important places are La Catedral, Plaza de Bolivar, Palacio de Nariño, Iglesia del Carmen, Biblioteca Luis A Arango (blaa), the Colonial Art Museum and the old architecture of the houses and buildings, almost all of the museums charge no admission. La Candelaria also contains numerous Catholic Churches, many of them centuries-old. The Colombian-American and Colombian-French cultural centers are located in La Candelaria, and a Colombian-Spanish cultural center is under construction.

Get in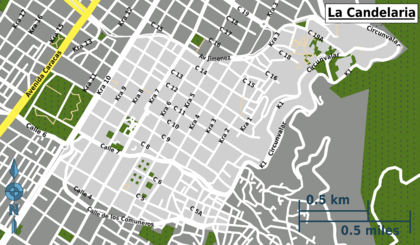 There are two J Zone stations on the Transmilenio in La Candelaria:
Museo del Oro
and
Las Aguas
, with the Museo del Oro stop being the most convenient to most everything. But since few buses go to the tiny J Zone, it often makes sense to get of at the A Zone station Avenida Jiménez and walk a few extra blocks. Av Jiménez does not have the safest location, though, after dark.
Carrera 7 (Séptima), which runs through Plaza de Bolívar, is the main avenue, but is most often pedestrian-only, making it a bad place to look for
busetas
and
colectivos
. One-way southbound Carrera 4 (Cuarta) is where you'll find colectivos coming from the north, always signed with "Luis Ángel Arango" (the library), while you can find northbound colectivos on Carrera 5 (Quinta).
Inside La Candelaria, there really is no need to get around by any way other than on foot. Rare is the walk that takes more than 10 minutes, unless you're climbing a hill while adjusting to altitude, but that's another story!
See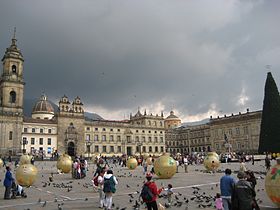 Casa de Moneda

phone: +57 1 343-1223

address: Calle 11 No. 4-21

Has a collection of Colombian coins and the history of moneymaking.

Cultural Heritage Museum

phone: +57 1 343-1331

address: Calle 11 No. 4-41

Collection of paintings donated by Botero to Bogota. Besides work of Botero the collection contains work from Picasso, Renoir, Monet, Dali and others.

phone: +57 1 284-7450

address: Calle 16 No. 5-41

Impressive collection of gold and pre-Colombian artifacts from Colombia and surrounding nations. Don't miss this museum. The Gold Museum is unique and you won't find a better place to see the pre-Spanish artwork on gold. La Casa del Florero was the site of an 1810 protest by Colombians considered to be the initiation of the revolt against Spain. The Botero Museum contains both works by Fernando Botero, Colombia's most famous artist, and the contents of his private collection, including works by Picasso, Renoir, Dali and others. The museum was under renovation, up until October 2008 and as of then its open to the public once more so don't miss it out.

Banco de la Republica Art Collection (Museo Botero)

address: Calle 11 No. 4-41

Exhibits Permanent Banco de la República Art Collection consisting of nearly 3,000 paintings, sculptures and assembly of Colombian and Latin American masters from the XVI century to our days. Visitors may appreciate a selection of Colombian painters works, for instance Gregorio Vázquez de Arce y Ceballos, the most important Colony painter, Alejandro Obregón, Enrique Grau, Latin American as Rufino Tamayo, David Alfaro Siqueiros and many other globally renowned.

Museum of Colonial Art

phone: +57 3424100

address: Carrera 6 No. 9-77

Under Eduardo Santos administration on August 6, 1942 the Colonial Museum containing Viceroy-ship art, silver plates, the Virgin of the Light and the most characteristic Gregorio Vásquez de Arce y Ceballos collection, among other valuable Colombian culture treasures opened its doors. Declared National Monument National in 1975, Las Aulas Cloister is one of the oldest buildings in Bogotá.

Museum Francisco José de Caldas

phone: +57 1 289-6275

address: Carrera 8 #6-87

Centered around the life of the revolution martyr. Showcases his mapping expedition of Colombia and how he contributed to the revolution by building a fort and a rifle factory in Antioquia.

Museum of Regional Costumes

Museum of Religious Art

National Police Historical Museum

phone: +57 1 233 5911, +57 1 281 3284

address: Calle 9 No. 9-27

Its main interest resides in the rooms dedicated to the hunt of Pablo Escobar. Guided tours in Spanish and English.
Do
phone: +57 1 281-9924

address: Carrera 3 No. 12-72, La Candelaria

Twice-daily four-hour bike tours of central Bogotà, leaving at 10:30 a.m. and 1:30 p.m. Learn about the Colombian capital's history and culture, taste exotic fruits, view graffiti and learn how coffee's roasted. Visit off-the-beaten-path spots you wouldn't likely see on your own. On Sundays (or any day) you can rent bikes for La Ciclovia, when many major avenues are shut to cars. Bogota Bike Tours rents bikes for 7.000 pesos per hour or 20.000 pesos for four hours.
Buy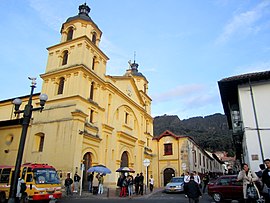 Eat
Henry Comida Rapida

address: Carrera 1 and Calle 19

Fast food joint for the nearby university, order a godzilla and you'll be served with what is most likely the biggest empanada of the continent !

Asociación Construimos Futuro

phone: +57 3374323

address: Calle 15A #2-21, La Candelaria

Cooperative of social economy with friendly and helpful staff. Good and varied breakfasts and lunches. The association holds a supermarket besides as well.

PitaWok

phone: +57 1 562 75 94

address: Carrera 4 #14-88, La Candelaria

Small and friendly restaurant with excellent Middle-East and Thai food: shawarmas, kebabs, pitas, Wok dishes and Arabian pastries. Food delivery as well.

phone: +57 1 282 16 65

address: Carrera 4 #12-25, La Candelaria

Excellent pizzeria with sizes ranging from pizzeta to grande. The pequeña is more than enough for one person.

Rica Sole

phone: +57 1 473 99 20

address: Carrera 4 #12C-54, La Candelaria

Well known for their picadas - A delicious traditional colombian mix of small fried pieces of meat, chicken, sausages, potatoes, french fries, arepa, cassava (yuca). One plate normally serves two people. Eat with a toothpick and dip it in either the spicy or the herbal salsa. Fresh fruit juices are excellent, too!

El Fogón de las Sopitas

phone: +57 319 493 7589

address: Calle 12 No. 8-38, La Candelaria

This restaurant is always busy serving one of their delicious soups. Every day of the week they have a slightly different menu. Come here for traditional ajiaco (COP 10.000) or Sancocho with chicken (COP 11.000). All soups come with rice, avocado, refreshment and yes, a banana that you can add to your soup. Try it!

Crepes & Waffles

phone: +57 1 6767600 ext 729

address: Avenida Jimenez (Cl 13) No. 4-55, La Candelaria

This great ice cream is made from fresh fruits and local chocolate and therefore comes with a real flavor you won't forget for quiet a while. Stick to their routine: Tell them how many (big!) scoops of ice cream you wish and whether in a homemade waffle or in a cup, pay and then choose among more than 20 flavors: café, coconut, maracuya, dark chocolate, blackberry, arequipe, lemon, black forest, biscuit, hazelnut, almond ... The list is long and changes daily and according to season! Crepes & Waffles supports Colombian single women by hiring them. You will hardly find any man working in one of the many branches all over the country.

Pastelerá Florida

address: Carrera 7 No. 21-46, Bogotá, Colombia , La Candelaria

When days are cold Bogotanos gather in this ancient confectioner's to warm up with a cup of hot chocolate santafereño that is actually a plate (COP 8.000): cassava bread, cheese bread and wheat bread come along with butter, cheese and marmelade and - of course - a cup of hot chocolate. You'll first get the empty cup and then they come and fill it to the brim from a big can. Traditionally you dip the bread and the cheese into the chocolate. Most even break the cheese into small pieces and leave them inside the cup to get melted and slightly change the flavour of both, cheese and chocolate. Afterward they spoon it. Great place to have breakfast, too (try their tamales).

Melé

address: Calle 11 No. 2-29, Bogotá, Colombia , La Candelaria

This is one of the many places to enjoy a good corrientazo. They offer hearty soups and solid plates that will fill you well. Come early to choose from the complete menu of the day.
Drink
While La Candelaria, and Centro in general, is not the city's premier nightlife destination by a long stretch, there's still a good range of places to visit. Dance floors are almost non-existent, though, so club-hoppers really should get on the Transmilenio and head north. The few dance options are usually packed with university students.
Gato Gris

phone: +57 3421716

address: Kra 1A No 13-12

This place is just charming in many ways. It is right at the Chorro de Quevedo, the birthplace of Bogotá. It has many nooks and levels, perfect for little intimate gatherings. Great rooftop with fireplaces and views of downtown Bogotá. Italian dishes are delightful, ceviche not so much.
Sleep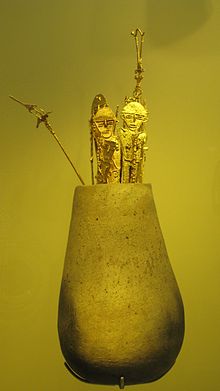 Hostels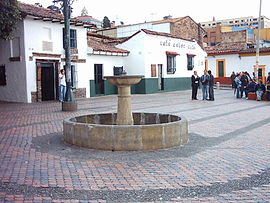 Budget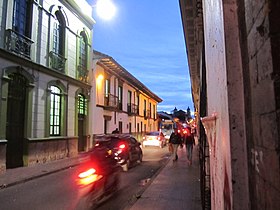 Mid-range
Stay safe

La Candelaria, very unfortunately, is just not a safe neighborhood, this is not to say that you will have problems—in all likelihood you'll be just fine—but La Candelaria demands extra precautions. At night most residents lock their steel doors and leave the streets empty, which naturally makes them safer, but you are more vulnerable if you are walking around alone or in a small group. If you are staying in a hostel, though, there is usually a good nightlife scene without going outside! The big exception is on Thursdays and Fridays, which are the Bogotanos' "going out" nights, and the area stays bustling until late. During the day, you should generally be fine. When picking a place to stay, keep in mind that your personal security is best the less that you have to walk the quiet narrow streets at night; staying closer to Kra 7 or Ave Jimenez will decrease the distance to main streets. The neighborhoods to the south and especially southeast across the Circunvalar (the beautiful old decaying neighborhood of Egipto is particularly notorious) are very dangerous at all times of the day, and the violence from those neighborhoods can and does spill into La Candelaria.