Bogotá/Santa Fé-Los Mártires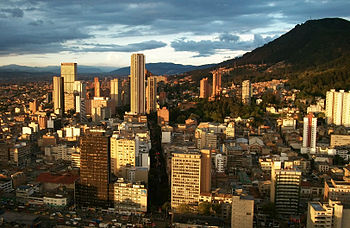 Santa Fé
is the traditional downtown of
Bogotá
, surrounding the historic district of
La Candelaria
. Los Mártires is the western end of downtown (west of Kra 10/Caracas), and more rarely visited by foreigners, except to check out its sketchy market for extremely good deals.
Understand
Santa Fé has seen better days. Visitors from the U.S. may quickly recognize the atmosphere as that of an inner-city slum, and that's about right. During the day, the busiest areas between Cra 10 and Ave Caracas are safe enough aside from pickpocketing, but nearly the whole area at night veers between eerily quiet except for the odd crackhead, or busy enough with the sort of people you don't really want to get to know.
In the northwest of Santa Fé, you'll find the
International Center
, which has the city's main convention center. There is not much to do there aside from business, or a walk along Cra 7 to check out the skyscrapers. It's deserted at night.
On the other hand, the small neighborhood of
La Macarena
, to the east of Parque de la Independencia, which contains the city's Planetarium and Plaza del Toros (the bullfighting arena), is one of the city's quaintest and most delightful places to hang out. It's a quiet, bohemian neighborhood filled with artsy cafes, art galleries, and great mid-range and upscale restaurants. It's considered one of the most up-and-coming parts of the city, perhaps destined to rival the nighttime destinations further north.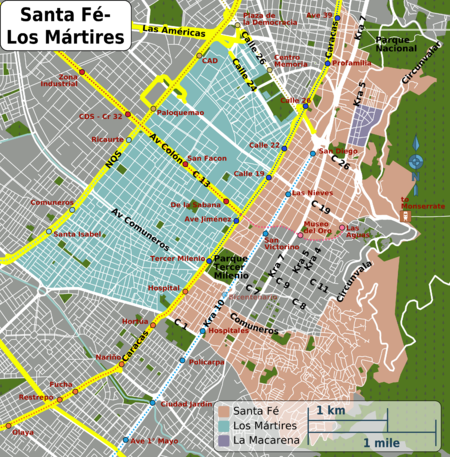 Los Mártires
has seemingly been forgotten. Heavily urban, heavily poor, it is frequented by foreign visitors generally only to visit some shady markets to buy goods for
extremely
low (i.e., probably stolen) prices. So keep your cash tightly guarded, but don't stay away—there are interesting things to see and do here, good food to be had on the
very
cheap, and you'll get some street cred when telling mid–upper class Bogotanos where you hang out.
Get in

This is an easy part of town to get to, with stops all along Ave Caracas in the A zone of the Transmilenio. Calle 26 and Las Aguas are the closest stops to La Macarena, although after dark, post-drinking, you might want to call you a cab from your restaurant as a safety precaution. That's a matter of comfort level.
Busetas come here from all over, which makes it rather easy to get on one going the wrong way when leaving! Parque Tercer Milenio is a good landmark that you'll see on the buseta signs.
If you are going to the dodgy yet fun San Victorino market, the optimal Transmilenio stop is Avenida Jiménez, but the De La Sabana and Calle 19 stops are also very close.

See
Cerro de MonserrateA truly beautiful panoramic view of the city is only a funicular or transferico ride away. You can take the funicular up and the transferico down, or vice versa. You have the option to buying one way tickets, too. You will have the most amazing views and also enjoy Colombian or French food in the two full-service restaurants at the top. There are also souvenir stalls on the weekends. Remember to bring a warm coat, because it is chilly up there. On Sunday is a very crowded place, so be ready to get into a long line. It is very important to also wear sunscreen and hat because at such a high altitude, you will burn very easily even if it is "cloudy". This is especially true if you are going around noon. You can also hike up the stone-set path up Monserrate like the locals do. It takes approximately 1-1.5 hours up and approximately 45 minutes down. Remember to allot more time if you are not accustomed to being two miles above sea level!

Torre Colpatria

address: Carrera 7 # 24-89

Bogota's tallest building and one of South America's tallest buildings is in El Centro. You can visit the panoramic deck on the top of building on Saturdays and Sundays; make it a must see.

phone: +57 1 334-8366

address: Carrera 7 No. 28-66

The National Museum is the oldest in the country and one of the oldest in the continent, built in 1823. Its fortress architecture is built in stone and brick. The plant includes arches, domes and columns forming a sort of Greek cross over which 104 prison cells are distributed, with solid wall façade. The museum houses a collection of over 20,000 pieces including works of art and objects representing different national history periods. Permanent exhibitions present archaeological and ethnographical samples from most antique Colombian vestiges: 10,000 years BC, up to 20th century indigenous and afro- Colombian art and culture. The Founders and New Kingdom of Granada room houses rich Liberators and other Spanish authorities iconography; the round room exhibits a series of oils synthesizing Colombia painting history.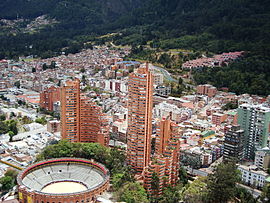 Museum of Modern Art of Bogota

phone: +57 1 286 0466, +57 1 293 3109

address: Calle 24 No. 6-00

Exhibits a complete collection of modern art work basically consisting of drawing, paintings, engraved work, sculpture and assembly. Houses work of Colombian masters Fernando Botero, Alejandro Obregón, Enrique Grau and Édgar Negret, among many others together, with important Latin American artists. The modern building, designed by architect Rogelio Salmona, achieves optimum space and natural light management.

phone: +57 1 334-4546

address: Carrera 7 Calle 26

Dome cinema as well as telescope observation on Friday nights.

Plaza de Toros de Santamaria

phone: +57 1 334-1482

address: Carrera 6 No. 26-50

Santa Maria's bullring
Photography Museum
Buy
El Mundo De La Camiseta

phone: +57 312 310 0039, +57 311 811 4032

address: Cra. 10 #11-85

Located upstairs, has replicas of football jerseys.

La Superliga

phone: +57 1 342 9408, +57 283 5379, +57 314 244 7644

address: Calle 11 #11-67 Local 7-8

Replicas of football jerseys as well as official ones at good prices.
At San Victorino at the Avenida Jiménez Transmilenio station you will find a plaza surrounded by all kinds of cheap stores selling different types of goods, from clothes to food and pets. If you do go, do not take anything with you, and keep your cash hidden and out of reach of pickpockets; gringos are not well received there and may get robbed. Daytime only, please!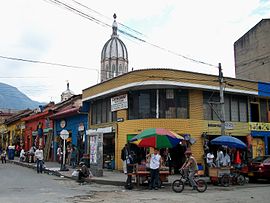 Eat
Tapas Macarena

phone: +57 1 2439004

address: Cra. 4A # 26-01, La Macarena

If you like tapas, you'll love this place. Tapas inspired by Spain, including a wide variety of beer and wine pairings.

La Taperia

phone: +57 1 8053252

address: Cra. 4A No. 26 B - 12, La Macarena

The second tapas bar in Bogota. Great food and drink selection. Live Flamenco music on Thursdays.
Drink
CHA-CHA

phone: +57 1 350-0202

address: Cra. 7 No 32-16

One of the most exclusive night clubs, located on the 41st floor of what once was the Hilton Hotel, today just an abandoned building. It is in the "Ball Room" of the old hotel, and keeps the traditional elegant decoration. Crystal Chandeliers meet Electronic music. Has amazing views of the city at night and an amazing terrace to hang out. Frequently visited by world famous DJs.
Sleep
Splurge
phone: +57 310 883 8446

address: Carrera 13A # 38-97

Hotel Centro Internacional offers 52 air-conditioned rooms all equipped with TV with cable channels, mini-bar, high-speed Internet access, and has a complimentary American breakfast. Some of its facilities and services include restaurant, travel agency, car rental, currency exchange, and medical services.
Connect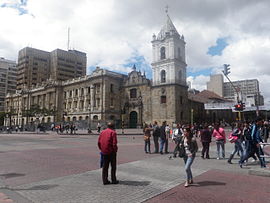 Stay safe

As mentioned before, aside from La Macarena, this is not a great place to be at night. The craziest areas are south of La Candelaria, and for the most part should be avoided altogether. Egipto to the immediate southeast of La Candelaria is an infamous place for errant tourists to be mugged, to the point where locals will shout "turn around, there are thieves!" to foreigners wandering up Calle 9!