Boise
Boise
is the capital and largest city of
Idaho
. Although its economic growth has its roots in agriculture, the city is now home to many high-tech firms, including Micron Technology. Related to Idaho's agricultural history, notable food-related firms such as Albertson's, WinCo Foods and the J.R. Simplot Company are headquartered in the capital city.
Understand
Although the origin of the name is disputed, "Boise" is thought to be derived from the French
les bois
, or "the woods." The name is a reference to the tree-lined Boise River, which passes through the heart of the city. To this day the city takes its "City of Trees" moniker very seriously, although before settlement there were actually very few trees in the area.
Boise began its life in the mid-1800s as Fort Boise, a U.S. Army installation located at a strategic junction on the
Oregon Trail
between what were then the major settlements in southern Idaho Territory, the mining camps of Silver City to the south and Idaho City to the northeast. A city grew quickly around the fort, and by 1865 became the capital of Idaho Territory (much to the chagrin of northern Idahoans, namely residents of the original capital of Lewiston). By the dawn of the 20th century, Boise was far and away the dominant city in the region, having long eclipsed the likes of Silver City and Idaho City.
Today Boise is sometimes seen as the eastern edge of the Pacific Northwest, or the western edge of the Rocky Mountains, or both, depending on whom you ask. Downtown Boise and the North End neighborhood offer a PNW feel every bit as strong as anything in Portland or Seattle, while suburbs such as Meridian and Nampa steadfastly cling to the decidedly self-reliant ethos of the Intermountain West.
Boise is a sports town strongly supporting its local teams, especially the ECHL Idaho Steelheads (which as of 2018 have never missed the playoffs in their entire history), and the college football powerhouse at Boise State University. Slowly but surely, Boise is beginning to accept its role as a major metropolitan area in the western United States, while at the same time embracing its small town past.
Regions of the city are best distinguished by the age of construction (pre-1950s, 1950s-1980s suburbs, and post-1990 suburbs) and the affluence of their inhabitants, with the premier exception being the downtown core, which primarily consists of non-residential corporate and nightlife establishments. The North End refers to a distinct neighborhood due to the grid style of street construction, smaller pre-1940s suburban houses, relatively dense vegetation, and numerous amenities within walking distance of most residents. Boise has no culturally discernible neighborhoods, although a few ethnic restaurants and food stores exist.
Climate
Boise is one of the warmer spots in Idaho. It is always dry in terms of humidity, and it is relatively dry in terms of precipitation year round. There is much less rain than average for US cities, and a bit more snow than average. The rain mostly appears in cooler winter and spring months, but there is a chance of rain even at the driest point in the summer. When it does rain, it is rarely a torrential storm; when a whole inch of rain has fallen in one day, it usually sets a record that can remain unbroken for a century.
Mid-summer is a good time if your idea of a vacation is hanging out at the swimming pool. If you want to spend your visit outside under milder conditions, then consider late spring or September as pleasant moments in between the heat of summer and the winter's rain and ice. If you're camping, plan for overnight frosts from early November until the end of March. The temperature will go below the freezing point, but it rarely gets extremely cold, even after taking the wind chill factor into account. Speaking of wind, there's usually enough wind to fly a kite, with a bit more in late winter and spring than in the rest of the year. The Treasure Valley Kite Festival is usually scheduled for the end of April, in peak kite-flying season.
Get in
By plane
Boise Airportis less than south of downtown Boise. It can be directly accessed from both directions of Interstate 84 at Vista Rd (Exit #53). Getting downtown from the airport is simple, essentially requiring driving in a straight line (i.e. north on Vista Avenue). The airport is serviced by several airlines, including Alaska, Allegiant, American, Delta, Southwest, and United.

The airport sports a modern terminal building and offers free WiFi.

Bus #3 runs hourly from the airport to downtown Boise and further. It costs $1 or a daypass is $2.
By car
Boise can be accessed by car via
Interstate 84
, which connects to
Meridian
,
Nampa
, and eventually
Oregon
to the west, and to
Twin Falls
and eventually
Utah
to the southeast. Boise can also be accessed via
State Highway 55
from
McCall
and
Northern Idaho
.
By bus
phone: +1 208 343-3681

address: 1212 W Bannock St

Greyhound travels primarily on Interstate 84 (Portland, Hood River, The Dalles, Baker City, Stanfield/Hermiston, Pendleton, La Grande, Ontario, Nampa, Boise, Twin Falls, Burley, Tremonton, Ogden and/or Salt Lake City) some eastbound buses continue contiguously from Salt Lake City to Denver. Passengers transfer buses in Portland, Salt Lake City and Stanfield, OR to reach additional destinations.

phone: +1 509-838-4029

address: Greyhound Depot @ 1212 W Banncock

Connects Spokane to Boise via Pullman, Moscow, Lewiston, Cottonbird etc.via US Hwy 195, 95, ID-Hwy 55. Some variations of the route connect through Couer d'Alene from Moscow.

phone: +1 208 656-8824

address: Bus stop at Boise Airport

Travel primarily on Interstates 84 & 86 towards Pocatello via Mountain Home, Burley and Twin Falls. Passengers transfer buses in Pocatello to continue to their other destinations in Idaho, Montana, Utah and northwestern Wyoming.

phone: +1 208 342-4147

address: 799 S Orchard St

Connects Caldwell, Boise, Jerome and El Paso, Texas.
Get around
By public transportation
Idaho is not known for public transportation, so most place outside the city center require a vehicle.
ValleyRideRoutes are lacking compared to other cities of similar size. Make sure to check schedules since most buses do not run on Sundays and many stop running at 6:45PM.
By car
Cars can be rented at the
Boise Airport
from major rental companies including Hertz, Avis, and Enterprise. Traffic in Boise is relatively light and peaceful, especially compared to
Seattle
or
Portland
. But Boise is no stranger to heavy traffic in certain places.
Interstate 184
,
Capitol Boulevard
,
Meridian Road
,
Eagle Road
and
State Street
should be avoided during rush hours.
Interstate 84
between I-184 and the
Garrity Boulevard
exit in
Nampa
(and sometimes into
Caldwell
) can be challenging as well. I-84 traffic in eastbound lanes is heavy in the morning, and in westbound lanes in the afternoon.
If I-84 is in bad shape,
Ustick Road
can be a smart alternative from Boise to Canyon County and vice versa, passing north of Nampa and south of Caldwell. Ustick runs unbroken for some , from the Boise Bench neighborhood to U.S. Route 95 northeast of Homedale, close to the
Oregon
border.
Victory Road
provides a similar but more direct alternate route between south Boise and Nampa.
Traffic east of the Idaho City (State Highway 21/Federal Way) exit on I-84 from Boise towards
Twin Falls
is rarely - if ever - problematic. However, winter storms can make the
Mountain Home
area treacherous.
If you're going downtown, expect to pay to park even though parking meters aren't enforced on weekends or after 6PM After hours you might get lucky finding a spot on the street, but chances are you'll be heading to a private parking garage and paying a $2 minimum. This is especially true on weekends. Fortunately, parking outside the downtown core (i.e. east of Broadway, south of Myrtle, west of 15th and north of State) is insanely easy - and almost certainly free 24-7.
By taxi
Until recently, taxi service was adequate and available 24-7, but it has since been decimated by ridesharing services such as Uber and Lyft, which are now used much more commonly. Boise City Taxi is now little more than a network of Uber drivers. Taxis are still common at the airport, though.
Because the city is so spread out even traveling between neighborhoods can easily run over $20. During peak times, wait times for a cab can be upwards of 45-60 minutes. Companies and drivers must be licensed by the City of Boise. Established companies include:
ABC Cab Company

phone: +1 208 344-4444

phone: +1 208 377-3333
By bicycle
The Boise city center is extremely bicycle-friendly. The Boise Greenbelt is a paved pedestrian and bike path that stretches approximately from Lucky Peak Reservoir east of Boise all the way through town . For avid bikers and walkers, much of the river and Boise's parks can be accessed this way.
Cyclists should avoid main thoroughfares west of downtown, particularly Meridian Road and State Street west of 27th Street. Several bicycle-related fatalities have been recorded in those areas. Stick to side streets in Meridian and western Boise.
See
Boise is the administrative and cultural hub of Idaho. Many of Boise's main attractions are in the downtown area.
Downtown
East of Downtown
South of Downtown
West of Downtown
phone: +1 208-375-1932

address: 64 N Cole Rd

Home to over 250 species of marine life including sharks and manta rays.
Do
Because of Idaho's massive outdoor recreation industry, Boise is the starting point for many outdoor activities in the surrounding mountains, including rock climbing, mountain biking, and kayaking. However, since Boise is also a large city, it also has urban attractions consistent with its status as the largest city in the state. Local activities include:
Arts
address: 854 W Fulton

Since 1997, Boise Contemporary Theater has been Boise's premiere professional contemporary theater. Located in downtown Boise, BCT creates, produces, and presents vibrant and dynamic professional theater that illuminates enduring themes while exploring contemporary issues and ideas. BCT has had several world premieres, including Last of the Breed by Maria Dahvana Headley (author of The Year of Yes) and No.You Shutup, a one-woman show starring former Daily Show correspondent Lauren Weedman.

Idaho Shakespeare FestivalOf course, this is why you come to Boise. During summer, shows are performed at the theater at the base of the Boise foothills.

First ThursdayJust like it says, on the first Thursday of every month there are a variety of events including a gallery stroll, live music, and in-store entertainment.

address: Student Union Building

Held in the Student Union on the BSU campus, this March event benefits the Gene Harris Scholarship Endowment.

Capital City Public MarketBoise's largest farmer's market. Held every Saturday from April to December, the local producers offer a wide variety of produce alongside local artists and live music.

address: Grove Plaza

Every Wednesday evening is the summer concert series that also features food, beverages, and the Grove Plaza fountain.

Hyde Park FairHeld every August, the Hyde Park Fair is in the North End of Boise at Camel's Back Park. It houses various indie rock bands and various hippie cultured events, clothing, and accessories.

address: Julia Davis Park

September Art in the Park features artists from across the nation. There is live entertainment, food, children's activities, and a pub.

address: 2355 Old Penitentiary Rd

Located in the Idaho Botanical Gardens, this event is held every November through January. This holiday festival of lights includes a special visit by Santa and a train ride.
Outdoors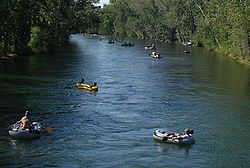 Boise River GreenbeltA great place for a walk, rollerblading, biking, or just walking the dog. The greenbelt is a walkway follows the Boise River through beautiful trees, through golf courses, and brings you through downtown. It is one of the more popular and beautiful walks that Boise has to offer.

Floating the Boise RiverThis is something of a local tradition, with the floating season starting in the summer dependent on river conditions. The put-in site is at Barber Park. Floaters may bring their own tubes or rafts, or rent them at the put-in site. The float takes around three hours, and ends at Ann Morrison Park. There you can take a shuttle bus back to your car at Barber Park.

Table RockTake a trip to Table Rock, directly above downtown Boise, to see the spectacular view overlooking the city and the entire valley. You can see herds of deer and elk frolicking through the rolling hills. You can drive up the winding roads to the summit or climb up the relatively rounded hill, a short and low grade fifteen-minute hike.

Hull's Gulch Nature TrailA great opportunity to explore Idaho. Very good for hiking, biking, sightseeing, and taking the dogs.

Hike or Bike the FoothillsHundreds of miles of trails throughout the foothills on the north side of the city. The Ridge to Rivers organization manages paths throughout the area including those on Table Rock and Hull's Gulch.

Lucky Peak ReservoirAbout east of Downtown on Warm Springs Ave to Highway 21 you will come to Lucky Peak State Park. A huge reservoir that residents love to wakeboard, water ski, tube, hang out, camp, and even cliff dive. A great day trip for the summer.
Sports
Amusement
phone: +1 208 884-8842

address: 400 W Overland Rd, Meridian

Large waterpark with many rides. Opens in May.

phone: +1 208 898-0900

address: 1385 S Blue Marlin Ln, Meridian

Bowling, miniature golf, go-karts, laser tag, bumper boats, batting cages, etc. Next to Roaring Springs.
Buy
address: 350 North Milwaukee

The city's main mall. It is a fairly large mall, mostly due to its lack of competition from any other similarly sized shopping center in the city. Its anchor-stores include Dillard's and a particularly upscale Macys (formerly the Bon Marche). The mall also contains its own free-standing MAC makeup store.

Eighth Street MarketplaceThe Eighth Street Marketplace is a popular sight to go shopping, have a bite to eat, and go dancing at night. It's all three in one! This area has recently undergone significant revitalization and is often referred to as "BoDo," short for "Boise Downtown."

Miscellaneous ShoppingAlong with the Eighth Street Marketplace, you may want to just wander throughout the downtown core. The area of Broad St (between 9th and Capitol) and 8 St (between Front and Myrtle) is home to many fashionable retailers like Urban Outfitters. As well, the area of 9th St. between Idaho and Main, parts of Main Street, areas of Idaho St. around 8th St. are all good areas to walk around and spot a few good shops and restaurants.

Historic Hyde ParkA view into Boise's "greener" lifestyle, the Hyde Park district is on the National Historic Register due to its unique architecture and unique environment. Hyde Park sports a great number of eateries such as the 13th Street Pub and Grill, as well as some more "independent" retail stores such as Hyde Park Books and Dunia Marketplace. It's almost like a little offshoot colony of Portland.
Eat
Most of the fancier restaurants are in the downtown area.
phone: +1 208 344-3967

address: 3662 South Eckert Rd

Pizza and beer in a patio setting snuggled into the Harris Ranch area of East Boise. A great place to go on a warm summer evening. Smoking is allowed on the patio.

phone: +1 208 345-0000

address: 6508 West Fairview Ave

Possibly the best pizza in the Northwest. They have a great selection of beers which can be delivered (along with the pizzas themselves). Originally an August-only promotion but now on the menu for much of the summer, Flying Pie offers a habanero pizza which is definitely not for the timid - the heat equivalent of pounds of jalapenos. Flying Pie and their habanero pizza have been featured on the Travel Channel's "Man vs. Food." The "Pie" also has locations on State Street, Broadway, and in Meridian.

Rockies Diner

phone: +1 208 336-2878

address: 3900 West Overland Rd

Featured on the Travel Channel series Man vs. Food, Rockies offers a eating challenge with an electric guitar as a prize for the intrepid, and great 1950s-themed offerings for everyone else.

phone: +1 208 343-4439

address: 1289 Protest Rd

Not to be outdone and with a national reputation in its own right, Big Juds offers quite possibly the biggest hamburgers in the state. They have one-pound burgers, and yeah, they do doubles. In 2013 Big Jud's completely rebuilt its restaurant. Gone is the original "hole in the wall" location, which featured a grand total of 10 tables and a capacity of maybe 25. In its place is a new building with a much larger dining area.

phone: +1 208 333-9800

address: 913 West River St

An amazing place to eat. With its specialties in American and Caribbean foods, it is one of the most popular places to eat in Boise. Whether you're going on a date or just want a nice night out, you can't go wrong. Reservations recommended.

phone: +1 208 336-5552

address: 1002 Main St

An intimate setting and very tasty Italian cuisine for a reasonable price. Reservations recommended.

phone: +1 208 344-8424

address: 750 West Idaho St

A great selection of Thai cuisine. The lunch bento specials are a nice sampling of various dishes. Dinner runs on the pricier side.

phone: +1 208 495-3858

address: 111 Broadway Ave, Suite 111

Home grown, cut and made fries, "with a burger on the side." Choose your type of potato, the cut, and size and then fry them to order. Get a Bison burger to go along.

phone: +1 208 853-7757

address: 7330 West State St

Touted on the Food Network and stone's throw from Eagle on State Street, Pizzalchik offers some of the city's best roasted chicken and most distinctive pizzas.

Shige Japanese Cuisine

phone: +1 208 338-8423

address: 100 North 8th St, Suite 215

phone: +1 208 385-0123

address: 280 North 8th St, Suite 104

Touts itself as "The Ultimate Untraditional Sushi." Offers an all you can eat special on Mondays and Tuesdays. Occasionally hosts sushi classes, which includes a two-course mini meal and instruction from the chef on how to roll your own sushi. See website for details.

Taste of Thai

phone: +1 208 323-8424

address: 8053 W Emerald St

Thai food
Drink
Boise has a surprisingly well-rounded nightlife, all stereotypes to the contrary, but once again, the best places to drink are all downtown. On Thursday, Friday and Saturday nights, throngs of young women in midriff-baring outfits (no matter the weather) and young men strutting their stuff cruise downtown bars.
Boise bars may serve from 10AM-2AM daily, however some close earlier. All bars within Boise city limits are smoke-free, although smoking at bars is still permitted in nearby Garden City.
phone: +1 208-345-1813

address: 246 N. 8th

Very busy local independent downtown hangout, rustic northwest food & beer. Focus on local organic products and 30 beers on tap from small batch regional brewers. The above standard "pub grub" fare is also vegetarian friendly.

Red Feather LoungeSibling of next door's watering hole Bittercreek, these two bars/restaurants share a bathroom and a patio, but just about nothing else. Red Feather is a swanky, low-lit lounge with an amazing three story, award winning wine selection. Red Feather's menu emphasizes products that thrive in the southwest Idaho region. Both have freshly made cocktails and share an outdoor see-and-be-seen patio on the pedestrian friendly 8th street corridor.

Bardenay Restaurant and Distillery

phone: +1 208 426-0538

address: 610 W Grove St

Bardenay, the first restaurant in the nation to include a distillery, features hand crafted cocktails of the finest ingredients. Bardenay distills rum, vodka and gin and uses them all in their drinks. This bar has an outdoor patio and a cool, laid-back vibe. Happy hour from 4PM-6PM

Crescent 'No Lawyers' Bar & Grill

phone: +1 208-322-9856

address: 5500 W. Franklin Rd

When the owners of a then-nondescript Boise Bench neighborhood watering hole were sued by a lawyer neighbor over a residential dispute in the 1980s, they turned the experience into some free publicity and a theme for their business. Known citywide for its excellent bar food (as well as for turning lawyer jokes into a veritable cottage industry), today Crescent No Lawyers is one of the city's largest sports bars.

phone: +1 208-342-3007

address: 604 N. Orchard St

A friendly neighborhood bar on the Bench which tends to get livelier as the night progresses. McCleary's also has a location on State Street towards Eagle.

Ranch Club

phone: +1 208-343-7447

address: 3544 W. Chinden Blvd

Perhaps best known for the large bucking horse statue featured in the 1980 Clint Eastwood movie Bronco Billy, the Ranch Club is a well-established venue for drinking and dancing which attracts a diverse clientele. Located just inside the independent municipality of Garden City, the Ranch Club is exempt from Boise's citywide smoking ban, a situation smokers take full advantage of.

Dirty Little Roddy'sMaybe a little what you might expect; Country music, sawhorse tables, peanuts and a mechanical bull that ladies can ride for free. You might not expect that this bar is popular with college kids and is nearly impossible to get into on a weekend night. It's in the basement, so be prepared to walk drunk up a narrow flight of stairs if you plan on spending any time here.

address: 100 S 6th St

Owned by the same man as DLR, China Blue is the resident dance club, playing hip-hop music and catering to college-goers. There's an obligatory VIP section, as well as a bed and a gong to alert patrons to the presence of a big tipper. There is usually a cover, and drinks are expensive, especially for Boise, but on the up-side, the ladies restroom has a private champagne bar and bartender, so any annoying boys with too much bling can wait outside while you drink in the bathroom.

MulligansA typical would-be Irish dive bar with a very distinctive, but not altogether unpleasant smell. There's pool, of course, but also airhockey and foosball. And well shots sometimes. It's a great place to enjoy a drink on the patio and people-watch.

10th Street StationLocated in the basement of the Idanha Hotel (now apartments) you can experience the relaxed crowd, friendly staff, and charm of a former speakeasy. As long as you don't ask for a 'pint' (only 10 oz glasses are served) you'll be welcome to stay the night. Note that they generally close early at 1:30AM.

NeuroluxThe stiffest drinks in Boise, bartenders here use a five-count pour, instead of the standard three-count. Arguably the best jukebox in town. The clientele are about as varied as their tastes in music, so nobody is judgmental of anyone else, just what's playing on the jukebox. This is the place for indie rock shows; the biggest bands played here before they played the arenas. Beware, it is always dark at "The 'Lux," despite the big picture window letting in sunlight (they have black blinds for when it's too bright for Rock&Roll).

Grainey's and J.T. Toad'sAcross the street from China Blue and Dirty Little Roddy's, these twin bars (on two levels of the same building) typically charge a cover but provide relatively cheap beverages once inside. In addition, there are often two live bands playing, one on each level. The basement band typically cajoles more bar-hoppers into dancing than its upstairs counterpart. While somewhat low on atmosphere, these bars can be a lively stop, particularly for the younger crowd. Note that Grainey's may be the oldest 'original' bar in boise great charm for a happy-hour drink.

ReefBoise's Tiki outpost. Along with tasty Pupu's, a good menu and freshly made exotic drinks the Reef has plenty of live music. Rooftop patio with full service outdoor bar.

Leku Ona

address: 117 S 6th St

A Basque restaurant with a good bar and home to a slightly older set than the rest of the downtown scene.

Pengilly's SaloonAlso home to the slightly older crowd and smoke free. Most nights have live music, usually jazz or alt-country. There are pub quiz and open mic nights.

Montego Bay

address: Lake Harbor Ln

You can't miss the billboards that show the way. Montego Bay is a bar and restaurant with a dock on the water, open from May until September-ish. The drinks and food are kind of expensive, but the ambiance is great, and if you're a non-smoker, the open air dock is a good way to escape the smelly smoke of the inside. There is a dance floor in the building, and patio furniture outside, with tableside service, and outdoor bars.

Les Bois Park Clubhouse & Turf ClubTuesday Night Ladies Night will usually have around 2,500 people, free admission and a wide variety of drinkers. Beer is cheaper than most other sports entertainment venues (definitely colder) and has a couple of bars and multiple areas to get around and not be stuck at a table or bar until you fall over. There are two restaurants with pay-for tables and a patio with the same. Expect a lot of very lightly dressed women and hope for a longshot to win one of the races so you can get $2 drafts for 20 minutes.

Mr. Lucky's

address: Chinden

A step above the dive bar. They have live bands on Friday and Saturday nights; sometimes good, sometimes not, but always loud. The drinks are affordable, and if you sit at the bar, the bartenders are usually friendly.

The Emerald Club

phone: +1 208-342-5446

address: 415 South 9th Street

One of 3 gay bars in Boise. The others are The Balcony and The Lucky Dog.

The Balcony

address: 150 N 8th St #226

The most well known LGBT bar in Boise, The Balcony is so named for its wrap around, open-air balcony, right above the pedestrian center of downtown (beautiful view). The dance floor is big and has two separate raised areas for dancing in the limelight, and the latest remix of the latest Gaga song is sure to play twice. The drinks are of average strength, but keep your eyes open for some drag queens you wouldn't believe were "packing" (and some you would).

Pie Hole

phone: +1 208 344-7783

address: 205 North 8th St

This place is great for late night college life. It has an old-school feel, with classic video games like Pacman at the tables.

phone: +1 208 342-9568

address: 1005 S Vista Ave

A well-established local hangout in the Bench neighborhood, Quinn's offers a full menu and bar, weekend champagne brunch, live music on Fridays and Saturdays, and some of the best karaoke in town on Thursdays and Saturdays.
Sleep
phone: +1 208 344-7444 or +1 208 344-7446

address: 2970 W Elder St

A completely non-smoking hotel for business travelers located near the Boise Airport and away from Boise State University.

address: 245 S Capitol Blvd

A part of the Coast Hotels chain, it's probably the highest end hotel in Boise.

phone: +1 208 375-8500

address: 7957 West Spectrum Way

Free breakfast and light dinner. Free high-speed Internet.

phone: +1 208 342-4622

address: 981 Grove St

A boutique hotel in downtown Boise.

Idaho Heritage Inn Bed & Breakfast

phone: +1 208 342-8066

address: 109 W Idaho

Built in 1904, former Governor's mansion, near downtown shops and dining, close to parks and historic district. Rooms $70-85, Suites $99-110. All have private baths and are furnished in turn of the century antiques. Free wifi. Free gourmet breakfast.

phone: +1 208 424-8244

address: 1314 Grove St

Boutique hotel with tiled spa-like bathrooms, 32" flat screen HDTV, free wifi.

Hilton Garden Inn Boise Spectrum

phone: +1-208-376-1000

address: 7699 West Spectrum Street
Connect
Cope
Newspapers
The Idaho StatesmanThe Idaho Statesman is the newspaper of record for Boise and for the state of Idaho.

Boise WeeklyPublished on Wednesdays and available citywide, the Boise Weekly is the city's primary source for arts and entertainment news.
Consulates
phone: +1 208 323-7953

address: 5796 Millstream Way, Garden City

phone: +1 208 343-6228

address: 701 Morrison Knudsen Plaza Dr, Suite 102
Go next
Idaho City. northeast from Boise via State Highway 21, Idaho City makes for a good day trip from Boise. Once the largest city in the Pacific Northwest, this small mountain town offers a glimpse of Idaho's rich mining history. The winding road to this town of 500 offers some of the beautiful scenery provided by Idaho's natural forests.