Bolaven Plateau
Bolaven Plateau
(ພູພຽງບໍລະເວນ
Pupyang Bolaven
) is in
Southern Laos
.
Talk
Minimal English is spoken. Usually one fluent English speaker can be found at banks. Even guesthouses have limited English.

Get around
Bus
Motorbike rental- from Pakse
See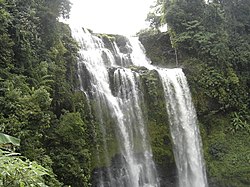 Itineraries
1 night at Tad Lo: In Pakse, you can rent a motorbike for about US$15 for two days. Leave before the sun gets too hot and head towards Tad Lo. Stop for lunch and at waterfalls along the way. Once at Tad Lo you can find a place to sleep at any one of the many guesthouses. The next day continue to Pakxong where you can get some coffee and then head back to Pakse.
Small loop by public transport and one night at Tha Theng or Tad Lo from Pakse, go to Dao Heung market (~8,000 kip by samlor), take bus to Paksong (first one at 09:00, ~20,000 kip). After about 1.5 hr stop at km38 for That Fane/Tham Cham Pee crossing (big board advertising the falls). You mist walk about 1 and 1.8 km for each one. Entrance fee for each fall: 5,000 kip. From there, walk/hitchhike/catch a bus to km40 for Yuang Falls, probably the best of three. Hotel and stalls nearby. You can also go just in front of the waterfall to see a permanent rainbow at your feet but be prepared for a shower! After, hitchhike or catch a bus to reach Paksong.
Several guesthouses and hostels also offer a day tour option that covers the main waterfalls as well as the coffee plantation for a fair price. Pickup from the hostel in the early morning. Chato Hostel had a poster about it.
From
Paksong
, watch the road to catch a transport/bus to Tha Theng (for example Pakse-Attapeu). Be aware that it seems there is no such a bus between 14:00-16:00. Bus Pakse-Attapeu to Tha Theng costs about 25,000 kip. Tha Theng bus station is at market level, small hut near the road. If you arrive at Tha Theng after 16:00, it seems there is no transport at all to Ban Beng/Tad Lo except by paying a costly motorbike (you could be asked for 150,000 kip). In this case, better to spend a night there.
From Tha Theng, a songthaew to Pakse is about 30,000 kip (starting at about 07:30) and to Ban Beng about 20,000 kip (starting at about 08:00, about a hour). Between Ban Beng and Tad Lo, test your luck and walk/hitchhike/catch a bus either to Tad Lo or crossing with main road.
At Tad Lo, you can see Tad Hang and Tad Lo waterfalls.
Bus to Pakse are taken from crossing and seems about every one hour during day (~30,000 kip, 2 hr, to southern bus station)
If doing this loop by motorbike it is easy to take in Sekong and Attapue. From Attapue you can make an interesting day trip to Pa-Am, formerly part of the Ho Chi Minh trail, where there is a huge surface to air missile left over from the war. Head out of Attapue east on Rte 18B towards Seiseta, after the village and around 15 km from Attapue the highway veers to the right and a paved road carries straight on. This is the road you want. Stay on this road for another 15 km till you cross a bridge and you will see the missile in front of you. From here you can either head the same way back or take a right at the missile and follow a rough road/track for another 40 km up into the mountains and skirting a national park. From the missile it is around 20 km till you reach a dam construction project where you need turn right across a huge steel bridge. From here the road gets better and is tarmac for much of the 20 km back to the highway. This option makes it a 100 km round trip and you rejoin Rte 18B much further towards Vietnam but it is a scenic ride back down with great views.
As you head back to Pakse, instead of going back the same way you came, you can take a left turn towards
Paksong
about halfway between Attapeu and Sekong. This road is being totally redone and will soon be a sealed highway but is still passable. Along this road are two spectacular waterfalls, one of which is the highest in Laos. They are close to each other about 3-4 km after you cross three bridges in quick succession. The walk to the foot of the highest waterfall is treacherous, takes at least an hour and you get soaking wet from the spray but is well worth it. Along this road is a guesthouse, if you want to break up the journey back to Pakse, which is owned by a friendly couple. The man can arrange treks that are rather brilliantly priced at US$1 a waterfall, of which there are ten, but you can do as many or as few as you like, most are big and spectacular. The guesthouse is on the left hand side of the road and is 2 km down a track, it is signed from the road as "homestay and treks".
Drink
Drink local coffee produced in this area. The planting in this region is from the time of the French colonization.