Bonaire
Bonaire
is a
Caribbean island
just north of
Venezuela
, politically part of the Netherlands. Along with its neighboring Dutch islands of
Aruba
and
Curaçao
, it forms the
ABC Islands
, though it is much quieter. It is a mostly flat, riverless coral island renowned for diving, windsurfing, and bird watching (particularly flamingos). Lacking many sandy beaches – it instead has lush coral reefs – it is less visited by cruise ships. Bonaire has world-class shore diving, much of it easy, and is thus well-suited for beginners, or for experienced divers who want relaxing independent diving.
Understand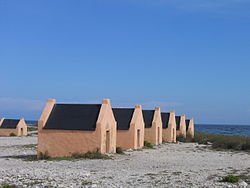 Geographically, Bonaire is part of the
Netherlands Antilles
, which is comprised of the ABC Islands of
Aruba
, Bonaire, and
Curaçao
. These islands in turn are part of the
Leeward Antilles
, which also contains numerous islands that are part of Venezuela.
Politically however, Bonaire is part of the
Caribbean Netherlands
, with
Sint Eustatius
and
Saba
, and is a "special municipality" fully integrated in the
Netherlands
proper but does not have the same laws.
Economically, Bonaire uses the US dollar as its currency.
Climate
The climate is tropical marine with little seasonal temperature variation. Temperature is moderated by constant trade winds from the Atlantic Ocean, with averages of 28°C (82°F). Bonaire sits outside the Caribbean hurricane belt. "Rainy" season lasts from the last week of October to the end of January, but it is still relatively dry. During rainy season, late night and early morning rains are common, usually clearing shortly after sunrise.
Water temperatures average 26°C (80°F).
Terrain
The total land area of the island is 285km 2 (110mi 2 ). The southern portion of the island is flat with few hills, sparse vegetation and negligible natural resources other than white coral beaches and salt. The northern part of the island is a rugged and arid national park. The southern tip of the island is a series of giant water-filled salt pans for sea salt production and an off-limits flamingo sanctuary.
Talk
The official languages are
Dutch
and Papiamento, the latter of which is the traditional language spoken by the locals. Many locals also speak
Spanish
, and employees at hotels, dive shops and restaurants will almost always also speak English.
Get in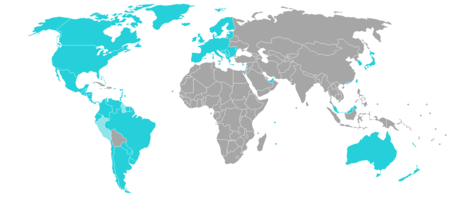 Entry requirements
Countries eligible for a
visa-free entry
are shown in cyan on image to the right.
Other countries required obtaining a
visa
, which is valid for
Aruba
,
Curaçao
,
Sint Maarten
and the
Caribbean Netherlands
and allows multiple entry for a maximum period of 90 days within 180 days. The maximum uninterrupted stay in one of the individual countries is 30 days. The visa is not valid for the European part of the Netherlands.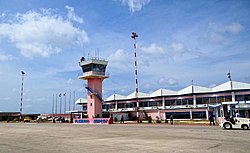 By plane
Flamingo International AirportThe only international airport. There are a few direct flights from major hubs, and many connecting via the regional hub of Curaçao.
Airlines Serving Bonaire
and their flights include:
United Airlines operates weekly non-stop flights from Newark (EWR) on Saturday morning (Saturday afternoon return), and from Houston (IAH) on Saturday afternoon (Sunday morning return).
Delta Air Lines offers weekly flights from Atlanta (ATL) on Saturday mornings (Saturday afternoon return), and sometimes Sunday mornings (Sunday afternoon retuns).
Small regional airlines connect Bonaire with the neighbouring islands:
Divi Divi Air
,
Insel Air
(several daily flights from Curacao), and
TUIfly
.
Charter airlines include
Tiara Air
.
Departure Fee for all international destinations is USD $33.40 per person, payable in cash or debit/credit card at the airport prior to check-in. MasterCard, Visa, Discover, Maestro, are all accepted, but American Express is not.
By boat
There are no passenger ferries operating to or from Curaçao or Venezuela. Cruise ships do increasingly visit Bonaire, especially "in season" (winter). Some shops and restaurants may remain open extra hours to cater to their passengers.
You can also use different Bonaire Water Taxis including and the Seacow Watertaxi.
Private boat moorage is available. Dive operators operate boats to many dive sites including those located off the small uninhabited island of Klein Bonaire. Some boat operators also specialize in snorkel tours and there are regularly scheduled passenger boats to Klein Bonaire. Some include the
Woodwind
,
Oscarina
,
Bowalie
and more.
Get around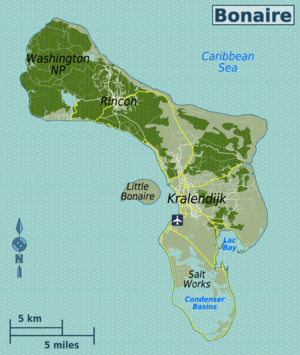 By car
Driving is on the right, and the island does not have any stoplights. Maximum speed in urban areas is 40 km/h (25 mph), and outside of town it is 60 km/h (35 mph).
Automobiles can be shipped to Bonaire and rental cars are available at the airport and at selected hotels. Reservations are strongly suggested as, especially during peak times, all vehicles may be rented. You can drive around the entire island in a couple of hours!
By bus
There is an informal bus system on the island that utilizes vans. There are a small number of medium sized tour buses on the island as well.
By taxi
The island has a small fleet of cabs to service cruise ships and the airport. Rates are not set and should be negotiated beforehand.
By bicycle
Bicycle rentals are available.
By other
Scooters, motorcycles, golf carts, are also available for rent.
See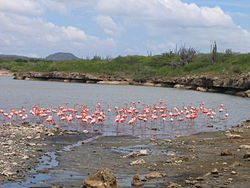 Lizards, birds, corals, reef fish, sea turtles
Historic Slave Shelters
Fort Orange built 1639
Indian Rock art
Salt flats
Mangrove forests
Soroban beach, popular with windsurfers

Washington Slagbaai National Park

address: Near Rincon

a large nature park covering most of the north of the island, featuring dramatic scenery. The 34 km of roads in the park are rough: you will need an offroad vehicle or mountain bike (challenging ride). There are also 3 hikes, ranging from 45 minutes to 2 hours; trying to walk the entire park is not recommended, and not very pleasant.There is also swimming, snorkeling, and shore diving; the dive sites are generally quiet, due to remoteness. The park gets hot and dry, so go early, don't go alone, protect yourself from the sun, and bring plenty of water.
Do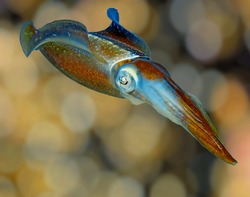 Scuba diving
Bonaire is renowned among divers as one of the top shore-diving locations in the world. The reef along the western side of the island has been protected for years and is in excellent condition, offering visitors the opportunity to literally wade in from the beach in front of their hotel and experience an amazing underwater world. The eastern side of the island is exposed to the Atlantic Ocean and is significantly rougher, so diving opportunities are limited to guided dives on all but the calmest days.
Dive sites are located along the entire western coast, generally marked by a painted yellow rock and/or a mooring in the water. Dive shops are everywhere and will rent gear, and most have drive-thru tank rentals where you can pick up tanks for the day and return used tanks. The reef is fairly shallow, with depths from 10 meters to 40 meters (30 feet - 130 feet).
Before diving all divers must review the national marine park rules and pay a $25 per person fee (as of January 2016), good for one year. The fee for snorkelers is $10, also good for one year. The fee can be paid in cash at any dive shop, and you will be issued a dive tag that you must carry with you while diving.
Equipment
Beyond usual scuba diving gear, the following rules and recommendations apply.
Marine park rules include
no gloves
,
no chemical glow sticks
, and
no spear fishing
(except special lionfish courses; see below). On the other hand (or foot, rather),
booties
are strongly recommended, due to walking on rough terrain during shore entry, and
dive knives
are allowed.
For most people, a
3 mm wetsuit
(full) is suitable year-round; a 2 mm wetsuit or shorty is ok for more warm-blooded divers. A
dive skin
is recommended for snorkelers, and may also be worn under a wetsuit.
A
waterproof bag
or box is useful if shore diving, to keep keys and billfold (and phone, if you want to risk it), as these should not be left in the car. A few cheap zipper plastic bags should be sufficient for keys and money/cards, though not phones. A thin billfold helps to carry cash and cards, though a rubber band or binder clip is fine, and they can also be stored loose.
Activities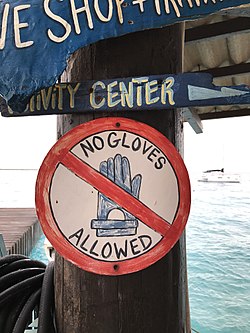 The main attraction is
shore diving
: rent a truck, fill your tanks, load up your gear, drive to a site, and start diving! Obviously this requires experience and a buddy to be done safely; you can hire a Dive Master to come along if inexperienced or for more challenging dives.
There are a number of special activities available, including:
Lionfish Hunting, which is only allowed with a special gun, under supervision. Lionfish are an invasive species, and it is ecologically responsible to kill them (and tasty to eat them!).
Stay safe
Always dive with a buddy and stay within your ability and training.
Do not leave any valuables in your car while diving as break-ins are common. Preferably leave valuables in the hotel safe, especially wallets and phones, and bring a minimum with you: just keys and a bit of cash, and take in a waterproof bag.
Other water activities
Snorkeling
Fishing
Windsurfing
Kiteboarding
Sea Kayaking
Sailing
Land activities
Mountain biking
Cave exploring
Bird watching
Buy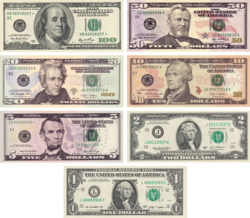 Money
Bonaire uses the
U.S. dollar
, denoted by the symbol "
$
" (ISO currency code:
USD
). It is divided into 100 cents.
Eat
Bonaire has many restaurants and quite varied cuisine given the overall island population. "Aki ta Bende Kuminda Krioyo" will inform a visitor that local-style food is available, generally heavy on soups, stews, fried foods and fish. Traditional foods that may be found on the menu include conch, cacti, wahoo and rock lobster. Much of the fish is caught locally by line fishermen in season. Though traditionally eaten, iguana is not generally served in restaurants.
Bonaire has little in fast food, though there is the "smallest KFC franchise outlet in the world" in a shopping plaza by
Kralendijk and a Subway sub shop. Check out "Swiss Chalet", a local favorite serving Fondu. Bobbejan's is an extremely popular weekend-only barbeque joint. Other cuisines common on the islands are Argentine, Italian, Indonesian, Suriname, and lots and lots of Chinese. Island-made ice cream is available in many places, with Lovers Ice Cream being a local favorite. Arrive before noon, as they often sell out.
Almost all eateries are open for limited hours during the day, and many close briefly during siesta time between 2-3PM. Call or check ahead to determine if a restaurant is open for lunch, dinner, both, or only open on weekends. Some are closed certain days of the week, such as Sunday.
Between 2 Buns

phone: +599 795 4709

address: Blv. Gobernador N. Debrot 79, Kralendijk

Freshly made breakfast, pastries, burgers and other kinds of sandwiches. Vegetarian and vegan options available.
Sleep
Despite the small size of the island, Bonaire has a lot of possibilities when looking for places to stay, from large resorts to small privately owned houses which you can rent on a daily basis. Along the coast you have multiple places that combine a dive school with cabañas where you can sleep for a moderate price. Most of the accommodations on the island are relatively small, averaging 15 rooms or less.
Several mid-size apartment complex devoted to tourists exist. These tend to be a bit more upscale than the smaller accommodations. There are several larger, more resort like places as well. These are still somewhat small, with only the Plaza Resort Bonaire and Captain Don's Habitat having over 100 rooms.
Due to flights from the US often being scheduled on Saturdays, some resorts have a weekly schedule, with an end-of-week party Friday night, such as the BBQ at Buddy Dive Resort.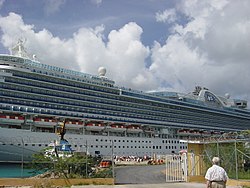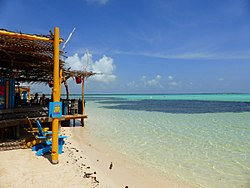 Stay safe
There is little serious crime on Bonaire; however, 911 can be used for emergencies. Secure your bicycles and scooters. Never leave anything of value in your car while diving as break-ins are common.
Tap water on the island is perfectly safe for drinking, although bottled water is readily available for those who want it.

Go next