Bonaventure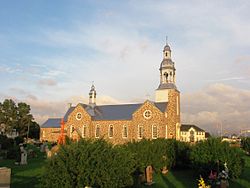 Bonaventure
is a town of 2,800 people (2011) on the Gaspé Peninsula in
Chaleur Bay
, Quebec.
Understand
The town was named after the Italian saint Bonaventure.
phone: +1 418-534-4014

Picnic tables overlooking the barachois (a coastal lagoon separated from the ocean by a sandbar). A computer station with Internet access is available during business hours and wireless access is also available 24 hours a day.
History
Prior to permanent settlement, the Bonaventure harbour had often been visited by Europeans and was the location of temporary camps and posts for many years before.
After the British began expelling Acadians from the Maritime provinces in 1755, refugees who had avoided the expulsion became the first permanent European settlers of Bonaventure in 1760. Some of these early settlers were present at the Battle of Restigouche in July 1760, where a mixed force of French navy aided by Acadians were defeated by the Royal Navy. Many of today's Bonaventure residents are of Acadian descent.
At the time of settlement, Bonaventure was in French territory, but in 1763, after the Treaty of Paris, all of New France was ceded to Britain, and Bonaventure became part of British colony of the Province of Quebec. Later, some of the lands already settled by the Acadians were granted to anglophones. After decades of petitioning the Quebéc government, some of the Acadian settlers were able to gain title to the lands they occupied. However, even as late as 1891, more than half of the homesteaders in this region had no legal title to the lands they lived on.
Bonaventure was raided by Americans during the War of Independence.
Get in
Bonaventure sits on Baie des Chaleurs near the mouth of the Bonaventure River. The town is on Route 132 between Saint-Siméon and New Carlisle.
See
phone: +1 418-534-4000

address: 95, Avenue Port-Royal

Temporary and permanent exhibitions throughout the year about the on-going history of the Acadians in Quebec. Gift shop.

address: 123, rue des Vieux Ponts

A wildlife park showcases species that are mainly native to Quebec, about 40 in all. A 1.5-km trail allows you to observe the animals in habitats adapted to their comfort and ensuring good visibility. There are also an insectarium, a small farm, and a pavilion of amphibians and reptiles. Bioparc offers nine cottages for rent near the beach, facing the sea.

phone: +1 418-534-3905

address: 184 Route de l'Église, Saint-Elzéar-de-Bonaventure

The cave is almost 500,000 years old, and is one of Québec's oldest caves. Dress warmly as you'll go down into the cold cave to see the stalactites, stalagmites and moon milk (a mysterious, semi-liquid deposit found in caves). Reservations required.
Do
address: 200 Chemin Athanase Arsenault

Canoe, kayak, standup paddleboard (SUP), snorkel or go tubing on the Bonaventure river. Aerial course and 2 ziplines. Restaurant, campground, yurts, teepees, and ecolodges.
Eat
phone: +1 418-534-2434

address: 230, Rte 132 est

Seafood restaurant open in the summer. Certified under the Forchette Bleu programme for sustainable marine resources.

phone: +1 418-534-4276

address: 168 Beaubassin

Quebec and Gaspesian cuisine made with local products in a former fish processing plant. Also has five rooms available with breakfast: single $80, double $90, family room for 4 $155.

phone: +1 418-534-0072

address: 124 B avenue Grand-Pre

Soups and other comfort foods. Ramen, chili, ratatouille....
Drink
phone: +1 418-534-3355

address: 119 Avenue Grand-Pré

Sports pub with burgers, sandwiches, salads, poutines. Live music or comedy some nights.
Sleep
address: 98 Avenue de Port Royal

phone: +1 418-534-2053

address: 118 Avenue Grand-Pré

Free Wi-Fi, bar/lounge, non-smoking hotel, pets allowed, wheelchair-accessible rooms, air conditioning, some rooms with kitchenette.

phone: +1 418-534-3246

address: 154, rue Beaubassin

In the Bay of Chaleur, bordered on the south by a sandy beach with the warmest waters of the Gaspé coast. 234 sites, most of which have three services (15, 30 or 50 amps) and can accommodate all types of recreational vehicles or tents. Great sunsets over Chaleur Bay and the mountains. Online reservations.