Boone (North Carolina)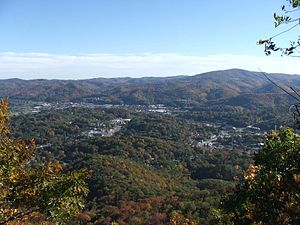 Boone
is a town in
Watauga County
nestled in the
North Carolina Mountains
, part of
Appalachia
. It is the home of
Appalachian State University
and is the county seat.
Understand
Climate
Boone can be said as having a diverse climate with a big fluctuation of temperatures throughout the year. Although Boone is located in the American South, its climate can be more comparable to the northeastern United States with long cold winters and warm, but less humid summers. Winters are cold and snow is common with afternoon temperatures rarely getting above 40°F (4°C). Low temperatures during the winter typically drop to as low as 17°F (-8°C). January is the snowiest month when as much as 10 inches (25 cm) can fall, making it the most popular time of the year for skiers and snowboarders. Throughout the year, Boone on average receives about 35 inches (89 cm) of snow. Springs are generally cool with afternoon temperatures around 61°F (16°C). Fall is very popular amongst "leaf lookers," long-distance travelers looking at fall foliage across the
Appalachian Mountains
. Temperatures during fall are generally comparable to sprig with afternoon temperatures falling below 70°F (21°C). Summers are much cooler than the rest of the American South and far less humidity. Average summertime high temperatures typically stay under 80°F (27°C) with frequent afternoon showers and thunderstorms when as much as an inch of rain (2.5 cm) can fall at a given time. June is the wettest month when about 5 inches (12.7 cm) of rain falls. Relative humidity in the summer generally stays under 80 percent, unlike most of the southeast.
Get in
Access is primarily by private vehicle. Fly to
Charlotte
(
CLT
), Raleigh (RDU), Asheville (AVL), or Greensboro (GSO). From Charlotte, take I-77 north to US-421 and go west or I-85 South to US 321 North at Gastonia. From Raleigh or Greensboro, take I-40 west to US 421 west at Winston-Salem. From Asheville, take I-40 east to US 321 at Hickory and head north to Blowing Rock.
Greyhound buses serve Boone and is a cheap option from major cities like Atlanta and Charlotte.
Seven times a day, the Hickory Hop shuttle goes from Charlotte to Hickory (1 hour from Boone). Continuing taxi service is available, and shuttle service is planned.
Other options include ridesharing such as the link below.
See also Craigslist Ridesharing Board

Get around
Bus
AppalCART has eight bus routes running in Boone. The buses are free to use within city limits.
Foot
The downtown area is very compact and easily walkable. The remainder of town is well provided with sidewalks and some bike lanes, making non-automotive transportation a reasonable idea.
Taxi
Boone Taxi +1 828-266-3860 Boone Taxi provides all daytime transportation guided by the client. Rides anywhere in town average about $5 per person. Boone Taxi also provides nightlife guidance and nighttime transport. Airport transport also available anytime.
See
Blue Ridge ParkwayThe parkway crosses Hwy 421 east of Boone and Hwy 321 to the south of Boone. If you head south on 321 toward Blowing Rock you'll soon come upon it.

Howard's Knob

address: 604 Howard's Knob Rd

This is a short drive up the mountain and a great experience as it affords the most commanding view of all of downtown Boone. As you are riding in on either Hwy 421 or Hwy 321 you will not be able to miss the huge mountain sticking up out of the surrounding landscape. Howard's Knob park is up at the very top and it's easy to get to, you just have to know which road to turn onto off of King St. Heading west on 421, you will turn right onto Cherry St. Keep heading uphill and when you come to an intersection go in the direction that looks like it's leading uphill and before you know it you will come upon the park.

Appalachian State Mountaineers

phone: +1 828 262-2079

address: Kidd Brewer Stadium, 425 Jack Branch Dr.

Fields teams in 10 men's sports and 10 women's sports, but best known for being one of the winningest programs in college football in recent decades. A perennial contender in football's second-level Division I FCS, the Mountaineers (or Apps) won consecutive national titles in that division in 2005, 2006, and 2007. The athletic program took a step up in class in 2014, moving to the FBS Sun Belt Conference.

phone: +1 (828) 963-9522

address: 9872 North Carolina 105, Banner Elk, NC 28604

Expansive park with challenging mountain cliffs, scenic views and camping options.

Moses Cone Memorial Park and Flat Top ManorOff the Blue Ridge Parkway between mile posts 292 and 295 the park offers of hiking and horse trails. The grounds preserve the country estate of Moses Cone, a prosperous textile entrepreneur, conservationist, and philanthropist of the Gilded Age. Its centerpiece is Flat Top Manor, a 20-room, 13,000-sq-foot mansion built in 1901 which is now home to the Parkway Craft Center.
Do
Ski
In skiing season, there are several nearby mountains that offer skiing.
address: 1007 Beech Mtn Pkwy, Beech Mountain, NC

Generally less appealing than nearby Sugar Mountain, Beech Mountain's infrastructure shows its age; for example, lift tickets do not use barcodes and are checked by eye. Lifts are very slow (not helped by needing to leave empty seats for weight balance) and difficult to get on and off of due to their low load height. The trails have a fair assortment of difficulties, although beginners will feel fairly limited. However there are a number of crisscrossing intermediate trails to choose from, as well as multiple terrain parks. You can also buy a ticket for any third or two-thirds of the day (morning, afternoon, or night).

Appalachian Ski Mountain

address: 1009 Sugar Mtn Dr, Sugar Mountain, NC

Although you can't tell from the map, Sugar Mountain feels like a much larger resort than nearby Beech Mountain. Trails are longer with much higher vertical drop, and an excellent mix of terrain for everyone from beginners to experts. A 6-person express lift (installed in 2015) runs straight up the mountain, so there's plenty of capacity and lines are usually short. The single terrain park has a tow handle lift so you can practice tricks repeatedly.
Snowtubing
phone: +1 828 963-6561

address: 1778 Skyland Dr, Seven Devils, NC

There hasn't been skiing there for the past couple of seasons, but they have upgraded their lodge and now exclusively offer tubing.
Mountain biking
Rocky Knob

phone: +1 828 266-1345

address: Rocky Knob Rd, Boone, NC

Mountainous park near downtown Boone offering scenic views and numerous mountain biking trails.
Amusement
Tweetsie Railroad

address: 300 Tweetsie Railroad Ln, Boone, NC

Family-friendly Wild West theme park minutes from downtown Boone.
Buy
address: King Street, Boone, NC

Boone's downtown is home to many local restaurants and specialty shops.
Footsloggers

phone: +1 828-262-5111

address: 139 South Depot Street

For all kinds of weather and through every season, Footsloggers offers the finest in apparel, equipment and footwear for every outdoor setting; be it backpacking, camping, climbing, water sports or winter activities. From natural fiber and organic cotton to the latest in technical fabrics, Footsloggers can help you travel and arrive in comfort and style.

address: 630 W King St.

Mercantile goods, groceries, candy, and outfitters with atmosphere.

phone: +1 828 264-8801

address: 661 West King Street

Locally-made home goods, jewelry and clothing from a variety of vendors.
Eat
address: King Street, Boone, NC

Boone's downtown is home to numerous local restaurants and specialty shops.
address: 168 Boone Heights Drive

Collectively owned mostly authentic Mexican food in the mountains of NC - you've got to love this place, and you've got to try the Chile Verde!

Black Cat Burrito

address: 127 S Depot St

Legendary burritos the size of a football, or an abnormally small child. Black Cat is also home to some of Boone's finest live music, drawing from the fantastic local music scene and artists from around the country and around the world.

Boone Bagelry

address: 516 W. King St

Up early and need a tasty and bagel-filled breakfast? On King Street and need a quick lunch?

address: 539 W King St

Known for sandwiches.

Makoto's Japanese Steak House and Sushi Bar

address: 2124 Blowing Rock Road

Communal dining with up to eight people per table seated around a hibachi grill. A separate sushi bar may provide quicker seating when there's a line waiting to get in the steakhouse section.

address: 957 Rivers St

College town pizza restaurant

phone: +1 828 264-8657

address: 130 Hardin Street

Good Southern food served family-style (i.e., they bring a bowl of everything and you eat as much or as little as you want). Takeout portions sized for the individual are available, and full-service catering or takeout platters are available for your event or tailgate party. The Dan'l Boone Inn offers an ATM on site as the restaurant does not accept credit or debit cards.

address: 345 Hardin St.

Great bread, pastries, coffee, etc.

address: 240 Shadowline Dr.

address: 970 Rivers Street

address: 1348 Hwy 105

Home-style Italian and American.

address: 227 Hardin Street

Great variety of amazing food. The quesadillas are awesome!
Drink
Bars and pubs
address: 1104 Highway 105

Large selection of imported and domestic beer and wine.

address: 489 West King St

Where the App State upperclassmen and professors tend to drink.
Coffee shops
BE Natural Market

phone: +1 828 262-5592

address: 273 Boone Heights Dr

Locally-owned natural foods and wellness market.

Local Lion

phone: +1 828 386-1120

address: 791 Blowing Rock Rd, Boone, NC

Coffee shop with quick bites and prepared foods.

Espresso News

phone: +1 (828) 264-8850

address: Howard Street

Great coffee shop with a large variety of books upstairs.
Sleep
Trying to find lodging in Boone or nearby Banner Elk or Blowing Rock is a
disaster
. There are thousands of cabins around, and no consolidated way to search them. Websites are
awful
, ranging from out of date and poorly maintained, to unhelpful or even nonfunctional. Several others have no online search capability, expecting you to call, or manually read as many as 100 individual cabin listings each on a separate page. Of sites that do have search capability, it's generally inadequate; searching for "lodging near ski slopes" might show places as far as 30 minutes away, with its location just described as "Boone".
address: 818 E King St.

High speed internet access, fitness center.

address: 2060 Blowing Rock Road

Three-story building with interior corridors, elevator and easily accessible stairwells, small lobby. Wifi. Complimentary continental breakfast with heatable breakfast sandwiches available. Adjacent to Chick-fil-A, Applebee's, and a gas station and convenience store.

address: 1943 Blowing Rock Road

Five-story property with interior corridors, elevators, large lobby with fireplace. Suites available with gas fireplace, wet bar, microwave and separate bedroom. Wifi in all rooms. Complimentary breakfast with hot and cold items served in lobby each morning. One block from Greenway Trail.

address: 404 Old Bristol Rd.

Built in 1875 by Captain E.F. Lovill, a Civil War hero and state senator, offers private baths, TV and VCR, and wireless internet access.

Stone Pillar Bed and Breakfast

address: 144 Pine St.

Watauga Lake Cabins, +1 803-524-5185, offers a range of cabins from simplistic to high-end, this cabin rental company has been offering vacation homes to visitors of the Blue Ridge Mountains in Appalachia for nearly ten years. Cabins that are perfectly centric to the great Watauga Lake, Cherokee National Forest and the town destinations of Boone and Blowing Rock.
Resorts
Most locations that offer skiing also have resorts. They tend to be more expensive than lodging in town, but will keep you closer to the activity.
address: 100 Sugar Ski Dr., Banner Elk, NC
Mill Ridge Resort in Banner Elk on NC 105 offers 1-5 bedroom homes for rent which include tennis, swimming pool and hiking. millridgeresort.com
Go next