Bordeaux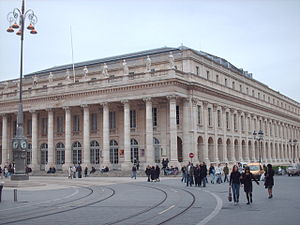 Bordeaux
is famous for its wines. It deserves to be equally famous for its magnificent neo-classical waterfront and old town, a
UNESCO World Heritage Site
History

Bordeaux and the whole province of Aquitaine came under English rule for 300 years from 1154, when Eleanor of Aquitaine married the future King Henry II. The English rulers enjoyed drinking the wines of Bordeaux, but they enjoyed the profits even more – trade with Bordeaux was their largest source of income. Most wine came from the Graves region just upriver from the city, and this was a clear, deep rosé called clairet, still produced today. The English came to call any Bordeaux red wine "claret".
In 1453 France took control of Aquitaine and cut off the supply to England, which ceased to drink wine for the next 500 years, turning to beer and gin. This caused a slump in Bordeaux, which only revived from the 16th century through trans-Atlantic trade. The city then prospered through the 18th century, when most of its fine buildings were erected, and it provided the model for Haussmann's 19th-century remodelling of Paris. Bordeaux also came to eclipse other French Atlantic ports such as Bayonne and La Rochelle. Much of the wealth was based on the triangular slave trade: sugar, rum and other plantation products were shipped to France from the Americas and Caribbean, France shipped industrial wares to Africa, whence the slaves were sent west to work those plantations.
Bordeaux suffered a human cost in later turmoils: the French Revolution, Napoleonic wars, and First and Second World Wars. But the damage to buildings was small enough to be repaired, rather than needing whole-scale rebuilding. The 18th-century grandeur was thus preserved. It helped that the limestone and gravel subsoil wouldn't take the weight of high-rise buildings. Credit is also due to the Mayor of Bordeaux (and former French prime minister) Alain Juppé, for keeping out modern intrusions while revitalising the inner city, with pedestrian precincts and a revamped transport system.

Orientation

Bordeaux's centrepiece is the elegant riverfront and former port, where fine 18th-century buildings stretch for 3 km along the west bank of the Garonne, from Quinconces in the north to St Croix in the south. The old central districts of St Pierre and St Michel extend inland for about 1 km. Most city sights are in this area. The railway station is south, at the foot of Cours de la Marne. To the north, Quai des Chartrons has been redeveloped as the "City of Wine", and has the wine museum. The main university campus is in the suburb of Talence, 10 km southwest. The districts east of the river are modern: the main reasons to cross are for the view back west in morning sunshine, and to visit the Botanic Gardens.

Get in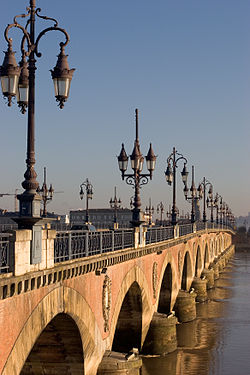 By plane
Bordeaux-Mérignac AirportDomestic flights link it to Paris Orly & CDG, Lyon, Lille, Marseille, Montpelier, Nice and Strasbourg. International destinations include Amsterdam Schiphol, Barcelona El Prat, Basel, Berlin, Bristol, Brussels, Budapest, Casablanca, Dublin, Dusseldorf, Geneva, Lisbon, London (Gatwick, Luton & Stansted), Madrid Barajas, Milan, Prague, Rome, Tunis and Venice.
There are in effect two-and-a-half terminals, side by side. Air France uses Terminal B, the budget airlines use Terminal "Billi" which is the half: an add-on to B. Other flights use A and B - these two are modern spacious terminals with the usual land- & air-side facilities. "Billi" has a poky, cramped check-in area, but shops & restaurants once you get airside.
Lianes bus 1+ runs downtown from Terminal B Arrivals every 10 minutes, via Mérignac town centre and Bordeaux city centre to the main railway station of Bordeaux St-Jean. It's a flat fare of €1.70, pay on the bus and the driver gives change within reason. The complete journey generally takes an hour. The bus runs from 5 am to past midnight and connects with the tram system at Mérignac. It can get very crowded, and it stops like the regular city bus it is.
The "Keolis" express bus runs every 30-60 minutes non-stop between the airport and the main railway station. The fare is €8 (concessions €7) and you can pay on the bus. The bus generally runs between 08:00 and 20:00. So although it's quicker, you may spend longer waiting for the next bus, and if you're really in such a desperate hurry you need a taxi.
By train
The main train station
Gare Saint-Jean
is located about four km south-east of the city centre. The main entrance faces west down Cours de la Marne; buses, trams and taxis leave from the forecourt here. Take Tram C to get downtown if you are going to the more northern part, or a bus if you are going to the central area around
Place de la Victoire
.
The main ticket hall is at the north end of the station building, under the big network map and vast vaulting ceiling. Most of the self-service ticket machines are also here, plus (usefully) a piano. There's a selection of fast food places around the hall. The lower floor is a shopping mall and subway access to platforms.
TGV trains speed hourly from
Paris
Montparnasse, with the quickest taking just over two hours. A couple of trains per day run direct from Paris CDG airport, though the travel time of about 3 hours 30 is no quicker than changing at Montparnasse between TGV and RER. Alternate TGVs from Paris continue south along the coast to
Bayonne
,
Biarritz
, and the Spanish border at
Hendaye
. Regional (cheaper) TER trains also run this route south, as well as north to
La Rochelle
and inland to
Périgueux
and
Clermont-Ferrand
. Fast Intercité trains connect to
Toulouse
,
Marseille
,
Montpellier
and
Nice
.
By car
From the north (Paris, Tours, Poitier) follow the A10. From Toulouse to the SW take A62, from Bayonne take A63.
A beltway A630/N230 encircles the city. It's usually congested and slow-moving in rush hour.
By bus
Bordeaux has
Flixbus
direct services to Paris Bercy Seine (7-8 hours, 4 per day), Toulouse (3 hours, 6 per day), Bayonne (2-3 hours, 3 per day), Lyon (7-8 hours, 2 per day), Nice (one per day, 12 hours) and Nantes (4-5 hours, 4 per day). They also run direct but not daily to Barcelona, Madrid and Lisbon. Change in Paris or Lyon for other international routes.
Eurolines
run direct to Frankfurt (16 hours, 3 per week), Stuttgart (16 hours, twice a week), Warsaw (35 hours, twice per week) and Przemysl on the Ukraine border (40 hours, twice per week).
The bus stop for Flix and for Eurolines is on Quai de Paludate just north of the railway station, opposite No. 18, where the tracks bridge the quay before crossing the river. Eurolines timetable shows this as rue des Terres de Borde, which is the street paralleling the tracks just east of the station.
European Bike Express
transports cyclists plus their bikes from UK to various European locations, including Bordeaux on their "Atlantic A & B" routes. They run every couple of weeks in summer and are sure to be booked solid in the weeks around
le Tour, il Giro
and
la Vuelta
. The pick up & drop off for Bordeaux is at Lormont, 10 km north of the centre off the A630 ring-road, by the massive Golden-Gate-styled Aquitaine Bridge.
Get around
On foot
Walk:
although Bordeaux is a big city, the sights of interest are fairly close together in the old centre, and much of it is pedestrianised. A car here would be a handicap.
By bus
All public transport information is posted on the TBC website . Maps and times can also be easily accessed with Google Maps, just select route "By public transport" when getting directions.
The city bus routes fan out from four main hubs:
The main railway station, Gare Saint-Jean, has buses to city centre, university, and north side.
Place de la Victoire has buses to the centre, railway station, University, and north and south-west sides of the city.
Place Gambetta has buses to la Victoire, the railway station, and west, north-west, and north sides.
Quinconces is a main interchange between trams and buses.
As well as standard buses, there is a small electric bus, called
la navette du centre-ville
, operating within pedestrian precincts. There are no bus stops for this one, just wave your hand to the driver to be let on, and tell the driver when you want to get off.
Single tickets (€1.60) can be purchased from the driver on the bus. If you're likely to make 4 or more journeys, buy a package of 5/10 tickets for €6.70/€12.70 or a daily/weekly pass for €4.60/€13.40 from Espace TBC (Feb 2018). They have kiosks at Gare Saint-Jean, Place Gambetta and Quinconces. Also you can also buy from the automated machines at the tram stops, all machines will accept coins and some of them will accept chip debit/credit cards. All trips are good for one hour of unlimited transfers, including bus and tram - you must validate your ticket each time you change. Try to avoid travelling during rush hour.
By tram
There are three tram routes (A, B & C) crossing the city. Tickets and fares are the same as for the bus, with unlimited transfers within one hour.
A distinctive feature of the tramway is that within the inner city, it has no overhead wires as it uses a ground-level power supply.
By ferry
The river-bus BAT³ or
Batcub
runs from Stalingrad/Quai de Queyries on the east bank, northward along the west bank to Quinconces, Les Hangars and Cite du Vins, finally to Lormont (east bank, beneath Pont Aquitaine.) Ferries run every 45 min, 7 days a week, with the complete run taking 40 min. They're part of the TBM city transport system so tickets and tariffs are the same as for bus and tram. Bicycles are carried.
By bicycle
V3 run a bike-share scheme in Bordeaux, as they do in several other European cities. You'll need to register online and put down a €200 deposit. Then pick a hire for one day (€1.60), 7 days (€7), one month (€10) or longer. Each bike usage is free up to 30 minutes, thereafter it's €2 per hour (Feb 2018). There are some 175 docking locations in and around the city, and V3's interactive map shows real-time availability.
See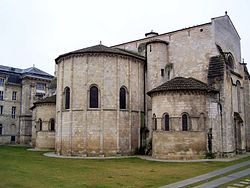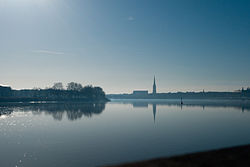 Highlights of a walking tour of Bordeaux include:
Les Quais along the west bank: called the "Port of the Moon" for the crescent sweep of the river
Quinconces, a leafy square (and transport hub), with the ornate Girondins Memorial to those guillotined here, and the nearby Public Gardens
Porte de Bourgogne, the archway leading into Cours Victor Hugo
Mirroir d'Eau (Water Mirror), across the road from Place de la Bourse: alternates a shiny water surface with a mist
Place de la Victoire, with a similar archway, at the foot of rue St-Catherine the main shopping mall
Place Gambetta, with upmarket mansions
Notable churches are the Cathédrale St-André (mostly 13-14th century, with detached bell-tower "Pey-Berland" €5.50 to climb); Basilique Saint-Michel (also with detached tower, open daily); and the church of St Croix (which is closed for restoration).
Then escape the city in the
Jardin Botanique
(Botanic Garden), on the east bank off Quai des Queyries. Open Apr-Oct 08:00-20:00, Nov-Mar 08:00-18:00, admission free.
Museums
phone: +33 5 56 00 81 50

address: 7, rue Ferrère

Remarkable building, the Entrepôt Lainé is a huge 19th warehouse for food imports. Most of the space is given over to changing exhibitions and installations (and the concession price applies whenever there isn't one). Display of the permanent collection also rotates: the current arrangement, called , stands until end of October 2019. Small rooftop cafe.

phone: +33 5 56 01 51 00

address: 20 Cours Pasteur

Stunning museum that exhibits Gallo-Roman statues and relics dating back 25,000 years.

phone: +33 5 56 90 19 13

address: Cellier des Chartrons 41 Rue Borie

History, old equipment & new technology from 2000 years of wine production in the region. The entry fee includes a taste of two wines.

Musée des Beaux-Arts

phone: +33 5 56 10 20 56

address: 20 cours d'Albret

An enlightening walk through the history of western art. In two wings behind the Hotel de Ville. Start in the south wing which runs from the Renaissance via the Flemish masters to end of 18th century. The north wing continues through the major 19th & early 20th-century art movements. Look out also for exhibitions in the annexe, Galerie des Beaux-Arts, on Place du Colonel Raynal.
Do

Have a drink and a dance at one of the many bars or clubs in Les Quais or La Victoire.

Taste wine

Bewildered by the choice in your local supermarket? Prepare to be overwhelmed by what Bordeaux has to offer... but, if you're not sure of your taste, do make use of that supermarket to do your homework beforehand. The very top vineyards start from around €500 a bottle and run up to €50,000 and beyond. This is money down the drain if you only have a €5 palate. But you can easily organise yourself a blind tasting - this cuts through all the marketing, peer pressure and posing. Blind, can you tell a Claret from a Burgundy? Or indeed from a white? But if you find the good stuff speaks to you, calls you, leaves a memory on your palate, then Bordeaux is where it is calling you home.
A good start is the Musée du Vin et du Négoce, see listing above.
A great variety of tours and tastings are organised by Bordeaux Tourist Agency . These include châteaux and vineyards, city routes, and wine & cookery classes.
You can certainly tour the vineyards independently, but then you probably need a car, and there's a fraught conversation to be had about who's driving afterwards and how much of a shared holiday experience this is turning out to be. Each area has its own Maison du Vin showcasing local products. Several châteaux are open to drop-in visitors, others are by appointment, see Tourist Agency website above. The top châteaux will be snooty if they don't recognise you as a serious buyer: they're fed up with time-wasters seeking a free glug of Grand Cru Kings-Ransom 1896.

Sports

Watch football (soccer) at F.C. Girondins. They play in Ligue 1, the top flight of French football, and often qualify for European tournaments. Games against big rivals (eg Marseille, PSG & Lyon) usually sell out, so buy tickets in advance from the club website . For other games you should have no difficulty buying on the day. Girondins have played since 2015 at the Nouveau Stade (or "Matmut Atlantique"; capacity 42,115), 20 km west of Bordeaux in the suburb of Le Haillan. Get there on Tram C to Parc des Expositions and walk 400 m, or Tram B to Brandenburg then take the shuttle bus, or bus 7 or 32 from Les Aubiers.
Watch rugby union at Union Bordeaux Bègles, who play in the Top 14, the top flight of French rugby. They were formed in 2006 by the merger of Stade Bordelais and Bègles. They usually play at Stade Chaban-Delmas, west of city centre on the inner ring-road. The former Bègles (Andre Moga) stadium is now just a training ground.
Watch ice hockey at Boxers de Bordeaux, who play in Ligue Magnus, the French top professional league. They play at the Meriadeck ice-rink.
Bordeaux Cricket Club play at Château Giscours in Labarde, 25 km north of the city; attendance is free.
Explore the city on wheels as Bordeaux is a good city for roller-skating (or roller-blading) and other "skating sports".

Learn
Bordeaux is a great city for learning- to learn a bit about French culture, consider visiting cinemas such as Utopia or going to the city library in Meriadeck.
The
Bordeaux University
, a few kilometers south of town, offers a wide variety of courses, from science to humanities, from beginner classes to high-level research. The laboratories are among the best in France. It is possible to take French courses there in the summer, with Erasmus students. The
DEFLE
(Department for the study of French as a foreign language) is attached to Université Michel de Montaigne - Bordeaux III. It offers both semester and vacation courses in French for foreign students.
Buy

Bordeaux has made its wealth out of trade, and the local economic system relies heavily on shops and trading halls. The Pedestrian Center is full of stores of all kinds, from clothes to art, craftworks, food and wine etc. If you're looking for luxury items, head to Gambetta square and its surroundings.
Buy some local music - Bordeaux music groups are on the rise! Check out Kap Bambino, an electronic music duo formed by singer Caroline Martial and beat-smith boyfriend Orion Bouvier.
Clothing is less expensive than in Paris, so wear comfortable shoes and head to Rue Sainte Catherine, the longest pedestrian precinct in Europe and the best place for shopping. For some cheap second-hand and vintage clothes, check out a shop called KiloChic on 40 Cours de la Somme. There are also a few AMOS second-hand stores in the city that offer a nice selection of second-hand and vintage stuff.
If you buy wine, do it in town (duty paid) to go in checked baggage; the airport's not a good place because of prices, limited selection and carry-on limits. Keep receipts handy, your own country probably has a bigger customs allowance for wine that's duty-paid.

Eat
Gastronomy has a very important place in the city, which is full of restaurants of all kinds. French restaurants provide dishes from almost every part of the country, and there are a lot of Asian, African or Arabian restaurants.
Cafe du Port

address: 1 quai Deschamps

It's dining with the ultimate view, the Left Bank on one side and the Pont de Pierre on the other. But it's not just the views that draw customers here in droves, the food's pretty good too. Especially considering that the chef is the famed Phillipe Techoire. Under his command, you'll feast on beef rib roast, glass eye, and in the winter, roast pig's feet with mustard. Enjoy!

address: 4 Cours du 30 juillet

A famous restaurant, where you can eat a piece of meat served with a secret sauce. No reservation but the queues can often be long.

Couleur Cafe

address: 28, rue du Pere Louis de Jabrun

It's the perfect little French bistro where you can take a well earned pause from the days' activities and graze on some tasty light fare. The salads with the homemade bread rolls are a great choice, or you can indulge in some of the decadent cakes on offer.

Fernand

address: 7, quai de la Douane

An authentic bistro next to the "Place de la Bourse", on the waterfront in the old Bordeaux : an old wooden decor and a very pleasant terrace in front of the Garonne and the "Miroir d'eau"; you can enjoy a French cooking who follows seasons with beautiful products like seafood, oysters, wild fishes from Arcachon, "Blond d'Aquitaine" beef etc. All of those served by a warm and pleasant welcome.

La Tupina

address: 6, rue Porte de la Monnaie

Regional cuisine at its best. Fresh local produce served generously and heartily. Meals are served in a Basque ambiance, with country tablecloths and wood chairs. Try the corn fed Landes fowl, and you'll understand why this earned La Tupina the Second Best Bistro in the world by the International Herald Tribune.

L'Estacade

address: Quai de Queyries

Situated on the Right Bank of the river (it is the building that just out over the water on stilts) you will get a great view of the Bordeaux waterfront at the same time as a delicious meal. Starters, main courses and desserts start from €13, 23, 6 respectively.

address: 5, rue Chauffour

New gastronomic restaurant owned and operated by a Franco-American couple dedicated to bringing farm fresh, local, sustainable produce of Southwest France to the table. Everything from the sauces to the ice cream and pastries are made in-house. Dining room is contemporary and organic, accented by Bordeaux limestone and French oak tables. Service is warm, friendly, without pretentiousness. Menu changes frequently according to season.
Drink
Bordeaux is lively during the day and continues throughout the night. If you're looking for a bar to hang out with friends or to enjoy watching a football match, head for
La Victoire
, as most of the pubs and bars of the town are here. Virtually, all the shops in the surroundings of this area are bars, and you'll likely be able to find one that suits your needs.
If you prefer dancing or clubbing, most of the night-clubs are on the
Quais
, near the train station. From rock to disco, dance to techno, you also have a lot of choice.
Dick Turpin's

address: 72, Rue du Loup

One of the oldest English pubs in Bordeaux, popular with young and old alike. Good music, no TV.

El Chuchumbe

address: 6, rue Causserouge

Best place to go for a salsa dance, head there around midnight when bodies really start shaking on the dance floor. They serve great mojitos as well to complement the mood.

Le Frog and Rosbif

address: 23, Rue Ausone

English pub near La Garonne with an all-English staff. A popular hangout for those who want to catch football or rugby matches.

Le Break

address: 23, Rue de Candale

A popular hipster-like bar just outside la place de la victoire which plays great music and attracts a younger crowd. Arrive early if you want to get a table during the weekend.

Wine O'Clock

phone: +33 605 90 4570

address: 20, Rue Piliers de Tutelle

Wine & tapas

Le Café Brun

address: 45, Rue Saint Rémi

An old-looking but very cosy bar with a huge offer of Belgian beers and Whiskies.

Le Shadow

phone: +33 5 56 49 36 93

address: 5, rue Cabanac

The place to go for the young and trendy, Shadow possess a certain sexiness to its decor that is very appealing, even the restrooms are marble. The DJ spins the latest tunes while the hip clientele sip on very expensive drinks.
Sleep
Most tourist hotels are close to the railway station (that is, close to the
Quais
). There are some luxury hotels close to Gambetta square and Quinconces square, which are really nice but rather expensive.
Budget
address: 22 cours Barbey

Bordeaux's only hostel has decent facilities. Breakfast and bedding is included. There is a lock-out between 02:00 and 05:00 so plan your night accordingly. €23 per person/night.
Mid-range
Ibis Budget Bordeaux Centre Gare St Jean

address: 60 Rue Eugene Leroy

Opposite main railway station, the rooms are small but self-contained. Good location for transport, 3 km from downtown.

A Blue Lodge in Bordeaux

phone: +33 6 78 25 85 83

address: 70, rue de Ségur

Lovely guestrooms in a 19th-century "échoppe" with garden. Located on the Tramway B line leading to the historical city centre. Also direct from the train station with bus N°9. Easy and free parking. Close to Universities and Victoire.

Best Western Premier Hotel Bordeaux

phone: +33 5 56 48 00 88

address: 4 rue Martignac

Charming 18th-century hotel, with fine furnishings throughout the hotel, with mahogany furnishings and beech furniture. Close to the Grand Theatre and the Triangle d'Or.

Hotel de Normandie

phone: +33 5 56 52 16 80

address: 7-9, cours du 30 Juillet

While the rooms are rather bland, the location and views of the Place des Quinconces from the rooms are stunning.

Hilton Garden Inn Bordeaux Centre

phone: +33 5 64 37 15 10

address: 17 Allée de RIO

New hotel in an up-and-coming neighborhood along the river. It's a 30 minute walk to the historic city center. There's also a trendy food court nearby.
Splurge
Intercontinental Grand Hotel

phone: +33 557 30 44 44

address: 2-5 Place de la Comedie

Five-star hotel near acclaimed restaurants. Rooms are impeccably decorated, with marble bathrooms.

Novotel Bordeaux Lac

address: Avenue Jean-Gabriel Domergue

On the banks of the Bordeaux lake, near the Convention centre. Private swimming pool.

Burdigala

phone: +33 5 56 90 16 16

address: 115 rue Georges-Bonnac

Displaying a European elegance, the Burdigala attracts a cosmopolitan clientele that appreciates its multi-lingual staff and spacious rooms complete with marble bathrooms. Hotel also hosts long term stays.

Hotel Mercure Bordeaux Cite Mondiale Centre Ville

address: 18 parvis des Chartons

More than just a luxury hotel, the Mercure also features a wine bar that showcases 200 different wines from all over the world. The spacious rooms have all been renovated and display a subtle elegance.
Connect

Bordeaux is covered by the three major telecommunication operators in France : France Telecom (Orange), Bouygues, and SFR. If you have a GSM cellphone with an international subscription, you should be able to give calls from anywhere in the city. It is also possible to find phone cabins, but some have been removed recently due to their decreased usage.
As for internet access, there are a few cybercafes in the pedestrian center, which are not expensive (from €2 to 4 per hour).
Most restaurants also offer free Wi-Fi.

Stay safe
Bordeaux is not a city with a high crime rate. If you respect some simple rules, you shouldn't have any problems.
Beware of pickpockets, mostly in crowded buses and in the pedestrian streets. Do not leave any luggage out of view as it might disappear. If you're taking the bus with a backpack, it's better putting it between your feet than keeping it on your back.
Do not go to clubs or bars alone at night. If you are meeting with friends, meet outside the bar/club. It's easier to get inside when you're a pack.
As another general rule, do not accept drinks offered by people you don't know, as some people may drug you and abuse you afterwards. There were several cases reported in Bordeaux. Take drinks directly at the bar or from the waiter.
Cope
Consulates
phone: +1 43 12 48 65

address: 89 Quai des Chartrons
Go next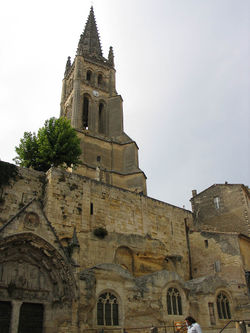 There are a lot of interesting things to see close to Bordeaux.
North: The Medoc region, where some of the famous Bordeaux wines are produced. The first growths Château Lafite Rothschild, Chateau Latour, Château Margaux and Chateau Mouton Rothschild are all located in the Medoc. If you are planning a tour to a chateau, keep the following in mind: (1) call ahead and make a reservation; (2) Chateau Latour generally only accepts serious collectors and professionals.
West: To the west, you will end up at the Atlantic Ocean, with over 250 kilometers of golden sand beaches accompanied by a sea of unspoilt pine forests; there are a lot of very nice-looking little towns close to the sea, including Arcachon, sea-side town, noted for its oyster production. You can take a train from Gare de Saint Jean in Bordeaux to Arcachon for around €7, the train takes between 40 and 50 minutes. The Hourtins' Lake, the biggest fresh water water lake in France, is located there. In summer, its a paradise to go swimming or cycling in the pine-tree woods of that area. Near Arcachon is the biggest sand dune in Europe– very interesting, especially when you travel with small children, or with your inner small child.
East: Here you will find Saint-Émilion, a well known AOC (c.f. Saint-Émilion AOC) surrounding the UNESCO Heritage village by the same name (c.f. UNESCO World Heritage List). Here, the most famous chateau are Château Ausone and Château Cheval Blanc. Nearby, in the Pomerol AOC, lies Château Petrus. In addition, the Entre-deux-Mers between the Garonne river and the Dordogne river has a large variety of old castles and wineries that produce Bordeaux Superieur wines.
South: The Graves region, which includes some of the oldest vineyards. Two famous estates are Château Haut-Brion and Château La Mission Haut-Brion. To the southeast lies Sauternes, which produces one of the most famous dessert wines in the world, Château d'Yquem. This area is the most interesting for historical tourism, with many beautiful towns and historical monuments open to the public. Towns: Bazas, Saint Macaire, Uzeste, Cadillac. Castles: Chateau de Roquetaillade , Villandraut, Malle, Fargues, Cazeneuve. About 10 km southwest of Bordeaux, in the suburb of Pessac is Quartiers Modernes Frugès, a 1920s housing development by the architect Le Corbusier that is listed as a world heritage site.
Reach them by regional railways (TER), or inter-city bus lines (which often go where trains do not). By car, all these areas are less than an hour from Bordeaux.
The whole region is covered with well organized bike or walking trails which let you discover the countryside.