Borjomi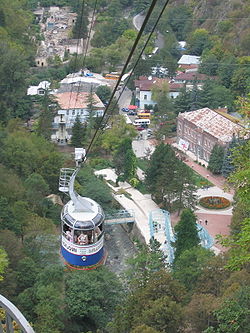 Borjomi
(ბორჯომი bohr-joh-mee) is a town in central
Georgia
as well as the name of a natural reserve and of the famous volcanic salty spring water. The source of this spring water lies in the Borjomi gorge.
Understand
Borjomi is a famous resort town, popular for its distinctive mineral water. The water from the well here is several times stronger than the Borjomi water you can buy in the shops. Borjomi has many hotels and was very popular in soviet times, of which you will still find many buildings in the city. Above the centre of the city there lies a plateau with a ferris wheel and further hotels, providing a great view over the region and mountains. Furthermore, the nearby Borjomi Kharagauli National Park is the largest in Georgia and a popular hiking destination.
Tourist InformationThe tourist information is staffed by Artur who is super helpful, speaks fluent English and will give you a map of town and an overview of places to go.

At the tourist office you can also arrange day tours to Rabati Fortress in Akhaltsikhe and Vardzia.
Get in
By bus
From specific destinations:
Bakuriani – 10:00, 11:00, 12:00, 15:00, and 17:00. 3 lari. (most buses will go further to Tbilisi)
Batumi – 10:00. 17 lari. 4.5 hr.
Kutaisi – Every hour. 2 hr. 6-8 lari.
Furthermore, the following is a time table for leaving Borjomi (verified Oct 2019). For the vice-verse trip similar times can be expected.
Unverified:
By train
Trains leave from two different train stations:
From , the main station in the centre of town, trains leave to Tbilisi at 07:05 and 16:45 (2 lari). From Tbilisi, trains to Borjomi leave at 06:40 and 16:15. The journey takes between 4 and 5 hours.
From , the 2nd station 2.5 km east of the centre, the slow train to Bakuriani leaves at 07:15 and 10:55. The train back leaves Bakuriani at 10:00 and 14:15. The train takes 3 hours, so if you make a day trip it's quicker to take the bus back to Borjomi. The train has been refurbished and all seats are now 2 lari which you pay during the train ride. To reach this station, take a taxi (3 lari) or the city bus (0.20 lari), or any bus (not marshrutka) that goes east to any of the next villages. It is possible to walk: cross the river at Borjomi Parki station, turn right, and then walk about 1.8 km (to Tori Street). Cross the river again, and the station is to your left. There are no facilities at the station, but there is a small supermarket very close.
Get around

The centre of Borjomi is small enough to walk.
Otherwise, there is a city bus going along the main road through Borjomi for 0.20 lari to accomplish longer distances, e.g. to the Borjomi Freight railway station (see below).
City bus no. 1 goes from Borjomi's central square all the way to Likani and back. It doesn't leave from where the other city busses leave from but from a bus stop on the other side of the road about 100 m north.
City bus no. 3 goes from Borjomi's city bus station at the small outdoor market all the way north into Kvibisi and finds it final stop there in its small center.
City bus no. 4 goes from Borjomi's city bus station at the small outdoor market towards the south into Atskuri (at least that's what I could read from its LED destination panel, needs confirmation).

See
The Borjomi Museum of Local Lore is located at Tsminda Nino 5. Admission 3 lari, tour in English or Hebrew 15 lari. Opening hours 10:00-19:00 Jun-Sep, to 17:00 Oct-May.

Romanov PalaceAn official residence of the President of Georgia with a beautiful garden.

Blue Palace "Firuza"A unique cultural monument built in 1892 by the Iranian consul. The house combines Persian, Georgian and European styles.

Timotesubani monastery
Do
Borjomi Central ParkStretched along the Borjomula river, the park contains the . First part of park contains park amusements and cafes. The second part of the park is great for a walk, and reveals a high waterfall including sculptur, great for pictures.

Natural Hot PoolsA set of three natural hot pool that's popular with locals for a picnic. This was one pool before, which was quite hot. Nowadays, it has been converted to three pools, which are semi-warm and unfortunately not hot enough to heat you up sufficiently. Some local business men try to make money off its remote location, and running an expensive "taxi service" to bring you back to the park entrance. Don't give em a reason.

Borjomi Cable CarNear the entrance of the central park there is an option to use cable car to get up to plateau, where there's a Ferris wheel.

Cross Mount walkFor an excellent view of the city and the plateau. Get in at the (830 m above sea level) of the eastern extension of Pirosmani Street. From there go in the small road and follow the marker. You should reach the top at 1140 m above sea level after 30-60 minutes with a great view if you are lucky and there is no rain or fog. Afterwards, following the path further and down again, after 30-45 min you will reach the ruins of . From there follow the small track (north)east and exit , which is much harder to find, so better walk a proposed, east to west.

Further Walks around the city – There are nice, excellently sign-posted walks from the centre worth doing. One goes to the natural pools and returns via the plateau. The second part is free from the crowd and the vendors present in the park (~3 hr). The other circular path climbs up to the ruins of a tower and further up to the top of Cross Mountain across from the city park. It is quite a climb, but in pleasant forest and with a great view (~2 hr).
Borjomi Kharagauli national park
Hike in
Georgia largest national park.
It covers about 8% of the total territory of Georgia. The diversity of physical, geographical and especially climactic conditions of its has shaped the wealth and variety of its flora and fauna. Apart from the largely untouched nature of Borjom-Kharagauli, there are numerous cultural monuments. In particular, there are two easily accessible churches, built in 9th century. At present eight tourist trails are officially operating in the national park. They vary in length, duration and complexity. Open from Apr until October
Plan your trip by going to the administration of the office, which is a bit to the west of Borjomi (23 Meskheti str.), and get a free access permission and a map of the area with all the routes and shelters as well. There are well-marked hikes of 1, 2 or 3 days, through forests and meadows.
If you want to take a hike in the national park, get enough supplies, water, and some basic sleeping gear with you, as the cabins are very basic. You can rent sleeping bags for 5 lari a day, but no mattresses, and the shelter beds are wooden planks. You pay a small fee for staying in the shelter (10 lari) or camping (5 lari). The permit to the park is free, but make sure to have it on you since rangers might ask for it.
It is also possible to take a 1-day hike from Borjomi to Qvabiskhevi (or the other way around) and then hitchhike or take a local bus or taxi back to Borjomi. Or do multiple day hikes. That way you can even get to go to the higher parts (up to 2,600 m).
Buy
Near the entry to the city park, locals sell home-made jam from pine tree cones. It is claimed that the jam is useful when curing upper respiratory tract infections and is good for improving immunity.

Eat
1+2 bar

address: 2 9 Aprili St

With nice wines and slow service.

Inka Cafe

phone: +995 595302077

Some Western-style dishes and pastries.

Metropoli

address: Kostava St.

You might expect this location, right inside of the beautiful train station building and next to the touristy epi-center, to be particular expensive. But actually this restaurant is decently inexpensive—Adjaruli Khachapuri 7 lari. It has a large kitchen which does prepare everthing listed in the menu. And the menu is even offered as picture book. What else can you require?

phone: +995 591 21 21 47

address: Kostava st. N31

Serves breakfast, lunch, dinner, drinks and coffee. Good for groups, parties and children. Walk-ins welcome. Street and car parking.

phone: +995 367 22 33 20

address: 19 Kostava St

Excellent quality food, nice interior, WiFi. Though kebab, khatchapuri and pizza is not quite haut cusine. They make perhaps the best khachapuri in Georgia and are famous for their chkmeruli (chicken in garlic sauce).

phone: +995 367 22 17 02, +995 571900467

address: Erekle street N3

Old Georgian style, national Georgian dishes, degustation of Georgian house-wine, hall for 60 customers, free water, parking, WC and WiFi. Rated 4.2 out of 5.
Sleep
The tourist information can also arrange a guest house for you, and will organize for the host to pick you up at the tourist office. Otherwise, just walk along Pirosmani Street, north-west of the main road in the centre, and you will find plenty of options between 15 and 25 lari.
Hotel Borjomis Kheoba28 comfortable rooms, mineral water spas, outdoor swimming pool, bar and restaurant. Prices from 65-250 lari including all meals.

Borjomi Hostel - The dorm has no electricty. If you don't mind spending the night in a pitch black room with no heating or electricity, the rate is 15 lari a night.
Hotel Meidani - Very nice clean rooms with good heating, a nice on-suite with a hot shower, comfortable twin/double beds, tv, and wifi. Excellent location in the middle of Borjomi. 40 lari a night (Mar 2016).
Marina's Guesthouse: Cozy guesthouse near the center of town and a popular way station for expats, backpackers and tourists. Marina's son and daughter both speak fluent English.
Hotel Borjomi. Elegant, wooden Tsarist-era house located in central Borjomi, next to the Museum of Local Lore. Bed and breakfast available. Prices start from 70 lari. English and Russian spoken.

phone: +995 574861516, +995 593981595, +995 551414422

address: 18 Pirosmani

Leo and his mother have 2 rooms that can accommodate 7-8 or so people. The price for the night is 20 lari a person, and for 5 lari more Leo's mother will make breakfast, which often features a substantial number of pancakes. Leo is also a great source of information about Borjomi and the surrounding area, and regularly arranges excursions for his guests, such as trips to Vardzia and horseback riding in the Borjomi-Kharagauli national park. He also speaks excellent English.

phone: +995568737361

address: Gogias Tsikhe St 4

Central location but very quiet, due to being at the end of a dead end street. Sitting in front of the guesthouse can be very relaxing, especially when Nick's two cats are around. Nick and his mother are very friendly, helpful and socialising. Nick speaks English quite well. The local breakfast prepared by Nick's mother was always very yummy and filling. Also it was easy to get in contact with other travellers here, which added to the traveller friendly atmosphere. WiFi worked very well and washing service can be provided.

RiverSide HostelNice, clean hostel with good facilities. Located on the main road so can be a little noisy at night, but there isn't much traffic so this is not a huge problem. Owners friendly and helpful.
Go next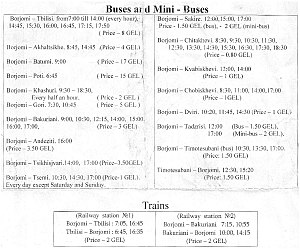 The tourist information offers a 70 lari day trip, including a stop at the Green Monastery, the
Akhaltsikhe
fortress with a very nice museum (6 lari), and Khertvisi Fortress (5 lari). Ask for the natural sulphur spring and bath (45°C) to be included in the tour!
Akhaltsikhe – Popular for its beautiful and newly renovated fortress, but not one of the main attractions in Georgia.
Bakuriani – A famous ski resort, easily reach from Borjomi by an inexpensive sightseeing train (1-2 lari, 38 km), which leaves from Borjomi Freight railway station (#2) and takes 2 hours. The train leaves Borjomi every day at 07:15 and 10:55, and 10:00 and 14:15 from Bakuriani.
There are several direct bus connections to other places in Georgia, like Tbilisi, Kutaisi, and even Batumi. The timetable in the image gives an overview. The prices can be different while the departure times are quite stable even for years (according to the Marshrutka drivers).