Bosa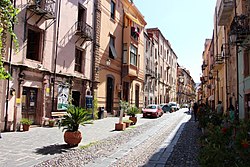 Bosa
is a town in the province of
Oristano
in
Sardinia
.
Understand
Bosa is a mix of traditional and modern, it has a unique and compelling historic centre. There is a warren of cobbled streets with pastel coloured medieval tower houses called Sa Costa. The main street in the old town, Corso Vittorio Emmanuele, is lined by 19th-century
palazzi
with wrought iron balconies, and interesting shops, caffes and bars. Castello Malaspina, dating from 1112, guards Bosa at the top of the hill. The River Temo runs through Bosa and is lined with palm trees on one bank and derelict tanneries on the other, which are of historic and national significance. Bosa has an illustrious and wealthy past, based on its position in a well-defended valley, along the only navigable river in Sardinia, and its (now defunct) leather tanning industry. There is a large cathedral and many smaller churches in the town and surrounding countryside.
The feeling is relaxed and the local people are friendly and welcoming. As it is a real working city, albeit small (8,000 inhabitants) it has an authentic, original character, not a tourist village. Tourists do come to Bosa, but they tend to be people looking for culture, history, natural and architectural beauty as well as a sun and sand holiday.
Bosa is a member of
I Borghi più belli d'Italia
, an association of small Italian towns.
Get in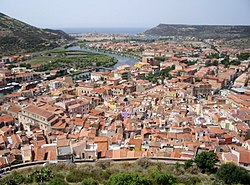 By plane
The closest airport is
Alghero
(
Alghero Riviera del Corallo
). The airports of
Olbia
(
Aeroporto Costa Smeralda
) and
Cagliari
(
Aeroporto di Cagliari-Elmas
) are reachable via a railway connection at the town of
Macomer
.
By train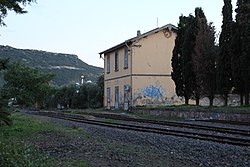 The town is the terminus of the narrow gauge railway Nuoro-Macomer-Bosa. Since 1997 Macomer-Bosa section of it has been used only in summer by a tourist train service
Trenino verde
. The closest operating railway station is in Macomer (30 km east from Bosa, about 50 min. by bus).
By bus
Direct connections by
ARST
buses with:
Sassari
,
Alghero
and its airport,
Oristano
,
Macomer
,
Nuoro
.
By car
Bosa is on the northwestern coast of Sardinia, 45 km south of
Alghero
, down a spectacular coastal road.
Get around
Bosa's historic centre is pretty small and is to be explored on foot.
The distance between Bosa's centre and Bosa Marina is about 2.5 km. An ARST bus can be used to travel on this route. Alternatively, in season a tourist "train" pulled by a tractor meanders between these two.

See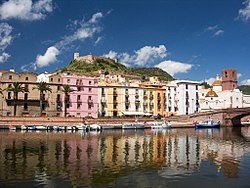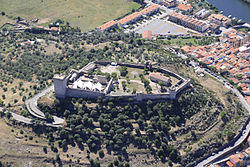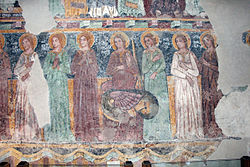 Main sites
phone: +39 340 39 55 048

The castle is built by Malaspina family in the 12th century on the top of the Serravalle hill.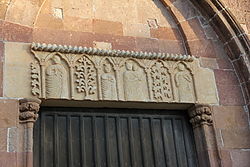 Chiesa di San Pietro ExtramurosBuilt between 1062 and 1073. Its ornate façade dates to the last quarter of the 13th century; its interior though looks rather Spartan. Restored in 1938 to its original appearance.

Chiesa di Sant'Antonio Abate16th-century church in Gothic-Catalan style.
Churches
Concattedrale dell'Immacolata ConcezioneThe cathedral of Bosa.

Chiesa del CarmineAn 18th-century Baroque church, a part of a former convent.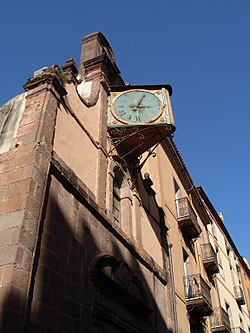 Chiesa del RosarioAnother Baroque church with a peculiar "peaky" clock.

Chiesa di Santa Croce16th-century church with the Mannerist façade.

Chiesa di San Giovanni BattistaA simple church in Catalan-Gothic style with remains of the 14th-century frescoes.
Civil architecture
Sa CostaThe medieval town below the castle.

Municipio di BosaBuilt in 1912-13 as an orphanage, now it's the Town Hall of Bosa.

Mercato civicoThe municipal market with the elements in Art Déco style built in 1929.

Le vecchie concerieFormer tanneries along the river Temo.
Museums
phone: +39 0785 377043

address: Via Vittorio Emanuele 59

A 19th-century mansion with frescoed ceilings and typical furnishings. The museum also hosts the Pinacoteca Melkiorre Melis with paintings and artwork of Melkiorre Melis.

address: Corso Vittorio Emanuele 74

Paintings by Antonio Atza.
Do

There are numerous beaches nearby. The largest one is at the Bosa Marina, which is regularly voted cleanest beach in Italy. It is a sandy strand, fringed with bars and caffes run by locals, protected by a rocky arm with a Catalan tower at the end. There are also smaller cove beaches accessible by footpath or boat, and stunning and unusual rock formations and natural swimming pools. The sea is clear and amazing shades of blue. The prevailing northwest wind, La Mistrale, cools the air during the hottest summer months.
Just south of Bosa is a fertile valley, where Malvasia di Bosa, a sherry like wine, is produced in tiny artisan vineyards. There is a wine trail and it is possible to go on tasting tours.
The sun is strong and the colours are bright if you are visually orientated the place will amaze you. If you like music and dance, there are frequent public festivals and open air concerts. If you have a sense of adventure, with every day bringing a new discovery, Bosa will not disappoint. It is a great place to go for a family holiday, or to relax and unwind, and get in touch with yourself. If you are looking for a place with lots of clubs and pubs full of drunken young people, this is not the place to come. There is lots to do and see in the area, but it is more chilled than frantic.