Bosaso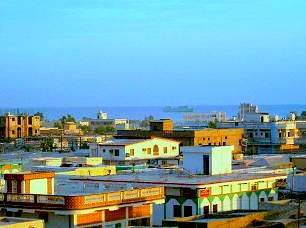 Bosaso
is the economic capital of
Puntland
, northern
Somalia
.
Understand
This city of Bosaso is the largest and fastest growing in northeastern part of Somalia,
Puntland
, and one of the largest in Somalia. It has served as a refueling station for maritime transport between the Red Sea and the Persian Gulf ports, and has also become an important commercial point of entry.
Get in
Bender Qassim International Airport
is the country's third-most busy airport. Most flights are international flights from Dubai to Bosaso. International flights are also available from
Aden
and
Nairobi
several times a week.
Reaching Bosaso by land is somewhat complicated, mainly due to the porous security situation. The road leading from Puntland capital
Garoowe
has been paved but other roads are in bad condition or non-existent.
Get around
There is a bus service in Bosaso, Garowe, Qardho and Galkacyo. There are also services between the major towns and adjacent villages operated by different types of vehicles such as 4 wheel drives and light goods vehicles (LGV).
To travel outside of major cities, the central government requires foreigners to take an armed guard with them.

See
You can also go to Biyo Kulule which is a place you can visit and swim with natural hot water. Gaaca which is brook with ever flowing water streams is available option. Laag, Karin and Yalho will also be in the list. Rays garden is within the city and provides somali and arab dishes and some friendly atmosphere.
Bacaad, Mareero and Gaaca are tourist attractives as well, you need to prepare some safari journey to roam these hills and places.

Do
Swim, shop or walk around.

Buy
You can buy almost everything you want: clothes, groceries, etc.
Jubba Super Market

address: Near Jubba Hotel

Macruf Supermarket

address: Near Panaroma Hotel
Eat
Rice with fish, rice with chicken, rice with fresh meat goat or camel, pasta with all kinds, Somali food etc.

Drink
Somali tea, a sweetened, spiced milk tea
Somali coffee
Fresh juice like lemon, watermelon, banana or mango.
Sleep
phone: +252 90 6798135

This beachfront hotel opened in 1966, and was the most prestigious in northern Somalia until the civil war. Reopened in 2014, Gacayte Hotel is the most high-end option in this part of the world.

International Village HotelWell-guarded hotel in the south of town offering 3-star accommodation.

Jubba Hotel

address: Airpot Road

It's on the long road to and from the Bosaso Airport
Connect
Tropical Hotel

phone: +25290153163

address: on the long road to and from the airport
Go next