Boso Peninsula
Boso Peninsula
(房総半島), and its main city
Tateyama
(館山) are at the very South of the Chiba prefecture, a great area to relax and enjoy the beach.
Get in
The cheapest and easiest way to go is by bus: 2500 yen from Tokyo (every 30 minutes,
schedule
) or Yokohama (about every 2 hours,
schedule
).
Express JR train from Tokyo costs 3610 yen to Tateyama.
Get around

Trains don't go further south than Tateyama city. Even though most people go around by car, there is a bus service. Bicycle is also a great way to go around along the seaside.

See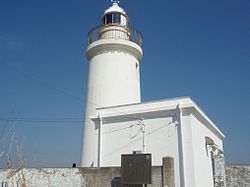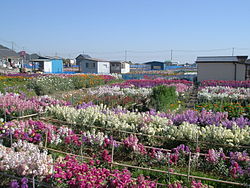 Sunosaki lighthouseA lighthouse with a great view on the sea and neighbouring mountain. Sweets are sold in the small store at the bottom. Sunset spot just beside on the same hill.

Flower lineA road along the coastline, bordered with flowers.

Shirohama Flower ParkLots of flowers, and a big greenhouse where firebugs can be seen at night.

Sand hillA surprising mountain flanked on each side by huge sand slopes. Local kids have fun sledging or sand skiing from the top. Climbing it is a fun 5-minutes hike and offers a nice view.
Do
Surf anywhere on the Southwest coast
Scuba diving
Fishing. Get on a boat and bring home all the fish you can!

Ocean Veil Country ClubGolfing with a view.
Buy
It can be surprisingly difficult to find a store, so buy your sunscreen ahead.

Eat
Sashimi and Japanese spiny lobster in Tateyama city
Sleep
Nemoto Marine Camping GroundVast dune area that acts as a paying camping ground.