Bosra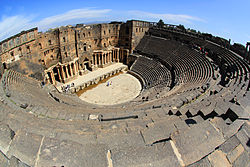 Bosra
(also spelled Bostra, Busrana, Bozrah, Bozra), officially known Busra al-Sham, is an ancient town in
Syria
. Due to being a major
archaeological site
, it has been listed as a
UNESCO World Heritage Site
.
Understand
The city had once had around 80.000 inhabitants.
As Syria is at war,
Bosra
has appeared on UNESCO's
List of World Heritage in Danger
since 2013. Portions of the Ancient City of Bosra were destroyed during combat on 22 December 2015. There is fear of further deterioration due to severe damage to the western courtyard adjacent to Bosra's 2nd century Roman theatre and to parts of the Ayyubid citadel which surrounds it.
See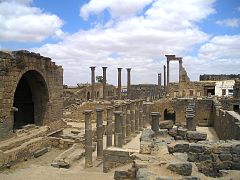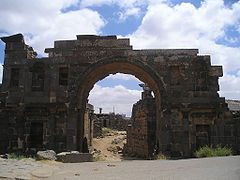 Heritage sites across Bosra have been damaged by the civil war.
Roman Theatre at BosraFrom 2nd century

Al-Omari MosqueOne of the oldest surviving mosques.

Kharaba Bridge

Gemarrin Bridge
Go next