Boston/Allston-Brighton
Both bound closely with
Boston
while remaining a bit cut off,
Allston/Brighton
is defined by the colleges that surround it. A visit reveals a bohemian vibe in this student village writ large. Check back often, in this neighborhood of youth and energy, the one constant is change.
Understand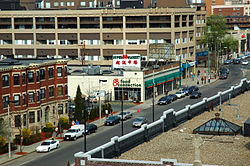 Ownership of this land has been kicked around over the centuries. At first a part of Watertown, it was deeded to "Newtowne" in 1634, which you might know by its modern name, Cambridge. Just a handful of settler families lived in "Little Cambridge" and tended to their farms and livestock throughout the 18th century. In 1807, after a
heated
bridge dispute, Brighton would split from Cambridge to become its own independent town.
After incorporating, the area continued on with its traditions. Residents used new technologies as they became available to increase production on their farms and expand the cattle industry. Railroads were built to efficiently move the slaughterhouse beef produced here to distant markets. In 1874 Brighton was officially annexed to Boston, a decision that would see its population explode.
The railroad would keep Allston/Brighton's economy growing throughout the 20th century. When the prevailing industry shifted from livestock production to automobile sales; it was all the same to the train. The Mass Pike was built along the tracks in the 60s, as car travel became increasingly popular. Today three nearby colleges BU, BC, and Harvard all continue their expansion into the neighborhood. Dorms, research facilities, and academic high rises spring from ground like seeds. As the area's most prolific builder, Harvard acquired building rights to the once powerful railroad tracks, and plans to reshape oceans of acreage in the 21st century.
Neighborhoods
Where exactly does Brighton end and Allston begin? Your guess is as good as anyone else's. Generally, however, Allston is considered to be the eastern half of the district, and Brighton the western. Even for Boston, this area is particularly lousy with locations having additional or special names.
Allston Village: This really is the heart of the neighborhood for many visitors. Almost any shop, restaurant, bar, club, or you-name-it can be found in this densely packed area. It's a commercial district in a rough hourglass shape, centered where Harvard and Brighton Avenues intersect. Its western edge is also called Union Square, clearly marked by the wonderfully retro neon "Twin Donuts" sign. While Packards Corner bounds the eastern edge. Check out the large glass front windows in many storefronts as a nod to the Packard cars once sold here.
Brighton Center: Continue west along Cambridge street until it's joined by Market street, where you'll find Brighton Center. Here, just uphill from the banks of the Charles river, a respectable collection of restaurants lives to serve local residents. St Elizabeth's Hospital is an anchor here, and things begin to feel a little more like a small town square, and a little less like the big city.
Oak Square: Further outbound from Brighton Center, things get less and less dense as you head towards Oak Square and nearby Newton. Many residents love this area which is both (relatively) green and (somewhat) quiet. The few shops and amenities here are of high quality, and the location provides quick and easy access to the Mass Pike.
Cleveland Circle: This more urbanized area is the terminus of the C branch of the green line, and very popular among Bostonians, and BU students in particular. The commercial glamor of Beacon street is just steps to the east, in Brookline. While just west borders Newton, and is home to the reservoir with its miles of jogging paths and greenspace.
Get in
By public transit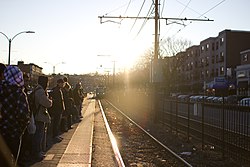 Unlike other neighborhoods, you'll find the bus and the trolley are almost equally important here. The B branch of the Green line makes a
prolific
number of stops in the area. Heading outbound some of the larger stops are:
BU West
,
Pleasant Street
,
Packards Corner
,
Harvard Ave
,
Washington Street
,
Chestnut Hill Ave
, and
Boston College
; about 10 smaller stops are in the mix as well. Trollies come fairly often, but they must wait for red lights in traffic and can be frustratingly slow. The C branch runs mostly through
Brookline
, only the terminus
Clevland Circle
serves Brighton. Consider walking to the C branch if you're close, it can be much faster. The D branch is faster still, with a dedicated right of way it really gets cranking.
the
#57
bus is quite popular, running alongside the B line down Comm Ave, and often passing it. It heads through Brighton and into
Watertown Yard
. Another popular route is the
#66
bus, which makes its way through Allston Village and into Harvard Square in
Cambridge
. If you're in Brighton Center the
#86
takes you to Harvard as well, but much less frequently. The
#64
, when it runs, will get you over the river and into Central Square. While the
#70
and
#70A
cut across Western Ave and pass through Watertown Yard, eventually arriving in
Waltham
. For commuters the expensive express busses
#501
and
#503
go against traffic, taking to the Pike and arriving
downtown
and in
Copley Square
respectively.
By bicycle
Boston has been installing miles of bike lanes for years now, so cycling can be a good option in these neighborhoods. At least five Hubway stations can be found nearby to help you out. Sometimes your destination is too far to walk and the T doesn't
really
go there, so with a little pedaling you're only a few minutes away. Bikes are probably the most effective when moving around Lower Allston or heading into Cambridge. You'll find some great trails along the Charles with beautiful scenery and no cars to fight with.
By car
While generally an unnecessary (and bad) idea, having a car in Allston/Brighton isn't always the disaster you'll find in the rest of the city. Dealing with the hassle is only worth it when headed out to
Oak Square
and along
Western Ave
, where public transit can be scarce. Driving is best avoided in the chaotic Allston Village area, although
Commonwealth Ave
does have some on-street parking. If you're persistent and circle around for 10-20 minutes you might find a spot.
See
One of the best activities in Allston-Brighton is people-watching, for whatever your motivations. You'll find an exciting mix of ethnicities and age groups, from upper middle class college kids to Vietnamese immigrants to the local Russian community. Take in the sights at the White Horse Tavern or Tavern in the Square on Brighton Avenue during summertime when the floor to ceiling windows are open, or just grab a patch of stoop and watch. Allston also has a large homeless population.
Do
Things to do in Allston largely include just walking about and enjoying the area. There's a lot of little boutiques, excellent friendly coffee/tea shops, some interesting crowds, and a relatively easy-going atmosphere. It's also an excellent area for photography.
phone: +1 617 965-5110

address: 1071 Soldiers Field Rd

phone: +1 617 779-8267

address: 20 Nonantum Rd

Harvard Stadium

phone: +1 617 495-3454

address: 79 N Harvard St

This historic stadium was actually where football's forward pass was invented, and modern field dimensions were defined. Buy your tickets way in advance for the big Harvard-Yale game. Root for them to lose, if only to hear the cruel Crimson chant: "It's alright, it's OK, you're gonna work for us some day!" The stadium and grounds will also occasionally play host to concerts and music festivals, like Boston Calling for example. When there aren't games or other events planned, get here early to run up and down the 1000+ steps with the rest of the post docs.

Alumni Stadium

phone: +1 617 552-8000

address: 140 Commonwealth Avenue

Home of BC Eagles football, this stadium seats 44,500.

Conte Forum

phone: +1 617 552-8000

address: 140 Commonwealth Avenue

Directly attached to Alumni Stadium and home of BC Eagles basketball and (ice) hockey, seating 8,600 for basketball and just under 7,900 for hockey. The "Kelley Rink" name is used only for hockey.
Music venues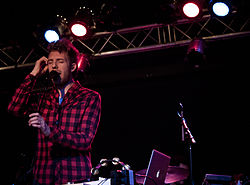 Another unofficial name for this area is "Allston Rock City", after the collection of concert halls that have taken root here. While you're not going to catch Kanye or Lady Gaga in any of these spaces, you will see up and comers playing alongside more established artists almost every night. Each club has a slightly different vibe and draws its own crowd.
Buy
phone: +1 617 779-7901

address: 180 Harvard Ave

phone: +1 617 787-9755

address: 957 Commonwealth Ave

phone: +1 617 782-1250

address: 354 Cambridge Street

Any truck/semi/car supplies you could ever need (as long as you know what to ask for). Great for truckers and travelers, right off the interstate. For less complicated auto-related purchases, visit AutoZone up the street.

phone: +1 617 779-7429

address: 173 Market St

phone: +1 617 782-1313

address: 155 Harvard Ave

Safe, clean, professional tattoo parlor. Used to host punk shows three or four times a month.

Ritual Arts

phone: +1 617 787-4157

address: 153 Harvard Ave

Offers exotic gifts for women, magic supplies, and other new age stuff.

phone: +1 617 232-0321

address: 226 Harvard Ave

phone: +1 617 783-8387

address: 122 Brighton Ave

One of the largest thrift stores in town, a bit of a warehouse full of college kid clothing castoffs, odd toys, blankets, and a room full of spinny chairs and broken exercise equipment. Great selection and prices.
Eat
Budget
Brighton Cafe

phone: +1 617 787-4244

address: 1597 Commonwealth Ave

phone: +1 617 208-8216

address: 147 Brighton Ave

Thai ice cream rolls

phone: +1 617 527-8790

address: 19 Commonwealth Ave

phone: +1 617 254-9457

address: 120 Harvard Ave

Improbably remaining open since 1984, Steve's is the perfect start to a day that hasn't quite ended yet. The cheapest, greasiest, and most filling homestyle breakfasts served all day long. Cash only.

Super 88

phone: +1 617 787-2288

address: 1095 Commonwealth Ave

Giant Asian supermarket in back anchors a bevy of food stalls in this indoor market. Each offers a different take on all varieties of Korean, Vietnamese, Chinese, Indian, and pretty much any other asian cuisine you can think of.

Mixx Frozen Yogurt

phone: +1 617 782-6499

address: 66 Brighton Ave

Ice Cream Shop. Boston's locally owned self serve frozen yogurt shop always offering 10 weekly flavors and over 50 toppings served fresh daily.

phone: +1 617 731-3232

address: 1918 Beacon St

Voted by the Travel Channel as #2 on their "Top 10 Places To Pig Out". This deli, located near Cleveland Circle, boasts the "Eagles Challenge Burger", which for a mere $50, you can get a cheeseburger featuring 5 pounds of beef, 20 slices of cheese, 20 pieces of bacon, 5 pounds of french fries, a pickle and a fountain soda, and it must be served to one person! Open for breakfast, lunch, and dinner.

phone: +1 617 202-5041

address: 487 Cambridge St

Casual counter serve spot for some of the best vegan options in Boston. Check FoMu next door for vegan dessert.

phone: +1 617 254-8883

address: 1 N Beacon St

Another strictly vegan Asian restaurant with a definite Vietnamese influence. Very delicious. Awesome chicken fingers and vegan cheesecake. Great Sunday buffet.
Mid-range
Splurge
Drink
phone: +1 617 787-2337

address: 477 Cambridge St

phone: +1 617 208-8925

address: 1277 Commonwealth Ave

Irish Village

phone: +1 617 787-5427

address: 224 Market St

The Last Drop

phone: +1 617 787-1111

address: 596 Washington Street

Mary Ann's

address: 1937 Beacon St

phone: +1 617 254-3300

address: 338 Washinton St

Combination College Bar/Local Irish Pub. It's small, but there's rarely a line and there's always some music. Great burgers and some pub favorites.

The Silhouette Lounge

phone: +1 617 206-4565

address: 200 Brighton Ave

The ceiling tiles have grayed with age and dirt, the pool table is uneven, and the jukebox doesn't have anything recent. Free popcorn, cheap beer, and your mixed drink can be prepared small or large. Leave your license at the bar in exchange for a few darts to toss.

phone: +1 617 254-1331

address: 130 Brighton Ave

Sunset has one of the largest beer selections in the country, boasting 130 beers on tap and more than 300 bottled varieties. Get your beer passport at the door, then sample 20 different varieties to earn a "free" t-shirt. A few honored bar stools are emblazoned with name-tags, affixed once the patron has sampled every beer in the house.

phone: +1 617 782-8100

address: 161 Brighton Ave
Coffee
phone: +1 617 254-0929

address: 957 Commonwealth Ave

phone: +1 617 783-4514

address: 380 Washington St

phone: +1 617 232-2380

address: 1698 Commonwealth Ave

phone: +1 617 903-3053

address: 618 Washington St

phone: +1 617 783-3388

address: 131 Harvard Ave

phone: +1 617 789-4000

address: 1243 Commonwealth Ave

Twin Donuts

phone: +1 617 254-9421

address: 501 Cambridge St

phone: +1 617-782-0999

address: 152 Chestnut Hill Ave.

Good cafe for working. Good wifi, good beverages. Arrive early on weekends during the school year.
Sleep
Connect
There are three BPL branches here to offset the many coffee shops and restaurants in the area offering free wi-fi.
phone: +1 617 787-6313

address: 300 N Harvard St

phone: +1 617 782-6032

address: 40 Academy Hill Rd

phone: +1 617 782-6705

address: 419 Faneuil St
Go next