Boston Logan International Airport
Boston Logan International Airport
(
BOS
) is modern, clean, easy to navigate, and the primary gateway to Boston and New England.

phone: +1-800-23-LOGAN



Understand
While the airport has always been pretty big, the advent of more efficient jets and the growth of the New England economy has given it a massive boost in international destinations.

Flights
As the major airport for the
New England
area, Logan provides frequent non-stop service to most major cities in the United States and almost all major European airports. Logan airport serves as a focus city for
JetBlue
and as a hub for
Delta Air Lines
, while
American Airlines
is another major carrier. The regional airline Cape Air and commuter airline PenAir also make Logan their base of operations. While Air Canada is in Terminal B, the gates for its flights are at the far end of the terminal with its own line for Transportation Security Administration (TSA).
Flights tend to be on time, but you never know with that wild New England weather. Try not to plan your connections too tightly. Security is typically tight, like at most major American airports, and you can expect the TSA to be thorough, efficient, and quick.
Terminal A
Delta (all departures), Southwest, WestJet
Terminal B
Air Canada, American Airlines (all departures), Boutique Air, Pen Air, Spirit, United, Virgin America
Terminal C
Aer Lingus, Alaska Airlines, Cape Air, JetBlue (all departures), Sun Country Airlines, TAP Portugal (international departures), Virgin America
Terminal E
Aeromexico, Air Europa, Air France, Alitalia, American Airlines (international arrivals), Avianca, Azores Airlines, British Airways, Cathay Pacific, Copa Airlines, Delta (international arrivals), El Al, Emirates, Hainan Airlines, Iberia, Icelandair, Japan Airlines, JetBlue (international arrivals), LATAM, Level, Lufthansa, Norwegian, Porter, Qatar Airways, Scandinavian Airlines, Silver Airways, Swiss, TAP Portugal (international arrivals), TACV, Turkish Airlines, Virgin Atlantic
Ground transportation
By public transit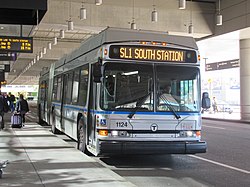 The aforementioned MassPort shuttles will connect you to Airport Station, where you can switch to the Blue line. For most travellers, however, the best option is to
board the Silver line for free at Logan and transfer for free to the Red line
. The Silver line whisks you straight from your terminal to South Station downtown. Transfers to other lines will also be
gratis
, but try to pick up a Charliecard at South Station if you plan on riding the T again. Service stops around 12:30AM, so if your flight arrives after this you'll be taking a cab.
By taxi
Taxis are more expensive in Boston than in many other cities. Fortunately though, the airport is quite close to downtown. Costs could range from $25-50, depending on your final destination. There is no one livery for Boston taxis, although they are predominantly white (hence the local name "White Cabs"). Cab models will also vary, with Ford Crown Victorias and Toyota Camry hybrids being the most common. Ride-hailing services such as
Uber and Lyft
can pick up and drop off at Logan. Legislation can change however, so make sure this is still the case before you depart!
By shuttle
Check with your hotel about airport shuttle service, it's an amenity offered by many. Other shuttle services that visit the airport include:
Logan ExpressOffers direct bus service from Braintree, Framingham, Woburn, and Peabody. Buses leave every hour or so and trips take around 30-45 minutes. Express buses also run to the airport from Copley square and Hynes Convention Center in the Back Bay.

phone: +1 617 340-3403

Airport limos to and from Logan airport or Manchester airports.
By car
If you're driving to Logan, routes are well marked, but the airport road system is complex. Read the signs carefully and be sure you're in the correct lane. If an unexpected off-ramp sneaks up on you, don't panic, you can just drive around the airport loop again.
Get around
All terminals in Logan are directly connected to the central parking garage like spokes on a hub. Terminals A and B are fairly close together, and it's possible to walk from C to E. Above-ground enclosed walkways connect all terminals, while free MassPort shuttle buses connect all airport services. Shuttle #11 loops around and quickly connects the four terminals together. Shuttle #22 and #33 connect the subway and rental car center, with terminals A&B and C&E respectively. Shuttle #55 runs during off-peak hours and connects everything, and the #66 shuttle adds the water transportation dock into the mix as well. Finally, shuttle #88 connects all terminals to the economy parking garage. If you're renting a car, take one of the shuttles and don't wait for a branded company van.

Wait
Lounges
address: Near gate A18

address: Across from gate A7
United Club
address: Terminal B, between B23 and B24
American Airlines Admiral Club
address: Near gate B4

address: Near gate B30
The Lounge
address: Terminal 3, between C18 and C19 across from the gates
Lufthansa Lounge
address: Terminal E, level 4
British Airways Lounge
Air France Lounge
The Lounge
The Club
address: Terminal A, Level 2 (Departures) near gate A8
Eat and drink
Logan has a bevy of dining options scattered throughout its terminals, and some of them are even good! Nowadays it's possible to find local farm-to-table fare and a wide selection of organic microbrews on tap. Of course this is America after all, so you can bet a McDonald's or Sbarro will never be out of sight.

Buy
For shopping, you'll easily be able to find a new book or magazine once past security. You could also buy fancy new shoes, headphones, or a hundred other things.

Connect
Free internet is available - connect to "LoganWifi" and agree to the terms to get on.

Sleep
In general, you don't have to worry much about airport noise if you stay near the airport. The orientation and position of the runways, along with local regulations requiring steep takeoffs and landings, mean you won't find jets flying low over your hotel at all hours of the night. And for added protection, hotels near the airport have extra sound protection anyway.
address: 1 Hotel Dr

Hotel is connected to terminals A & E by skybridge. 24- hours shuttle service available for airport terminals (probably faster than walking of you're going to terminals B or C), as well as to the T and water taxi.
There are two other hotels within walking distance: an Embassy Suites near the rental car center and a Hyatt Regency near the ferry terminal. Their listings are in the
East Boston
article.